Whether you're learning a new language or just need to translate some text, the Google Translate Chrome extension makes it easier and faster than ever. It can detect over 100 languages and translate highlighted texts or entire webpages.
Follow the steps below to download Google Translate to your PC for free.
How to Download Google Translate for PC For Free
Click on the Download button on the sidebar to go directly to the Google Translate page in the Chrome Store.
Click the Add to Chrome button.

A window will open showing the permissions that Google Translate needs to run. Click Add Extension and it will be installed on your browser.
If you want to pin the Google Translate icon on your toolbar, click on the puzzle icon to open the list of extensions and then click on the pushpin icon.

How to Uninstall Google Translate for PC
The easiest way to remove the Google Translate Extension is to hover your mouse over the Google Translate icon, right click your mouse, and choose Remove From Chrome.
The second option is to return to the Chrome store – you can get there quickly by clicking on the Download button on this page. Then, click on the Remove From Chrome button and the extension will be deleted from Chrome.
If you're still looking for a free translation tool, check out the alternatives below.
Google Translation for PC Overview
If you're traveling, moving to a new country, trying to learn a new language, or just trying to understand a website or phrase that is not written in your native language, your life will be much easier if you download Google Translate for PC. Not only is it a life-changing program but it's 100% free!
How To Use Google Translate for PC
While there is a Google Translate website, downloading the Chrome extension is a much more convenient and faster method for translating the text you want to understand.
If your native language isn't English, the first thing you'll have to is set your primary language.
Hover your mouse over the extension icon and right click your mouse.
Choose from the 100+ languages in the drop-down menu.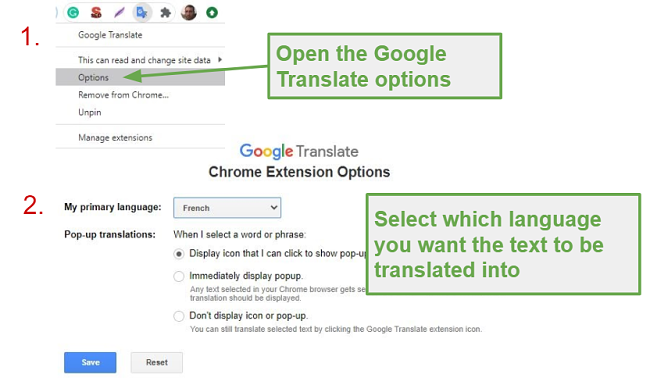 You can also choose how you want the extension to work.
As soon as you highlight any text on the page, a pop-up window will appear with the translation.

When you highlight text in chrome, a Google Translate icon will appear. Click on the icon to display the translation.

Turn off both the pop-up and icon options.
If you choose the last option, you can always highlight the text you want to translate, and then click on the extension icon on your browser. The extension will then show you the translation.
When you click on the extension icon, you will have the option to type or copy/paste text, or you can choose to translate the entire page. This will replace the current text with your preferred language.

It's Not Perfect But…
No one will confuse you with a native speaker while using Google Translate. The program does have trouble with slang, idioms, and understanding context. However, it does a good job of literally translating the words which will help you understand the text you are reading. As someone who travels a lot, I find it to be an invaluable tool.
Free Alternatives to Google Translate for PC
If you'd rather avoid using Google products, there are several other free translation services that you can try out.
Babylon: With 77 languages, Babylon comes closest to matching the 100 languages that are available with Google Translate. You can choose whether you want to have your translation appear in a separate window or a floating pop-up window that appears when the text is highlighted.
QTranslate: An extremely accurate translation service, QTranslate has 33 languages, but you can add in additional languages. Not only does include text and voice translations, but it has software that recognizes text in images as well.
FAQ
Is Google Translate for PC free?
There is no cost or word limit when using Google Translate for PC. Just download the Chrome extension by following the steps listed above and start using it today.
Does Google Translate for PC have a feature that reads the translated text?
The Chrome extension doesn't have an audio feature. However, you can click on the Google Translate link from the Chrome extension and your translation will appear on the website. Once on the website, you can click on the audio icon and hear the words.
How accurate is Google Translate for PC?
Google Translate does a great job with literal translations. However, it's not great with idioms and figures of speech. It's a great tool to help you understand a few words or even several paragraphs.
Is there a Google Translate mobile app?
You can download Google Translate from both the App and Play stores. The apps have some excellent features that utilize the camera on your phone. This includes taking pictures and highlighting the text you want to translate, as well as instant translations for select languages. The instant translations replace the original text with the translated version directly on your screen.
Read More