Geometry Dash is an addictive, multi-level game that can be played on PC and Android devices. The game is played on a constantly moving screen, and you'll have to make your character jump over spikes and onto platforms to stay alive. While it sounds like a simple premise, the game is very challenging.
Before you can download Geometry Dash for free, you will need to download a free Android emulator such as Bluestacks, so you can open the file and play the game.
How to Download and Install Geometry Dash on PC for Free
Click the Download button on the sidebar, and the HappyMod Geometry Dash download page will open in a new tab.
Press the Download button, and the APK file will automatically download to your computer.
A new page will open. You will have to prove that you're not a robot. This will give you access to the Create Download Link button. Click it, and the APK file will download to your computer.

The only way to open an APK file on a PC is with an Android emulator. If you don't have one yet, I recommend that you download Bluestacks. It's 100% safe and secure.
When the APK file download is complete, click on it, and your Android emulator program will unpack and run the installation program.
When the installation is finished, a Geometry Dash icon will appear on your desktop. You can either open the game by clicking the icon or opening it directly from the emulator.
How to Download Geometry Dash for Android (APK version) for Free
Click the Download button on the sidebar, and the Geometry Dash download page will open.
Press the Download button on the HappyMod page, and the APK file will automatically download to your computer.
When the download is complete, you will need to transfer the file to your Android device. There are many ways to do this. You can use a USB cable or choose a wireless option like ShareIt or WhatsApp.
You will need to adjust your phone settings to allow installation from unknown sources. This option is usually located in the Settings menu in the Privacy section.
Locate the APK file on your phone and open it.
Confirm you want to install the app, and it will be installed like any other Android app.
How to Uninstall Geometry Dash from your PC
If you're not enjoying Geometry Dash, you can find more PC games in the Free Alternative section below.
The easiest way to uninstall Geometry Dash is through the Android emulator. I'll use Bluestacks as an example, but the process is similar for most Android emulators.
Open BlueStacks and go to the My Games section.
Place your mouse over the Geometry Dash logo and right-click it.
Click the uninstall link.

Confirm that you want to delete the app, and BlueStacks will completely remove it from your computer.
Geometry Dash Overview
Don't worry; you don't need to know any geometry to play the popular Geometry Dash game. The name of the game was simply inspired by the different geometrical shapes found on all the different levels. The game's object is to jump over different spikes and other hazards as you try and complete each level. Geometry Dash is described as a "rhythm-based platform game" because if you make your jumps to the beat of the music, you'll avoid the majority of the spikes on your path.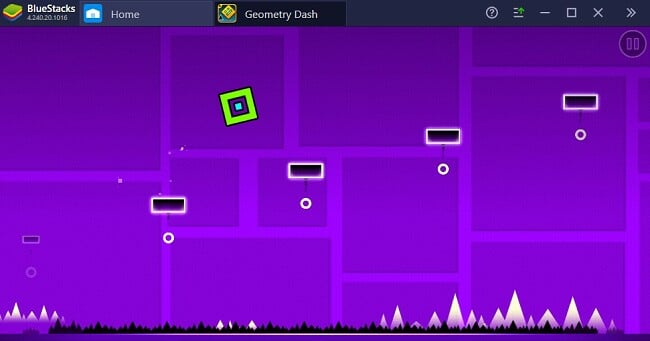 Geometry Dash Features
Unlimited levels: While the game comes with 19 challenging levels, there is also a Level Creator feature. This allows you to create, design your own level, and upload it to the game server for others to play.
Great soundtrack: Each level comes with a different beat that will not only excite you while you play but if you follow the beats and jump in rhythm, it will help guide you.
Customize your icon: Choose from hundreds of options and design your character to look just the way you want.
Track your progress: See how far you've reached on each level and compare it to your friends.
Practice round: Each level comes with a practice round, so you can test the game without harming your personal stats.
Free Alternatives to Geometry Dash
Grand Theft Auto San Andreas: Play the biggest Grand Theft Auto game for free on your PC or Android device. Complete hundreds of missions as you help CJ avenge his mother's murder. The game includes improved AI, graphics, and new vehicles. If you don't want to follow the missions, you can just roam around the different neighborhoods of San Andreas, stealing cars, making money, and avoiding the police.
Plants vs. Zombies: The zombie apocalypse is here, and you have more than 20 zombies trying to eat your brains. Use plants and gardening accessories to protect yourself in this tower defense style game. The game comes with over 40 levels, and the difficulty level will increase with each level.
Roblox: One of the largest gaming platforms in the world, Roblox games are designed using 3D blocky graphics. With hundreds of thousands of games to choose from, you can filter by most popular, genre, multiplayer, new, and more. There is also the creative Roblox Studio, which allows users to create and upload their own games.
FAQ
Is Geometry Dash free on the PC?
Generally speaking, there is a small purchase fee to download and play Geometry through Steam. However, if you follow the instructions above, I'll show you a way to download the mobile version for free and play it on your PC.
Is Geometry Dash safe to download?
If you follow the instruction above, the download is 100% safe. HappyMod has strict guidelines for mods that are uploaded on its server, and they test them for viruses, spyware, and more. I also personally tested this file, and it didn't trigger any virus alerts with the reliable Norton antivirus.
Do I need Bluestacks to play Geometry Dash on a PC?
The only legal way to play Geometry Dash for free on your PC is to download the mobile file (APK). However, Windows and Mac don't have the capability to run these types of files. Therefore, you will need to download an emulator, such as Bluestacks, which create an Android environment on your PC.
Visit Geometry Dash Website