Figma is a web-based interface design application. It has all the tools needed for editing graphics, designing websites, mobile app interfaces, and even drafting images for social media.
The software prides itself as an "always online" service, which allows for real-time collaboration between multiple users. This is one of the major differences between Figma and other graphic design programs since you can log in to any computer and instantly access your designs.
There are several different subscription levels, but I'll show you how to create a free account and get started right away if you follow the steps below.
How to Download Figma for Free
Click the button on the sidebar, and the official Sigma website will open in a new tab.
Press the Try Figma for Free button.

You can either create your Figma account through your Google account or create an account with any email address and a secure password.
Once your account is active, you can name your team project and add collaborators.
Once you set up your account, you can choose which subscription plan you want. Select the Starter plan to continue for free.
How to Cancel your Figma Account
If Figma isn't the right UI and UX design software for your company, you can cancel your account at any time. Since you don't need to give over your credit card information when creating the account, you have the option of ignoring your account, just in case you'll want to try it out again in the future. However, if you want to delete your account, just follow these simple steps.
Log in to your Figma account.
Click on your avatar on the top right corner of the page and click the Setting link.
Scroll to the bottom of the account settings page and click the Delete Account link.

You'll have to manually type "delete my account" in the space provided to confirm that you want to delete your account and press the Continue button. It will take a minute or two before the account deactivation is completed.
If you're still looking for a solution for your UI and UX prototyping and design needs, check out these free Figma alternatives below.
Figma Overview
Figma is a vector-based product design software that gives teams the flexibility to collaborate on all types of graphic design and prototype work. It's an extremely flexible program that supports everything from designing development-ready mockups to an interactive whiteboard and everything in between.

The free version of Figma allows teams to create an unlimited number of drafts but limits the number of design and FigJam files to 3. There is also one active project limit. If you find that you need more active projects or files, you can always upgrade to a professional account, and you won't lose any of the work or drafts saved to your account.
Figma Features
The collaboration tools are what really set Figma apart from other graphic design tools. You can collaborate with multiple users, and they can all make suggestions, edit the document, add different elements, leave comments, and more. Since Figma is "Always On," you never have to worry about working on an outdated project file.
Excellent Brainstorming Tool
The FigJam, which is a whiteboard tool, is the perfect place for team meetings and brainstorming sessions. It allows you to select whether everyone can have editor access to the whiteboard or just one person. You can add shapes, draw freehand with a pen tool, leave comments, and save your whiteboard so that people can look in on it at a later date.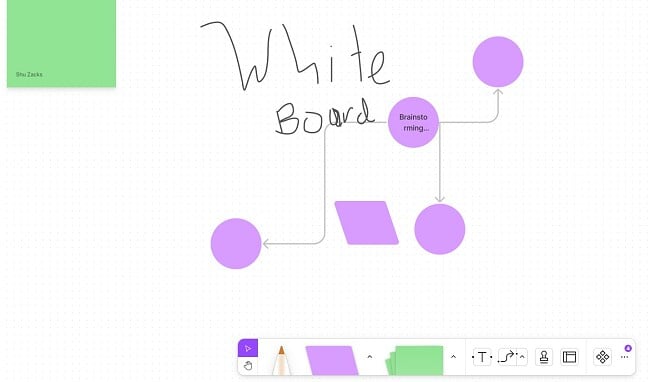 Design Sessions
While FigJam is a nice feature, the UI graphic design features the central feature of Figma. When you get started, you can set your workspace to preset dimensions for a range of phones of laptop screen sizes or create custom dimensions.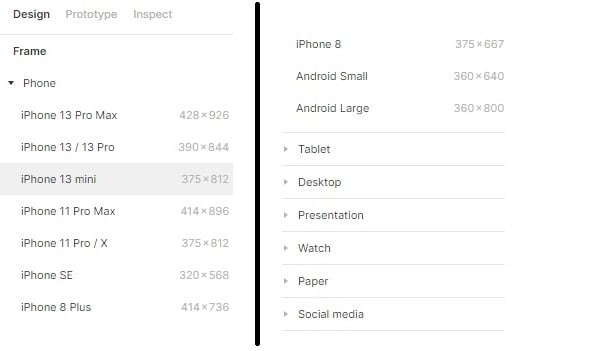 Figma lets users create a library full of different components, such as logos, color combinations, borders, and any other design that will be reused multiple times. If you make a change to a component in the library, those changes will be automatically applied wherever that component was used. This is a huge time saver in a situation where you change your logo or color scheme. Instead of going through each of your projects, Figma will automatically apply the update.
Design a Prototype
With Figma, you can create an interactive prototype of the website or app you're planning on developing. This means that you can add buttons or hotspots that will be included in the design and simulate the experience you are planning for your end-users.
Figma will also create the code for your design, so it can be implemented quickly. Currently, the software can generate SVG, CSS, and coding for Android and iOS apps.
Figma Takes Care of the Details
In addition to professional-grade graphic design tools, Figma excels at perfecting the little things to ensure that everything runs smoothly.
These include:
More control over vectors: Figma has an excellent pen tool which gives creators more control over their vector creations. Another big advantage that you get with Figma is the ability to add multiple segments to a single vector node, which allows you to create "vector networks."
Easily create an image gallery: You can quickly upload and import multiple files and add them anywhere on the workspace.
Easy handoff to developers: Moving from the design and prototype phase to publication happens seamlessly. Figma takes care of generating the code, allowing developers to view the complete design code, access annotations and notes effortlessly, and have full access to all associated files.
Easy previewing: You can send a link to clients or coworkers so they can view exactly how the finished product will look and behave. As the editor, you can set the link to view only, so no one else can make changes or give them editing access. There is also the option to embed the preview in a web browser, so the client can get a better idea of how the finished graphic or app will look.
Free Alternatives to Figma
Adobe XD: A powerful video and editing tool, Adobe XD has all the tools needed for UI and UX designers to build prototypes and design websites, app interfaces, and more. It is also part of the Adobe Creative Cloud, which gives you cloud-based storage. It easily integrates with other Adobe software, which gives designers more options when it comes to adding video and image elements. You can try it risk-free for 7 days.
InVision: An easy to use prototyping tool, InVision allows you to collaborate with anyone, whether they're subscribers or not. It's a great tool for brainstorming and reviving comments and notes from clients and coworkers. The free plan allows for up to 10 active users and three open documents.
FAQ
Is Figma secure?
Since Figma is a web-based program and doesn't store files on a local computer, you never have to worry about a vulnerability on your own network. All files in Figma, both those "at rest" and those being sent to collaborators or shared with clients, are encrypted with the latest technology. Figma services are hosted in the US on AWS facilities, but the files are hosted on Figma's own virtual private cloud to prevent anyone from accessing your files without permission.
Is there an advantage of paying for a Figma subscription?
This is dependent on how much you will be using Figma. One of the nice things about the free Standard version is that
it comes with all the premium features
. The only difference is the number of open projects, and FigJam whiteboard sessions are limited with the free version.
Download Figma now!