Regardless of what you think about Facebook, it's a valuable tool for most businesses. The social media giant takes targeted advertising to a whole new level. You can narrow the focus of your ads to a geographic area, and based on the reader's likes, groups, age, gender, birthdate, and more. Facebook continues to roll out new ways for businesses to engage with their customer base and find new revenue streams. Whether you're planning on taking your business to the future with the Metaverse or staying in our reality with live videos and reels, you can let Facebook do the hard work for you.
Follow the instructions below, and I'll show you how to download the Facebook app for PC for free. It's a more convenient and faster way of accessing your account, so you never have to miss out on something while waiting for a browser to load.
How to Download Facebook for PC for Free
Press the Download button on the sidebar, and the official Microsoft app website will open directly to the Facebook app page.
Press the Get in Store button, and agree to open the Microsoft Store application.

The Microsoft Store will open to the Facebook download page. Press the Get button. If you aren't logged into your Microsoft account, you will need to sign in to proceed.
Press the Install button, and the Facebook PC app will download to your computer.
You can log in to your Facebook or create a new account.
How to Uninstall Facebook from your PC
If you need to free up space on your computer or you don't need the Facebook app on your computer, you can uninstall it by following these simple steps.
Type Add or Remove Programs in the Windows search bar and press the Enter key.

Locate Facebook in the list of installed programs and press the Uninstall button.

Confirm that you want to delete the app, and the Windows uninstaller will uninstall it.
It's important to note that this will not delete your Facebook account. You can still access your account via a web browser or the app on your mobile device. If you're still looking for a popular social media network that has proven business tools, check out these free alternatives.
Facebook Overview
Facebook is one of the most popular social media networks in the world, which makes it an incredibly important tool for connecting with people. The one thing that separates it from other popular social networking sites is that it isn't afraid to make changes, add new features, and constantly look toward the future. The announcement that they are working on developing the Metaverse, a VR universe that will give businesses a new way to connect with potential customers, can be a huge game-changer for many businesses.
Meta, Facebook's parent company, also owns several other popular apps, such as WhatsApp, Messenger, and Instagram. You can integrate each of these apps with your Facebook account to expand your reach, adjust your message, and increase your ROI.
Facebook Features
Facebook is an amazing tool for connecting people from around the globe. You can use it to stay in touch with family and friends, share pictures, jokes, memes, and more. Joining groups and "liking" pages are a way to meet and connect with people that have similar interests.
From a business perspective, the more information that people put on their Facebook profiles, the easier it is to target those people with relevant ads.
Track Ads in Real Time
Whether you create an ad or just boost a post, you are in complete control when it comes to targeting your audience. You can target your audience, based on demographics, geographic location, groups, or likes. The advertising budget can be customized based on conversion, engagement, or based on how many people see the ad. Facebook will show you the approximate number of people that will see the ad based on all your customized settings.

Once the ad is live, you'll have real time data in your dashboard. This allows you to make changes to the post based on results and help you decide whether to extend or end the ad campaign.
Monetize your Reels
When Facebook released Reels in the summer of 2021, it was just a matter of time before they allowed businesses to monetize that space. Reel ads can include clickable banners on the bottom or a sticker anywhere on the reel. One of the most significant advantages of Reel ads is the ad placement. They appear in between regular Reels and are located near the top of the timeline.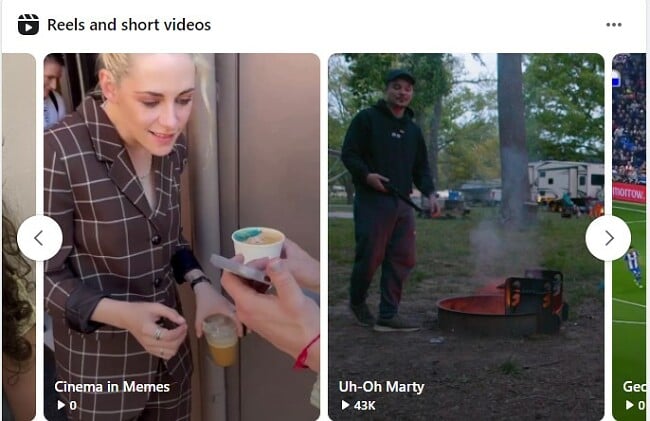 Add QR Codes To Send Users to Your Groups
Facebook Groups are a great way to bring people together around your brand. It's a safe place to discuss your product, announce releases, create polls, or talk about topics that people interested in your brand would be interested in. Until recently, one of the challenges was directing people to your group from outside Facebook. That is no longer the case, as one of the latest updates allows admins to create a QR code that will link back to your group.
Automate Ads Across all Meta Brands
Meta added ad integration from all its brands, called the Meta Advantage Suite. There are two levels of ads, Advantage and Advantage+. The goal of the Advantage Suite is to automate the advertising process and help businesses reach their audience.
The Advantage features are geared to streamlining and automating targeted ads. It helps you optimize the ads, personalize them for your specific audience, and help you maintain your efficiency so you can get the most from your ad budget.
The Advantage+ features are geared to automating the campaign creation process. Facebook will create multiple versions of your ad so they can be used on all different devices and platforms.
Free Alternatives to Facebook
TikTok: The viral sensation is more than just an app with crazy dares and the latest dance moves. It was the most downloaded app in 2021 with over 656 million downloads and gives companies an exciting way to reach a younger demographic. TikTok has all the tools a business needs to target their ads, track ROI in real time, and build new revenue streams.
Instagram: Boost your pictures to increase your view and engagement, or try creating a post that will go viral on its own. Instagram has dedicated business accounts that make it easy to engage with customers and view detailed analytics that can help improve your conversion rates.
FAQ
Is Facebook free?
Yes! Follow the instructions above, and I'll show you how to download the PC app for free. There is no charge to create a Facebook account, download the app, or post in groups.
Is Facebook secure?
Despite the fact that Facebook is a prime target for hackers due to the vast amount of data that its users upload to the site, the social network is incredibly secure. Hackers or cyber criminals only have success when they can find a backdoor vulnerability through a connected app or by figuring out a user's password and accessing their account directly. It's important that you follow the instructions above and download the official Facebook app for PC so you don't download a copycat app that will give hackers access to your personal data.
Do I need to create a separate Facebook account for personal and professional use?
You can create a business profile or page from your personal account and still keep the two separate. This way you can check the performance of your ads or page analytics without having to switch accounts. When creating an account or making a comment you can choose whether to comment as yourself or the business. Even though both accounts are managed by one user, Facebook treats them as separate accounts, so the two profiles don't appear linked, which s great if you want to keep your personal and professional accounts separate. 
Read More