Eclipse, an integrated development environment (IDE) software, is the market leader for Java coding. Its rise in popularity can be attributed to top-notch features, such as autocomplete and auto-correction tools and an easy-to-use workstation. While it was built with Java, the software can handle most of the common coding languages. It is compatible with hundreds of open-source plug-ins that can extend the features and functionalities, allowing you to develop your project however you're comfortable.
Follow the steps below, and I'll show you how to safely download Eclipse IDE for free.
How to Download Eclipse IDE Free for PC
Click on the Download button located on the sidebar, and a new tab will open directly to the official Eclipse IDE download page.
Press the Download button. Eclipse IDE will automatically detect your operating system and the file type you need.

You will be redirected to a page with a Download button from a mirror site. Choose your mirror and press the Download button.

The exe file will download to your computer. A donation page for the Eclipse community will open. There is no obligation to make a donation to use the software.
Open the file, and the Eclipse Installer will open.
Click on the programming language you want to install.

Choose the destination folder, or use the default setting and click Install.

Accept the Eclipse Foundation User Agreement, and the software will install on your computer.
How to Uninstall Eclipse IDE
If you find that Eclipse IDE isn't the right software for your open-source development needs, check out this list of free Eclipse alternatives.
The Eclipse installation isn't like most other programs, and it isn't listed with installed programs and software. This means that when you want to uninstall Eclipse, you'll have to find the installation folder and remove it. There are several folders that have Eclipse in the name, and all you have to do is delete the folders to remove the program. There are also two additional folders named ".eclipse" and ".p2," containing workspaces and other IDE components. You can delete them as well.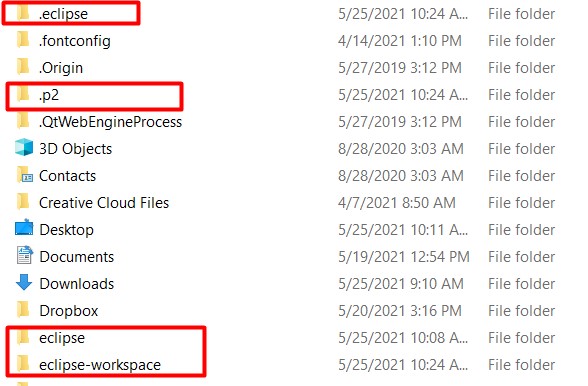 Eclipse IDE Overview
With over a million downloads per month and a market share of over 60%, Eclipse IDE is one of the most popular open-source tools for Java developers. It provides developers with a fully-featured integrated development environment for free. Developers like it for the intuitive process and creating a solid infrastructure which helps with the development process. It is also compatible with a vast library of plug-ins that can extend its capabilities beyond what is initially installed on your computer.
While Eclipse is written in Java and is primarily used for developing Java applications, it is also compatible with most dozens of coding languages such as C, C++, C#, Clojure, COBOL, D, Erlang, Fortran, Groovy, Haskell, JavaScript, PHP, Prolog, Python, R, Ruby (including Ruby on Rails framework), Rust, Scala, and more.


Eclipse IDE Features
There are many excellent features that are included with Eclipse IDE, and while I can't include them all, here are some of the best ones:
Faster coding with helpful shortcuts: As with most Java editors, Eclipse IDE uses color-coding to help organize the source code, comments, and metadata when building an application. Unlike other programs, Eclipse allows you to customize the colors through the syntax coloring panel.Eclipse also designed several shortcuts that can enhance your coding and speed up the process. As you're typing in the code, you can press CTRL+Space, and Eclipse will give you all the possible options to complete the code. For example, if you're adding a button, instead of typing out "Jbutton," you can start typing JBU and then click CTRL-SPACE, and a window will open with all the different button options.Another shortcut is understanding abbreviations for most commands and then completing them for you into acceptable code. This is also done by pressing CTRL+Space. Once you choose the complete command, Eclipse will automatically add the final quotation marks to close the line.
Finds and corrects mistakes in the code: When Eclipse finds a mistake in the code, it will highlight it red and place an X next to the line. Press the X, and a drop-down menu will appear with alternative suggestions that would fix your error.Using the example from before with JButtons, if there was a typo and you wrote JButon, the system would be flagged, and you can fix it without having to inspect every line of code.
Diffing, or Showing changes between two files: You can easily see the changes between two files, also known as Diffing files, with Eclipse. Open the Package Explorer and select the two files you want to inspect. Then, select the Compare With Each Other. This will open a window showing both sets of code side-by-screens, and it will highlight all the differences. You can fix any discrepancies in the code by simply copying and pasting from one side to the other.
Free Alternatives to Eclipse IDE
Arduino: One of the leading IDEs for creating circuit-based codes for IoT applications. Arduino is open-source and free, although you do have to purchase the circuit boards separately. Arduino gives you real-time results, so you can see how the application works and whether any of the code needs to be adjusted. Some projects that you can develop are robot cars, handheld games, fingerprint door locks, and more.

IntelliJ IDEA: A Java-based IDE, IntelliJ IDEA has many features that help developers write and publish codes in a variety of languages. These include autocorrect and autocomplete tools and debugging software. There is no completely free version of IntelliJ IDEA. They do offer a free 90-day trial, which is plenty of time to work on some projects.
FAQ
Is Eclipse IDE Free?
The Eclipse Foundation offers the IDE at no cost. It is free and open-source software that was released under the terms of the Eclipse Public License. Follow this step-by-step guide, and I'll show you how to get your free copy of Eclipse.
Is Eclipse IDE Safe?
As long as you download the official software and stay away from cracked or pirated versions of Eclipse, you won't have any trouble with viruses and malware. There have been reports of bloatware included in the installer, but I didn't come across any during my test.
What coding languages are compatible with Eclipse IDE?
While primarily developed for Java programming, Eclipse IDE is able to work with most of the leading coding languages, including Python, C, C++, Haskell, JavaScript, PHP, and more.
Visit Eclipse IDE Website