Discord is one of the leading free chat apps that allow users to connect through multiple platforms, such as Twitch, XBOX, and Steam. While it was originally developed for gamers, it has become very popular for group video and voice chats, regardless of the topic. With nearly a quarter-billion active users, you can find servers and communities focused on dance, music, movies, yoga, education, and much more. You can join up to 100 servers and adjust the notification settings for each, so you don't get overrun with push notifications. Discord also gives you the option to create a unique nickname for each server.
Download Discord for free, and you can access all your private and public rooms on Windows, Mac, Linux, Android, iOS, and Amazon Fire devices.
How to Download and Install Discord for Free
Click the Download button on the sidebar, and the Discord download page will open in a new tab.
Click on the Download for Windows button, and the setup file will download to your computer.

When the setup file finishes downloading to your computer, open it to begin the installation process.
If you already have a Discord account, you can log in now. If not, press the Register link to create your account.
How to Uninstall Discord
If Discord isn't the right software for you, check out the free alternatives below.
You can uninstall Discord from your computer in a few simple steps.
Type Add or Remove Programs in the Windows search bar and click the Enter key.
Locate Discord in the list of installed programs and click the Uninstall button.

The uninstallation wizard will automatically delete Discord from your device.
Discord Overview
What used to be a niche messaging platform for gamers has become an increasingly popular platform for just about anyone. Discord is a perfect virtual hangout location with an easy-to-use interface and great features.
Create a private Discord server or join public ones that share your common interests. There's no time limit for having video or voice chats, so you can pop in and out whenever you want and check in on the group. Within each server are different rooms with separate text and voice channels to organize the conversations.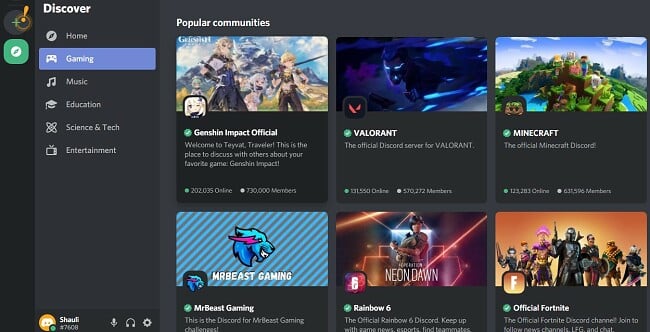 Discord Features
See where your friends are: With an intuitive design, it's easy to see which group members are logged in and if they're in video or voice channels.
Live stream: A great solution for gamers is that the Discord Go Live option can be enabled with a single click and allows you to stream games to all the server members.
Unlimited video and voice chat: Talk for as long as you want, or turn on your webcam and broadcast to friends, contacts, or an entire server. Discord also supports private one-on-one and group calls.
Choose who you hear from: Just because you're in the same server or group as someone doesn't mean you have to hear or see their comments. Discord gives you the option to block a user's comments from appearing on your feed. Not only that, but you can also adjust their volume on your computer if they are making too much noise.
Compatible with most social media networks: When building your profile, connect your Twitter, XBOX, Twitch, and Steam accounts. This makes it easier to find other discord users and help others easily find you.
Free Alternatives to Discord
TeamSpeak: Enjoy lag-free voice and video chat and live streams with the secure TeamSpeak platform. The cloud-based software gives admins the power to choose who can join a group and make volume adjustments to reduce background noise.
Mumble: The open-source alternative to Discord, Mumble has strong encryption features to prevent anyone from listening in or reading chat messages. Only verified and authenticated users can visit chat rooms, so you won't have the random visitors you might get with other programs.
FAQ
Is Discord free?
Follow the instructions above, and I'll show you how to get free unlimited access to the most Discord features. There is a premium version called Discord Nitro that has some added features, like extra stickers, animated avatars, and server boosts for elect communities.
Is Discord secure?
As long as you download the official version of Discord, you won't have to worry about viruses, spyware, or other types of malware. It's also important that you always update to the latest version, which will patch up any vulnerabilities.
Is Discord safe?
There are plenty of privacy settings that allow you to control who you speak to or who can contact you. The best practice is to only connect with people who you know in real life. There are server mods that are overseeing the general discussions on the servers and block anyone from acting inappropriately.
What are Discord servers?
Servers is just the terminology used by Discord to differentiate between communities. A server can be specific to a game or topic and can be set as private or public. All servers are broken into two sections, voice channels and text channels, and can have bots that moderate discussion, send out welcome messages, and more.
Can I use Discord when playing Fortnite?
There are hundreds of dedicated Fortnite servers, both public and private on Discord. It's a great solution if you're playing with friends, enter your squad into a private room to discuss strategy, and warn each other about pending attacks. Discord also has an overlay feature for the PC version of Fortnite, so you can chat and play on the same interface.
Visit Discord Website