With CyberLink YouCam, you can add filters, virtual backgrounds, emojis, stickers and more to your webcam.
YouCam is more than just a fun filter for webcams. It can take HD pictures, integrate with PowerPoint to enhance your presentations, and integrate with streaming services such as Twitch, Facebook Live, YouTube Live and U Meeting.
Follow the instructions below and get YouCam for free for 30 days.
How to Download and Install the CyberLink YouCam for Free
Click on the Download button on the sidebar and a new tab will open to the CyberLink free download page.
Press the Free Download button, and the .exe file will automatically download to your computer.

Open the file after it completes downloading, and the installation wizard will open.
You can either choose a file location or use the default folder provided by YouCam. If you don't choose within 15 seconds, the download will begin and automatically use the default location.
After the download is finished, click on the Install button, or wait a minute and YouCam will automatically start the installation process.
Accept the License Agreement and Privacy Policy and the installation will finish.
Click Launch YouCam.
How to Set Up Your YouCam Account
If you don't have an account with CyberLink, click on the Quick Registration button.
Provide a correct email address and establish a strong password. If you prefer not to get promotional content, you'll need to select the option confirming you're above 13 years old. Afterward, simply press the Register Now button.
An activation email will be sent to your email. After you activate your account, you can sign in to your CyberLink YouCam account.
Click the Launch Free Version button to start your 30-day free trial.
You can register your account if you want, but if you're not planning on purchasing the premium version at the end of 30 days, just click Not Now.
How to Uninstall YouCam
If YouCam isn't the right software for you or your 30-day free trial is ending, you can uninstall it in a few easy steps. You can also check out these free alternatives below.
Type Add or Remove Programs in the Windows search bar.
Find YouCam in the list of installed programs and click Uninstall.

Confirm that you want to remove all the YouCam components and the software will be removed from your computer.
YouCam Overview
Whether you're using your webcam for business or fun, YouCam can really improve your experience.
The software comes with different makeup filters, and it can add funny elements such as hats, glasses, facial hair, even masks on your face. You can also change your background to make it appear as if you're giving a press conference, starring in a movie, a work of art, and much more.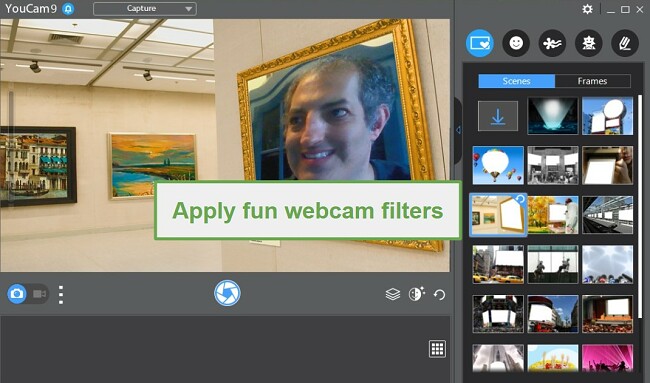 If you're working on a presentation, YouCam has a Presentation Creation Wizard that is compatible with PowerPoint. You can import images and add special effects to give it a unique look.
YouCam can also use your webcam to take pictures, and then apply different filters that will give your pictures the look you need.
Compatible with Streaming Services
One of the best YouCam features is that you can live stream your videos directly to Twitch, Facebook Live, YouTube Live, Wirecast, U Meeting, Skype for Business and more. It allows you to connect with your viewers by adding titles, logos, and even promotional messages during your broadcast.
YouCam Features Include:
Over 200 effects
Emojis, stickers, backgrounds, and distortions to personalize your webcam
Filters to adjust lighting, sharpness, shadows, and more
Facial recognition software to lock and unlock your webcam for added security
Free Alternatives to YouCam
Zoom: From business meetings and remote learning to long-distance family get-togethers, Zoom is one of the best video conferencing platforms available. The free app has chat features, virtual backgrounds, and the option to mute other participants.
ArcSoft: Get more from your webcam with the ArcSoft webcam companion. Add filters, take HD pictures, and use the hands-free capture to get the perfect shot without touching the mouse or keyboard.
FAQ
?Do YouCam filters work while using Zoom?
Yes, if you're
using Zoom
it will automatically integrate all the backgrounds, filters, stickers, and more into your Zoom video conference. 
Read More