Download the CyberLink PowerDirector for free and edit your video like a pro. Using a multi-track timeline style editing station, you can add different types of media to bring your vision to life.
When the editing is complete, produce your video for multiple outlets, including direct to video sites, VR, and more.
How to Download and Install CyberLink PowerDirector for Free
Click on the Download button located on the sidebar, and the official download page for PowerDirector will open in a new tab.
Press the Free Download button, and the EXE file will automatically download on your computer.

Open the file, and the CyberLink PowerDirector Downloader will appear. You can either press the Start button or wait 10 seconds, and it will start automatically.
When it's finished downloading, press the Install Now button.
The installation wizard will open. Choose your preferred language, and click Next.
You will have to accept the License Agreement to continue.
PowerDirector will install on your computer.
When the installation is complete, press the Launch PowerDirector button.
How to Create a PowerDirector Account
The first time you open PowerDirector, you will need to log in or create a CyberLink account. If you don't have an account, press the Quick Registration button to begin.
Enter a valid email and create a secure password between 6 and 20 characters. Then press the Register Now button.
You will receive an activation email with a button that says Activate My Account.
Press the button, and then you can log in to the PowerDirector app.
How to Uninstall PowerDirector
If PowerDirector doesn't have the features you need in a video editor or just want to try a different program, check out the free alternatives below. In the meantime, you can free up space on your computer by uninstalling the PowerDirector software.
Type Add or Remove Programs in the Windows search and press the Enter key.
Find PowerDirector in the list of installed applications and click the Uninstall button.

You will have to confirm that you want to delete the PowerDirector, and the uninstallation wizard will begin.
Before the software removal is complete, a dialog box will ask if you want to save your settings. If you have plans on reinstalling PowerDirector, I recommend you save your settings. Otherwise, you can delete them as well.
PowerDirector Overview
The CyberLink PowerDirector is a professional-level video editor that has all the tools you need to edit and publish your work.  The workstation is a multi-track editing board, making it easy to line up multiple video clips, add transitions, audio files, effects, and text overlay.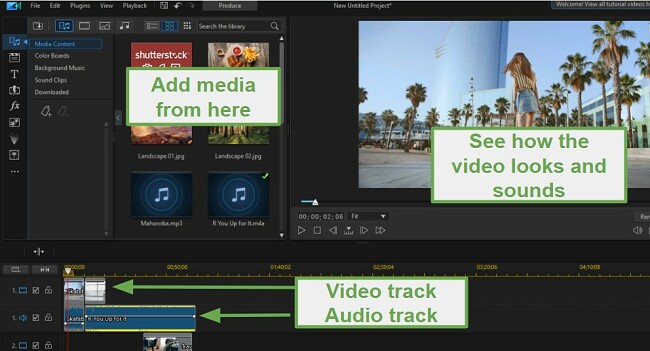 The software is easy to learn for a novice editor just looking to improve a fun video before posting on social media. It also has video tutorials that explain how to use different tools and create special effects. This doesn't mean that PowerDirector is a beginner's tool. It also has all the advanced features that a video director needs to complete a movie, marketing clip, or commercial.
When your project is complete, you can produce the video in a range of formats, including 3D. If you're planning on directly publishing the video online, PowerDirector can upload it to Facebook, Vimeo, DailyMotion, and Nico Nico Douga.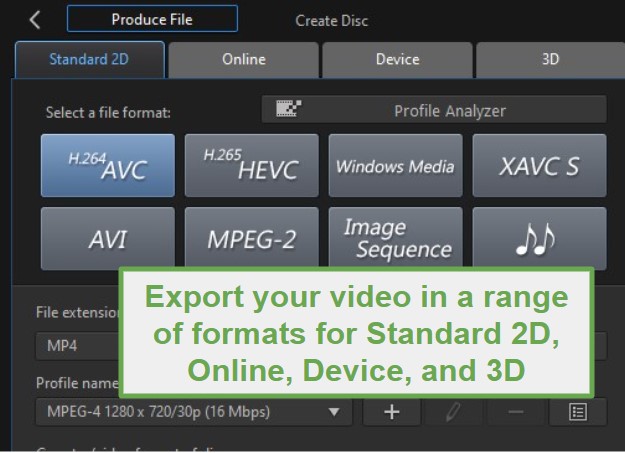 PowerDirector Features
Royalty-free stock videos and sound effects: You can find a collection of sound effects and video clips that can enhance your videos for free. Premium subscribers have access to more options.
Multiple workstation options: While the timeline workstation is the default option, there are other options as well. You can work in storyboard mode, slideshow creator, and auto mode.
Green screen editing: Also known as chroma-key, this allows you to add different backgrounds when the recording is done in front of a background with a solid color.
Picture in Picture editing: PiP editing is a relatively new feature in PowerDirector. It works with a  video collage designer that breaks the video into different grids and allows you to edit each separately.
360-degree editing: Edit video for VR with the tools needed to edit a 360-degree video.
Learning center: Get tips from the pros and find hundreds of tutorials that will guide you through even the most complex video edits.
Free Alternatives to CyberLink PowerDirector
Kdenlive: A non-linear video editor, Kdenlive is a free, open-source program that works on Windows and GNU/Linux. The easy to use editing program has multi-track compatibility and works with most video and audio formats. Produce your video with visual and sound effects. transitions and renders high-quality videos.
Adobe Premiere Pro: While this product is not free for life, you can take advantage of a free 30-day trial if you only have to edit a few videos. Adobe Premiere Pro is a non-linear editing program that allows you to add virtually any media to the timeline style editing board. Whether you're working with a single file or combining different types of formats, such as videos shown on a smartphone with videos taken with an HD video camera, it can combine the files to a native format so you can quickly start editing.
FAQ
Is CyberLink PowerDirector free?
There are two versions of PowerDirector: a basic free version and a premium option that comes with lots of additional features.  Just follow the instructions above, and I'll show you how to download PowerDirector for free. 
Is CyberLink PowerDirector safe to download?
As long as you download the software from the official CyberLink site and not a "cracked PowerDirector" version from some download site, PowerDirector is completely safe to download. I tested the file with VirusTotal, and it was clean of all viruses, malware adware, spyware, and more. 
Can CyberLink PowerDirector publish direct to Facebook?
Not yet. Currently, PowerLink can upload directly to YouTube, DailyMotion, Vimeo, and a Japanese video-sharing site Nico Nico Douga.  
Is PowerDirector compatible with other CyberLink products?
Of course! You can record videos using YouCam the webcam recording tool, and upload the video to PowerDirector for editing. Then, when your project is complete, you can use PowerDVD to burn the clip on a DVD.
Read More