Coinbase is a digital currency exchange platform where you can buy, sell, send, receive and store cryptocurrency like Bitcoin, Ethereum, Dogecoin, etc. It's highly suitable for beginners and advanced traders because of its useful features like a simple portfolio dashboard, quick buying options, and a secure crypto wallet.
Coinbase supports over 100+ cryptocurrencies and gives users numerous opportunities to earn crypto. It also offers valuable information like guides, market news, and trends that affect the decentralized finance industry.
Get your free account today by following the step-by-step guide below and start trading.
How to Download and Install Coinbase for PC for Free
Coinbase is a web-based application, so you don't need to download it on your PC because you can use it online. Here are the steps you need to take to get a Coinbase account:
Click on the download button on the sidebar to go directly to Coinbase's official page.
Enter your email address and click "Get Started."

On the next page, fill in the form with your personal details.
Verify your email address by clicking on the sign-in link sent to your email.
Set up two-step verification with your phone number to secure your account.
Finally, set up your bank card details. Your bank account is for buying crypto as Coinbase doesn't charge for account creation.
Coinbase Overview
Coinbase, founded in 2012, is a peer-to-peer trading platform that allows users to buy and sell digital currencies. It works by giving users secure, anonymous identities, public and private keys. When you sign up on the platform, you will get a public key paired with only one private key.
You can share your public key with anyone to receive cryptocurrency. Your private key is meant only for you, and it's meant to access your cryptocurrency, and it is the key to the digital assets you hold.
Coinbase is extremely easy to use and has a clean and minimalistic dashboard that helps you keep track of all your assets in one place. It provides both simple and advanced trading dashboards that you can easily access when you want to buy or sell. It also provides guides, news, and relevant information to help you make your trading decisions.
Features
User-friendly dashboard: You can see all your total assets in your portfolio dashboard, plus a watchlist of your favorite cryptocurrencies. The watchlist contains useful information that you can use to make a buying decision like price, change, and market cap. It is expandable, and it shows more information once clicked.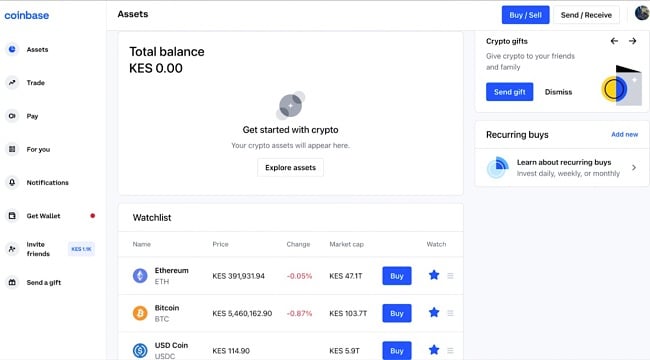 Coinbase also has a trading dashboard. It contains a list of all the currencies you can trade on the platform, plus all the relevant information you need for decision-making. It's presented in an easy-to-understand format using graphs.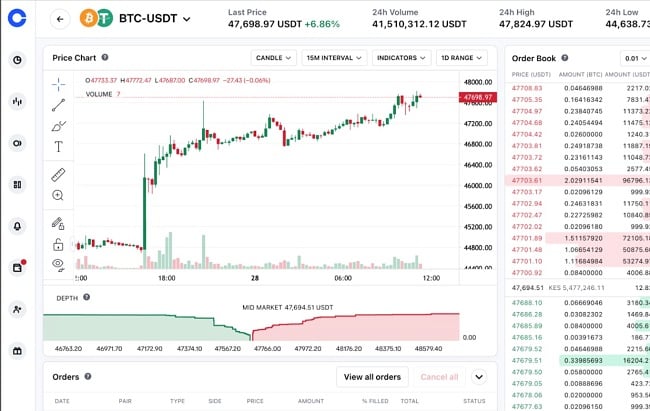 Wide cryptocurrency support: Coinbase supports over 100+ cryptocurrencies, and they are constantly updating their database. For instance, they started supporting Crypterium and ApeCoin. Their flexibility and agility to keep up with the market mean you'll never miss out on investment opportunities.
Secure logins: Coinbase uses AES-256 encryption to protect the platform. This is the same encryption level that banks and the military use, which means it's very secure. Additionally, Coinbase employs -factor authentication every time you sign in and transact large amounts of crypto. No one can ever access or transact using your account without authorization.
Numerous customization options: You can customize your trading experience on Coinbase with options such as:
Setting notifications for sending or receiving crypto.
Setting notifications for merchant orders.
Allowing or disallowing instant sends with other Coinbase users.
Setting who can or can't send you crypto.
These simple options go a long way in the user experience and eliminate doubt in the trading process.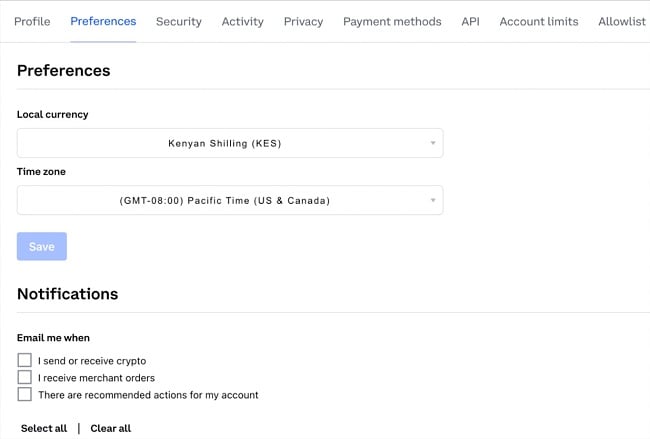 Automated recurrent buying: You know how some of the best investors take advantage of dollar-cost averaging to mitigate risks? You can set up a similar system on Coinbase. Coinbase has a recurrent buying option where the platform automatically buys you a fixed amount of crypto-based on a set frequency. This is designed to reduce time spent timing the market and mitigate risks.
Account limits: Coinbase sets trading limits for users based on their location and payment methods. While this may be limiting for people who trade large volumes of crypto daily, I found it particularly useful in helping me think rationally about how much money I put into trading crypto. It's an excellent self-regulation feature.
How to Uninstall Coinbase
As highlighted above, Coinbase is web-based, so there isn't an uninstallation process. However, if you are unsatisfied with the platform, you can close your account by following the following steps:
Sign in to your account on a web browser.
Click on the profile icon on the top right of the page.
Select settings and navigate to activity.
Scroll down and select "Close Account" on the activity page near the bottom.

Note: You must have a zero balance to close your account successfully.
If you are still looking for cryptocurrency trading platforms, check out the alternatives below.
Free Alternatives to Coinbase
Binance: This trading platform supports up to 65 currencies and can be accessed globally apart from the U.S. It is more suited to hardcore traders due to its complex and complicated interface.
Uphold: This platform allows users to buy and trade across asset classes. For instance, you can purchase equities, precious metals, and cryptocurrency.
Gemini: This cryptocurrency exchange supports about 40 cryptocurrencies. It has a tiered service with different dashboards and charges to cater to beginners and experienced traders.
FAQs
Is Coinbase secure?
You won't have any security issues if you
create your account on the official Coinbase site
. Coinbase is a secure trading platform, and it uses military-grade encryption to keep accounts safe. Additionally, it utilizes a two-factor authentication system for log-ins to avoid any hacks and data leaks.
Does Coinbase regulate trading limits?
Yes. Coinbase imposes payment and deposit limits for all users depending on your location and payment method type. You can find this information in the "Account Limits" section of your profile.
Download Coinbase now!