Chatsonic is a powerful AI chatbot just like ChatGPT but with more capabilities (built on the GPT-4 engine) and is powered by Google Search. Chatsonic gives you current and updated responses, serving as a good alternative to ChatGPT.
With Chatsonic, you do not need to type at all. You can give a voice command and generate the content you like. The AI tool can even detect your tone and emotions and turn your text into art.
Although Chatsonic isn't entirely free, you can start with the free trial option, which also gives you unrestricted access to all of Chatsonic's features. Follow the instructions below and I'll show you how to download and install Chatsonic on your PC for free.
How to Download and Install Chatsonic on Your PC for Free
Click the download button on the sidebar. This will take you directly to the Chatsonic sign-up page.
Sign up with your Google or Apple account, or create a new account using your business email.
You're now done with the sign-up process. Have fun chatting with Chatsonic!
How to delete your Chatsonic account
Chatsonic presents itself as a web application, eliminating the need for installation or removal processes commonly associated with traditional desktop applications. If you decide to discontinue using the service, no further actions are required on your part.
However, if you want to delete your account, go to your Account profile (Profile Details) on the top-right side of the chatbox, click on the question icon at the bottom right, and type in your message requesting to delete your account in the message box shown. A team member will confirm your request and delete your account.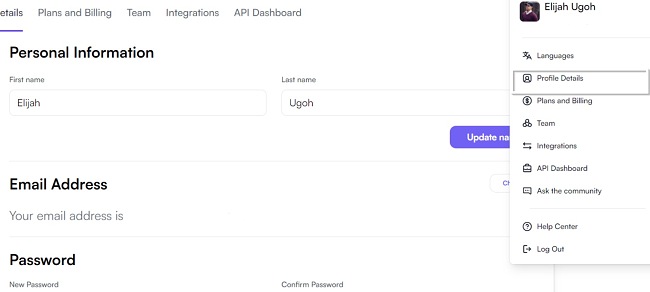 If you would like to try other similar AI Chatbots, check out the free alternatives below.
Overview of Chatsonic
ChatSonic is an AI-powered writing assistant that can help you write exceptional quality content quickly and accurately. It is built as a direct response, addressing the limitations of the ChatGPT. Chatsonic uses natural language processing (NLP) and machine learning to generate text, create images, and answer questions. While it is built as an alternative to ChatGPT, ChatSonic has some differences from other AI chatbots like ChatGPT. This includes its ability to generate images and recognize voice prompts.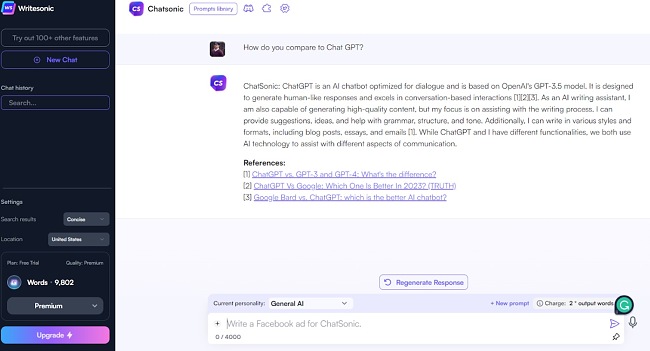 Like ChatGPT, Chatsonic also has paid plans, with the free trial having a monthly limit of 2500 words and 10,000 words in total. Compared to ChatGPT, which has a knowledge cut-off of 2021, Chatsonic has a Google integration that allows it to give you current and updated information.
Features of ChatSonic
Chatsonic is very easy to use. The web app features a simple user interface that also gives you one-click access to either Writesonic or Photosonic.

Use voice commands to provide prompts to Chatsonic. So you don't need to type when you don't feel like it. The tool also reads out the responses it provides.
Chatsonic can hold contextual conversations, meaning it remembers past questions and responses in your conversations and can easily answer follow-up questions.
Text2Speech function, which is as convenient as Siri or Google Assistant.
With the ChatSonic for Chrome extension installed on your browser, you can use the tool across Google Docs, Gmail, Linkedin, Twitter, and Facebook. Mention @ChatSonicAI with your prompt to start a conversation on Twitter.
Free Alternatives to ChatSonic
ChatGPT: ChatGPT is an AI chat tool powered by GPT-3 engine and provides you with responses to questions on a wide range of topics. It utilizes Natural Language Processing (NLP) to facilitate text-based conversations. ChatGPT is built for contextual dialogue, so you get to interact with it as though you're chatting with a human being on the other end.
Google Bard: Google Bard is an experimental AI chatbot developed by Google. The conversational AI tool is based on Google's LaMDA (Language Model for Dialogue Applications), which was trained on trillions of words to help it understand human language and give you reasonable responses. Bard can give inaccurate responses sometimes.
Bing AI Chat: Bing AI Chat uses Artificial Intelligence technologies, such as Natural Language Processing (NLP), Machine Learning (ML), and Pattern Recognition (PR) to simulate human-like conversations. You can ask questions and receive relevant answers on a wide range of topics, including sports, entertainment, business, and lifestyle.
FAQs
How does Chatsonic compare to ChatGPT?
Both platforms are AI chatbots that offer similar features, such as NLU and Text-to-Speech capabilities, pre-built dialogue flows, and use cases for customer service, marketing, e-commerce, healthcare, and marketing. However, ChatGPT offers more advanced NLU capabilities and extensive dialogue flow options, while Chatsonic has more robust TTS capabilities and pre-built chatbot building blocks. In addition, ChatGPT is trained with data terminating in 2021. Chatsonic, on the other hand, integrated Google Search to ensure accurate results. Ultimately, both platforms offer instant responses to questions on a wide range of topics.
Read More