Challenge friends or brawl with random players worldwide when you play the popular Brawl Stars game by Supercell. By combining several popular gaming methods, Brawl Stars has several different game modes but is primarily a 3 on 3 battle for survival. Each brawler has different skills, which you can improve by collecting gems and using them to purchase power-ups from the shop.
I'll show you how to download and play Brawl Stars for PC, but you will need to download a free Android emulator, such as Bluestacks, to play.
How to Download and Install Brawl Stars on PC for Free
Click the Download button on the sidebar, and a new tab will open directly to the Brawl Stars download page on PureAPK.
Press on the Download XAPK button, and the XAPK file will automatically download to your PC.
You will need to download an Android emulator to run the XAPK file on your computer. I recommend Bluestacks since it's safe and fast.
When the XAPK download is complete, click on the file, and the Android emulator will automatically install the program.
After the Brawl Stars installation is complete, you can either open the game by clicking on the Brawl Stars logo on your computer or open it directly from inside the emulator program.
How to Download Brawl Stars for Android (XAPK Version) for Free
Click the Download button on the sidebar to go directly to the Brawl Stars download page on APKPure.
Press the Download XAPK button, and the file will automatically download to your computer.
When the download is finished, you will need to transfer the file from your computer to your phone. This can be done wirelessly with a file-sharing software like ShareIt or by connecting your Android device to the computer with a USB plug.
To enable the installation of applications from sources not recognized by your Android device, you need to modify the settings. This option is typically located within the Privacy section of your device settings.
Tap on the file to run the installation program.
Confirm that you want to install the app, and it will be installed like any other mobile app.
How to Uninstall Brawl Stars from your PC
If you're not enjoying Brawl Stars, check out these free exciting PC game alternatives.
To uninstall Brawl Stars from your computer, you will need to open the Android emulator and delete it through its platform. I'll walk you through the process using Bluestacks, but it's similar to most emulator programs.
Open BlueStacks and go to the My Games section.
Place your mouse over the Brawl Stars icon and right-click the mouse.
Click on the Uninstall link.

Confirm that you want to delete Brawl Stars, and it will be completely removed from your computer.
Brawl Stars Overview
While Brawl Stars is primarily a mobile-based game, with the right tools, you can download it and play for free on a PC as well. The game is a combination of several different game types, including first-person shooter, battle royale, and multiplayer online battle arena (MOBA).
The game can be played alone or with friends, as you enter the brawl zone for a fast-paced 3 on 3 fight. The object of the game is to use your brawler's strengths and skill to attack the opponents until they are too weak to continue. As you play, you can earn gems and tokens that can be used to purchase power-ups, special moves, or better brawlers.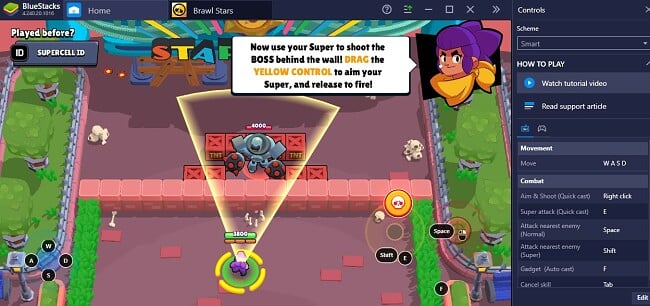 Brawl Stars Features
Multiple game modes: There are many different ways to play Brawl Stars. In addition to the classic brawl, you can challenge a team of three players to a Gem Grab and see who can collect 10 gems first. Another popular game is Brawl Ball, it's like soccer, but without any fouls or penalties. Showdown is a Battle Royale style game of survival.
Brawler upgrades: Earn additional brawlers that come with special skills, powers, and gadgets.
Skill-based matchups: With a smart algorithm, Brawl Stars matches up players with similar skills. This is based on several factors, including the number of fights, trophies, and gems. So you can expect a fair brawl when you enter the game.
New seasons and maps: Brawl Stars continues to improve, with new maps released for each season. It also introduces new brawlers, challenges, and skills fairly often.
Free Alternatives to Brawl Stars
Grand Theft Auto: San Andreas: Play the popular action-packed game, Grand Theft Auto: San Andreas, and see if you can help CJ solve his mother's murders. This game has everything gamers have to come to love about the GTA franchise. You can either follow the missions and meet all types of interesting characters as you enter the criminal underworld to steal cars, make money, and navigate the delicate battle between rival gangs.
Plants vs. Zombies 2: The green, brain-eating zombies are back, but this time you'll have to go around the world, travel back in time, and to the future to stop the zombie apocalypse. There are endless rounds, survival matches, and a whole new crew of zombies that you'll have to devise a strategy to use your plants and gardening accessories to kill them before it's too late.
Fortnite: One of the best Battle Royale games on the web, Fortnite is a true game of survival. Jump onto the island with 99 other players and see if you can be the last one standing. While on the island, you'll be able to find materials for building defensive and offensive structures, weapons that can be used to kill the other team before they find you, and cars and boats to help you quickly move on the island and stay within the safe zone.
FAQ
Is it safe to download the Brawl Stars XAPK?
Can I play Brawl Stars on PC?
While Brawl Stars is primarily a mobile-based game, if you have an Android emulator such as Bluestacks, you can install and play mobile apps on your PC.
Read More