Box is a file-sharing and storage application designed for Windows, macOS, and iOS platforms. It is similar to Dropbox, but it is more of a collaboration tool than Dropbox. Plus you get 2 GB free storage from Dropbox while Box offers you 10 GB. When your team needs to collaborate on projects or get contracts reviewed and signed remotely, Box is a smart choice for file-sharing software.
The software is built to work on different devices, and can be used from anywhere. It centralizes content online in easy-to-organize workspaces, and empowers you to control your content so that you can share files and folders securely — even with people outside your company. The advanced search with Metadata option makes finding and editing files a breeze.
While Box has tiered subscription plans for users, if you follow the steps below, I'll show how to get started with Box for free.
How to Download and Install Box on Your PC for Free
Click on the Download button on the sidebar to go directly to the official Box download page.
Click on the "Download Box Drive for Windows" button as shown below to get the desktop application.

Go to your download folder and double-click on the setup file to start installing the app.
Once the installation completes, click on the "Sign Up" button to create your account.

Click the confirmation link emailed to you to activate your account and start sharing with Box. Drag and drop files and folders into your Box folder to get started.

How to uninstall Box from your PC
If you are no longer interested in sharing and storing your files using Box, below is an easy way to uninstall the application from your PC.
Type Add or Remove Programs in the Windows search bar and click the Enter key.

Scroll and locate Box on the list of installed programs, then click the "Uninstall" button.

Once the uninstallation wizard opens, confirm that you want to remove the software, and it will be deleted from your computer.
If you want to try out other cloud storage services, check out the free alternatives below.
How to cancel your Box account
Box has different procedures for account canceling – all specific to your account type. To cancel your Personal Individual (Free) account, which is the one you just signed up for, see the steps below:
Sign into your Box account on the app or through the web browser.
Go to Account Settings.

Scroll down and click 'Permanently Delete Your Account'.

Confirm the deletion request by clicking 'okay' to complete the process.
Overview of Box
Box is a file-sharing and content management platform that can be likened to other business tools, such as Dropbox and OneDrive. Once installed, a Box folder is created on the desktop. Here, files can be saved locally and uploaded to the Box Drive once there's internet connection. Several other features of the software, which make it stand out among similar applications include online editing, quick and advanced search, image editing, easy file sharing, excellent customer support, and an easy-to-use interface.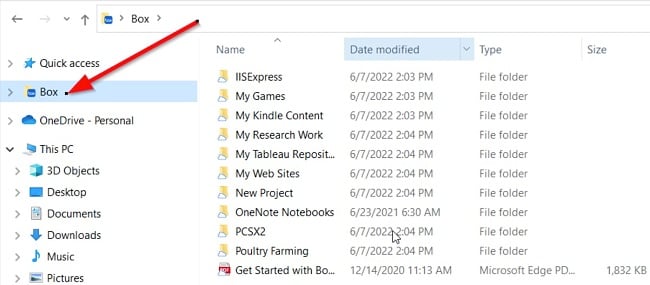 Box offers new users a free Personal Individual account that comes with a free 10GB storage and 250MB file size upload limit.
Other apps provided by Box include Box Tools and Box Mobile. Box Tools allow you to create and edit different file types, such as Office, CAD, and Photoshop, directly from your web browser. Box Mobile, on the other hand, is designed for iPhone, iPad, and Android devices. It helps make file management using the Content Cloud easy and secure. Generally, with Box, you can manage all of your content seamlessly, scan, upload, and share with others on the go.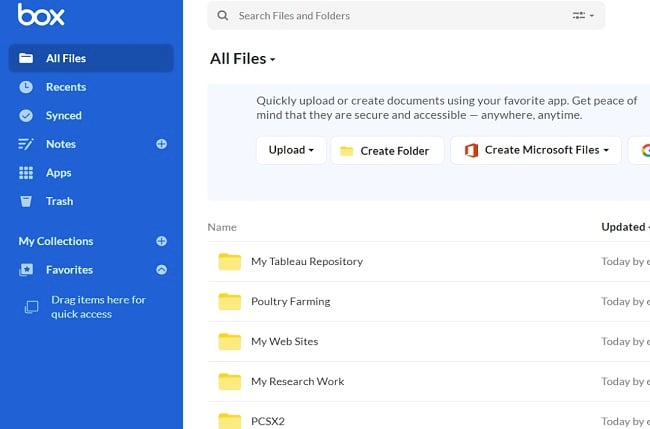 Features of Box
Cloud Storage: Box Drive keeps all your files and folders stored in the cloud so you can easily access and share them from any device.
Box Folder: From your desktop, you can access all your Box files without taking up valuable hard drive space. Also stream content at any time.
Automatic Upload: Use your favorite applications to create and edit contents and all the changes you make will be automatically uploaded to Box Drive when you save.
Easy File-sharing: Share files and folders with ease. Anything shared with you automatically appears in your Box folder.
Quick Search: Use the search bar to conveniently search for whatever you need without opening your folders one after the other. The shortcut key is "Ctrl+Alt+Shift+B".
Offline Support: Right-click on any folder to save its content on your device. You can also download and edit your Box files while offline. Every modification you apply will be stored on your device and seamlessly synced to your Box Drive as soon as your internet connection is reestablished.
10GB Free Storage: The free basic plan comes with 10GB free storage space and allows you to upload up to 250MB file size per time.
Remote Logout: In case you lose your device on which you're signed into your Box account, you can use the remote logout feature to logout of that device and protect your account from unauthorized access.
Free Alternatives to Box
Dropbox: Dropbox is probably the oldest file storage and content management software on the market. It is primarily designed for enterprises needing efficient and seamless file-sharing services. Millions of people use Dropbox, as it is free, easy to use, allows the storage of large files, and easy access to the cloud storage from any location.
OneDrive: OneDrive is a reliable cloud backup and storage solution provided by Microsoft. The app installs a desktop folder on your PC, and every folder or file saved on it syncs automatically with your OneDrive cloud account.
MEGA: MEGA is a secure cloud storage service that offers you a seamless cloud storage solution for saving files using an excellent end-to-end encryption. MEGA comes with a free 25GB storage when you sign up. The software uses zero-knowledge encryption to secure data and ensure encrypted link sharing, thereby providing an additional layer of security against unauthorized third-party access.
FAQs
Is Box secure?
Box claims to adhere to the highest industry standards for security so you can share, access, and manage your content with confidence. All files uploaded to Box are encrypted using 256-bit AES encryption. You can
safely download and install Box on your computer from the official website
. Avoid downloading Box from unofficial sites, as they may expose your device to spyware and viruses.
Can I share my Box files and folders with someone who doesn't have a Box account?
Yes. You can create an external link that you can share with anyone — including people who do not have a Box account.
Download Box now!