Altium Designer is the ultimate PCB design software for engineers who want more power with the flexibility of different grids that you normally don't get with other ECAD tools.
Whether you are a student, a hobbyist, or a professional, Altium Designer is the fastest way to go from ideation to project execution. It offers a seamless electronics design with advanced features like hierarchical and multi-channel design, mixed simulation, interactive routing, schematic capture, and MCAD collaboration.
Follow the instructions below and I'll show you how to download Altium Designer and get a 15-day free trial to try out the software (Students get 6-months free trial).
How to Download and Install Altium Designer for PC for Free
Installing Altium Designer is a straightforward process. It takes about 10-15 minutes to download the software and install it. Here's what the process looks like:
Go directly to the official Altium Designer download page.
Click on the Request Free Trial button, and then download the .exe file to your computer.
When the download is complete, open the file, and the Installation Wizard will open.
Click on the Install button to begin. If you want to customize the software functionality, select the features you want during the installation process. Once you've set your preferences, click the Install button.
Once completed, click the Start Now button to begin.
Altium Designer Overview
The latest Altium Designer version has all the features you need to create professional-grade PCBs like 3D visualization, schematic editor, auto routing, and collaboration tools. Due to all the features it packs, it might take some time to understand how it works. However, once you learn how Altium Designer works, it will be easy to design and create circuit boards.
It stands out in the market with its constantly updated features and modern architecture. Plus, it has a well-designed interface that is easy to use and navigate once you learn how to use the software.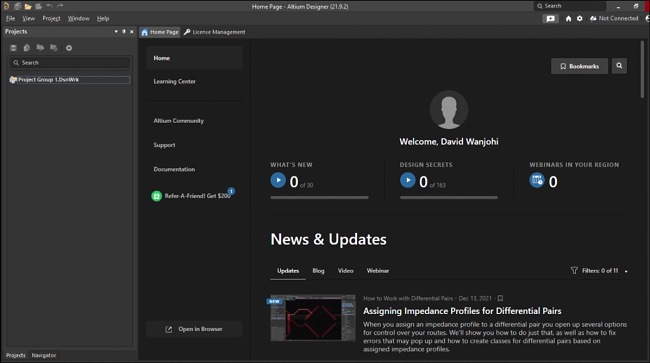 Altium Designer Features
3D Visualization: With Altium Designer you can create and design in a 3D environment which allows you to preview your project before you commit to a prototype. You can easily see how different components fit into each other and identify board problems. It also offers instant editing access to all component parameters.
Additionally, you can review all connection paths within the software which makes visual design checks easier and reliable, and export 3D board models.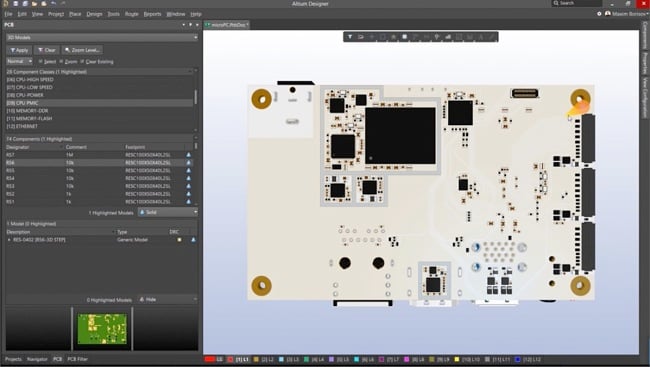 Collaboration tools: When working in a team, you can easily share project files with your teammates within Altium Designer and give them access to what you are working on. They can view, comment and even edit your design. Every edit that is done is synced within your workspace. This is so convenient because you don't have to swap design files anymore.
Simulation: Altium designer has an advanced SPICE engine where you can run simulations of your product design before execution. This will save you from mechanical failures and reduce your output time.
PCB toolkit: Altium designer offers a complete PCB design package meaning that you don't have to constantly move your design data from one program to another. You can do a schematic design, create a PCB layout and create manufacturing documentation in one place. It makes it easy to prepare layer stackup, set up rules, and implement different routing styles. It even checks your layout against your design rules ensuring optimal circuit board operation.
Documentation feature: Altium designer has a documentation tab where you can access different resources and tutorials on how to use the software. Additionally, they add weekly design learnings and lessons from different creators and professionals. As if that's not enough they offer webinars within the platform for anyone who may be interested in getting better in their craft.
Component library: Altium Designer has a massive library with hundreds of thousands of components. You can easily create your own custom component library for your own projects. Additionally, manufacturer part search is simplified as you can search by manufacturer part numbers or design parameters in the library.
How to Uninstall Altium Designer
If Altium Designer isn't the right tool for you or you don't want to extend your free trial, you can simply uninstall it from your computer:
Type Add or Remove Programs from the Windows search bar.
Locate Altium Designer in the installed programs section and click the Uninstall button.
Choose the uninstall action you want to perform (partial or complete uninstall), then press the "Next" button.
Free Alternatives to Altium Designer
Circuit Maker: This free, open-source EDA software has most of the tools you need to create your PCB designs. While it's not as powerful as Altium Designer, it's an Altium product and comes with some amazing features like native 3D technology, collaboration features, a massive component library, and a multi-sheet schematic editor among others.
KiCAD: With KiCAD, you can create professional PCB layouts. While it has limited features, it is 100% free and is available on multiple platforms like Windows, Mac, Linux.
FAQs on Altium Designer
Is Altium Designer free?
Follow the steps above and I'll show you how to download a free trial version of Altium Designer through their official website.
Is Altium Designer safe?
As long as you download the software from the official Altium Designer site, you won't have any issues with viruses, malware, or spyware. Stay away from "cracked Altium Designer" download sites as these are often infected with different types of malware trackers.
Does Altium Designer work on Mac?
Unfortunately, no. Altium Designer is only available for Windows PCs. However, you may be able to use the software on your Mac by using ARM Windows 10 virtual machine in parallels.
Visit Altium Designer Website