Adobe Lightroom is an image editing software that was designed specifically for editing pictures from phones and cameras. It includes all the tools you'll need to make your pictures look just the way you want, organize them for an album, or share them on social media.
You can either download Lightroom with the entire Adobe Creative Cloud collection of apps or as a standalone app. After you choose the best option for you, follow the instructions below and I'll show you how to get your free 7-day trial.
Download Adobe Lightroom Free for 7 Days
How to Download and Install Adobe Lightroom for Free
Click here to open the official Adobe Lightroom download page in a new tab
Press the Try for Free button.

A new page will open with three Adobe products. Click the Free Trial button under the Lightroom description.

Enter your email address and click continue.
You will have to enter your credit card information, but you won't be charged until your free trial ends. Then press the Start Free Trial button.

Set your password and click Continue to complete the account setup, and the .exe file will automatically download to your computer.
Click on the file to open the installer, and then click on the Continue button to begin the installation process.
A browser window will open, and you will have to log in to your Adobe account. Once this is done, return to the installer and press the Start Installer button.
The Adobe Creative Cloud will download to your desktop, and when the installation is complete, it will automatically start to download the Lightroom application.
While Lightroom is installing, Adobe will have a questionnaire asking what your role is in your company. You can either answer the questions or press the Skip Question button.
Download Adobe Lightroom Free for 7 Days
Adobe Lightroom Overview
Adobe created a lot of confusion when they split Lightroom into two separate apps but essentially gave them the same name.
Lightroom Classic: This is the original desktop photo editing software from Adobe and was developed for professional photographers.
Lightroom: A cloud-based photo editing software that can be accessed on computers, tablets, and phones. It's user friendly and has tools for anyone looking to enhance their pictures.
What makes it even more confusing is that both programs are available through the Creative Cloud. This review will focus on the cloud based Lightroom.
Lightroom Classic Features
Lightroom is a popular tool among amateur photographers and hobbyists that want to enhance their digital images. Since it's cloud-based, the pictures can be accessed from the device. I liked this, as it gave me the freedom to edit my pictures from anywhere.
There have been several feature upgrades to Lightroom, bringing it closer to the Classic version. These include exporting images as DNG raw files, better album organization tools, adding and customizing watermarks, collaborative editing, and more.
Lightroom has a batch editing feature. If you want to add the same filters, coloring, geometric changes, or lighting adjustments to multiple images, this comes in handy. Just do the work one time, and it will instantly be applied to all other images that you select.
Importing and Organizing Pictures
You can import pictures individually, in groups, or by album. If you're using a computer, click on the Add Photos buttons on the left-hand menu. A dialogue box will open, and just find the picture on your desktop. If you want to create an album, click on the Add Album button. Give your album a name, and then you can upload photos directly to the album. If you're working on a phone or tablet, you can upload the images directly from the device by clicking the Share icon and uploading them to Lightroom.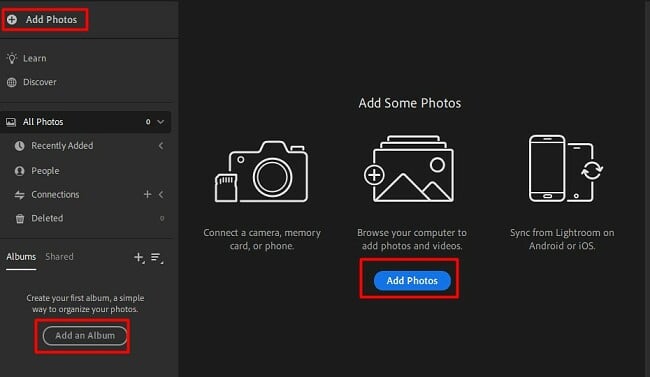 Once you've imported the pictures to your album, you can organize them by tagging them with keywords, putting them in albums, or by recently uploaded. There is also the option to rate your pictures. Then, you can filter pictures based on their rating.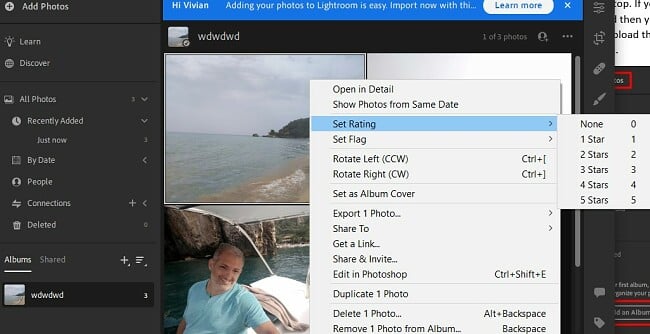 If you're like me, you use your smartphone and take hundreds of pictures a week, and then just upload them to your digital storage site. Unless it's a special occasion or trip, I don't have time to sort all the images and create albums. That's why the AI organizational tool is so helpful. At the top of the page is a search bar, and you can type in an object, animal, place, and the system will search your uploaded images and show you the results. It also recognizes and groups people's faces together. I know that this feature isn't groundbreaking, but I find that it's a big time saver.
Excellent Toolbox for Photo Editing
Some pictures need a lot of editing. Others just need a quick touch up, and they'll look perfect. Lightroom has a helpful tool called Auto, which uses AI to make instant adjustments to your pictures. You can see the changes on your screen, and if it fixes your issues, it will have saved you plenty of time. For some reason, the button is very small and can be hard to find if you don't know where it is. Click on the Settings icon on the right-hand editing menu (it's the top ion), and the editing sidebar will open. On the top of the panel, above the "Light" options, is the Auto button.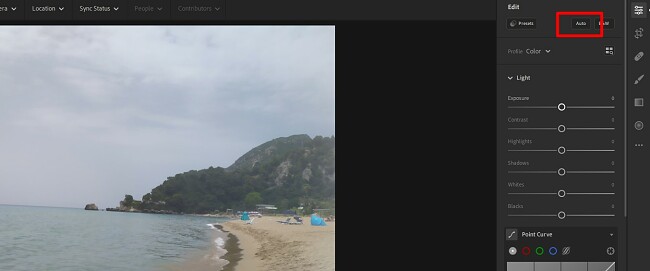 Speaking of the Light options, you can open that menu to find the lighting adjustment tools. This is where you can fix the exposure, contrast, add highlights, shadows, or increase and decrease the Whites or Blacks. The adjustments are made by simply moving the slider to the right or the left. You can play around with it until you get the desired outcome, and it won't affect your original image.
Under the Light option is where you can make adjustments to the color. Change the temperature, tint, vibrance, and saturation. It also includes a color saturation tool, where you can remove or enhance specific colors.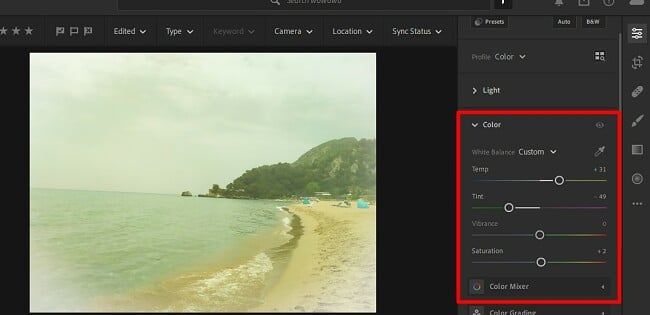 The Effect tools let me:
Add a vignette
Add or remove texture
Clarity and sharpness to the picture
Lastly, there are the geometric tools. These are fun to play with if you want to rotate your picture on a 360-degree axis, stretch it out vertically, scale the image, move it along an X or Y axis, change the aspect ratio, or distort it.
Cloning and Healing to Remove Unwanted Objects
While it's not the most user-friendly tool I've used to remove unwanted objects, I was able to use the Clone and Heal tools to get rid of people or objects in the background of my pictures.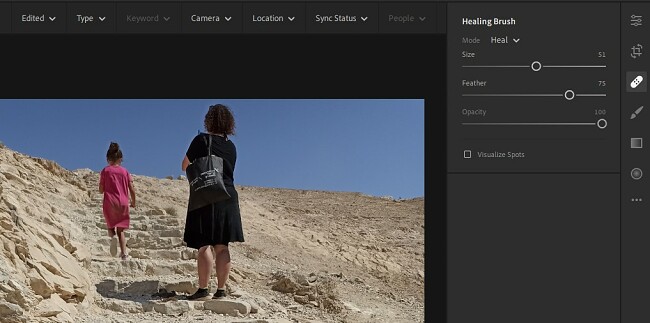 The Heal tool is great for retouching small and unwanted objects. In this case, I wanted to take the woman out of my picture. I highlighted her using the Heal brush, and Lightroom chose another area in the picture with a similar background to replace over her.
In a more textured area, you can use the Clone tool. This copies an area near the highlighted area and places it over the unwanted object.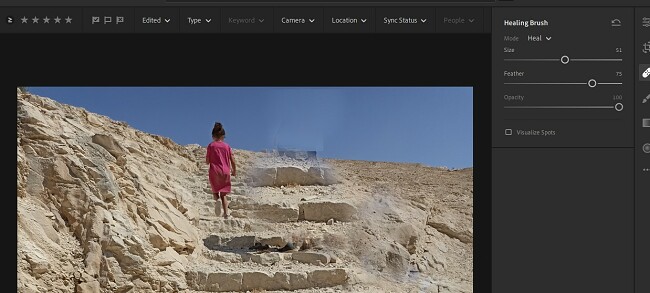 Compatible with Raw Images
To get the most flexibility to edit your pictures, you can upload files as raw profiles. Lightroom will use a special rendering Profile to convert the raw data into an image that you can view and edit.
The Profiles are similar to workspaces in other Adobe projects. The Profile is usually a good starting point for editing the image and which tools are available.
There are two types of Profiles:
Creative: These filters are similar to the Instagram filters such as Legacy, Artistic, B&W, Modern, and Vintage and automatically adds preset filters to your image.
Raw: The raw filters are Adobe Color, Monochrome, Landscape, Neutral, Portrait, Standard, and Vivid. You can play around with each one and see how it affects the colors and textures of your pictures until you have the desired outcome.
Collaborative Editing Made Easy
One of the advantages of Lightroom is that as a cloud-based app, it's easy to give friends, family, and co-workers access to your pictures. Open the Share settings and invite a contact to view, edit, or add pictures to the collection.
In the Discover section, you can follow other Lightroom contributors, learn from their edits, and even save their edits and presets to use on your own pictures.
Ease of Use
Lightroom is a pretty easy program to use, which is one of the reasons that Adobe separated it from Lightroom classic. It's designed to be used by amateur photographers or regular people just looking to improve and organize their pictures.
All the main editing functions are done by moving a slider from left to right. You can see the results of your edits instantly, and if you don't like how it came out, just move the slider in a different direction.
Of course, knowing the purpose of each tool will make it easier to add the correct adjustments and save you from playing with sliders hoping for the perfect results. To that end, Lightroom has several tutorials that will teach you how to get the desired effects, the function of each tool, and some advanced editing techniques.

Interface
Lightroom has a clean interface that makes it easy to work with. Unlike other Adobe programs that can overwhelm someone at first glance.
On the left side of the screen is where you can import and organize your pictures. You can also get quick access to the Learn and Discover features, which can improve your editing skills quickly.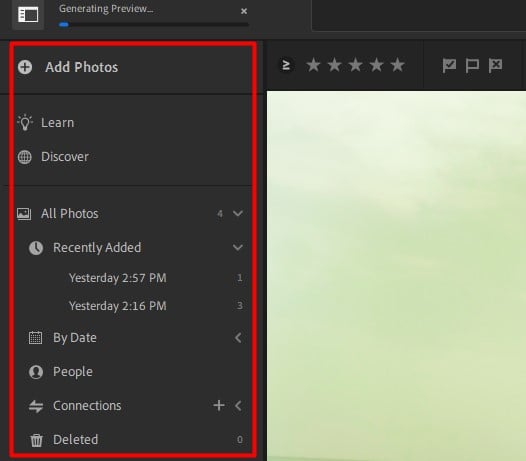 On the top bar is where you can add keywords, star rating, flags, the type of camera that you used to take the picture, and the sync status. These are all important for filtering and organizing your pictures.

All the editing and enhancement tools are located on the right side of the screen. All the way on the right are the icons for the different editing categories: Settings, Crop, Healing, Brush, Linear Gradient, and Radial Gradient. When you click on one, it will open with all the different options and tools for that category.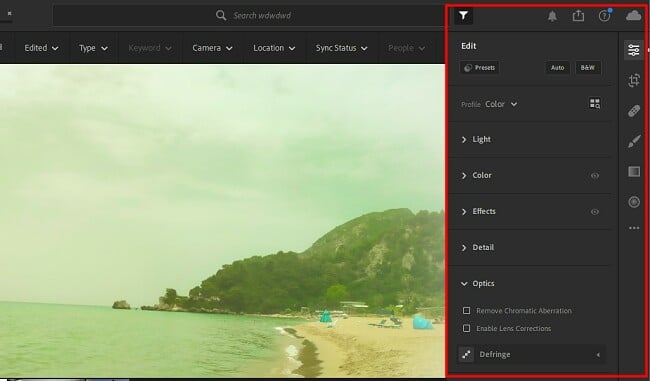 How to Uninstall Adobe Lightroom
If you still have some editing that needs to be done after your free Lightroom trial is over, check out these free alternatives below.
You can delete Adobe Lightroom in a few simple steps.
Type Add or Remove Programs in the Windows search bar.
Find Adobe Lightroom in the list of installed programs and click Uninstall.

If you think you're going to download Lightroom in the future, you can choose to save your preferences. Otherwise, you can remove them as well.
The Adobe Creative Cloud will uninstall Lightroom.
Please Note: This will not delete the Adobe Creative Cloud. If you want to delete it as well, follow the same steps as above, but select the Creative Cloud and click Uninstall.
How to Cancel Adobe Lightroom Account
Unfortunately, when you cancel your account, you will instantly lose access to Lightroom. This means that you'll have to remember to cancel your account before the billing period begins at the end of your free trial. Follow these steps to cancel your account.
Log in to your Adobe account.
Click on the View Plan Details button.

Click Cancel Plan.
Adobe will verify your account either with an email, or you will have to enter your password.
Adobe will ask why you're canceling your account. Choose from any of the options and click Continue.
In another attempt to change your mind, Adobe will offer different deals to convince you to stay. If you still want to cancel, click the No Thanks button at the bottom of the page.
Finally, confirm that you want to cancel your account.
Additional Editing Tools from Adobe
Adobe Photoshop: One of the best graphic editors, Photoshop, is a layer-based software that allows you to make changes without harming the original file. In addition to editing images, Photoshop can be used to create images, brochures, and other marketing materials. While it isn't completely free, Photoshop does offer a free 30-day trial, which is great if you need it to work on a specific project.
Adobe InDesign: InDesign is one of the top layout design programs used by graphic designers and students. It has all tools you need to design beautiful layouts for websites, magazines, posters, flyers, billboards, and more.
Adobe Illustrator: A must-have program for any graphic designer working with vector images. Illustrator allows you to create scalable images, so they can be increased in size without affecting the image quality. The software is great for creating logos, banners, illustrations, and web design.
FAQ
Is Adobe Lightroom free?
Generally speaking, Adobe Lightroom requires either a monthly or annual subscription. However, if you follow the instructions above, I'll show you how you get Lightroom free for 7 days.
Is Lightroom a good editing program for beginners?
Yes! Lightroom has several tools that make it easy for beginners to get started. For starters, the auto-editing option, while not perfect, is a great way to get started enhancing your images. Adobe also has an active community board for asking questions and comprehensive tutorials that will guide you through different tools and how to use them properly.
What's the difference between Lightroom and Photoshop?
While both programs have excellent editing tools, Lightroom is designed for photographers to edit pictures. At the same time, Photoshop is an excellent image editor that has a lot more features and tools.
Visit Adobe Lightroom Website