Adobe Digital Editions (ADE) is a desktop utility that you can use to download, read, and transfer eBooks on Windows and Mac computers. The application works as an eBook reader and organizer. It works well for reading and managing other digital publications, such as digital newspapers.
Follow the guide below, and I'll show you how to download and install Adobe Digital Editions on your PC for free.
Download Adobe Digital Editions for free!
How to Download and Install Adobe Digital Editions on Your PC for Free
Go directly to the Adobe Digital Editions download page.
Go to your Windows download folder and double-click the .exe file to start the download.
The program will launch immediately, and you can start using it to download, manage, and read eBooks and all digital publications.
To get the most value out of your use of the app, you may need to take some minutes to study the User Guide. The User Guide is typically the first document you'll see in ADE after installation.
Download Adobe Digital Editions for free!
Overview of Adobe Digital Editions (ADE)
Many publishers use Adobe Digital Editions to proofread their books. ADE is a popular desktop and mobile eReader app for downloading and managing eBooks, digital newspapers, and other digital publications. The software supports EPUB and PDF formats across PC, MAC, tablets, and mobile devices. Besides using the tool to download and purchase digital content, you can read your eBooks online or offline.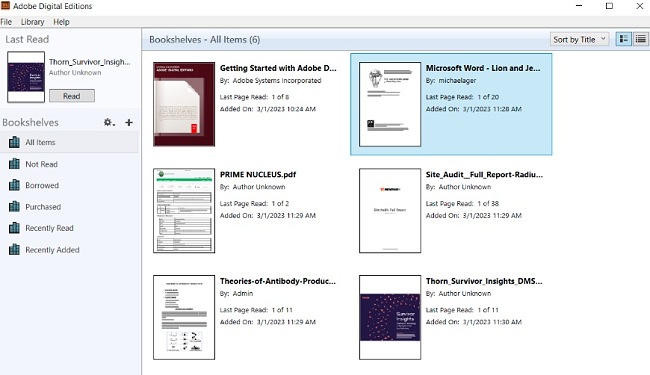 When you purchase books with Adobe Digital Editions, it saves on the app and syncs automatically across all the devices where you have ADE.
Adobe Digital Editions implements a proprietary digital rights management (DRM) scheme allowing you to share your documents among multiple devices. Digital Editions replaced Acrobat eBook Reader.
Features of Adobe Digital Editions
Transfer Books Between devices
When you purchase or download books on one device, they will appear automatically across all the devices you have installed Adobe Digital Editions.
EPUB 3 Support for a Rich Reading Experience
Adobe Digital Editions offers one of the best EPUB3 support. This makes for a richer reading experience, which includes the rendering of audio and video content, support for right-to-left reading, dynamic image resizing without loss in clarity, etc.
Searching eBooks
Use the intuitive full-text search functionality to search for keywords across all pages in an eBook through. Navigate easily to different pages in your book by clicking the entries in the search result panel.
Choose Your Preferred View
Adobe Digital Editions offers you different view options in the app. Set the app to "View Items as Thumbnails" or "View Items as List" in the top-right corner.
Accessibility
You can use ADE with various screen readers, such as JAWS, Window-eyes, and NVDA on PC and Voiceover on Mac OS.
Multi-lingual Support
Access your eBooks in multiple languages, including English, French, German, Brazilian Portuguese, Italian, Spanish, Dutch, Japanese, Korean, and Chinese.
Bookmark, Highlight, & Notes
While using ADE to read your eBook, you can bookmark, highlight, or note important portions of the text. This makes it easy to go back to them.
Supports Multiple eBook formats
Read your eBook across different devices in the best formats, such as EPUB, EPUB3, and PDF. You can also modify text and document size in different formats.
Bookshelves
Already, the application has different bookshelves categorized into: All Items, Not Read, Borrowed, Purchased, Recently Added, and Recently Read. You can rename, delete, or add more bookshelves as you like.
Borrowing eBooks
Easily borrow eBooks and other digital content from public libraries using Adobe Digital Editions. It is also very easy to download digital publications from many libraries.
Organize Your eBooks
Use Adobe Digital Editions to organize your eBooks and digital publications. You also have options to create custom bookshelves and sort by title, author, and publisher.
Print your eBooks
Printing your eBooks has been made very easy with ADE. Publishers also use the app for proofreading publications.
Download Adobe Digital Editions for free!
How to uninstall Adobe Digital Editions (ADE) from your PC
If you are no longer interested in using Adobe Digital Editions, you can follow the guide below to remove the software from your computer:
Click the "Uninstall" button and confirm the uninstallation to remove Adobe Digital Editions completely from your computer.
Free Alternatives to Adobe Digital Editions
Calibre: Calibre is a free and open-source eBook library manager that helps you manage your eBook collection and personal library across different devices. It also supports many languages and several eBook file formats.
Kindle: I am an eBook reader designed for your PC. You can find an eBook store right here, where you can purchase a wide range of digital content, including eBooks, magazines, newspapers, comic books, graphic novels, and various other digital publications.
Polar: Polar is a feature-rich app for managing all your eBooks and taking notes. The app helps to keep all your content in one place, gives you an eBook reader for PDF, EPUBs, and web pages, and supports other functions like tagging, annotation, and highlighting. Polar keeps track of your reading progress.
FAQs on Adobe Digital Editions
Is Adobe Digital Editions free?
Is Adobe Digital Editions secure?
Is Adobe Digital Editions compatible with all devices?
Adobe Digital Editions is compatible with many devices. Check the list of supported eBook devices for further details.
Read More