Does Netflix Work with Hotspot Shield? (Tested September 2022)
Last Updated by Joel Timothy on September 01, 2022
Not many VPNs can boast the capability to work with Netflix after the streaming giant banned VPN use on their platform in 2016. Netflix now routinely blacklist VPN IP addresses to implement the ban and stay on top of an issue they felt was getting out of control.
However, a few VPNs still work well for bypassing service restrictions. Hotspot Shield VPN claims to be one, and we decided to help you test whether this is true.
Hotspot Shield is an excellent VPN compatible with Windows, Mac, iOS, Android, and other popular operating systems. The service is designed to efficiently provide better net neutrality, more private browsing, enhanced security, and data protection.
Offered
features include:
Unlimited bandwidth
2,500+ global servers
Five simultaneous connections
24/7 customer support
Does Hotspot Shield VPN work with Netflix US?
To stream Netflix US, Hotspot Shield states you need a premium subscription. Though the free version of the VPN still connects you to a US server, you will get an IP range that isn't compatible with Netflix.
You can currently get a premium subscription using a discount of 76% off the original price. From there, you can go ahead and try out the service.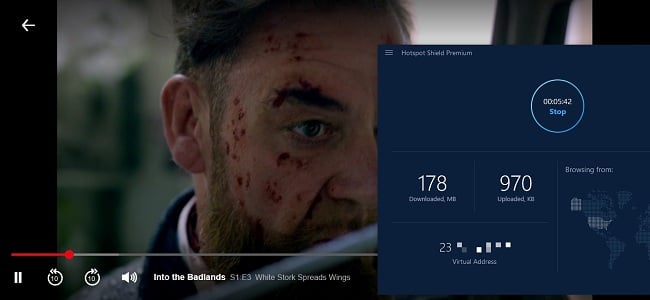 Connected using premium subscription servers, Hotspot Shield works seamlessly with Netflix US. All you need to do is select the US as the country of the proxy.
If you do encounter any problems, customer services recommend you disconnect and connect again to get a working IP range. However, during use, we didn't experience any issues even after many disconnections.
Does Hotspot Shield work with other Netflix Libraries?
Because shows like Star Trek: Discovery, Big Bang Theory, Brooklyn Nine-Nine, Hannibal, etc., aren't available on Netflix US, users like the freedom of using alternatives. Most of these shows are available in Germany, France, UK, Canada, etc.
Netflix UK?
Streaming on Netflix UK with Hotspot Shield requires trial and error. You may have to disconnect and reconnect to change your IP range. Sometimes the VPN will work, and other times it won't.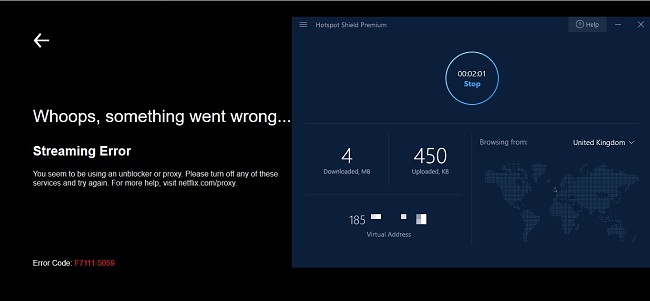 Some UK servers we tested couldn't avoid the Netflix Proxy Error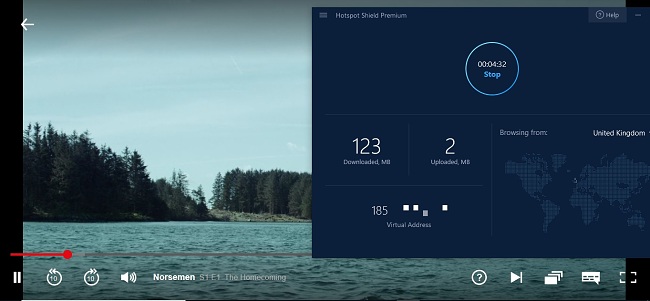 After some trial and error, we were able to watch Netflix UK with Hotspot Shield
Netflix Canada, France, Germany?
After several connections and disconnections, we couldn't get Hotspot Shield to work with any other Netflix library apart from the US and the UK.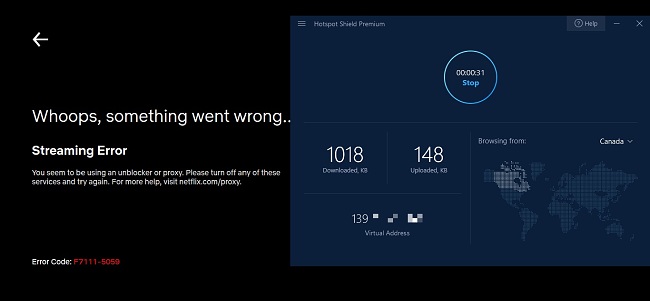 Therefore, it's safe to say that Hotspot Shield only offers access to two libraries, which was confirmed by the customer support team.
Alternatives for Watching other Netflix Libraries
If streaming on Netflix has become a little too complicated, you can still enjoy the shows you want using a different platform.
1. Try torrenting the shows you want
Torrenting has remained popular because users can always get any Movie or TV Show free and in HD. Many sites let you download torrents with a torrent client.
However, many torrent sites are blocked by ISPs in various countries, and you need a VPN to reach them. Additionally, much of the content available is usually pirated. Illegally streaming and hosting copyrighted material can land you in trouble, and so check out our best VPNs for torrenting.
2. Check another streaming site
Netflix is the most popular streaming service, but it's not the only one. There are many excellent alternatives. The shows you like could be available on Hulu, Prime Video, HBO, etc.
If you don't have a subscription or aren't interested in getting one, there are still free options like BBC iPlayer, Popcornflix, Tubi.tv, Crackle, etc.
3. Get a VPN that will access Netflix
If Hotspot Shield doesn't sound or seem like your match, you can always go for a different VPN. Remember that the VPN provides a 45-day money-back guarantee, and so you can get your money back if you are still within that period. Here's our guide on how to close Hotspot Shield and get a refund.
After that, you can try one of the best alternatives below.
Two alternative VPNs that work with Netflix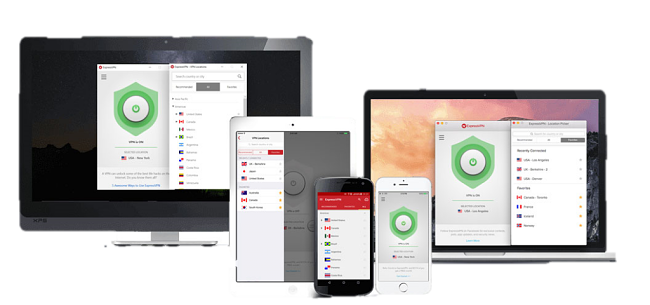 Unlimited bandwidth
24/7 customer service
Compatible with Windows, Mac, iOS, Android, and more
Split tunneling
ExpressVPN is the leader in the VPN industry, and the VPN is a favorite among streaming fans because of its exemplary speeds, and the fact that it can unblock almost any streaming service. Apart from that, it has an impressive server network of 3,000+ servers in 160 locations and 94 countries worldwide. All these servers offer unlimited bandwidth for streaming.
When it comes to Netflix, ExpressVPN should be your first choice. The VPN unblocks the most libraries of any VPN. These include Netflix US, UK, Canada, Germany, France, Japan, Netherlands, India, and various other countries.
In each of these countries, there are specific servers dedicated to streaming on Netflix, and you can always contact their live chat support to know which one.
We have a special ExpressVPN coupon that includes a 49% discount for you, and it consists of an extra three months. You will also be covered with a 30-day money-back guarantee in case you wish to cancel your account.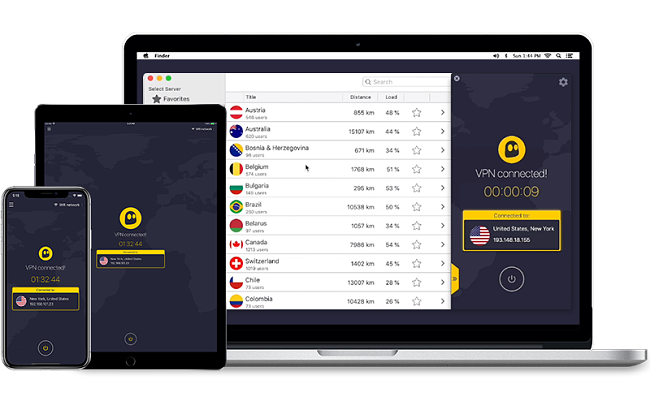 Unlimited bandwidth
Ad and malware blocking
24/7 customer service
Compatible with Windows, Mac, iOS, Android, and more
CyberGhost VPN is another excellent VPN. The service has dramatically improved in the past year, and it's now one of the top VPNs. Its server network of 3,700+ servers in 60 countries has more than tripled, and new and excellent clients have complemented this.
CyberGhost has a dedicated streaming mode that you can use to gain access to various streaming service. Each of the servers in that section is written the service that it is optimized to accommodate. Netflix servers are located in the US, UK, Germany, and France.
Apart from Netflix, you can also unblock iPlayer, ESPN, YouTube Red, ZDF, Pandora, Spotify, NBC, Fox, Amazon Prime, etc.
Unfortunately, CyberGhost's monthly plan is quite expensive. However, you can get a nice discount with the CyberGhost coupon.
What other streaming sites does it work with
Apart from Netflix, Hotspot Shield doesn't offer much when it comes to streaming. Though there's always space for trial and error, the VPN doesn't promise much at the moment.
However, the service is expanding, and compatibility with more popular online services is on the horizon.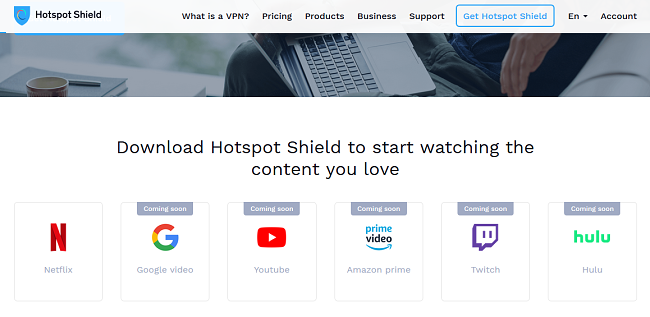 Why Netflix blocks VPNs
Netflix blocks the use of VPNs on their streaming service because of the pressure from copyright holders (U.S TV networks and Hollywood studios).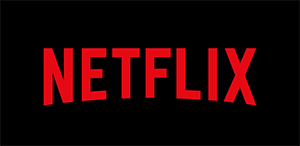 Content owners make money selling
content rights
for various regions, and for Netflix to provide a certain title to a specific region, they have to pay for it. Sometimes these copyright owners only want their content aired in particular areas, and
Netflix must comply
.
Regulations such as these don't just apply to Netflix but every online streaming service. However, Netflix currently has a superior VPN detection system.
Why Netflix is better with a VPN
Netflix is available in more than 190 countries, but your streaming experience differs from place to place. With a VPN, users can bypass the geo-restrictions the streaming giant imposes. For example, the UK Netflix only has about half the titles that are available on Netflix US.
Generally, there are exclusive benefits of using a VPN:
1

Unblock particular content
To watch Shows like Parks and Recreation, Into the Badlands, etc. you need to be in the US or have a VPN. A VPN will give you the freedom to unblock new titles as long as the VPN offers servers in the country of the desired library.
2

Access shows early
Netflix shows are released depending on your geo-location. For example, you may only have two seasons of a particular show in your country, but the third season is already available in various other locations, especially the US. All you need to do is change your location.
3

Carry your Library
If you travel out of your country, your Netflix library will change to your new location. If you travel, this means you won't be able to continue watching shows that were available at home. With a VPN, you can always connect to your country.
Does the Free Hotspot Shield Work Unblock Netflix
The free version of Hotspot Shield gives you a connection to the US, but unfortunately, you won't get Netflix access. The free version gets you a range of IP addresses that have not been optimized for streaming on Netflix.
To access Netflix US, you will need a subscription. However, Hotspot Shield still offers a 7-day free trial which you can use to test the VPN's functionality with Netflix.
This free trial works with Netflix, and you will be able to choose any server.
Hotspot Shield General Netflix performance
In terms of the VPN clients, Hotspot Shield VPN is excellent. The VPN only takes a few seconds to get you connected, and we didn't experience any disconnections during our tests.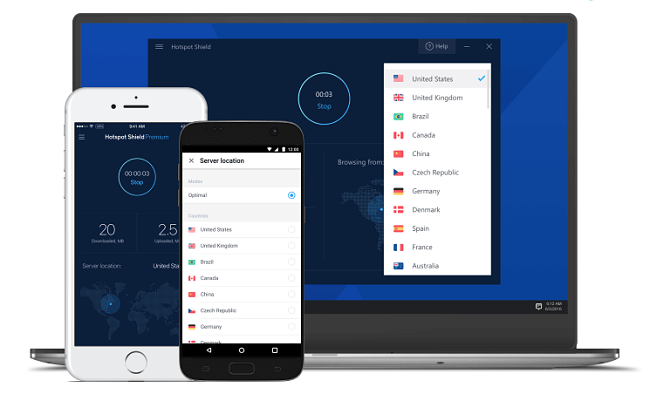 When it comes to Netflix, we didn't experience any problems with Netflix US. However, the same can't be said for Netflix UK which required trial and error, while the other libraries didn't work. Nevertheless, when connected, you will always get superb speeds to let you stream in HD.