How to Watch (for Free) the 2020 French Open Roland Garros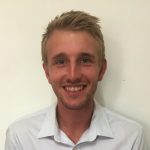 Last Updated by Benjamin Walsh on October 01, 2020
The French Open Roland Garros is just around the corner and absolutely cannot be missed. This major tennis tournament in Paris is looking like it's going to be a legendary event with the best of the best competing for the top spot.
If you don't have a cable subscription or you're traveling abroad during the tournament, then you may find it difficult to stream the matches.
Luckily, we have an easy solution for you. The French Open Roland Garros can be streamed for free in the UK on ITV4. If you're not in the UK, don't worry, you can still catch all the games by using a VPN.
By using a VPN, you can change your device's location and overcome any geo-restrictions in place allowing you to watch all the tennis you want.
In this article, we'll explain how you can use a VPN to watch the French Open, show you how you can use that VPN to catch the matches, as well as a bit of background on the players.
Watch the French Open Roland Garros on ITV4
The tournament is available in its entirety on the UK channel ITV4. This broadcaster has a section on the ITV website dedicated to the French Open. On this section of the site, you can live stream matches, get the latest French Open news, check out the players, see the match schedule, and watch exclusive videos.
To watch the French Open Roland Garros there's one catch, you need to be in the UK. However, if you use a VPN you can overcome ITV's geo-restrictions and never miss a match.
Here's how you can watch the French Open on ITV4 using a VPN:
Get a VPN that can bypass geo-restrictions with servers in the UK. Our top choice is ExpressVPN due in large to its fast speeds, which are ideal for streaming.

Connect to a server in the UK.

Visit ITV Hub and create a free account.

Go to "Watch Live" then "ITV4".

Click play and watch.

How a VPN Can Help You Overcome Geo-Restrictions
VPNs offer plenty of features that will secure your device from cybercriminals and protect you online, but they also allow you to bypass geo-restrictions from anywhere in the world. Especially if you're living or traveling outside of the UK and you want to watch the French Open.
When you choose a VPN provider, they offer numerous servers dedicated across the globe. Connecting to one of these servers will encrypt all the data that passes through your device. Additionally, your device's identity – its IP address – will change to match that of the server. This means that when you click connect, any websites, apps, streaming platforms you visit are tricked into believing that you're in the country of the server, hiding your actual location. As a result, you can appear to be in virtually any country you want providing your VPN has a server there.
This is amazing when you're abroad and you want to watch the tennis. All you need to do is find a server in the UK, connect to it, and start streaming as if you were actually in the United Kingdom.
The Best VPNs to Live Stream the French Open
There are plenty of VPNs out there to choose from, some are great, some aren't. But the overwhelming number of options can make your search quite difficult.
Luckily, we've picked out our top three VPNs that you can use to watch the French Open Roland Garros. It's worth noting that our choices are Premium VPN services. Although there are some good free options, you can't beat a premium service. Here are our picks:

Incredible performance

3,000+ servers in 160 locations, spanning 94 countries

Easily bypasses geo-restrictions

Servers in the UK
ExpressVPN tops our list with its unmatched speeds. Additionally, with over 3,000 servers in 148 locations and 7 server locations in the UK, you can almost ensure a strong, uninterrupted connection. With ExpressVPN, you can watch French Open matches on ITV4 without it feeling like you're using a VPN at all. If you're not happy with the service, you can get your money back within 30 days.
Watch the French Open Roland Garros with ExpressVPN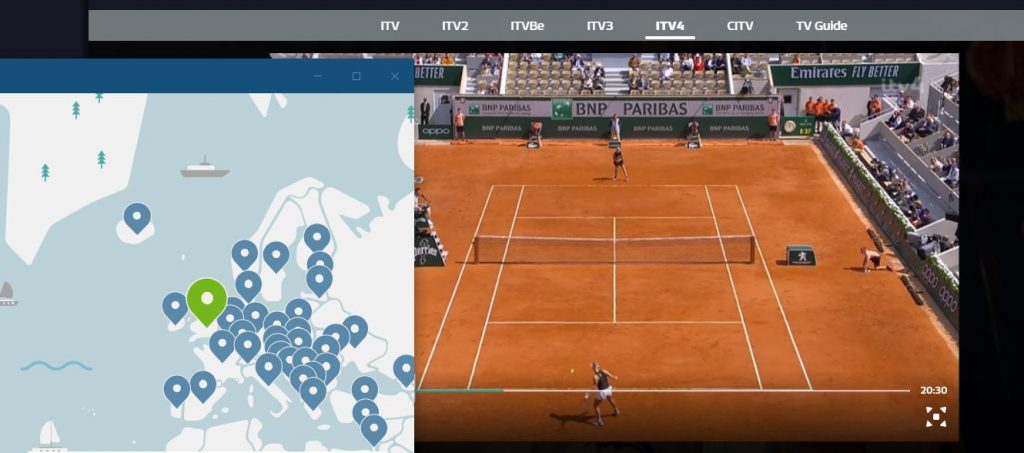 Smart Play technology

5,000+ servers in 60 countries

Servers in the UK

Connect six devices simultaneously
With their Smart Play technology, NordVPN offer servers that are specifically optimized for streaming, and with 664 servers in the UK, you can ensure a smooth streaming experience when watching your favorite French Open matches. Better yet, you're family and friends can watch on their devices because you can connect up to six devices on one account at the same time.
Watch the French Open Roland Garros with NordVPN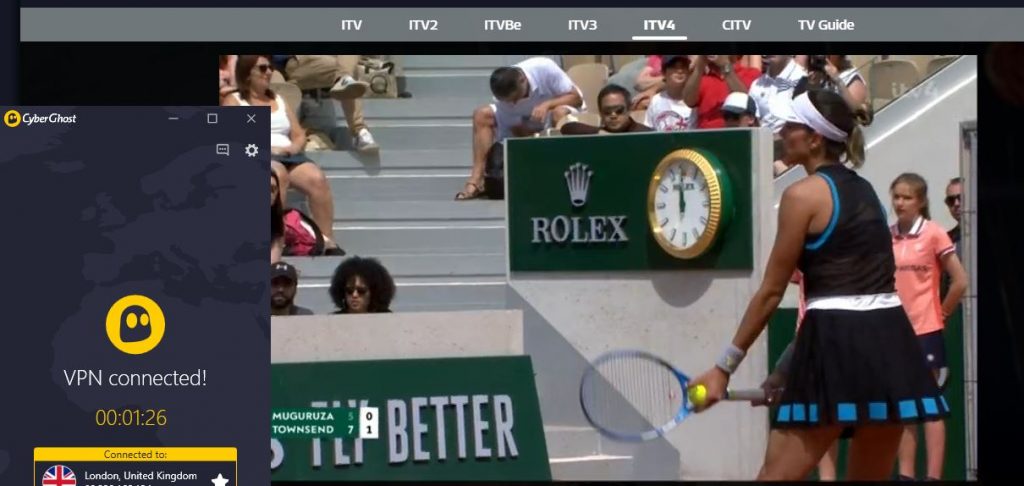 Unlimited Bandwidth

307 servers in the UK

Easy-to-use interface

Inexpensive
Our third and final pick is CyberGhost. They offer reliable speeds as well as unlimited bandwidth, so you don't need to worry about running out of data usage halfway through a match. Cyberghost is tailored for those who aren't too familiar with VPNs and would just rather watch tennis. Their user interface is simple and easy to navigate with a dedicated streaming section on the main menu. Finally, this service is cheaper than the other two on the list and has a 30-day money-back guarantee if you want to cancel.
Watch the French Open Roland Garros with CyberGhost
Get Ready for Intense Tennis Action
There's no doubt that the spotlight is on the giants of the game and this year, there's no telling who's going to take home the title. In both the men's and women's categories, there are firm rivalries between the top players in the world and that isn't going to change any time soon.
The men's favorites include:
Roger Federer is regarded as one of the best players of all time and for good reason. He's proven countless times that he's unmatched in the sport. With 101 ATP singles titles and 20 Grand Slam singles titles. There's no doubt that Federer is one of the favorites to win this tournament.
As another titan of the sport, Rafael Nadal is another favorite to win the French Open, and with 17 Grand Slam singles titles under his belt, there's nothing stopping him from bagging another. However, he's yet to win a title this year, so his drive to win the French Open will be stronger than ever.
As the current world number 1, Novak Djokovic is the top favorite to win this tournament. His ruthless win over Rafael Nadal in the Australian Open was nothing short of spectacular and he's not going to stop there. Djokovic is the only man in history to win three consecutive Grand Slam titles three times in his career.
Here are the women's favorites:
This 28-year-old is the defending champion but has still yet to win a title in 2020. Although she's been fairly inconsistent throughout the season, Simona is still a dangerous contender for this year's French Open. Halep is definitely one of the favorites this year.
While having the absolute best season of her career, Kiki Bertens has shocked everyone and become one of the favorites to win the French Open this year. If she continues to play like this, she'll be unstoppable. She's definitely someone that should not be overlooked.
For Karolina Pliskova, it seems that clay is the best surface for her. Her recent success on clay has made her a dominating force in women's tennis and she doesn't seem to be slowing down. If she continues this streak, there is a high chance of her winning her first major title at the French Open Roland Garros.