How to Watch UFC 243 Whittaker vs Adesanya from Anywhere
Last Updated by Kate Hawkins on September 22, 2019
It's time forWhittaker vs Adesanya and you shouldn't miss it or pay high PayPerView (PPV) costs based on your location.
We checked out prices for the fight around the globe and found that there is a significant price difference based on the location. With a VPN you can get the low prices that are reserved for fight fans in Germany, regardless of where you actually are.
Germany – €17 (SD) – €38 (HD)
Amsterdam and France – €30 (SD) – €50 (HD)
Canada – CAD$64 (SD) – CAD$91 (HD)
Australia – AUD$70 (SD) – AUD$98 (HD)
Phillipines – ₱920 (SD) – ₱2,165 (HD) – We converted this to USD and its $17 (SD) – $41 (HD)
USA – Broadcast exclusively on ESPN+. $79.88 (includes an annual subscription to ESPN+)
UK – No PPV available
Click on the button below and enjoy exclusive savings for MMA fans today from ExpressVPN.
How to Watch UFC Pay Per View

Using a VPN to shop around means you get to watch the fight at the best possible price.
Get a reliable VPN. We like ExpressVPN for its speed.
Connect to the country with the best PPV fight deal.
Purchase access to the fight and enjoy!
How to Watch UFC With Fight Pass from Anywhere

UFC Fight Pass is a service offered directly from UFC which allows subscribers to view live events and past events from their mobile or smart devices. Fight Pass is broadcast in most countries worldwide except Brazil or Latin America. However, a subscription to Fight Pass doesn't guarantee you'll have access to every fight. Broadcast restrictions in different countries can still prevent you from watching a match.
Due to these restrictions, you need access to a fast, reliable VPN to ensure you never miss out on the action.
Get a VPN which offers access to servers around the world. We recommend ExpressVPN for its global availability to fast servers.
Connect to a server in a country or location where the fight is not blacked out.
Log in to your Fight Pass account on the UFC website or via the app and start streaming!
How to Watch UFC with BT Sport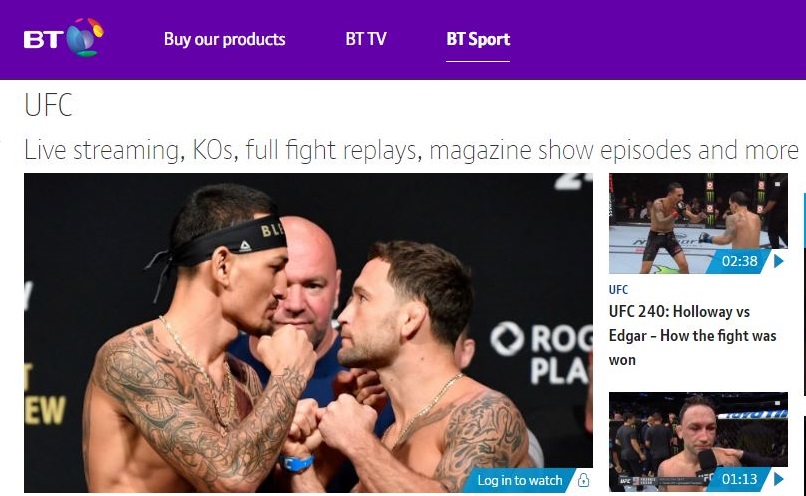 In the UK and Republic of Ireland, BT Sport is the exclusive home of UFC content. If you have a subscription to BT Sport, you can access UFC content from anywhere in the UK, Republic of Ireland, and the European Union.
If you're traveling outside of these locations and want to view a fight or UFC content through BT Sport, you'll need a VPN to do so.
Get a VPN with reliable connections in the UK and EU – ExpressVPN has server locations in over 40 European countries.
Connect to a server in the UK, ROI, or EU.
Log in to BT Sport and choose the fight you want to stream.
How to Watch UFC on ESPN+

ESPN+ is a standalone service that is only available in the US, or with a VPN that is connected to US servers. To watch all the UFC fights on ESPN+ follow these steps:
Get a VPN – we recommend ExpressVPN for their variety of US-based servers and fast connection speeds, no matter where you're located.
Connect with a server in the US.
Log in to ESPN+ account and stream the UFC fight
3 Best VPNs for Watching UFC
We tested a range of VPNs to see which ones would allow us to watch UFC fights reliably with decent speeds. These are our top 3 choices for catching every fight without buffering, lag, and secure connections.
1. ExpressVPN – Superior Speed for Lag-Free Streaming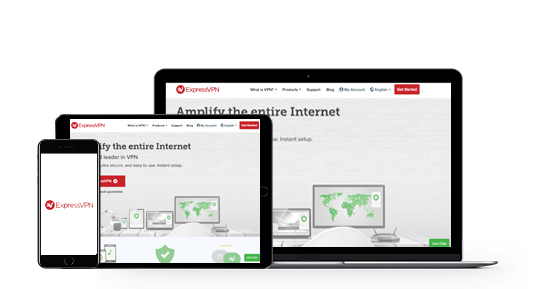 3000+ servers in 160 server locations in over 90 countries
Best-in-class encryption with TrustedServer technology and zero-knowledge DNS
Unlimited bandwidth on all servers means no streaming or download restrictions
30-day money-back guarantee
Overall, we found that ExpressVPN was the most effective option for accessing and streaming UFC fights. By hiding our IP address and enabling us to browse anonymously, we were able to connect to servers in our chosen locations easily. With superior download speeds, even when server locations were far away, streaming was lag-free with minimal buffering.
A low connection drop-rate means more consistent streaming. If the connection does drop, an automatic killswitch keeps your identity and data protected. ExpressVPN can also automatically reconnect, getting you back into the action as soon as possible.
The wide variety of servers available in different locations around the world offered by ExpressVPN makes accessing UFC content simple, no matter where you are.
2. NordVPN – Military-Grade Encryption Keeps You Safe Online
5700+ servers in 60 countries
CyberSec feature protects from malware and pop-ups
Military-grade encryption keeps your data protected
Option to secure up to 6 devices simultaneously
30-day money-back guarantee
With such a vast number of servers, finding one that allows you to watch your favorite UFC fights is easy. More servers equal less load time, ensuring you won't miss a second of the fight and will enjoy minimal load time, buffering, and zero lag.
NordVPN uses Smart Play technology that optimizes streaming, with a focus on bypassing all geographic restriction. CyberSec is an excellent security feature that hides pop-up ads, auto-play video ads, and other annoying advertising material. With this activated, you won't have to worry about a pop-ad showing up and blocking a spectacular knockout punch.
3. CyberGhost – Optimized for Streaming Sports Worldwide
VPN optimized for sports streaming with how-to guides available
3900+ servers in 61 countries
One-click connect for a secure connection and data protection
45-day money-back guarantee
CyberGhost prioritizes sports streaming. With secure servers and fast streaming, you won't miss a moment of UFC action. Every package includes unlimited speed and data so you won't have to worry about losing your connection just before the final round.
Final Thoughts
Whether local blackouts are preventing you from viewing the fight or you're traveling while your favorite UFC fighter is competing, using one of our recommended VPNs will guarantee you get to watch every match
With impressive security features and solid money-back guarantees, you can experience the excitement of UFC fights with no risk to your personal data or your wallet.