Does Netflix Work with Turbo VPN? Tested in September 2022
Last Updated by Sayb Saad on September 22, 2022
Since it's a smaller VPN provider, Turbo VPN isn't always consistent at unblocking international Netflix libraries. Oftentimes, lesser-known VPNs can't access the site because it's always developing better ways of detecting and blocking proxy IP addresses.
If it won't unblock Netflix, one possible solution is to connect to another Turbo VPN server to get a different IP address. Some other options are to try a server located in a different country, sign up for a more premium VPN plan, or try a different VPN entirely.
What To Do When Turbo VPN Can't Unblock Netflix
If after connecting to Turbo VPN Netflix content won't load or the site displays location or VPN errors, here are a few ways to get it working:
1. Connect to Another Server
The easiest fix if a server can't unblock a specific Netflix library is to try a different server in the country where the show is licensed. Turbo VPN hosts 21,000+ servers in more than 45 countries — if an IP address doesn't work with Netflix, it's sometimes possible to reconnect and find one that unblocks it.
2. Find an Alternative Country for the Streaming Service That Broadcasts a Show
If Turbo VPN doesn't have a server in the right country to watch something, it might be possible to access location-restricted Netflix content using IP addresses in neighboring regions. For example, someone in the UK might want to watch a show from the US. If a Turbo VPN server in the US doesn't unblock it, there's a chance that one in Canada would work.
In some cases, a movie or show may not be available in the preferred language or play with the wrong subtitles. For example, using a VPN server in Canada could cause some shows to default to French instead of English. If a show starts playing in an unexpected language, it's easy to change in Netflix's player settings.
3. Upgrade to the VIP Plan
The free version of Turbo VPN has no data caps, but it's ad-supported, so both this and other free VPNs have pop-ups that interrupt Netflix streams. The other drawback of the free plan is its limited speed and server count. The selection frequently changes but I found only a handful of locations in the US, Germany, Singapore, and India.
That means it can't access Netflix outside these countries. And with a 2Mbps speed limit, Turbo VPN's free app can't always handle HD Netflix streams even in the few countries where there are servers.
In contrast, Turbo VPN's paid plan is ad-free and hosts more than 21,000 servers across 45+ countries. With more than a dozen servers in the US, Turbo VPN premium is great at unblocking US-based Netflix content. It also had speeds consistently over 5Mbps when I connected to nearby servers, which is fast enough for lag-free Netflix shows and movies since 5Mbps is the minimum required for HD.
Still, there's no guarantee that even Turbo VPN's paid plan will unblock Netflix libraries outside the US. Also, its long-distance servers were slower during my tests than nearby ones. This leads to increased Netflix buffering because the farther away a server is, the more time it takes for streaming data to travel. This makes Turbo VPN less ideal for watching content from faraway countries.
Instead of buying a slower VPN or using a limited free one, I suggest you get a top VPN like CyberGhost for free using its money-back guarantee. CyberGhost has blazing-fast speeds, exceptional unblocking capabilities, and servers optimized for streaming Netflix libraries around the world without lag. When you're done with it, you can get your money back easily via 24/7 live chat.
4. Change VPN Services
The final option is to abandon Turbo VPN and switch to a different provider. Only a few reliable VPNs can unblock multiple Netflix libraries. Streaming tests of 15 of the top VPNs showed that ExpressVPN is the best for Netflix because of its unparalleled unblocking capabilities.
ExpressVPN also gave me excellent speeds during my tests. Since 25Mbps is the minimum required for smooth 4K, ExpressVPN's 75Mbps and up is more than fast enough to watch Netflix in top resolution without any buffering.
Reasons You Can't Access Netflix While Abroad
Netflix currently hosts hundreds of libraries across multiple countries. The content you see on Netflix depends on your location. This is because TV shows and movies are geo-restricted based on licensing agreements and the political, religious, and social views in different countries.
For example, Netflix libraries in the US and UK include shows and movies with violence, sex, nudity, and drugs. Countries like Saudi Arabia and Bahrain censor this kind of content. Some countries also block media that are critical of the government.
A VPN uses a server in a different country to hide the user's real IP address and replace it with a virtual one. Netflix uses technology to detect and block VPNs, so using a premium VPN with servers in the US allows TV and movie addicts to stream Netflix US from abroad. With servers in other countries, it's also possible to watch shows from international libraries that aren't available at home.
Top VPNs for Unblocking Netflix in 2022
Key Features:
3000 servers across 94 countries optimized for streaming on Netflix and other TV and movie sites
Blazing-fast speeds on all servers for buffer-free 4K content
Watch Netflix hits on up to 5 devices at once
Compatible with Windows, macOS, Linux, Android, iOS, smart TVs, and more
30-day money-back guarantee makes subscriptions risk-free
ExpressVPN is the best for streaming Netflix, with lightning-fast speeds for bufferless movies and TV shows. Its servers in the US instantly access the Netflix US content library, including hits like Arrested Development and The Irishman. Plus, its lightning-fast speeds can handle 4K streaming with no lag that would ruin a big moment.
Since the VPN has over 3000 servers in more than 94 countries and all of them are optimized for streaming, ExpressVPN's unblocking capabilities are exceptional for TV and movie sites other than just Netflix. The VPN also unblocks:
| | | | |
| --- | --- | --- | --- |
| Disney+ | Amazon Prime Video | Crunchyroll | YouTube TV |
| HBO Max | BBC iPlayer | Peacock | BritBox |
| Hulu | Vudu | Discovery+ | Sling TV |
During my tests, ExpressVPN let me watch HD YouTube videos on up to 5 devices simultaneously with no performance drop. Better yet, it has a MediaStreamer that unblocks Netflix and other sites even on the devices that don't have an ExpressVPN app (like Playstation). MediaStreamer won't encrypt traffic so it won't have the extra security of a VPN, but it increases speeds and enables Netflix streaming on almost any device.
While ExpressVPN has the fastest speeds on this list for bufferless shows and movies, it might be a bit pricey for budget-conscious users. In my opinion, it's still a great value for the streaming performance and features. Plus, I found a 1-year plan for as low as $6.67 per month which gives you a generous 49% discount.
You can also buy ExpressVPN with confidence, as it's backed by a 30-day money-back guarantee. If you aren't satisfied, you can easily claim a refund. I made my refund request via ExpressVPN's 24/7 live chat and got my money back in just 4 days.
September 2022 Update! ExpressVPN has dropped prices for a limited time to a crazy $6.67 per month for the 1-year plan (you can save up to 49%) + 3 months free! This is a limited offer so be sure to grab it now before it's gone. See more information on this offer here.
Key Features:
8200 servers in 91 countries, with servers optimized for watching Netflix
Excellent speeds on nearby and mid-range streaming servers
Watch TV shows and movies on up to 7 devices simultaneously
Apps for Windows, macOS, Linux, Android, iOS, and other platforms
45-day money-back guarantee on some plans
CyberGhost has specialized servers that are designed to seamlessly unblock Netflix and access content from around the world. Its optimized streaming menu includes options for Netflix US, UK, Japan, Italy, Sweden, and other countries. Even the standard network of over 8200 options in 91+ countries works with some Netflix libraries, but CyberGhost's Netflix menu always unblocked the site with no errors during tests.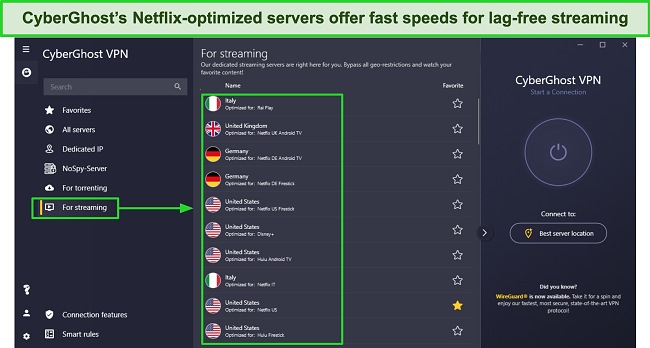 After doing speed tests on servers in the US, UK, and Germany, I found that CyberGhost consistently exceeded 60Mbps on nearby and mid-range servers. However, more distant options like in Japan and Australia caused speed drops of up to 15%. Smooth HD video only requires 5Mbps, so even on its faraway networks CyberGhost had high enough speeds for buffer-free Netflix.
The VPN's specialized and standard servers also unblocked other streaming platforms during testing:
| | | | |
| --- | --- | --- | --- |
| BBC iPlayer | ITV Hub | Peacock | Disney+ |
| Hulu | HBO Max | Amazon Prime Video | Paramount+ |
| Discovery+ | Crunchyroll | fuboTV | Kodi |
Each CyberGhost account allows 7 simultaneous connections. I tested it by using servers on 2 Windows PCs, 2 Macs, an iPhone, an Android tablet, and a smart TV all at once. When I opened YouTube and watched an HD PewDiePie video, I didn't have any issues even with 7 devices streaming at the same time.
One drawback of CyberGhost is that its 1-month plan has a shorter money-back guarantee than ExpressVPN. However, it offers a budget-friendly 3-year subscription that you can get for $2.29 per month and comes with a much longer refund window of 45 days.
I recommend you take advantage of this 45-day money-back guarantee to try CyberGhost for free. It's fast and easy to just get a refund when you're done using it. I requested mine via 24/7 live chat and got my money back in 5 days.
September 2022 Update! You can subscribe to CyberGhost for as low as $2.29 per month + get extra 3 months free with the 3-year plan (save up to 82%)! This is a limited offer so grab it now before it's gone. See more information on this offer here.
Key Features:
35000+ servers in over 84 countries, with thousands in countries that have the most Netflix shows and movies
Nearby servers are fast enough for buffer-free HD Netflix
Unblocks Netflix on up to 10 devices simultaneously
Works with Windows, macOS, Linux, Android, iOS, and more
30-day money-back guarantee
PIA's huge network of US, UK, and Canada-based servers unblock Netflix libraries with the most content. With over 35000 servers in more than 84 countries, PIA can access more obscure Netflix libraries. This unblocks highly-rated shows like Rick & Morty, which are only available on Netflix UK. It's also able to seamlessly access many other TV and movie services with its UK and US streaming servers, such as:
| | | | |
| --- | --- | --- | --- |
| HBO Max | Paramount+ | Discovery+ | Disney+ |
| Amazon Prime Video | Hulu | PBS | Vudu |
| BBC iPlayer | Crunchyroll | fuboTV | ITV Hub |
I got excellent speed test results on PIA's servers near my real location. There were a few times when my speed dropped 10% or more on mid-range servers. Even so, PIA was always fast enough that Netflix fans don't have to worry about buffering during hit shows like Stranger Things.
All PIA plans support up to 10 simultaneous connections, which is more than most VPNs. If 10 devices aren't enough for you, configuring PIA on your router protects every device on your network. However, this process is quite technical and mistakes could permanently damage your hardware.
PIA's slight drawback is its slower performance on distant servers. However, it was always easy to find a fast option near me during my tests. And with its flexible and low-cost subscriptions, PIA is a good value for your money with some of the best monthly VPN plans. However, I suggest you go for its 2-year subscription which costs even less at $2.19 per month.
Regardless of which plan to choose, you can try PIA with Netflix risk-free with its 30-day money-back guarantee. I tested the policy first-hand by asking for my refund via live chat. The agent approved my request in 5 minutes, and I got my subscription fee back in a week.
FAQs About Watching Netflix With VPNs
Is it legal to use Turbo VPN to watch Netflix?
Yes, but it violates Netflix's terms of service. If Netflix detects you're unblocking it from another country, you might get banned with no refund. Only top-of-the-line VPNs with advanced unblocking capabilities can access country-specific Netflix libraries from abroad.
Just remember that I don't condone using a VPN to violate licensing agreements, copyrights, local laws, or the terms of use on streaming sites.
Which regions have the most Netflix content?
The US, UK, and Canada libraries have the most available content, but accessing all the top-rated Netflix shows and movies requires a Netflix-capable VPN. A lot of smaller countries like the Czech Republic and Azerbaijan have shows and movies with more reward nominations and higher rankings on IMDB.
Can I watch Netflix with a free VPN?
Yes, it's possible with some free VPNs — but I recommend using a premium VPN like CyberGhost for free instead by taking advantage of its refund policy. Free VPNs like Turbo VPN have throttled speeds and few servers, so it may be hard to find one that works with Netflix. Even so crowded networks and annoying ads cause constant buffering and other interruptions during shows.
Although you can find some reliable free VPNs, most free VPN providers also have tight data caps that run out after 1 or 2 episodes. Some have shady privacy policies, but the worst free VPNs are packed with malware that can infect your devices.
To get around these problems, you can just use a premium VPN like CyberGhost with its 45-day money-back guarantee. Its Netflix-optimized network accesses the site reliably for lagless streaming. To get a refund processed in a few minutes, you can contact 24/7 live chat.
Final Word
As Netflix gets better at detecting proxy IP addresses, fewer VPNs can get past its strict geo-restrictions. Most free VPN providers don't have servers advanced enough to unblock Netflix globally, and even Turbo VPN's paid version only works reliably with Netflix US. Content libraries in other countries aren't always accessible, limiting Turbo VPN's streaming abilities.
With 4K-capable connection speeds even on distant servers, I recommend ExpressVPN for Netflix instead. Its huge network is optimized for streaming — hit shows like Stranger Things are lag-free even in 4K, and it can access Netflix content libraries from all over the world. Plus, you can buy ExpressVPN in confidence because it's backed by a 30-day money-back guarantee.
---
Summary: Top VPNs for Streaming Netflix in 2022