How to Watch the 2019 NBA Playoffs From Anywhere
Last Updated by Bonnie Aleman on March 13, 2020
The Toronto Raptor stormed back from down two games to none in the Eastern Conference Finals and won four in a row to secure their first-ever berth in the NBA Finals. There they will meet up with the Golden State Warriors, who secured their fifth straight Finals berth with a sweep of the Portland Trail Blazers.
We have the hack you need to watch the NBA Finals for free.
Cord cutters and anyone outside the US will need to use one of our recommended hacks to watch the NBA finals from anywhere in the world.
One of the easiest (and Free) tricks is to get a VPN, that will mask your location. You can then sign on to a local server from outside the US or outside your region, to watch your favorite teams through the local network provider.

Watching NBA Playoff Games Outside the US – With a Cable Subscription
Get a VPN that can bypass geo-restrictions. We recommend ExpressVPN because it can access TNT, ABC, ESPN, and NBA TV without being blocked.
Connect your VPN to a server in the US.
No Cable or Satellite Subscription? No Problem
You don't need a US cable subscription in order to live stream the NBA Playoffs. If you are outside the US, you will need a VPN to change your location to the US, and then you can log in, or create an account, and watch every game on the 2019 NBA Playoffs. Here are the best streaming services carrying ABC, TNT, ESPN, and NBA TV
Recommended Streaming Services
1 YouTube TV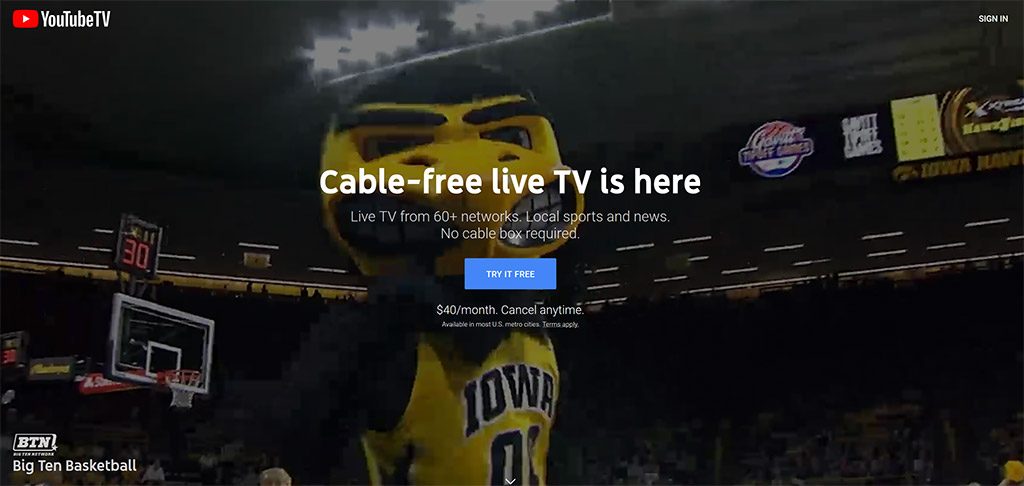 YouTube TV
subscriptions give you access to over 60 channels of live TV, including the
four network channels broadcasting the NBA finals
.
After a two-week free trial, you pay $40 a month, which also features unlimited DVR storage, six family accounts, with simultaneous streaming on up to three devices. You can cancel at any time.
2 Sling TV

The
Sling TV
Orange package
gives you access to
ESPN, TNT, and ABC through the ESPN3 Channel
, for only $15 per month.
You can add the sports extra package for an additional $5, which includes NBA TV. Sling TV offers a free 7-day trial with no contract, allowing you to cancel at any time.
3 PlayStation Vue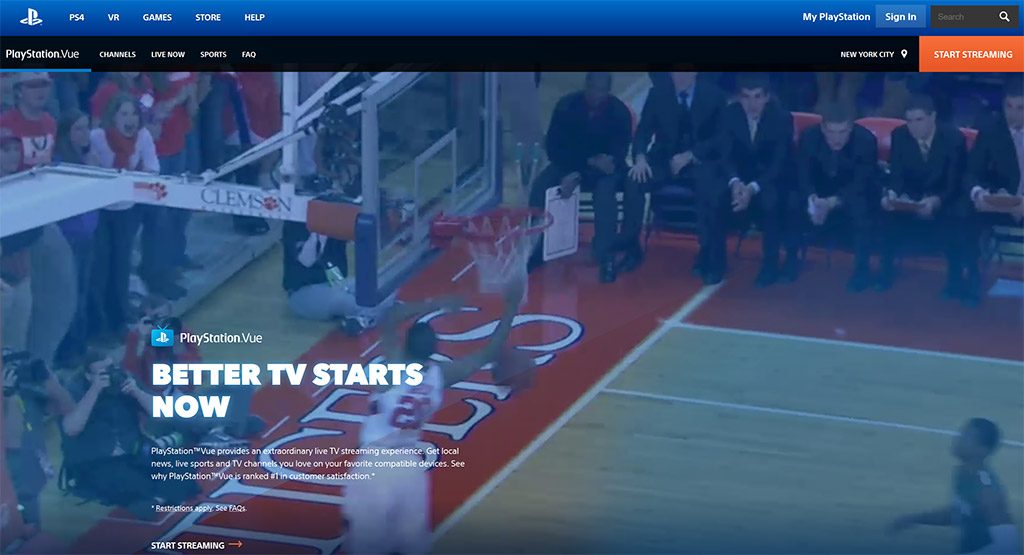 PlayStation Vue
does not require you to have the game console to subscribe. You can gain access to the channels through the console, Roku, Amazon Fire, Google Chromecast, and other devices.
While their cheapest plan (the Access package) only includes ABC, TNT, and ESPN, for $5 more a month you can get all four NBA playoff channels. New subscribers can enjoy a free 14-day trial with no long term contract.
4 Direct TV Now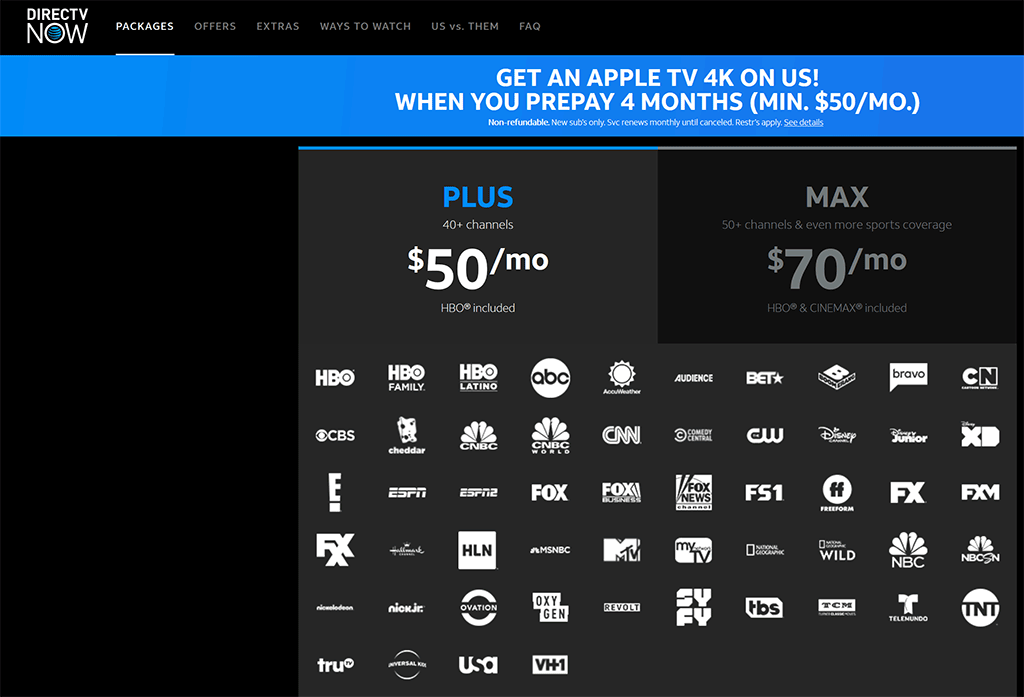 Direct TV Now
includes ABC, ESPN, and TNT in its $50 per month package, giving you live streaming on up to three devices. However, you must upgrade to the
Xtra Package
at $124 per month to get
NBA TV
, making it the most expensive option.
You can sign up for a new account and get a one-month free trial, with no contract.
Not Recommended Streaming Services
Other popular streaming services include Fubo TV and Hulu Live TV. These services do not include all four network channels, even in the upgraded or add-on packages
VPN Providers to Stream the NBA Finals
1. ExpressVPN – Fast and Reliable Servers for Streaming Live Action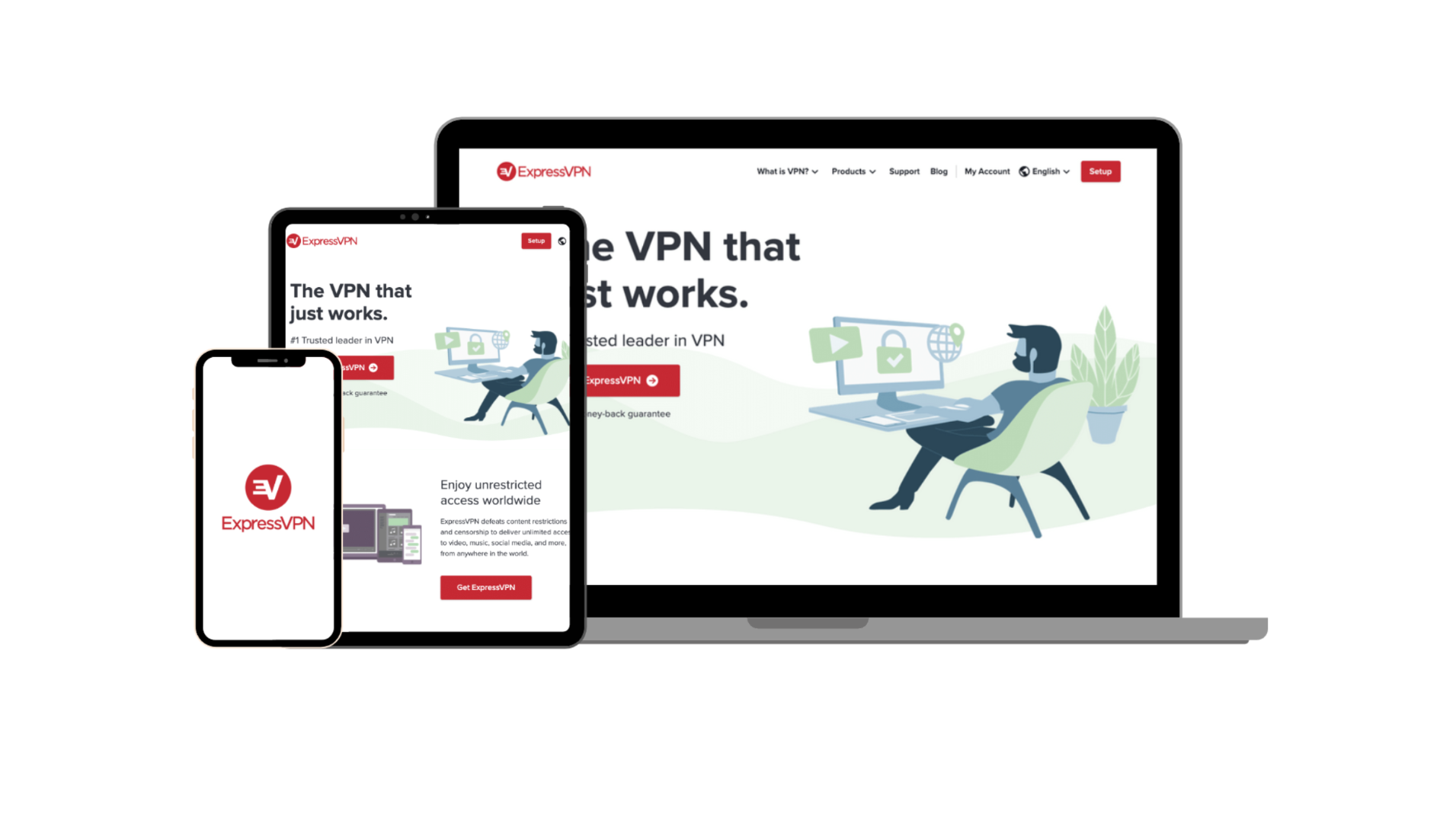 ExpressVPN has an extensive network of over 3,000 servers across the globe, with 32 in the US. Their built-in speed test ensures streaming at the fastest speeds.
Each account receives an unlimited bandwidth with no throttling to give you access to the NBA finals without buffering. You can stream up to five devices simultaneously per account.
The 30-day, no questions asked guarantee ensures your satisfaction.
Over 3,000 servers with 32 in the US
24/7 customer service through the live chat feature
No connection or activity logs kept
Surpasses geo-location filters
2. NordVPN – Largest Network of US Servers
NordVPN has a huge server network, including over 5,400 worldwide and 1,846 in the US. Each account receives an unlimited bandwidth, which provides a fast, secure connection.
The ad-blocking feature gives you a smoother streaming experience without interruptions, protecting against malware and phishing sites. NordVPN offers a 30-day money back guarantee on new accounts.
Over 5,400 servers in 61 countries
Double VPN and dedicated IP address
Military grade encryption
Up to 6 devices per account
3. CyberGhost VPN – Longest Money Back Guarantee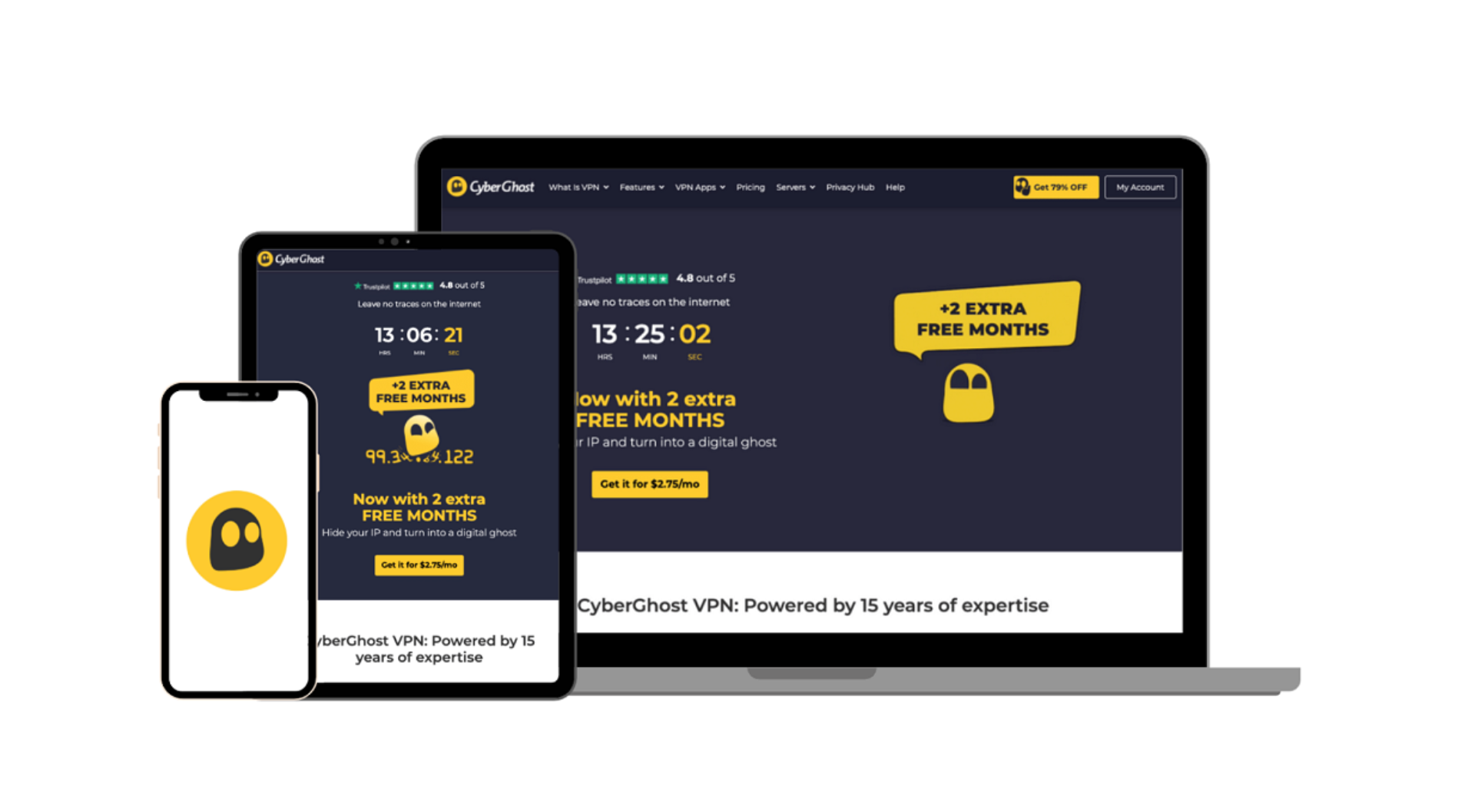 CyberGhost VPN has over 3,800 servers online with 739 housed in the US. Each account grants simultaneous streaming on up to 7 devices.
The servers allow you to bypass geo-restricted content by region or country to combat digital censorship. The hidden IP address and fast servers give you seamless access to live sporting events like the NBA finals.
45-day money back guarantee
24/7 live chat support
Ad blocking technology
Military grade encryption
NBA Playoff Schedule
First Round Playoff Games – Begins April 13
Conference Semi-Finals Begin – April 29-30 (Possibly moved to April 27-28)
Conference Finals Begin – May 14-15
NBA Finals Begin – May 30Final Thoughts
You can safely watch every game, no matter where you are, using one of our recommended premium VPNs.
Whether you are at home, at work, or on a public network, you have confidence knowing you will have a safe browsing experience with fast enough speeds to avoid buffering.
Eastern Conference Finals
(1)Milwaukee Bucks vs (2) Toronto Raptors
Toronto wins series 4-2
Game 1
Bucks 108 – Raptors 100
8:30
TNT
Game 2
Bucks 125 – Raptors 103
8:30
TNT
Game 3
Bucks 112 – Raptors 118
7:00
TNT
Game 4
Bucks 102 – Raptors 120
8:30
TNT
Game 5
Bucks 99 – Raptors 105
8:30
TNT
Game 6
Bucks 94 – Raptors 100
8:30
TNT
Game 7*
Monday, May 27
8:30
TNT
Western Conference Finals
(1) Golden State Warriors vs (3) Portland Trail Blazers
Golden State Wins series 4-0
Game 1
Warriors 116 – Trail Blazers 94
9:00
ESPN
Game 2
Warriors 114 – Trail Blazers 111
9:00
ESPN
Game 3
Warriors 110 – Trail Blazers 99
9:00
ESPN
Game 4
Warriors 119 – Trail Blazers 117
9:00
ESPN
Game 5*
Wednesday, May 22
9:00
ESPN
Game 6*
Friday, May 24
9:00
ESPN
Game 7*
Sunday, May 26
9:00
ESPN
Eastern Conference – Second Round
(1)Milwaukee Bucks vs (4) Boston Celtics
Milwaukee wins series 4-1
Game 1
Bucks 90 – Celtics 112
1:00
ABC
Game 2
Bucks 123- Celtics 102
8:00
TNT
Game 3
Bucks 123- Celtics 116
TBD
ESPN
Game 4
Bucks 113- Celtics 101
7:00
TNT
Game 5
Bucks 116- Celtics 91
8:00
TNT
Game 6*
Friday, May 10
TBD
ESPN
Game 7*
Monday, May 13
TBD
TBD
(2) Toronto Raptors vs (3) Philadelphia 76ers
Toronto win series 4-3
Game 1
Raptors 108 – 76ers 95
5:00
ESPN
Game 2
Raptors 89 – 76ers 94
8:00
TNT
Game 3
Raptors 95 – 76ers 116
8:00
ESPN
Game 4
Raptors 101 – 76ers 96
3:30
ABC
Game 5
Raptors 125 – 76ers 86
8:00
TNT
Game 6
Raptors 101 – 76ers 112
8:00
ESPN
Game 7*
Raptors 92 – 76ers 90
8:00
TNT

Western Conference – Second Round
(1) Golden State Warriors vs (4) Houston Rockets
Golden State wins series 4-2
Game 1
Warriors 104 – Rockets 100
3:30
ABC
Game 2
Warriors 115 – Rockets 109
10:30
TNT
Game 3
Warriors 121 – Rockets 126
8:30
ABC
Game 4
Warriors 108 – Rockets 112
9:30
TNT
Game 5
Warriors 104 – Rockets 99
10:30
TNT
Game 6
Warriors 118 – Rockets 113
10:30
ESPN
Game 7*
Sunday, May 12
TBD
TBD
(2) Denver Nuggets vs (3) Portland Trailblazers
Portland win series 4-3
Game 1
Nuggets 121 – Trail Blazers 113
10:30
TNT
Game 2
Nuggets 90 – Trail Blazers 97
9:00
TNT
Game 3
Nuggets 137 – Trail Blazers 140
10:30
ESPN
Game 4
Nuggets 116 – Trail Blazers 112
7:00
TNT
Game 5
Nuggets 124 – Trail Blazers 98
10:30
TNT
Game 6
Nuggets 108 – Trail Blazers 119
10:30
ESPN
Game 7
Nuggets 96 – Trail Blazers 100
3:30
ABC
Eastern Conference – First Round
(1)
Milwaukee Bucks vs (8) Detroit Pistons
Milwaukee wins series 4-0
Game 1
Bucks 121 – Pistons 86
7:00
TNT
Game 2
Bucks 120 – Pistons 99
8:00
NBA TV
Game 3
Bucks 119 – Pistons 103
8:00
ESPN
Game 4
Bucks 127- Pistons 104
8:00
TNT
Game 5*
Wednesday, April 24
TBD
TBD
Game 6*
Friday, April 26
TBD
TBD
Game 7*
Sunday, April 28
TBD
TBD
(2) Toronto Raptors vs (7) Orlando Magic
Toronto wins series 4-1
Game 1
Magic 104 – Raptors 101
5:00
ESPN
Game 2
Magic 82 – Raptors 111
8:00
TNT
Game 3
Magic 93 – Raptors 98
7:00
ESPN
Game 4
Magic 96 – Raptors 115
7:00
TNT
Game 5*
Magic 85 – Raptors 107
TBD
TBD
Game 6*
Thursday, April 25
TBD
TBD
Game 7*
Saturday, April 27
TBD
TBD
(3) Philadelphia 76ers vs (6) Brooklyn Nets
Philadelphia wins series 4-1
Game 1
Nets 111 – 76ers 102
2:30
ESPN
Game 2
Nets 123 – 76ers 145
8:00
TNT
Game 3
Nets 115 – 76ers 131
8:00
TNT
Game 4
Nets 108 – 76ers 112
3:00
TNT
Game 5*
Nets 100 – 76ers 122
TBD
TBD
Game 6*
Thursday, April 25
TBD
TBD
Game 7*
Saturday, April 27
TBD
TBD
(4) Boston Celtics vs (5) Indiana Pacers
Boston wins series 4-0
Game 1
Celtics 84 – Pacers 74
1:00
TNT
Game 2
Celtics 99 – Pacers 91
7:00
TNT
Game 3
Celtics 104 – Pacers 96
8:30
ABC
Game 4
Celtics 110 – Pacers 106
1:00
ABC
Game 5*
Wednesday, April 24
TBD
TBD
Game 6*
Friday, April 26
TBD
TBD
Game 7*
Sunday, April 28
TBD
TBD
Western Conference – First Round
(1) Golden State Warriors vs (8) Los Angeles Clippers
Golden State wins series 4-2
Game 1
Warriors 121- Clippers 104
8:00
ABC
Game 2
Warriors 135 – Clippers 131
10:30
TNT
Game 3
Warriors 132 – Clippers 105
10:30
TNT
Game 4
Warriors 113 – Clippers 105
3:30
ABC
Game 5*
Warriors 121 – Clippers 129
10:30
TNT
Game 6*
Warriors 129 – Clippers 110
10:00
ESPN
Game 7*
Sunday, April 28
TBD
TBD
(2) Denver Nuggets vs (7) San Antonio Spurs
Denver wins series 4-3
Game 1
Spurs 101 – Nuggets 96
10:30
ESPN
Game 2
Spurs 105 – Nuggets 114
9:00
NBA TV
Game 3
Spurs 118 – Nuggets 108
9:00
NBA TV
Game 4
Spurs 103 – Nuggets 117
5:30
TNT
Game 5
Spurs 90 – Nuggets 108
8:00
TNT
Game 6
Spurs 120 – Nuggets 103
8:00
TNT
Game 7
Spurs 86 – Nuggets 90
10:00
TNT
(3) Portland Trail Blazers vs (6) Oklahoma City Thunder
Portland wins series 4-1
Game 1
Trail Blazers 104 – Thunder 99
3:30
ABC
Game 2
Trail Blazers 114 – Thunder 94
10:30
TNT
Game 3
Trail Blazers 108 – Thunder 120
9:30
ESPN
Game 4
Trail Blazers 111 – Thunder 98
9:30
TNT
Game 5*
Trail Blazers 118 – Thunder 115
10:30
TNT
Game 6*
Thursday, April 25
TBD
TBD
Game 7*
Saturday, April 27
TBD
TBD
(4) Houston Rockets vs (5) Utah Jazz
Houston wins series 4-1
Game 1
Rockets 122 – Jazz 90
9:30
TNT
Game 2
Rockets 118 – Jazz 98
9:30
TNT
Game 3
Rockets 104 – Jazz 101
10:30
ESPN
Game 4
Rockets 91 – Jazz 107
1:00
ABC
Game 5*
Rockets 100 – Jazz 93
8:00
TNT
Game 6*
Friday, April 26
TBD
TBD
Game 7*
Sunday, April 28
TBD
TBD