Can't Stream 6play Outside France? This FREE Hack REALLY Works
Last Updated by Bonnie Aleman on June 20, 2022
If you can't watch 6play outside of France, even when using a VPN, it's because of the particularly tough geo-blocks in place. Even the most sophisticated VPN services struggle to bypass the restrictions, and licensing rights prohibit the broadcasting of content outside authorized locations.
However, where there's a will, there's a way.
What Happened?
In July 2018, M6, the parent company of 6Play, implemented a new set of controls. The new policy block all VPNs attempting to access their network. The assumption is that anyone using a VPN is doing so from outside of France.
Currently, if you visit 6Play with any VPN or proxy, you get the same error message, "Pour des raisons de droits, cette vidéo ne peut pas être lue depuis votre zone géographique." ("For rights reasons, this video cannot be played from your area.")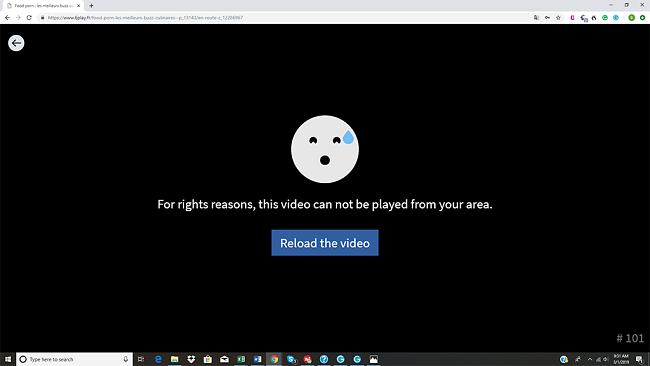 Consistent with reports, we tested popular VPN providers like
ExpressVPN
,
NordVPN
,
CyberGhost VPN
, and
HMA VPN
.
On each attempted log-in we received the error
.
These changes make it difficult to stream any 6Play content outside of France.
A FREE Hack to Stream 6Play Channels Outside of France
6Play provides catch-up and on-demand services for channels M6, W9, 6ter, Fun Radio, RTL2, Paris Premiere, and Teva. While you can't bypass the 6Play blocks, you can use Molotov TV as an alternative, and stream the channels live. However, 6Play have revoked Molotov's on-demand capabilities.
On Molotov TV, you can stream a lot of the same content from 6Play for free, even if you connect outside of France.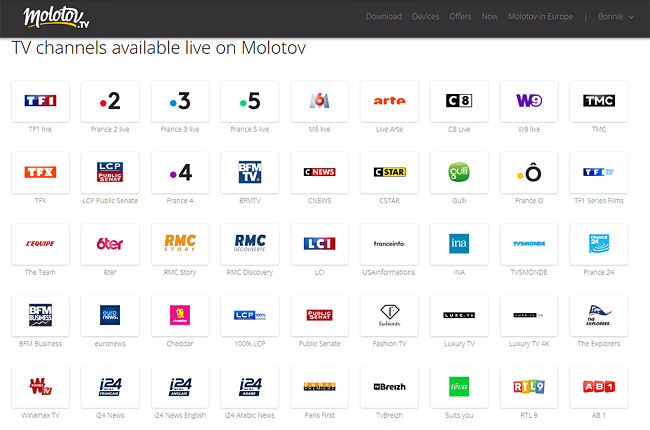 Molotov TV hosts every major French channel including M6, RMC, RTL Channels, Paris Premiere, 6ter, Teva, and M6 Music. Additionally, you also gain access to global channels like Paramount, Disney, Boomerang, and Bet. Some content requires a subscription to access.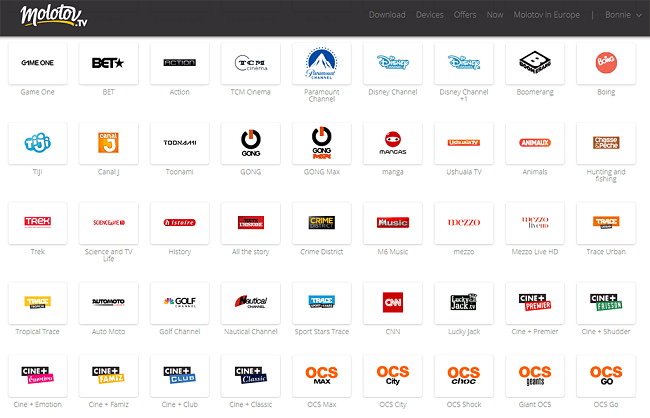 Step-By-Step Guide on How to Access 6play Channels Through Molotov
Use a VPN to connect to a server located in France.


Visit molotov.tv. You might have to translate the page because it initially appears in French.


Download and install the Molotov client app. The app is compatible with the following:

Windows, Mac, and Linux operating systems.
Smart TVs made by Panasonic, Samsung, LG, Sony, TCL, and Thompson.
Smart Sticks from Chromecast, Amazon Fire TV, and Apple TV.
Android smartphones 4.3 or later and Apple devices (iPhone, iPad, and iPod) 9 or later.

Set up a free account. You must enter an email address, create a password, and include your name, sex, and birth date. Molotov does not verify the account with a follow-up email. The email and password serve as your log-in credentials.
Once you log-in, click "Now" from the top menu bar to stream live TV or available replays. French residents can watch Molotov TV from anywhere in Europe. You can use a VPN to view content outside of Europe.

What You Get with the Free Account
A free account with Molotov TV provides access to 34 channels in HD, including the channels owned by 6Play. You can also connect on up to four devices simultaneously.
To access more channels, you must subscribe to a plan. The cheapest plan allows up to 150 hours of recorded programming. In addition to a channel subscription, you can purchase themed add-ons like a sports channel line-up, film documentaries, youth programs, or the NFL game pass.
Final Thoughts
Molotov does not offer on-demand shows provided by 6Play. However, you can watch the channels live. If you purchase a paid subscription through Molotov, you can record your favorite TV shows or movies, and access an extensive network of French content.