10 Best Secure Web Browsers for Privacy in 2022 (TESTED)
Last Updated by Benjamin Walsh on May 01, 2022
You might be happily using a popular browser like Chrome, Safari, or Firefox without knowing that your privacy is at risk. That's because your browser stores vast amounts of personal data, like your website history, login credentials, and autofill details. Even in "private" or "incognito" mode, your browser may still reveal your location and device to third-party sites, trackers, and advertisers.
That's why it's critical to use a trustworthy browser. I tested over 20 browsers and found the 10 best options for 2022, all of which will safeguard your sensitive data instead of sharing or selling it.
To maximize your privacy, I recommend you use a quality VPN in combination with a secure browser. Unlike a browser, a VPN encrypts your entire internet connection (not just your browser traffic), so you're completely hidden from spying third parties.
Try a quality VPN risk-free for 30 days!
Quick Comparison Table: Which Browser Is the Most Secure in 2022?
Safety Tip: The right secure browser can be a useful privacy tool, but it doesn't offer the same level of security that a VPN does. A VPN encrypts your entire internet traffic (not just the browser), so you can protect your data at all times. Try a top-rated VPN risk-free for 30 days!
How I Tested and Ranked Each Web Browser
I used the following criteria to evaluate each browser:
Advanced security features: Secure browsers should have zero weak spots for hackers to exploit, and regularly update their defensive features.
Strong privacy policy: Your data shouldn't be tracked, shared or sold to make money. At the very least, you'll have the option to opt-out of data collection and any other practices that breach your privacy.
Support for secure extensions: Extensions can boost your browser's functionality, but not every extension is secure or private. Some will even track everything you do during a browsing session. Secure browsers should block any extensions that may compromise your device's security.
Multi-platform support: Browsers need to be compatible with Windows, Android, Mac, iOS devices, and other popular devices.
10 Best Secure Web Browsers (Tested May 2022)
1. The Onion Router (TOR) — Highly Secure With Encrypted Connections for Privacy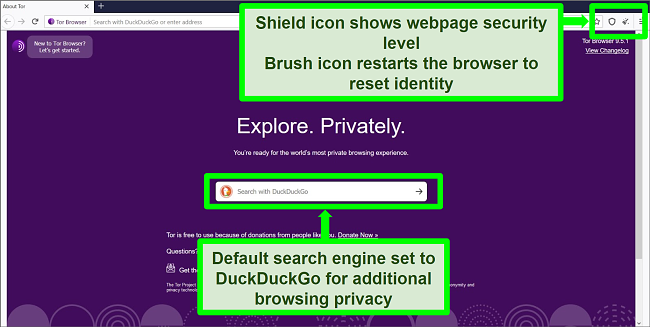 Hide your location and prevents you from being tracked by third parties
Never collects or shares your browsing data
Works on Windows, Mac, Android, and Linux
Short for The Onion Router, Tor is a highly private browser with multiple layers of encryption layers to protect your online activity. When you connect to Tor, your data flows through numerous volunteer "nodes" (individual computers that are part of the network). It's practically impossible to trace any data back to your device. This makes Tor an excellent browser if you're a journalist, whistleblower, or conducting sensitive research in a country with restrictive internet laws.
Tor comes pre-installed with 2 extensions: HTTPS Everywhere (automatically upgrades website security) and NoScript (prevents vulnerable software like JavaScript from running). I don't suggest adding any further extensions, as this could affect your privacy.
Unfortunately, Tor is relatively slow as your data needs to jump through several nodes before it reaches the internet. I found it took up to 30 seconds to connect to a website.
2. Ungoogled Chromium — Daily Updates to Guarantee the Latest Security Features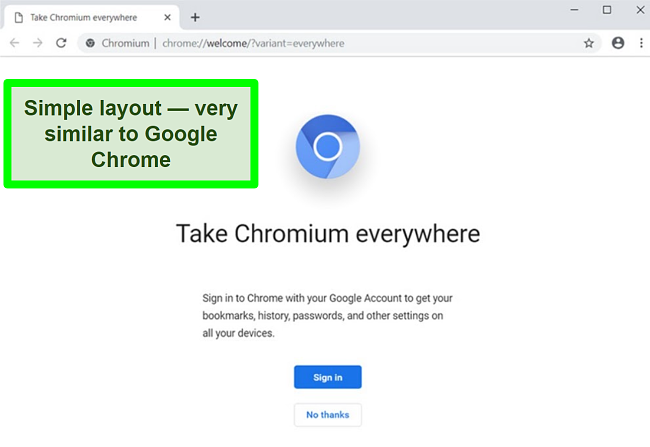 Never tracks, collects, or shares your browsing data
Removed all code specific to Google web services (e.g. Google Host Detector)
Works on Windows, Mac, and Linux
Ungoogled Chromium is a Chromium-based browser, which is a free and open-source software initially started by Google. However, it's much more secure and has no links to the tech giant. In fact, Ungoogled Chromium has completely freed itself from Google's trackers and host detectors (tools that identify your IP address). Your browsing history is never logged or shared with any third parties.
Unlike many browsers, Ungoogled Chromium has daily updates to its software. These updates keep the browser highly-secure since any known weaknesses are fixed immediately. However, you'll have to manually update the browser (there are no automatic prompts or reminders). As a safety precaution, make sure you only download new updates from the official website.
3. Opera — Decent for Privacy With In-Built Proxy Service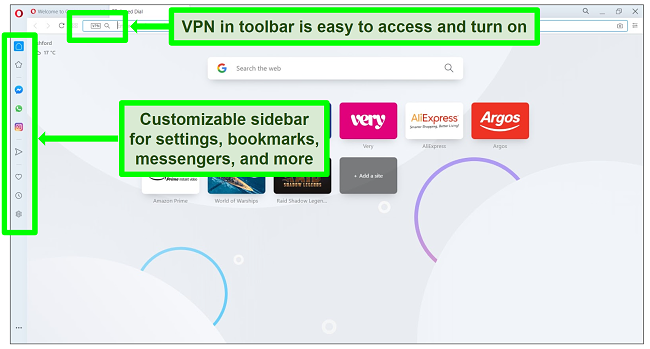 Blocks ads and trackers
Private browsing mode doesn't collect or store any personal data
Works on Windows, Mac, Android, and Linux
Opera is a Chromium-based browser with decent privacy options. You can choose to block all ads and trackers and all browsing data on your device. There are also in-built privacy tabs, which operate similarly to other browsers' private or incognito mode.
A unique feature is Opera's pre-installed VPN, which operates more like a proxy service. Unfortunately, you can only choose from 3 vague server locations (Americas, Europe, and Asia), so you'll never know which country you're connected to. This comes with significant privacy risks, especially if you're browsing sensitive online topics or downloading torrents.
4. Epic Privacy Browser — Automatically Deletes All Browsing Data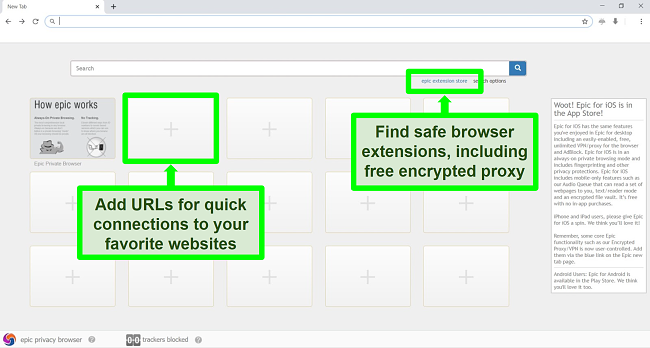 Blocks ads and trackers
Never collects or shares your browsing data
Supports Windows, Mac, Android, and iOS
Another Chromium-based browser, Epic Privacy Browser, is a Chromium-based browser with strong security and privacy practices. All your browsing activity is stored locally on your device and automatically deleted once you close the browser. All ads and web trackers are blocked as well, and none of your browsing activity is shared with third parties.
Epic Privacy Browser only supports a small selection of pre-installed extensions, which is good to see as many unsafe extensions will track your device. One of its most useful extensions is the built-in proxy with servers in the US, Canada, France, Germany, India, and a few more countries.
The only minor concern I have is Epic Privacy Browser's true open-source nature. While Ungoogled Chromium allows anyone to access its code online, Epic only lets you access the files if you contact the team directly and provide information on your background first.
5. Mozilla Firefox — Highly Customizable and Supports Many Browser Extensions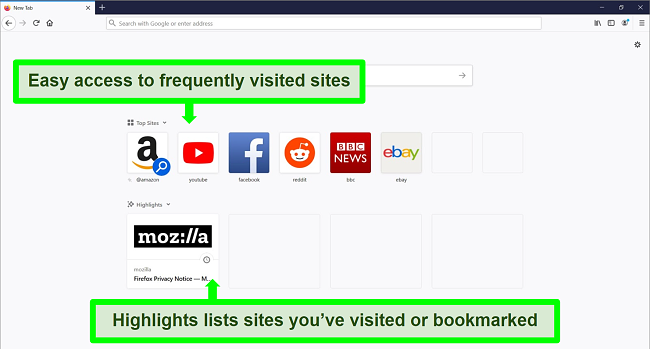 Blocks ads and trackers
Collects some data when you use certain features (e.g. search and location)
Works on Windows, macOS, Android, iOS, and Linux
Mozilla Firefox has robust privacy protection features, and it supports a wide range of extensions for further customization. Plus, it regularly releases automatic browser updates, so you don't have to worry about potential security issues.
The browser blocks all ads and trackers, and your browsing history remains safe. Firefox does collect non-identifying data about how you use the browser, but it's never sold or shared with third parties. The collected data is purely for software improvement, and you can opt-out at any time.
While it takes some time to find all the right plugins and extensions for your needs, it's worth the time if you want to safely use Firefox as your go-to browser.
6. Brave — Good for Privacy and Security (Even With Unique Ad Platform)
Blocks ads and trackers
Doesn't keep any identifying logs
Works on Windows, Mac, iOS, Android, and Linux
Running on Chromium, Brave is a relative newcomer on the market but comes with a range of strong security and privacy options. All your browsing data is stored locally on your device, so you can delete it whenever you like — Brave can't see or access any of your data at all.
You'll also find blockers for ads, trackers, and browser fingerprinting (stops websites from detecting your operating system and device). I especially like its Private Windows feature, which connects you directly to Tor for greater anonymity.
Some users might be nervous about Brave's introduction of ads ("Brave Ads"). However, I don't find any large cause for concern. The browser still natively blocks all invasive trackers, so you won't be targeted by spyware posing as ads. All ad matching occurs directly on your device, where your browsing history is saved, so none of your private data is shared or sent with any third parties.
7. Apple Safari — "Sandboxes" Tabs for Overall Browser Security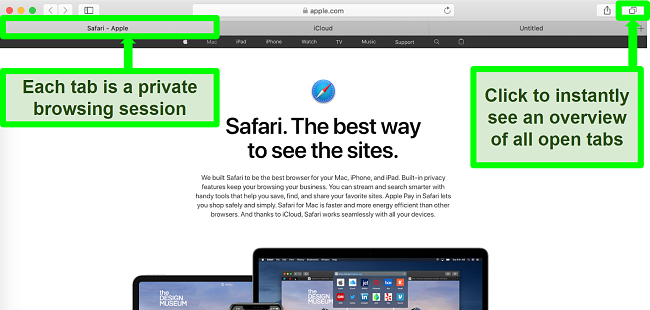 Blocks ads, trackers, and malware-infected websites
Stores browsing data locally (but it's easy to delete)
Only available on Mac and iOS
Apple Safari offers its secure browser for Mac and iOS devices, and it's quite impressive in terms of its privacy protection. Every individual tab is "sandboxed," which means that each tab is a self-contained browsing session. This compartmentalization ensures that if malware infects one of your open tabs, all your other tabs (and the browser as a whole) will remain safe.
You can store all data locally on your device (not on the browser), and activate blockers for trackers, ads, and malware. Even if you want to store data on the browser, I found it easy to locate and delete my browsing history and cookies. There's also an in-built password manager and private browsing mode.
Safari only supports App Store browser extensions, but make sure that you're careful in your selection. Some of these extensions can track your activity, so your data privacy isn't always protected.
8. Vivaldi — User-Friendly Browser but Privacy Policy Is Weak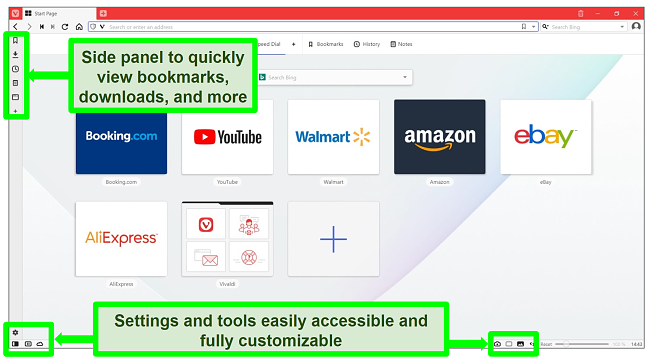 Blocks ads and trackers
Collects identifying data and tracks your device's location
Works on Windows, Mac, Linux, and Android
Vivaldi is a Chromium-based browser that's very easy to use and navigate. However, you'll need to customize the privacy settings before you use it. I suggest selecting "block trackers and ads," as well as opting into "Phishing and Malware Protection." You can also turn off several Google features, including auto-fill, safe browsing, and search suggestions.
Unfortunately, I did have a few privacy concerns. Vivaldi requires you to register your name, birthday, and email to create an account. The privacy policy is also quite intrusive — your device gets a unique ID, and its location is tracked daily.
9. Google Chrome — Popular but Shares Your Data with Google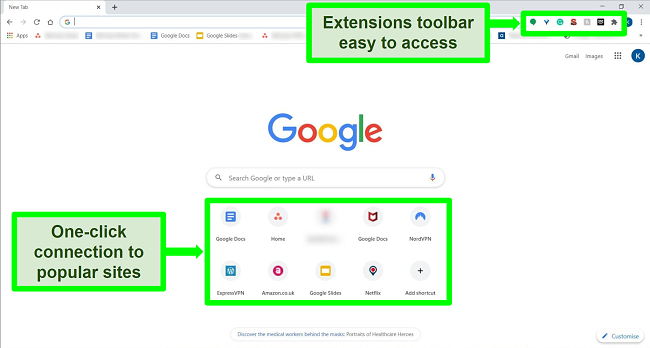 Provides the option to block cookies and trackers
Browsing data is tracked, collected, and shared with Google
Available on Windows, Mac, Android, iOS, and Linux
Chrome is a popular browser, but very few users know the full scope of its privacy failings. Chrome shares all your online activity and data with Google, as well as third-party advertisers. Advertisers then use your data to target you with personalized ads.
Despite its privacy shortcomings, Chrome is relatively secure and undergoes regular updates to eliminate known weak spots. If you want to keep using Chrome as your primary browser, I highly recommend you block all cookies and trackers in "Settings" (must be enabled manually). You can also download browser extensions to block ads and malware, such as uBlock Origin or Privacy Badger.
10. Microsoft Edge — Reasonably Secure but Known to Have Vulnerabilities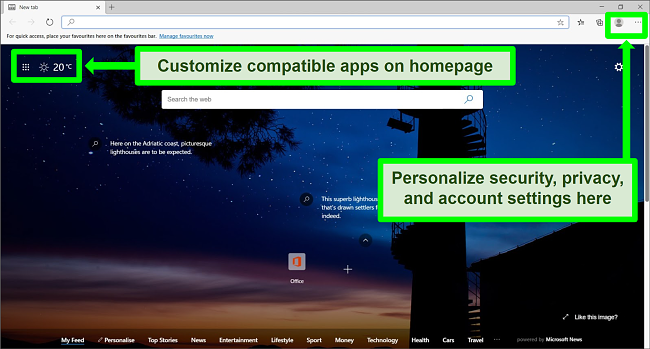 Blocks ads and trackers
InPrivate browsing mode doesn't store or track any personal data
Works on Windows, Mac, Android, and iOS
Microsoft Edge is a decent browser, but it has a history of vulnerabilities. While most known issues have been fixed, there's always the possibility that new weaknesses will be discovered. To keep your device safe, I suggest you download the Microsoft Defender extension (detects and blocks malware) and switch on the block for ads, trackers, and cookies. It's also best practice to always use the InPrivate private browsing mode, which doesn't store your activity or link it to your Microsoft account in any way.
3 Easy Tips for Safer Browsing on the Internet
1. Get a VPN to Encrypt Your Internet Traffic
Even the most secure browser on the market doesn't encrypt your internet connection. Unfortunately, an unencrypted connection can let hackers, government agents, or your Internet Service Provider (ISP) see precisely where you are and what you're doing.
A VPN will protect you by encrypting your traffic and hiding your Internet Protocol (IP) address. I've tested 157 VPNs, and the best option I've reviewed for 2022 is ExpressVPN. It has powerful privacy and security features, including a kill switch, military-grade encryption, and a strict no-logs policy. You can even use ExpressVPN to unblock streaming services like Netflix and anonymously download torrents.
But don't take my word for it. You can try out ExpressVPN risk-free with the 30-day money-back guarantee. I signed up myself to confirm the process, and it works! It was quick and easy to get a full refund over the 24/7 live chat service.
Try ExpressVPN risk-free for 30 days!
2. Use a Private Search Engine for Uncensored Web Browsing
Popular search engines — like Google, Bing, and Yahoo — will monitor and store your search history. It doesn't matter what browser you're using or if you've switched to incognito mode — your preferences and clicks are still being tracked. Unfortunately, popular search engines also control the results appearing on the page. You'll only find links that you're "allowed" to see.
I recommend using a private search engine like DuckDuckGo or StartPage, as they are committed to keeping your web searches untraceable.
3. Switch to Anonymous Email to Send Encrypted Messages
Your browser might be secure, but your email is still vulnerable to third-party hacking and surveillance. Fortunately, an anonymous email service will encrypt the contents of your messages. Services like ProtonMail and Tutanota will even let you create an anonymous email address for free. You can even sync up your inbox with regular email providers like Gmail, Yahoo, and Outlook.
FAQ
What's the best browser without ads and tracking?
I tested the best secure browsers for 2022 and the #1 choice without ads or tracking is The Onion Router (Tor). It doesn't track your online activity or log your data, and it regularly updates any weak spots in the software. This is much different than popular browsers (like Google Chrome), which sell your private browsing data to advertisers and other third parties.
If you want to avoid being tracked entirely, the best option is to download a quality VPN. A VPN encrypts your entire internet connection — not just your browser. This means you can safely use apps and programs (like Netflix and BitTorrent clients) without anyone spying on your activity.
What's the most secure browser for Windows, Android, Mac, and iPhone?
All the top 10 secure browsers for 2022 work well on some or all of these devices. The Onion Router (Tor) is ideal for online anonymity, although it's not available on iPhone or iPad. Epic Private Browser is another top choice for everyday use, and it supports Windows, Mac, Android, and iOS. All browsers take less than 1 minute to download and install across all devices and operating systems.
What are some popular browser extensions for privacy?
Here are the most secure browser extensions, which I tested with the 10 best secure browsers for 2022:
HTTPS Everywhere — Automatically upgrades every website you visit to HTTPS (instead of the insecure HTTP)
uBlock Origin — Blocks known ads, trackers, and malware in your browser
Privacy Badger — Blocks new and unknown ads, trackers, and malware
Disconnect — Allows you to choose specific trackers to block on individual websites
Should I use more than 1 browser?
Yes, you should use more than 1 browser (and I suggest you choose from this vetted list of proven secure browsers). You'll have more control over your privacy when you use different browsers for certain online activities. For instance, you could use Epic Privacy Browser for your everyday browsing but switch to Tor for more confidential matters.
That said, even a secure browser won't keep you completely safe online. I suggest you use a quality VPN if you're seeking privacy and anonymity. A VPN will employ military-grade encryption, a kill switch, and advanced security protocols to prevent hackers, legal authorities, and other third parties from spying on your device.
What's a secure browser?
A secure browser is one that doesn't track your online activity or log your data, and actively avoids software vulnerabilities. Most popular browsers have some security features to protect you, like blocking malicious websites and suspicious downloads. But even with these features, browsers like Google Chrome will track your activity, including when you're using its Incognito mode.
What's a private browser?
A private browser lets you use the internet without storing your browsing data, including a record of sites you've visited, search queries, and login details and passwords. One of the most well-known private browsers is Google Chrome's Incognito mode.
The trouble with private browsers is that while they don't store temporary activity data on your device, your activity can still be seen by your ISP, the network you're using (at school or work, for example), or other third parties. The websites you visit can also see your browsing session. If you want to avoid storing browsing data and keep your online activity anonymous, I suggest you use a secure browser from this tried-and-tested list.
Combine a Secure Browser With a VPN For Maximum Privacy
It's not always easy to understand whether a browser is genuinely secure or not. However, every browser on this page offers a decent level of privacy (even if you need to adjust your own settings).
To further improve your online security, I highly recommend combining a secure browser with a VPN. With a quality VPN, you can hide your real location and encrypt your entire internet connection. When your location is masked, no one can see where you are or what you're doing online — not even your VPN itself. The best VPNs (like ExpressVPN) even have a money-back guarantee, so you can try it out without any risk.
Try ExpressVPN for 30 days risk- free!
---
Summary: These Are The Best VPNs for Secure Web Browsing in 2022