How to Save Over 50% on Miocic vs Cormier – UFC Fight Night
Last Updated by Valentine Milner on July 22, 2018
UFC 226 is right around the corner and this is one fight you won't want to miss. Miocic and Cormier will square off in the Octagon on July 7th in what promises to be an exciting UFC Battle.
This fight must be purchased on Pay-Per-View, but did you know that you can save over 50% when using a VPN?
We used this VPN to change our IP address to a few different locations before purchasing the fight and saw that we could get a better price by picking a country other than the US.
Save Money and Livestream UFC 226 in Under 5 Minutes
1. Purchase NordVPN
2. Select the Best Server in Japan
3. Go to the UFC Pay Per View page and purchase the fight (with significant savings!)
4. Enjoy the fight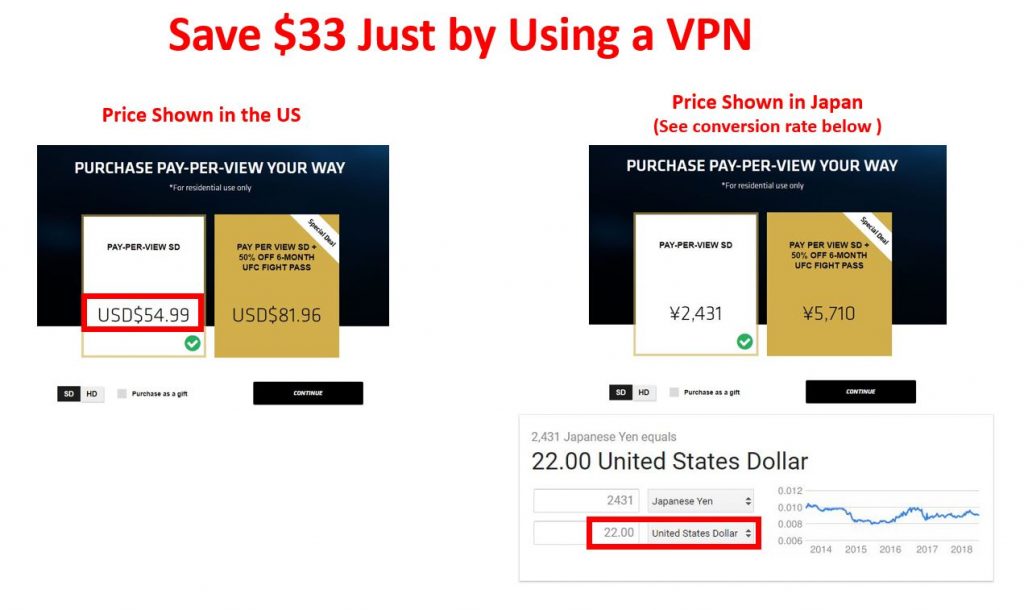 3 Reasons Pirated Streams are NOT Worth the Trouble
There are many benefits to watching the official stream, such as rewinding the fight, up to 6 camera angles, scoring module, social media integration, and more. But, if you still find yourself asking "Why pay at all when I can find a pirated stream for free online" we have several answers for you.
1. Some websites will stop the streaming the fight and 'demand' that you download or register their program to continue watching. That can be quite annoying! Who wants to start messing around with the computer during what will hopefully be a great fight.
2. Between the pop-up ads and shady websites you can get redirected to, who knows the type of malware or viruses you can get.
3. There's always a risk when watching pirated streams that they can get shut down and you'll miss out on the action.
Therefore, it's better to watch the match on the official UFC.TV site. But that doesn't mean you have to pay top dollar to enjoy the fight. Using the VPN hack above, you can save enough money that even after purchasing the VPN you will still spend less money than had you just purchased the fight without the VPN.
What to Look for in a VPN for for Livestreaming the UFC
When looking for a VPN to stream a live UFC fight, you want one that has amazing speeds so the video quality is crisp and avoids any buffering or low-quality streams.
That's why we think that NordVPN is the top choice. With thousands of servers around the world (and several in Japan so you can get the best price for this fight) you won't have to worry about an overburdened server slowing you down. They also have a 30-day money back guarantee, which allows you to test it out during the fight. Of course, you don't have to use NordVPN, this VPN offers unmatched security while thisone has less features but won't cost as much. They both have servers in Japan and can also provide you a high-quality streaming experience for Miocic Vs. Cormier.