Photoshop vs Luminar – Which is Best for Your Needs in 2023
After extensively testing both Photoshop and Luminar, I have compared their leading features and capabilities.
Based on my evaluation, Photoshop emerges as the clear winner. With its comprehensive collection of editing tools and extensive creative capabilities, Photoshop is the industry standard for professional image editing and manipulation. On the other hand, Luminar is a non-destructive software that uses AI and adjustable sliders to perform simple editing tasks .However, it falls short in terms of the depth and versatility provided by Photoshop.
Therefore, if you're looking for a powerful and versatile editing software, Photoshop is the preferred choice. As a bonus, Adobe offers a 7-day free trial for Photoshop, allowing you to experience its full potential firsthand before making a decision.
Try Photoshop Free for 7 Days!
No Time? Here's a 1-Minute Summary of Category Winners
| | | |
| --- | --- | --- |
| | | |
| User interface and workstation | With hundreds of tools and features, the Photoshop workstation can be overwhelming. | Choose from multiple pre designed workstations, each one focused on a different toolset to streamline productivity |
| Tools | Precision editing tools let you manipulate every pixel to get the desired outcome. | Uses AI and augmented reality to make edits and add elements to the image, but doesn't give you the same level of control as Photoshop. |
| Features | The layer-based editing software often adds new features that make it easier to edit your images. | Includes templates and filters to assist in making quick adjustments to your images |
| Workflow | Can take a long time to find specific tools, which negatively affects the workflow | All tools are neatly organized making it easy to find and avoid work slowdowns |
| Plugins | There are hundreds of plugins available from Adobe that make Photoshop even more powerful. | Only compatible with several third-party plugins that can add new filters or templates. |
| Output | There are many different file formats and color tones that you can use when exporting your finished or saved image. | Output options are limited to JPEG, PNG, TIFF, and PDF |
| Pricing | Requires monthly subscription fee. | No monthly fees, just a one-time lifetime subscription. |
| Support | 24/7 live chat, extensive FAQ, and an active community forum. | AI chatbot, email support, FAQ, and community forum |
| Miscellaneous | Decent video editing tools, and compatibility with over 20 Adobe Creative Cloud app | Organize your photo collection. |
Try Photoshop Free for 7 Days!
How I Tested and Compared Photoshop vs. Luminar
I compared Photoshop and Luminar in the following 9 categories.
Try Photoshop Free for 7 Days!
1. User Interface and Workstation – Luminar has a Cleaner User Interface
Both Photoshop and Luminar organize their workstations based on grouping tools that are often used together, but Luminar is much more user friendly. Luminar took a simple approach to design its workstation. Everything seems to have a place, and there is very little clutter that can overwhelm some users.
There are several different workstations to choose from, and each one focuses on a different toolset. For example, if your goal is to adjust the tone of the picture, you can work with the Creative category. This gives you tools like adding sunshine, changing the weather, or adding different filters.
The biggest advantage that Luminar has is that it is user-friendly and works with sliders. Just by dragging the slider to the left or right, you can make minor or major changes to the object.
Photoshop has so many different tools and features that it's nearly impossible to keep it as user-friendly as Luminar. There are tools on the right and left side menus, plus many others that are hidden away in a tabbed container.
To its credit, Photoshop does allow for customization of the toolsets, and like Luminar, it has different workstations that focus on different tools.
The problem, if you can really call it a problem, is that Photoshop has too many tools to be so organized. Once you've become familiar with the tools and know where the ones are that you like, things start to get easier when creating different projects.
2. Tools – Photoshop has a Professional Grade Toolset
Photoshop and Luminar both have tools that can remove backgrounds, change the sky, and remove noise, but Photoshop has an extensive collection of precision tools that allow you to manipulate every pixel.
There's a reason that Photoshop is the preferred digital editing software for professional graphic designers and marketers. It has the best selection of editing tools in the industry. You can cut objects out of images, use the different lasso tools, add mask layers, use a magic wand to transform an object quickly, add text with hundreds of fonts and creative styles, and so much more.

Most of the tools also have different variants, meaning that within each tool you can find a more exact tool that can help you get the job done.
Luminar uses a different approach to digital editing, which requires far fewer tools. It takes a non-destructive editing approach, which is exactly what it sounds like. It can alter an image, change the skyline, add augmented reality to enhance the image, adjust the coloring, and remove unwanted objects from the background.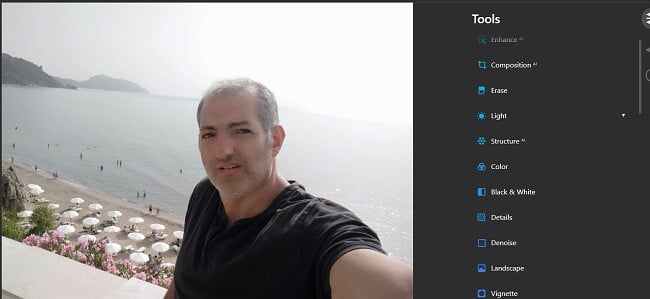 But, the original image is never altered. You can always go back and readjust the sliders to return the image back to its original self.
Try Photoshop Free for 7 Days!
3. Features – Photoshop can do everything Luminar can, and then some
Both Photoshop and Luminar use AI for quick fixes, but Photoshop has advanced features that go beyond AI, making it possible to get your image looking exactly how you envisioned.
Photoshop is constantly evolving and releasing new features that make it even better. In addition to the layer-based editing software and an amazing selection of tools, it has recently added two features that make it easy to adjust a person's face and a quick fix for adjusting the sky in any picture.
Two new features that I found really helpful were Font Match and Content-Aware. The Font Match and Design inspects the font on an uploaded image and matches it to the font in its library. I found this to be a huge saver when working on a new project.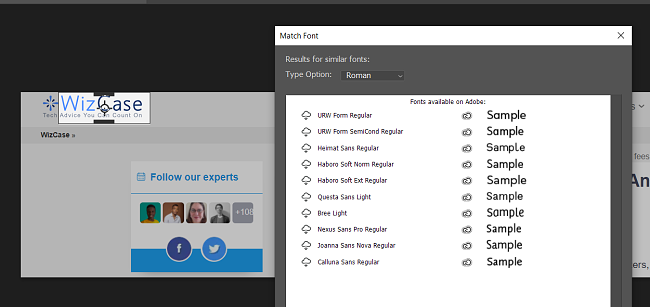 The Content-Aware Tool is nice when you need to resize an image or switch from portrait to landscape. Instead of stretching and distorting the image, it uses AI to fill in the edges and match it as close to perfect as possible.
AI is Luminar's best feature as it simplifies the editing process, making it accessible for anyone. When it comes to no-destructive edits, such as adjusting facial features, changing the sky from clouds to sunshine, and adjusting the colors, you'll end up with the same results as Photoshop with much less effort.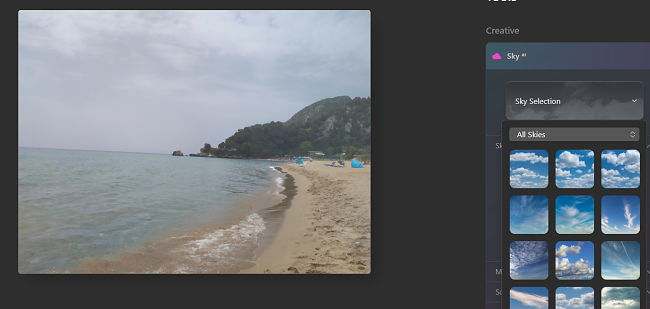 It comes with different templates and filters that streamline the editing process. Once you make your selection, the results appear in real-time so you can decide whether to keep the changes or try something else.
The different workstations are another feature that makes using Luminar so easy. You can choose what type of work you want, from basic edits to more professional work, and you'll have easier access to the tools that you need.
Try Photoshop Free for 7 Days!
4. Workflow: Luminar has a More Intuitive Workflow
Luminar may not have as many tools or features as Photoshop, but the streamlined workflow makes it easy to complete your project quickly.
The organization is one of the most important aspects of Luminar, especially when it comes to workflow. All the tools are sorted into different categories and workstations, so you don't have to waste time looking for the tools you need.
Additionally, as a non-destructive editing program, there is an excellent edit and history tracking system. You can always go to the History tab to see what changes were made and modify them as needed.
The Luminar batch editing process will also improve workflow if you're working on a project with multiple files that all need the same edits and filters.
Photoshop suffers from an abundance of tools, which is great if you're a professional designer but can harm the workflow. I find myself constantly clicking through tabs and trying different similar tools until I find what I want, and by then, my workflow is really impacted.
Photoshop specializes in raster designs, which makes it more difficult to track changes and go back and modify any edits. This also makes it more difficult to work on multi-file projects since there are no batch editing options.
5. Plugins – Photoshop is compatible with hundreds of plugins
Both Photoshop and Luminar are compatible with plugins, but Photoshop has a significantly larger library of plugins that can really take your project to the next level.
What's amazing about Photoshop is that even with all its features and functions, you can make it even more powerful with plugins and addons.You can download hundreds of plugins through the Adobe website or get them from third-party sites.
For professional photographers, the most important plugin is probably the Camera RAW. It's a free add-on that is available on the Adobe sites and gives Photoshop the non-destructive editing features that you'll get with Luminar.
There are some plugins that are compatible with Luminar that can add new filters, AR objects, and editing features. However, these are all third party addons and nothing official from Skylum.
Luminar itself is a third party plugin that's compatible with Photoshop. This actually allows you to add some of the Luminar features to the impressive tools of Photoshop.
Try Photoshop Free for 7 Days!
6. Output: Photoshop has more option
While both Photoshop and Luminar can export a project in JPEG, PNG, and PDF, only Photoshop is compatible with color tones and additional file formats.
When you're finished with your Photoshop project, you have many different options for exporting the file. It should go without saying that you can save the file as a jpeg, png, gif, and PDF. Photoshop is special because you can save the file as a PSD without flattening it, which allows some apps to understand the different layers. You can also choose from a range of color tones, like CMYK, RGB, Indexed Color, Duotone, Grayscale, and Bitmap, which makes it easier for publishing programs to add images before the final project is published.
Luminar gives you the option to export a file as PSD, which saves the layers and allows you to send the file to someone with Photoshop for additional work. However, other than that, your export options are limited to JPEG, JPEG 2000, PNG, TIFF, and PDF.
Try Photoshop Free for 7 Days!
7. Pricing: Only Luminar has a Lifetime Subscription
When I compared the monthly subscription prices for Photoshop and Luminar, I saw that not only is Luminar significantly less expensive, but I can purchase it with a one-time payment, while Photoshop uses a subscription-based pricing model.
Luminar has three pricing plans. All three plans include complete access to Luminar, two free templates, a 30-day money-back guarantee, and 24/ support. The difference in the plans is the extras that are included, such as an HDR editing pack or the Luminar Neo editing tools, which are available in the most expensive plan. There is no monthly subscription fee, just a one-time payment for a lifetime license—the most expensive costs are around the same as four months of Photoshop.
You have two options with Photoshop. The first option is to get the Adobe Creative Cloud. In addition to Photoshop, you get unlimited access to over 20 powerful Adobe apps, such as Illustrator, InDesign, Illustrator, Premiere Pro, and Acrobat. The second option is only to purchase a subscription to Photoshop.
Both plans have a free 7-day trial and give you access to 100GB of cloud-based storage on the Adobe Creative Cloud.
8. Support: Only Photoshop has live chat technical support
While both Photoshop and Luminar have active community forums and extensive FAQs, only Photoshop has 24/7 live customer support. Photoshop has plenty of different ways to get users the help they need. If you have technical or billing questions, there is 24/7 live chat help available. First, you will need to go through the chatbot, and if it can't help, you'll be connected with a customer support agent.
If you don't want to chat with someone, you can go through an extensive FAQ section or try and find help in the active community forum. Photoshop also has a huge learning resource section that goes through all the different tools and has guides that teach how to complete even the most complex editing jobs.
Luminar says that it has 24/7 customer support, but it's referring to an AI chatbot and not real people. The chatbot will try and direct you to the right answer based on the keywords in your questions.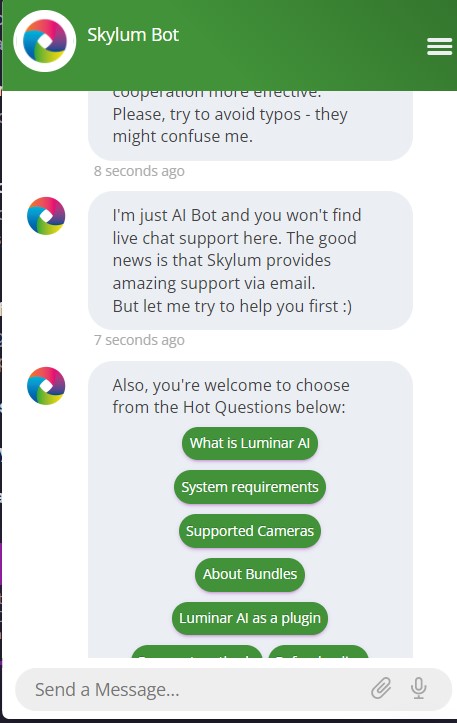 If you can't find the answers you need, Luminar does offer email support. They're pretty quick to answer emails, and the technical support staff can send detailed responses to help solve your issues. Luminar also has an extensive FAQ section and a community forum to ask questions and learn some of the different editing options.
Try Photoshop Free for 7 Days!
9. Miscellaneous: Photoshop has video editing
Looking beyond the editing tools I saw that while both Photoshop and Luminar have some extras, you get significantly more with Photoshop. Aside from photo editing, Photoshop has a decent video editing feature. It is not as good as the Adobe Premiere Pro tools, but if you don't get the Creative Cloud package and need to edit a short clip, it can easily do the job. Photoshop also has collaborative tools, which makes it easy to work in teams from remote locations or share the files with clients without having to email large files.
In addition to top-notch AI editing tools, Luminar has an excellent photo organization feature. You can upload and store your pictures, add geo-tags, meta descriptions, and tag people so you can quickly find the pictures that you need.
Try Photoshop Free for 7 Days!
And the Winner is…Photoshop (Although it Depends on Your Needs)
When comparing Photoshop and Luminar, it becomes evident that Photoshop is better in terms of versatility and detailed pixel manipulation. With its extensive collection of editing tools and features, Photoshop provides everything you need to achieve your desired outcome, whether it involves creating documents from scratch or editing images and graphics.
Luminar, on the other hand, focuses more on AI-powered automatic adjustments and is particularly well-suited for touching up and enhancing photographs. It offers an easy-to-use interface and is compatible with mobile devices. However, its editing capabilities are more limited compared to Photoshop.
To try out these programs and make an informed decision, you can start with the free trial options. So, if you want to test them out for yourself, you can download Photoshop free for7 days and then download Luminar free for 7 days, and see which one has the feature you need to get your images and graphics looking how you want.
Although the trial periods may not be extensive, they should provide enough time for you to evaluate the different features and determine which option best suits your specific needs.
Category Winners