Photoshop vs Lightroom: Which Editing Software is Best in 2023
Last Updated by Shauli Zacks on March 01, 2023
Photoshop and Lightroom are both excellent digital editing programs from Adobe. While they are primarily geared for different types of users, many crossover features can make it difficult to decide which one to get.
To make it easy for you, I tested both Photoshop and Lightroom and created this head-to-head comparison, so you can choose the software based on your needs. If you're looking for the quickest answer – Photoshop is the overall winner based on its extensive collection of editing tools and creative capabilities. However, if you're a photographer or need to edit a large batch of pictures quickly, only Lightroom has the tools you need.
You can try both software for yourself by getting the 7-day free trial of the entire Adobe Creative Cloud and see which option is best for you. You'll get full access to premium features, and no credit card is needed.
Try Photoshop Free for 7 Days!
No Time? Here's a 1-Minute Summary of Category Winners
| | | |
| --- | --- | --- |
| | | |
| Filters and Effects | 18 customizable filter categories and a wide range of special effects to transform an image. | Single-click filters and special effects to give a picture your desired look. |
| Remove Unwanted Object | Higher quality tools for removing objects with healing, cloning, and patching objects. | Clone and Heal tools get the job done but aren't as precise or natural as Photoshop. |
| Advanced Editing Tools | Photoshop has the best digital editing tools in the industry. From precision cutting to complete control over colors and everything in between. | Most edits are just surface changes for enhancing an image, adding a filter, or changing the background. |
| Editing Style | Uses layers to separate every element and tracks editing history so you can go back and adjust an edit. | Most edits are performed by adjusting a slider. Make surface edits while saving the original file. |
| RAW compatibility | Integrated Camera RAW plugin has a complete RAW editing toolset and converts files. | Automatically renders RAW files and includes all the Camera RAW features. |
| Image Organization | There is no native image organizer, but you can store images in the Adobe Creative Cloud. | Image organization is one of the top features of Lightroom. You can add metadata, keywords, and star ratings and create multiple albums. |
| Batch Editing | You can record your editing process and then automate that editing technique to apply to multiple images. | You can apply basic edits to your entire album or folder or choose specific images to edit. |
| Collaboration Tools | Give other users access to view and edit your projects through the Creative Cloud. | Share your albums or pictures with anyone and give them editing access through the Creative Cloud. |
| Device Compatibility | Works with PC, macOS, and iPad. | Works with PC, macOS, Android, iOS, and iPad. |
| Ease of Use | It can take a long time to master Photoshop. But, there are plenty of video tutorials. | Most of the edits are done by adjusting a slider until you get the results you like. |
| Customer Support | Live chat, virtual chat, extensive knowledge base, and active community forum. | Live chat, virtual chat, extensive knowledge base, but the community forum isn't as active as Photoshop. |
| Price | Costs slightly more than Lightroom, but comes with four additional Adobe apps. | Cheaper than Photoshop, and you get more cloud storage space. |
| Free Trial | 7-day free trial | 7-day free trial |
Try Photoshop Free for 7 Days!
How I Tested and Compared Photoshop vs. Lightroom
I compared Photoshop and Lightroom in the following 13 categories.
Try Photoshop Free for 7 Days!
1. Ease of Use: Lightroom Is Much Easier To Use – Just Adjust the Sliders
Both Photoshop and Lightroom have a similar layout style, but Lightroom is much easier to use, and you can start making adjustments to your pictures with no prior editing knowledge. The tool panel on the right side of the workspace has sliders for making most of the adjustments. If you don't like how the edit looks, just move the slider until you're satisfied. Lightroom also has an Auto button that uses AI to correct common errors in the image.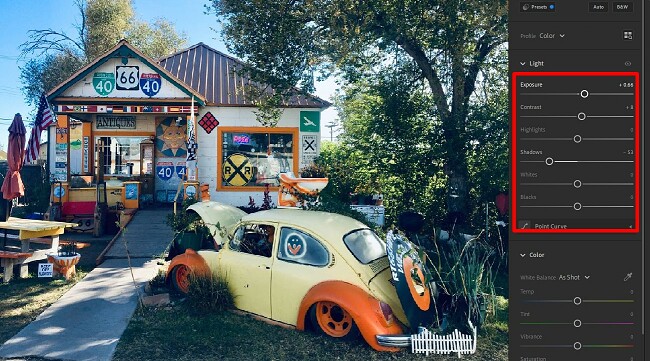 Photoshop is an enormous program with a massive collection of editing tools and features. There are only a few basic edits that one can make without learning how to use the different tools. What I like is that you can customize your workspace so that once you're familiar with the tools, you can arrange it for quick access to the tools you use most frequently. Also, because it's such a popular program, there are a lot of video tutorials that will walk you through just about any edit or technique, which I found helps speed up the learning curve.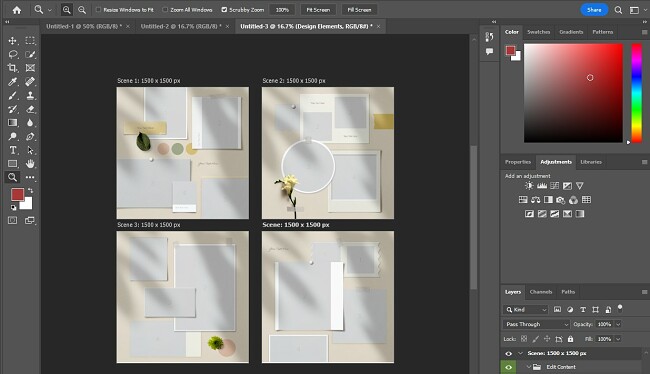 However, if you need a program for quick fixes that is very easy to use, Lightroom is the best choice. Try it free for 7 days. and see how quickly you can get the hang of the different tools.
Try Lightroom Free for 7 Days!
2. Advanced Editing Tools: With Photoshop's Powerful Tools You Can Greatly Manipulate Your Images
Photoshop is the easy winner for this category. It has all the tools I need to manipulate and edit my digital images. The features include multiple selection tools, a wide range of customizable brushes and pens, editing tools to remove blemishes or imperfections and create shadows and special effects. Most of the tools are located on the quick access bar on the left-hand side of the workspace. Under most tools is a sub-menu with different variations of the main tool. These tools allow you to perfect every pixel until your image or graphic looks precisely how you envisioned.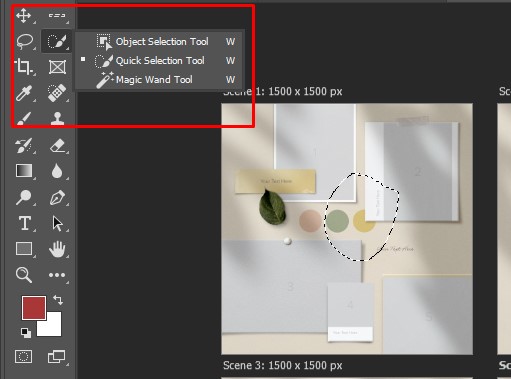 I didn't feel that I had the same creative freedom when working with Lightroom. The editing tools are fairly basic, focusing on providing the finishing touches to a photograph and not manipulating or editing them. For example, you can adjust shadows but can't add or remove them. While Photoshop gives you precision instruments, Lightroom works by adjusting a slider until you're satisfied with the final result.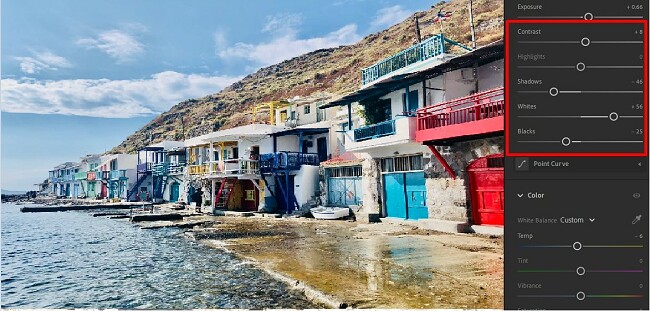 For complete editing control over your picture, try Photoshop free for 7 days, and experience the powerful editing tools.
Edit Your Images with Photoshop!
3. Editing Style: With Photoshop Layers You Can Experiment and Protect Each Element
This was a tough category to judge since the editing styles are so different. However, I am really impressed with how Photoshop uses layers to protect each element from unwanted changes, which put it over Lightroom.
Every element that you add to your Photoshop workspace creates a new layer. This way, whether adding texture, changing colors, or moving the element, you don't have to worry about the changes affecting other areas of your work. While the edits are considered "destructive" because they're made to the original image, you can undo edits if you don't like the outcome.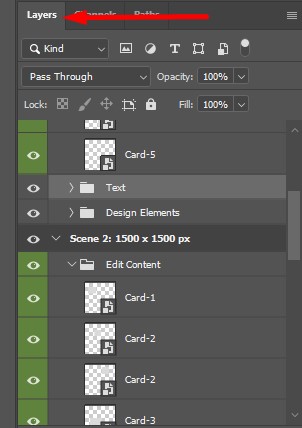 Lightroom is a non-destructive editing tool. It automatically saves the original image, allowing you to play around with the filters and lighting sliders without worrying about ruining your picture. Unlike Photoshop, with a few exceptions, the edits are more general and applied to the entire picture instead of a specific area. The exceptions are the healing and cloning brush, where you can specify a specific area of the picture.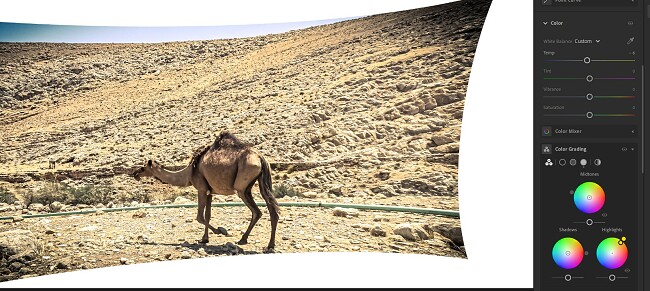 The bottom line is that the Photoshop editing style gives users more creative freedom and flexibility than Lightroom.
Use Photoshop Layers to Edit Your Images!
4. RAW Compatibility: Both Photoshop and Lightroom Can Edit RAW Files
Photoshop made great strides to catch uptoLightroom with regards to RAW editing. The latest version of Photoshop includes a built-in Camera RAW plugin. When I uploaded a RAW file, the plugin automatically opened, giving me full access to all the editing features.
As a photography editing tool, it's no surprise that Lightroom has RAW editing capabilities as part of its core features. I was able to edit the file and get the desired outcome with ease.
Both programs can also convert the RAW file to a standard format such as JPG or PNG.
RAW Compatibility Winner: Tie
Edit RAW Files with Lightroom!
5. Image Organization: Lightroom Has Better Organization and Search Functions
Lightroom was designed for photographers, so it makes sense they'd invest heavily in photo organizational features. It gives you the option to add pictures directly to folders for creating albums when uploading them. You can also add metadata, keywords, and a star rating. When searching for a picture, you can use these metrics or the date the photo was taken to find what you need quickly. The smart search filter also recognizes search requests like a specific animal, location, object, and even people, which I found to save time instead of scrolling through thousands of pictures.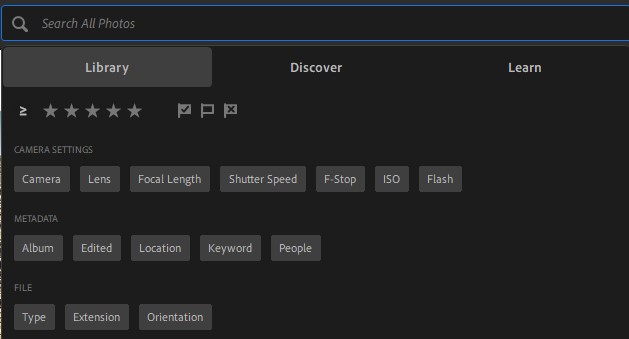 On the other hand, Photoshop has a strong focus on editing and not so much on staying organized. I found that I could manually organize the pictures and elements that I frequently use through my Adobe Cloud account. Once I set it up, it was easy to manage, and the process of uploading media files from the cloud to Photoshop is handled through the workspace interface.
While both programs have methods for storing and organizing pictures, Lightroom is the easy winner in this category.
Organize Your Images with Lightroom!
6. Filters and Effects: Photoshop has Much More to Offer
Photoshop and Lightroom both have a nice collection of filters and special effects options, but Photoshop is better. You can create multiple preset filters, called Actions, which I found helpful when I needed the same effects on multiple images. I could customize the Actions to fit my style and use colors that matched my images and brand.
Additionally, you can apply different filters to set the tone of your images. Photoshop also has a large collection of effects that can change the texture or style of an image. One of the reasons I prefer Photoshop Actions is that you can apply them to a single layer and not necessarily the entire image.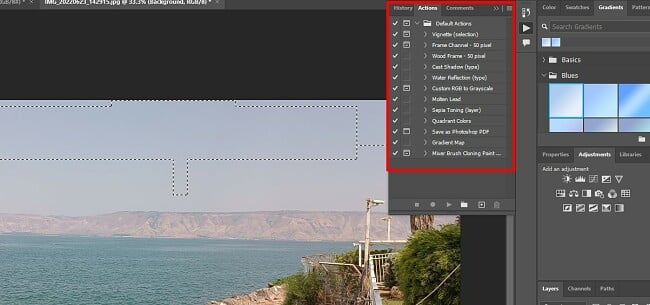 Lightroom also has a collection of preset filters called Presets that you can apply with a single click. There are also some standard filters, such as giving your image a vintage look, turning the image black and white, and an artistic style. While you can customize the filter and the strength of the special effects, they are placed on the entire image.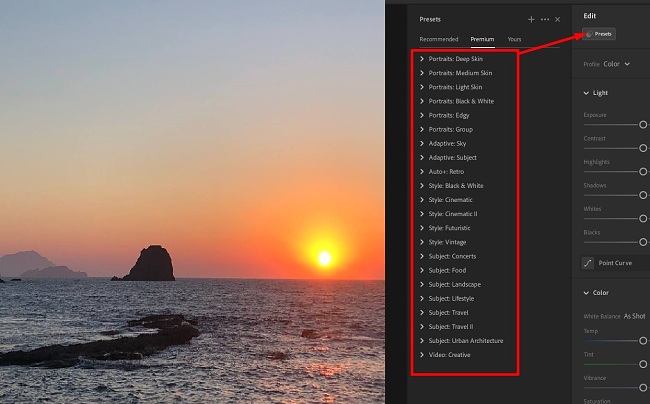 In the end, I awarded Photoshop the win for this category because it can do everything Lightroom can do and more. You can try the filters and effects yourself when you download Photoshop free for 7 days.
Create Filters with Photoshop for Free!
7. Batch Editing: Photoshop Has More Editing Features That Work with Batch Editing
While it's easier to apply Batch edits in Lightroom, Photoshop has a wider range of options. The process isn't that difficult, and you can follow a quick guide on how to record and automate the edits to all your images. To start, open the Actions section in the Window menu and record your Action. It can be anything from resizing the image size to adding masks, additional layers, texture, specialized lighting, or a filter. When you're done, save the Action and open the File menu. Find Automate and then click the Batch option, then simply choose all the files that you want to apply the edits to, and Photoshop will automatically apply it to each one.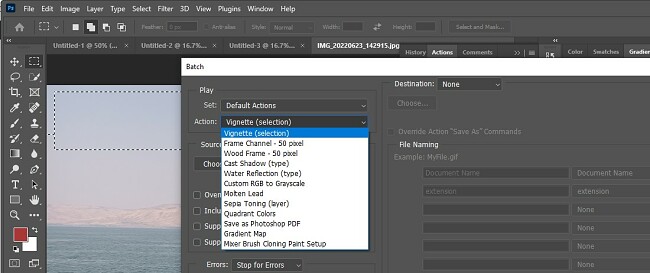 Lightroom has a similar process, but the editing options are more limited. After you record your edits, you can open the photo library and select which pictures you want to include in the batch edits. Lightroom doesn't have a preview option, so you won't be able to see how the edits will look, but if you don't like the results, you can reset all the images.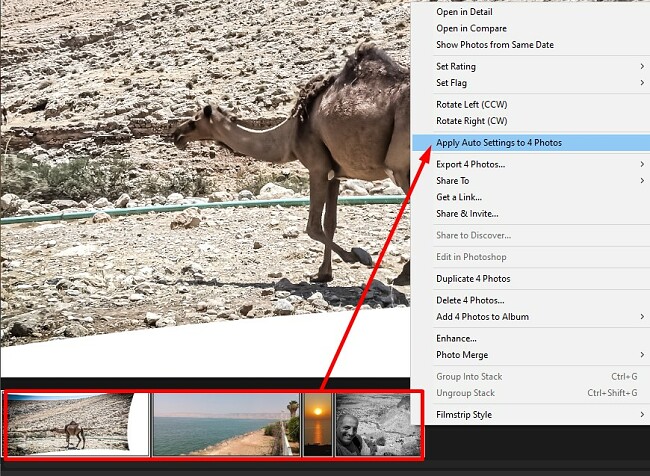 While I'm giving the category win to Photoshop, if the batch edit you need is minor, or you just want to apply a basic filter to all your pictures, Lightroom is an easier option. You can download the Photographer package from the Adobe Creative Cloud and get free access to both programs free for 7 days and see which works better for you.
Edit a Batch of Graphics with Photoshop!
8. Collaboration Tools: Both Have Many Collaboration Options Through Creative Cloud
This category is a tie, as both programs include the Adobe Creative Cloud. This makes it easy to share your files with other people and gives you the freedom to adjust the permission settings from view only to full edit access.
Neither program supports multiple people editing the same file simultaneously. However, they both sync to the cloud as soon as the project is saved.
The only difference between the two is that while they both give access to Adobe Creative Cloud if you subscribe to Photoshop, you'll get 100GB of storage, while Lightroom gives you 1TB of space.
Collaboration Tools Winner: Tie
Try Adobe Creative Cloud's collaboration Tools!
9. Remove Unwanted Objects: Photoshop Has Higher Quality Tools That Maintain a More Natural Look
Both Photoshop and Lightroom have tools for removing unwanted objects, but Photoshop is more precise. Photoshop has multiple selection tools, including a Magnetic Lasso that sticks as close to the outline of an object as possible. You can use it to cut out an object or person from any image. There are also several smart tools such as a magic wand, clone, patch, and heal brush that can remove any object and fill in the empty space to match the rest of the image. While it can take some time to master these tools, the results were clean and exactly how I wanted.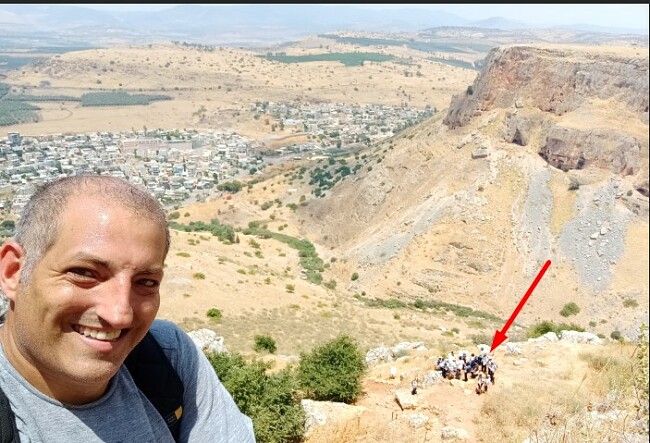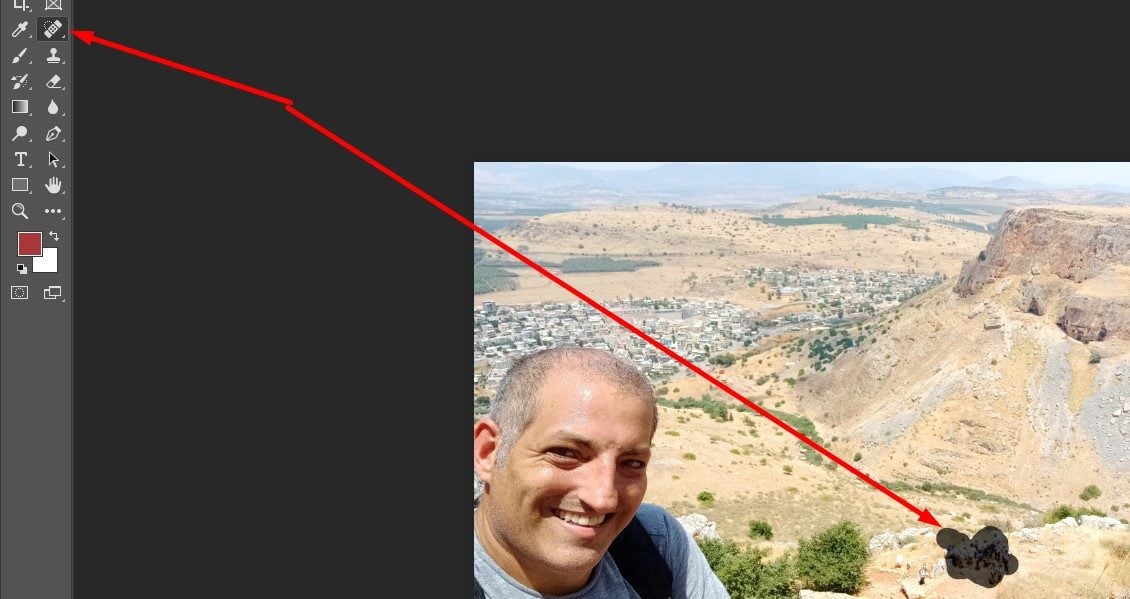 Lightroom has an unwanted object remover tool that relies on AI to match pixels and remove the object. You can use a highlighter to indicate what object to remove, but It's not nearly as precise as Photoshop. Once the item is gone, you can use the clone tool to rebuild the background, so it matches the surrounding area, although if someone looks closely, they'll realize the area is cloned.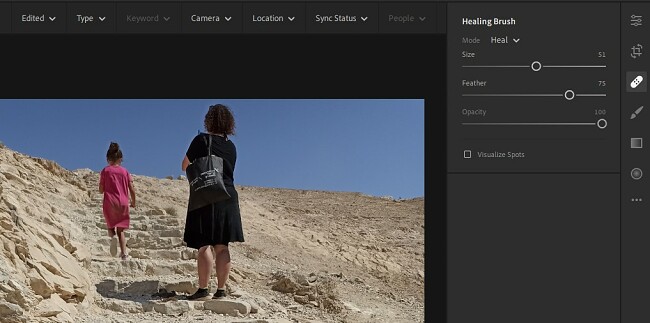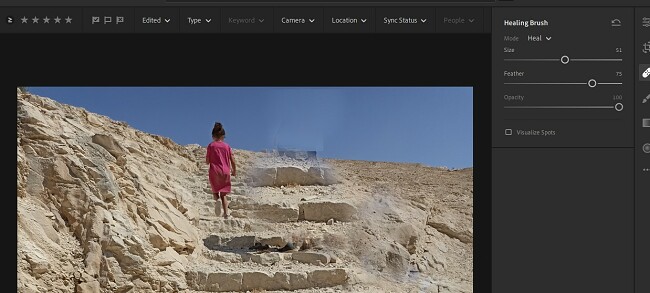 You can test the object removal tools risk free when you activate the Photoshop 7-day free trial.
Remove Unwanted Objects with Photoshop!
10. Device Compatibility: Lightroom Offers More Options for Both Desktop and Mobile
Lightroom wins this category as it is compatible with desktop and mobile devices. It offers user-friendly mobile apps so you can do the job from your phone without having to upload your images to the computer. Since the editing tools use sliders, you don't need the precision control that is required to use Photoshop.
The Photoshop interface and tools respond well on PC, Mac, and iPad. It is touch-friendly if you have a touchscreen, but for best results, you should use your mouse or a pen when working on the iPad. There is a very basic version of Photoshop for Android, called Photoshop Express, but you don't have access to most of the editing tools.
Both Photoshop and Lightroom are connected to the Adobe Creative Cloud. This way, you're not limited to working on one device. You can sync work across all devices and access the latest files from anywhere. Download Lightroom for all your devices, and try it risk-free for 7 days. Get a first-hand look at how comfortable the interface is on both bigger and smaller screens.
Edit Picture on Your Phone with Lightroom!
11. Customer Support: Both Programs Have Live Chat, but Photoshop Has a More Active Community
I initially had marked this category as a tie since Photoshop and Lightroom are both Adobe products. However, when I looked at the community forum, I saw that Photoshop is significantly more active than Lightroom, even when you combine the two Lightroom forums. I found that this type of customer support was extremely helpful as I was getting started with Photoshop and trying to understand how to execute different editing techniques. The Photoshop forum has over 94,000 conversations, and the search function made it easy to find the help I needed. As you can see in the image below, Photoshop has had more new conversations in the past month, which lets me know that the community is still active, and I'll get the answers or information I need quickly.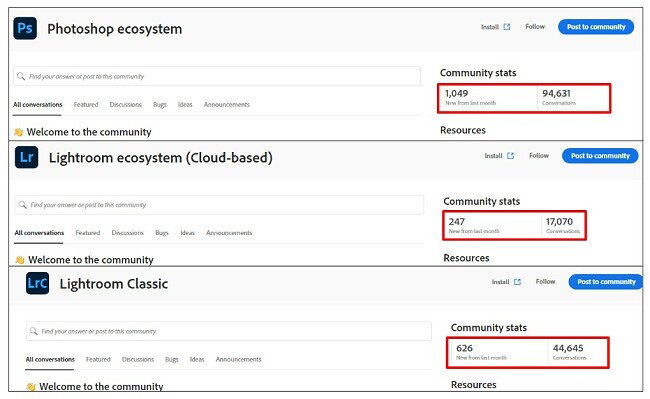 You can use the chat feature if you need customer support for both Lightroom and Photoshop. You can use the for questions about your account, billing, and technical support. The first step is the virtual assistant, which recognizes keywords and tries to find answers without waiting for a support representative. If you need to speak with a real person, the live chat is available 24/7, and the wait time wasn't that long. Another helpful feature that Adobe has in the Help section is video tutorials for Photoshop and Lightroom. They provide step-by-step guides on how to use the different tools and editing options.
Try Photoshop Free for 7 Days!
12. Price: Photoshop is More Expensive But Includes Additional Adobe Apps
When I compared the monthly subscription prices for Photoshop and Lightroom, I saw that Lightroom was nearly half the price of Photoshop. However, when I started looking at what is included with Photoshop, I understood why. Not only is Photoshop a far superior digital editor with more complex tools, but it comes with Adobe Fresco, Photoshop Express, Photoshop Camera, and Adobe Express. These are all valuable tools that help expand what you can do with your Photoshop subscription.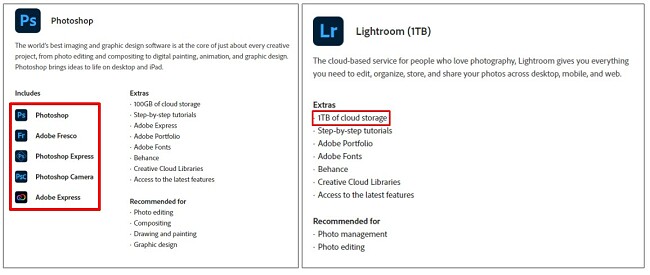 That being said, Lightroom is an excellent value for the price, and it includes significantly more cloud storage than Photoshop – 1 TB vs. 100GB. If your main goal is to edit and manage your photos, then go with the cheaper option and subscribe to Lightroom.
Another option is to get the Adobe Photography package which includes Photoshop and Lightroom. This is the option that I got since the two programs work well together. However, if I had to choose one, I'd go with Photoshop since it can do everything Lightroom can do and more.
Try Photoshop Free for 7 Days!
13. Free Trial: Both Offer 7 Day Free Trials with full functionality
Both Photoshop and Lightroom offer a 7-day free trial with unlimited access to all the premium features. You do have to enter your credit card information to activate the free trial, which means you have to remember to cancel the free trial, or you'll get charged for a subscription at the end of the trial.
If you're still not sure whether Photoshop or Lightroom is the right digital editor for you, you can download them both free as standalone apps, the Photography package, or the entire collection of Adobe Creative Cloud Apps.
And the Winner is…Photoshop (Although it Depends on Your Needs)
Photoshop and Lightroom are two top-of-the-line digital editors that have some similarities but target different users. However, if you only want one of them, and your needs aren't specific to just editing photographs, Photoshop is the better editor. It has an extensive collection of precision editing tools, so you can do everything from creating documents from a blank template to editing pictures and graphics.
Lightroom has a singular focus – It's great for touching up and adjusting. You can use it on your mobile, and it's easy to use. That being said, the editing features are limited compared to Photoshop.
If you want to try these programs for yourself, you can start with the free trial. While the Photographer package gives you access to both, that means that you'll have 7 days to evaluate both Photoshop and Lightroom.
Instead, and in order to gain more time to test the programs, you can download Lightroom free for 7 days and At the end of your free trial, download Photoshop and get another 7 free days.
While these aren't long trial periods, they should give you enough time to evaluate the different features and see which option is best for you.