How to Safely Watch YouTube TV From Anywhere in 2022
Last Updated by Kate Hawkins on August 01, 2022
YouTube TV will block you if you're located outside of the US. You'll need a VPN to get past these location blocks. I recommend that you try ExpressVPN yourself risk-free for 30 days and reliably unblock YouTube TV from anywhere!
If you're trying to watch YouTube TV from outside the US, you're going to get this annoying error message:
"Sorry, but YouTube TV is not available in your area just yet."
However, you can get around this location block by using a reliable VPN! All you need is a VPN to change your current location and make it look like you're in the US.
I've tested dozens of VPNs to find the 2 best services for watching YouTube TV. I ran tests to confirm that they can unblock YouTube TV, provide buffer-free fast streaming, and have easy-to-use interfaces. With the largest network of really quick servers for more reliable streams (and a super intuitive interface), I was most impressed with ExpressVPN's performance for watching YouTube TV. I recommend that you try ExpressVPN yourself risk-free for 30 days and reliably unblock YouTube TV from anywhere!
Quick Guide: 3 Easy Steps to Watch YouTube TV with a VPN
Watch YouTube TV with ExpressVPN
2 Best VPNs to Watch YouTube TV
Key Features:
3,000+ servers in 90+ countries — 26 locations in the US
Built-in Speed Test feature chooses the fastest server for watching YouTube TV
Best-in-class encryption
24/7 live chat and customer service
30-day money-back guarantee
ExpressVPN has super-fast streaming speeds for watching YouTube TV. I used its built-in Speed Test feature to automatically find my fastest server (USA – Washington DC). Then I ran an independent speed test with Ookla to verify my speeds. My speeds using ExpressVPN speeds were 58% faster than my standard UK internet!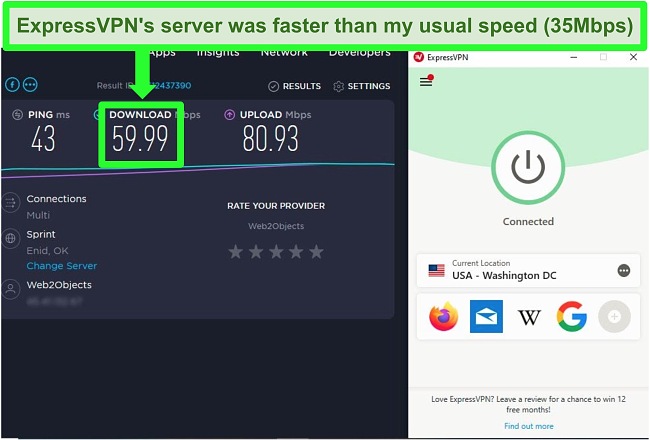 I was able to find a working server easily to stream YouTube TV without any buffering or lag. After picking a channel to stream, the initial load time was minimal. It only took 2 seconds to start streaming! Even better — since some YouTube TV channels are 1080p, ExpressVPN's fast speeds meant I could take full advantage of watching in HD without worrying about buffering.
If you want to experience ExpressVPN's fast speeds, you can try ExpressVPN's 30-day money-back guarantee and see for yourself. I tested the refund policy personally by contacting customer service via 24/7 live chat. The rep processed my refund with no questions asked, and I had the money back in my bank in under 10 days.
ExpressVPN also unblocks: Netflix, HBO NOW, BBC iPlayer, Disney+, ITV, ESPN, Amazon Prime, Hulu, and more.
ExpressVPN works on: Windows, Android, macOS, iOS, Linux, routers, Chromebook, Kindle Fire, Nook, Chrome, Firefox, PlayStation, Xbox, Nintendo Switch, Apple TV, Amazon Fire TV, Amazon Fire TV, and Smart TVs.
Get ExpressVPN for free today!
Key Features:
5,800+ servers in 80+ countries — 1,000+ in the US
Unlimited bandwidth and optimized streaming servers
AES-256-bit encryption
Customer service and live chat (though not 24/7)
45-day money-back guarantee
CyberGhost has an optimized server for streaming YouTube TV, giving me reliable connections and fast streaming speeds.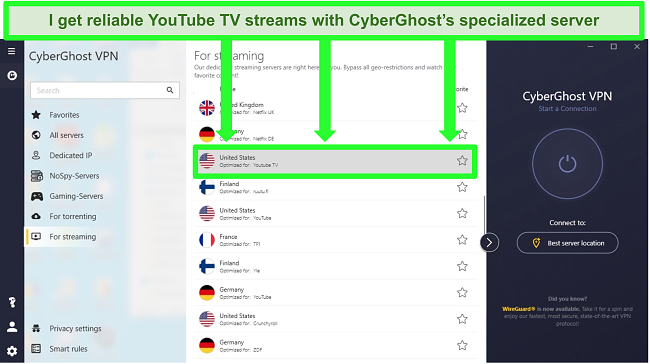 There were a couple of times I wasn't able to connect to the optimized server at 100% capacity, but I was still able to access YouTube TV with 10 out of the 15 standard servers. Though these servers weren't as fast and had up to 10 seconds of minimal buffering, I was able to stream without further issues. This gives you several options to stream YouTube TV if the optimized server isn't available.
You can try CyberGhost for 45 days risk-free! It's easy to cancel your subscription via live chat or email to get your money back.
CyberGhost also unblocks: Netflix, Disney+, Amazon Prime, BBC iPlayer, HBO, and more.
CyberGhost works on: Windows, macOS, Linux, Android, iOS, Chrome, Firefox, Android TV, Amazon Fire TV, Amazon Fire TV Stick, and routers.
How to Watch YouTube TV With a VPN
You can connect up to 6 individual accounts and stream with 3 devices at the same time with one subscription. If you want to watch YouTube TV on different platforms, you'll need to download the VPN on each device.
YouTube TV has apps for Android and iOS, Smart TVs, games consoles, and Amazon Fire TV devices. You can also stream YouTube TV directly from your Chrome or Firefox browser.
How to Pay for YouTube TV Outside the US (Gift Card)
Normally, you need a US payment method to subscribe to YouTube TV. However, you can use a gift card to sign up for YouTube TV if you're outside the US.
Tip: Your Google account must be registered in the same location as your Google Play gift card. You can create a new Google account or change your existing account location to the US. Note that Google only allows you to change your location once a year.
Connect to a server in the US.
Buy a Google Play gift card online at Walmart, Target, the Google Play Store, or MyGiftCardSupply.com.
Redeem your gift card with an email address that you'll use YouTube TV with.
Sign up for an account on the YouTube TV website. Pick a US zip code in a server location with your VPN. For example, you can use 10028, 12234, or 14850 if you want a zip code in New York.
Pay for YouTube TV with your gift card. Start streaming!
To keep your YouTube TV account active, you need to sign in from your registered US zip code at least every 3 months. YouTube TV checks your location to provide you with local content. You can easily connect to a server in your registered location with ExpressVPN to keep your YouTube TV account active!
Get connected with ExpressVPN today!
FAQs
Can I use a free VPN to watch YouTube TV?
You can, but there's often a catch with free VPNs. You'll experience slower streaming speeds, lower quality playback, and trouble connecting with more users connected. It's also unlikely that a free VPN can bypass YouTube TV's content blocks. Limited data and server locations aren't ideal when you want to catch up with your favorite shows on YouTube TV.
Some free VPNs compromise your data security by logging your online activity and selling your information to third-party advertisers.
To avoid a poor streaming experience and exposing your online data, I recommend using a reliable premium VPN. You can try ExpressVPN for 30 days risk-free with its money-back guarantee. Just cancel your plan within 30 days and you'll get a full refund!
What channels can I watch on YouTube TV?
YouTube TV has a huge range of content with over 70 premium channels. Some of its most popular channels include:
| | | |
| --- | --- | --- |
| Entertainment | Sports | News |
| AMC | CBS Sports | BBC |
| Bravo | ESPN | CNBC |
| FX | NBA | CNN |
| USA | NBC Sports | MSNBC |
The available channels depend on the zip code that you registered with. If you want to watch local channels, you'll have to change to a different US zip code with local streaming.
What else can a VPN do?
A VPN can unlock any global content, no matter where you are in the world. Want to watch other restricted streaming services? A quality VPN like ExpressVPN can bypass location blocks so you can watch Netflix (including Netflix US, which has the biggest variety of content), Hulu, Disney+, HBO, and more. Just connect to a server that can bypass location blocks and start enjoying your favorite shows and movies!
Unblock content with ExpressVPN
What's the difference between YouTube TV and YouTube Premium?
YouTube TV is an OTT (Over The Top) internet streaming service that gives you access to TV channels. YouTube Premium lets you watch ad-free YouTube content including YouTube Originals (original music, movies, and events) and YouTube Music in the background or when you're offline.
A YouTube TV subscription doesn't include YouTube Premium. If you upgrade to the Premium service, you can watch YouTube Originals without ads.
Try ExpressVPN risk-free today!
Watch YouTube TV From Outside the US
You can watch YouTube TV content from anywhere in the world with a reliable VPN. You can keep up with shows like The Walking Dead, This is Us, and NCIS. You can also catch NBA games when you're on vacation. A quality VPN gets you connected quickly and easily so you can stream your favorite content from anywhere.
If you're not sure which VPN to choose, ExpressVPN is my top choice for its fast servers and reliable streaming connection. Try ExpressVPN's 30-day money-back guarantee so you can watch for a month and get a full refund risk-free!
Try ExpressVPN risk-free today!
---
Summary: Watch YouTube TV Now With These VPNs (Updated 2022)
Top Choice