How to Watch This Is Us from Anywhere 2020
Last Updated by Kate Hawkins on November 01, 2020
As a fan of This Is Us, you'll want to keep up with the Pearson family's latest adventures as soon as possible. However, licensing restrictions mean This Is Us isn't available to stream globally. Depending on your location, you may find you're blocked from watching the show.
Fortunately, there's an easy way to bypass geo-blocking technology — by using a reliable VPN service. By connecting with a VPN, you'll be able to stream as many episodes of This Is Us as you want.
Watch This Is Us with a premium VPN today!
Why You Need a VPN to Watch This Is Us
If you're in a country that doesn't have licensing rights to This Is Us, you'll be blocked from streaming the content. Streaming websites and services use geo-restriction technology to read your IP address. This lets the site know where your device is located, and if it's outside the licensed country, you'll get an error message.
Connecting with a VPN routes your internet traffic through a private server. A VPN masks your IP address, replacing it with one from the server country. This makes streaming sites think your device is located inside the licensed country, letting you stream the content you want.
Quick Guide: How to Watch This Is Us from Anywhere
There are several different platforms streaming This Is Us, including NBC's own streaming site and Netflix in Canada. Most of these streaming options require a subscription to access. The only free streaming option is Popcorn Time which lets you download every episode via peer-to-peer file sharing.
Newest Episodes of This Is Us Live on NBC
You can watch This Is Us live on NBC's website, or catch up with the latest episode the day after it airs. To stream with NBC, you will need a TV provider or cable subscription.
Stream This Is Us live with NordVPN
Watch Season 4 of This Is Us on Hulu
If you have a subscription to Hulu, you can stream every This Is Us episode as long as you have a US IP address. This is great for catching up with older seasons and watching the latest episodes.
Download and launch a VPN service. I recommend NordVPN as it has almost 2000 servers in the US.
Connect to a server in the USA.
Visit the Hulu website and log in with your account details.
Find This Is Us and start streaming.
Watch This Is Us Season 4 on Popcorn Time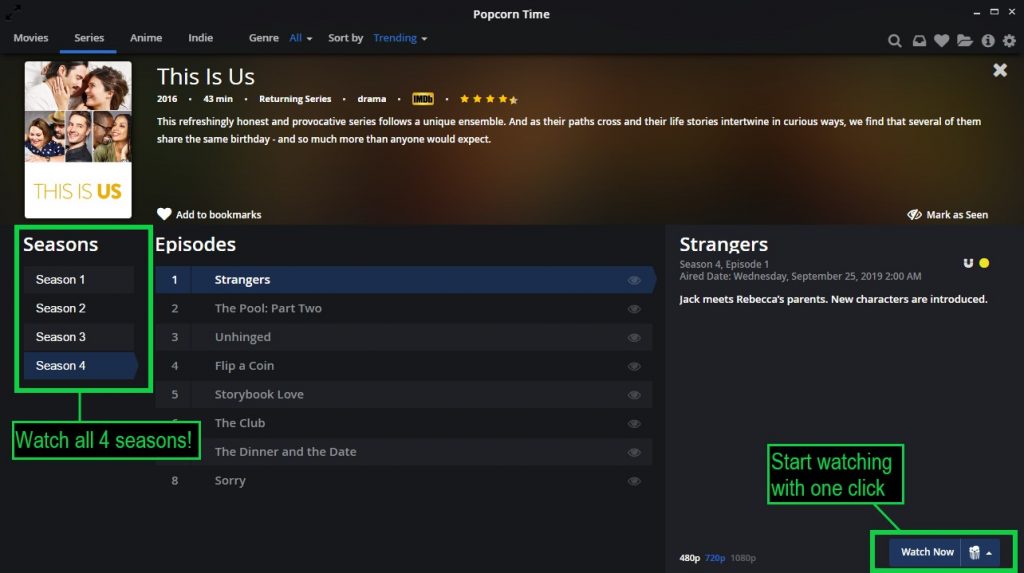 Popcorn Time is a great option for downloading all 4 seasons of This Is Us. New episodes are available soon after they air on NBC. Because Popcorn Time is a torrenting service, you should always use it with a VPN to keep your connection anonymous and secure.
Torrent safely with CyberGhost
How to Watch This Is Us on Netflix Canada
Netflix Canada has the first three seasons of This Is Us available to stream. This makes it a great option if you want to catch up on past seasons. You'll need a Netflix subscription to use the service.
Unblock Netflix with ExpressVPN
How to Watch This Is Us Seasons 1 and 2 on Amazon Prime UK
If you have an Amazon Prime UK subscription, you can watch This Is Us seasons 1 and 2. Make sure you're connected to a UK server so you can stream them all.
Download and launch a VPN service. NordVPN has almost 600 UK servers for fast, reliable UK connections.
Connect to a UK server.
Log in to your Amazon Prime UK account.
On Prime Video, choose This Is Us and start watching.
Watch This Is Us from anywhere with NordVPN
What to Look for When Selecting a VPN for This Is Us
When you're streaming your favorite show, you want to make sure that your connection is fast, reliable, and secure. As I tested different VPNs for This Is Us, I made sure to look at the following:
Servers: Are there servers in countries This Is Us is available in? Are server numbers high enough that fast speeds are maintained at peak connection times?
Speed: Am I able to stream without buffering or lag? Does using the VPN make my speed drop too much for smooth streaming?
Security: If I'm file-sharing, can I be sure that my private data and online activity is protected and anonymous?
Pricing: Is the VPN worth the monthly premium? Does it have a money-back guarantee I can utilize?
3 Best VPNs for Watching This Is Us from Anywhere
1. NordVPN — #1 Choice for Fast Streaming This Is Us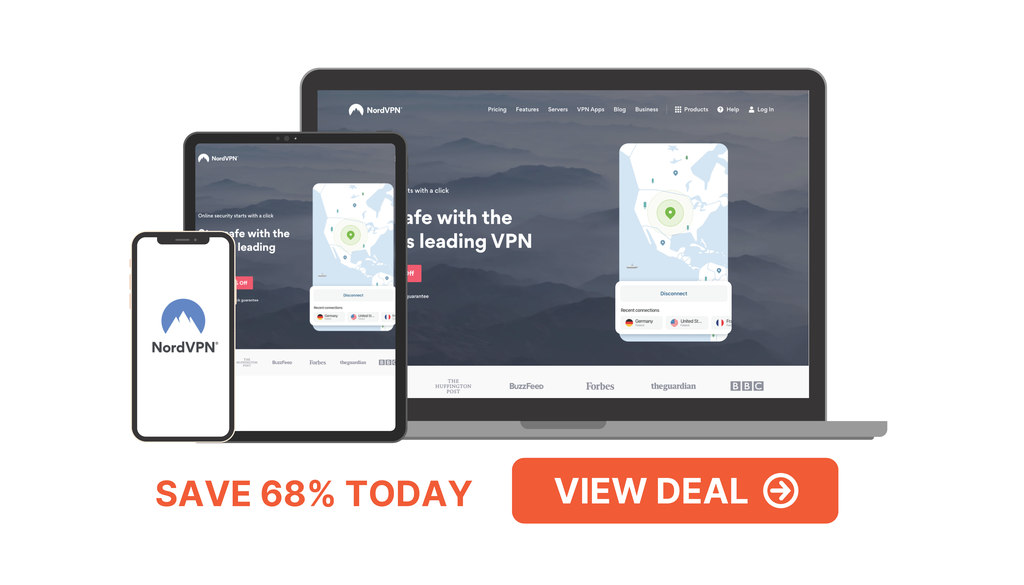 5500+ servers in 59 countries, with 1573 servers in US, 366 servers in Canada
30-day money-back guarantee
SmartPlay connects to the best available server for streaming
Secures up to 6 devices on one account
Military-grade encryption and CyberSec malware protection
NordVPN is my number one choice for its fast streaming speeds. I really like its SmartPlay feature, which always connects you to the fastest server in your chosen location. This means you always get a smooth streaming experience with zero buffering or lag.
Its huge number of servers around the world lets you connect easily, even at peak use times. You'll always be able to find a reliable server to stream This Is Us with. During my tests, I found connecting to NordVPN servers took less than 30 seconds. The easy-to-navigate interface makes connecting even easier. You can click on your chosen country on the map or type it in.
By securing up to 6 devices on a single account, NordVPN offers you protection no matter where you are. Whether you're at work, home, or traveling abroad, you'll be able to stream This Is Us from your device. It supports Android, Windows, macOS, iOS, Android TV, Linux, Chrome, and Firefox.
NordVPN's security features include military-grade encryption, an automatic kill switch, and CyberSec malware protection. These keep your personal data and online activity safe and anonymous while you watch This Is Us. NordVPN has a 30-day money-back guarantee so you can try out its speed and security at no risk to your wallet.
2. ExpressVPN — Bypass Geo-Restrictions Easily to Watch This Is Us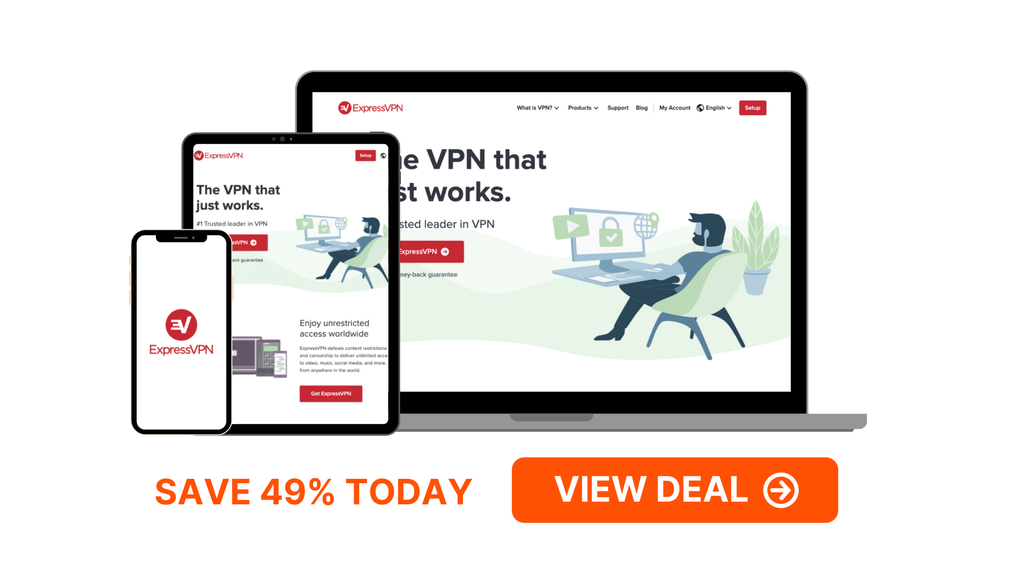 3000+ servers in 94 countries, with 28 server locations in the US, 5 in Canada
30-day money-back guarantee
Unlimited bandwidth for fastest possible speeds
Can be used on up to 5 devices simultaneously
Best-in-class encryption and TrustedServer technology
ExpressVPN is one of the best VPNs at bypassing geo-restrictions. Its team works tirelessly to stay ahead of restriction technology so you stay connected. I like how easily ExpressVPN can bypass Netflix's proxy error. I was able to watch This Is Us on Netflix Canada without any issues.
With 3000+ servers all over the world — including hundreds in the US and Canada — ExpressVPN can always connect you to the right location to stream This Is Us. I found that I could connect to a server easily every time I wanted to, even at the busiest connection times. The intuitive interface made it simple to choose the right server.
ExpressVPN's money-back guarantee gives you 30 days to test every security feature and connection. Its no-questions-asked return policy makes getting your money back easy. I was able to process my refund without having to give a reason for my cancellation — reassuring as ExpressVPN is slightly more expensive than other premium VPNs.
3. CyberGhost — Optimized Servers Make Streaming Fast and Smooth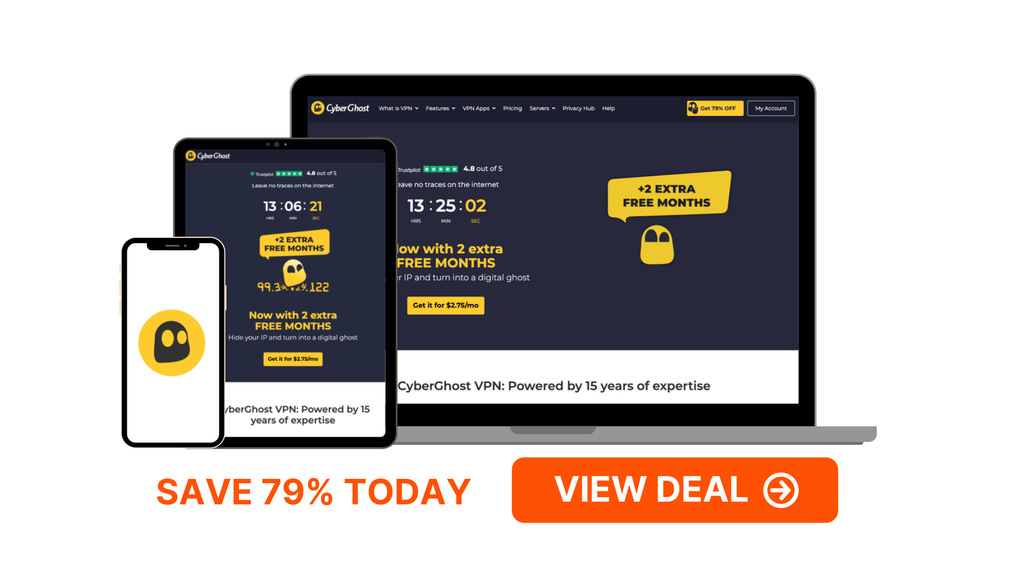 5800+ servers in 90 countries, with 1112 servers in the US, 211 in Canada
45-day money-back guarantee
Unlimited bandwidth with zero throttling guaranteed
Protects up to 7 devices at the same time
AES-256-bit encryption and strict no-logs policy
CyberGhost's optimized streaming servers make watching This Is Us quick and easy. I didn't experience any buffering or lag while streaming. Optimized streaming servers are available for Netflix, NBC, and Amazon Prime.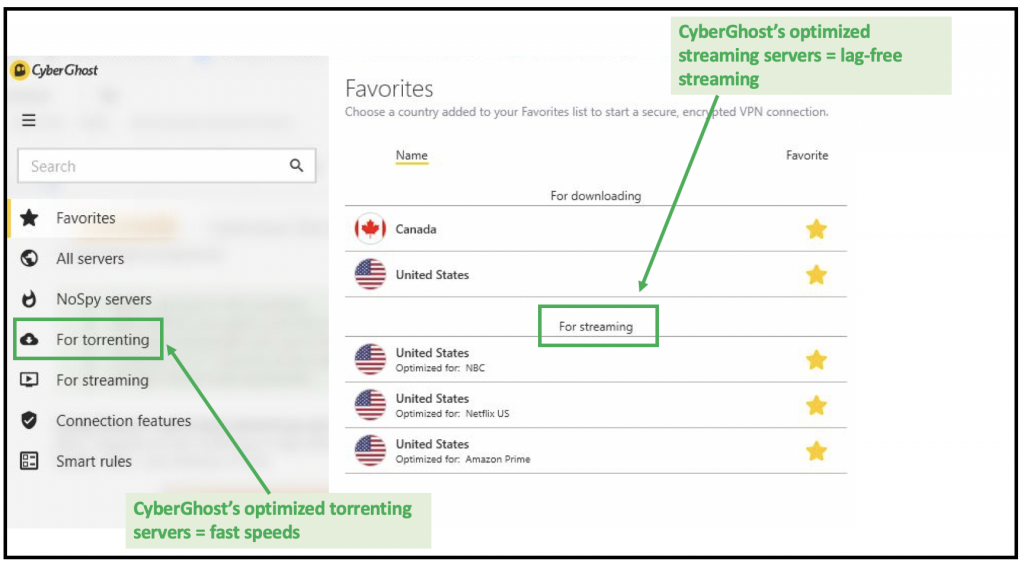 If you want to stream with Popcorn Time, CyberGhost's optimized torrenting servers are a great choice. They allow for fast peer-to-peer file sharing while keeping your data and activity secure. CyberGhost's protection features include military-grade encryption, an automatic kill switch, and DNS leak protection.
While CyberGhost's interface is bright and easy to navigate, I found it awkward to use. It jumped around my desktop when I opened and closed the server menu. I also managed to accidentally "Favorite" several servers without realizing due to the drop-down server menu.
I found CyberGhost could easily bypass geo-restrictions while streaming — it's one of the best VPNs for streaming Netflix US, which is notoriously difficult to access. It also has one of the longest money-back guarantees for a VPN. You can use CyberGhost for 45 days and get a full refund.
Can I Use a Free VPN to Watch This Is Us?
I wouldn't recommend using a free VPN to stream This Is Us. Though I've tested some great free VPNs that work well, most free VPNs don't have the technology or the resources to give you a fast, reliable connection.
Many free VPNs have a limited number of servers and restrict your bandwidth. This leads to slow connections and difficulty connecting at busy times. Restricted bandwidth is okay for casual browsing, but you'll find you burn through your data allowance quickly when streaming.
The best way to make sure your connection is dependable and fast is by using a premium VPN service.
Don't Miss Out on This Is Us
This Is Us is only licensed for streaming in a limited number of countries. To make sure you keep up with this great show, you'll need a reliable premium VPN. My top 3 choices all have money-back guarantees you can take advantage of. You can see how easy it is to stream This Is Us before you commit to a long-term plan.