How to Watch the 2020 Ashes Series From Anywhere

Last Updated by Nick Soucy on October 01, 2020
For all you cricket fans who are unable to watch the Ashes live in-stadium, you're probably kicking yourself for missing out on the year's hottest sporting event. Brits and Aussies alike will be clamoring to get in on the action. If you're currently abroad, we understand how anxious you are on missing the premier cricket tournament of 2019.
But fear not! We'll show you how to watch all the best matches live and online — even if you're outside Australia or the UK! All you need is a good VPN and one of two networks to watch online.
3 steps to watching the Ashes on Channel 9 for free (Australia)
Channel 9 (also known as 9Now) will be live-streaming all 5 Tests for free to fans in Australia. With a VPN, you can get an Australian IP address and enjoy all the exciting action.
Get a VPN. We highly recommend ExpressVPN for live-streaming sports.
Connect with an Australian-based server.
Go 9now.com.au and watch Channel 9 for free.
3 steps to watching the Ashes on Sky Sports (UK)
If you don't have a subscription to Sky Sports you can sign up for a Sky Sports Pass through NowTV. They offer daily, weekly, and monthly packages to suit your needs.
Get a VPN. We highly recommend ExpressVPN for live streaming sports from the UK.
Connect with a UK-based server.
Log onto Sky Sports or get NowTV and crack open a pint! It's time for cricket!
Why you need a VPN to watch the Ashes
ost online content providers (think sports channels like Sky Sports, or movie platforms like Netflix) have entertainment licensing and other restrictions that prevent them from sharing local content with people from other countries. These providers can determine where you're from by tracking your location via your IP address and restrict your access to content accordingly.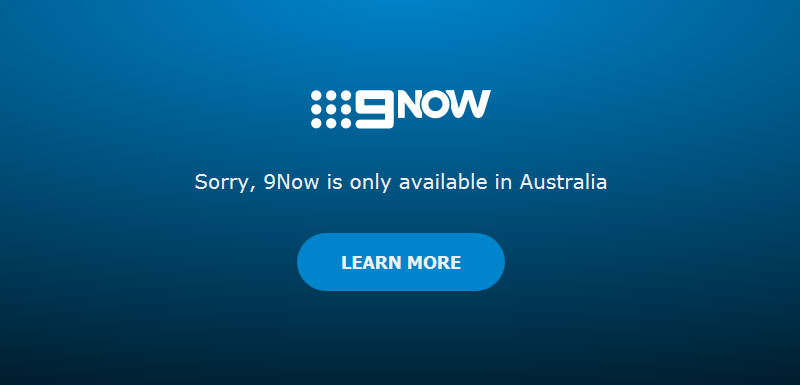 9Now geo-location error message
That's where VPNs come in to save the day. A good VPN helps you access local content from anywhere in the world. By establishing a secure connection through the company's servers and choosing a server in the country where you want local content access, you'll be able to make the network think you live in their home country.
In other words, unless you use a VPN, Channel9 will give anyone outside of Australia a location-restricted error message, saying, "Sorry, 9Now is only available in Australia."
Top 3 VPNs for watching the Ashes
1. ExpressVPN – Stream without buffering or lagging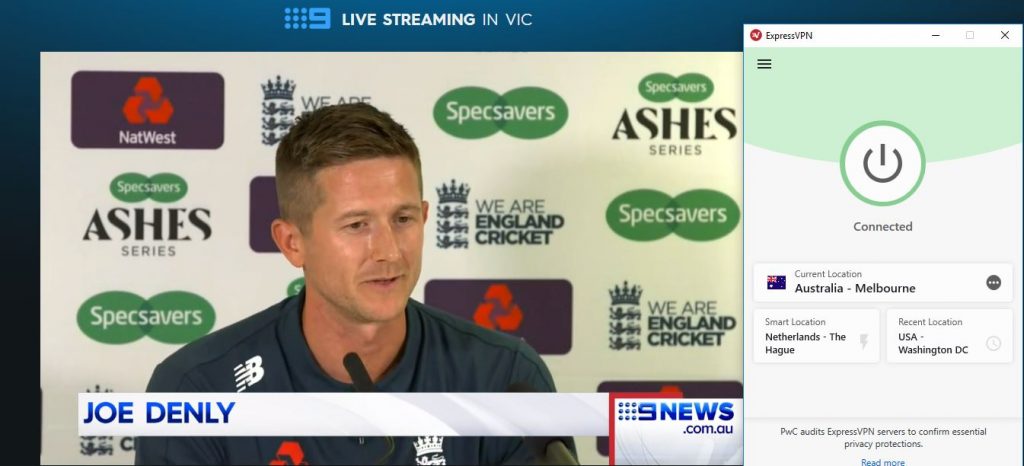 Tested and proven to work with both Channel 9 and Sky Sports
Multiple servers to choose from in AU and UK
Set up time is less than 5 minutes
Unlimited bandwidth and speed
30-day money-back guarantee
2. NordVPN – Thousands of UK and AU servers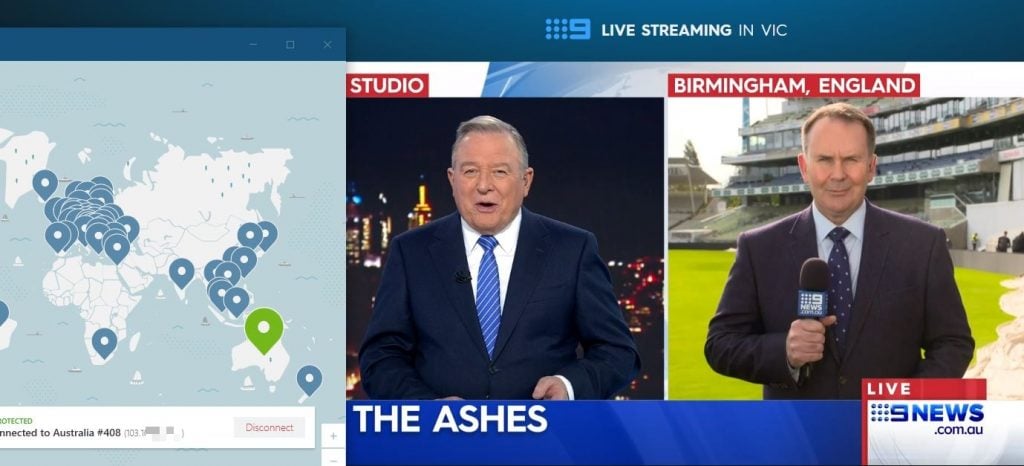 Unblocks UK and AU streaming content
Unlimited speeds are great streaming in HD
Smart Play technology optimizes your server for streaming
30-day money-back guarantee
3.CyberGhost – Works well with Sky Sports

Easy setup experience and user-friendly interface
Has four dedicated streaming servers in the UK
Unlimited data usage for streaming
45-day money-back guarantee
Can I use free VPNs to watch the Ashes?
While we don't recommend you to use a free VPN for streaming live video content, there are certainly some safe and free VPNs on the market for other online uses.
However, if you want reliable streaming and download speeds that provide top-quality sound and video, the nominal price of a subscription-based VPN is more than worth it. You certainly won't want to risk missing out on any prime Ashes action because of slow buffering or loading times from a free VPN. Better safe than sorry!
The 2019 Ashes Schedule
Not sure when to tune in for the fun? Take a look at the 2019 Ashes schedule below. Note that all games will start at 1pm.
1st Test | August 1 – 5 England vs Australia – Edgbaston, Birmingham
2nd Test | August 12 – 18 – England vs Australia – Lord's, London
3rd Test | August 22 – 26 – England vs Australia – Headingley, Leeds
4th Test | September 4 – 8 – Englad vs Australia – Emirates Old Trafford, Manchester
5th Test | September 12 – 16 – England vs Australia – Kennington Oval, London