How to Watch Starz From Anywhere in 2022 – Fully Tested
Last Updated by Eric Raue on July 01, 2022
American Gods is my favorite show of all time, so I paid for a Starz subscription through Amazon Prime Video so I could watch every season as many times as I want. However, I couldn't access my Starz account on vacation because the Starz app is only available in the US and Canada. It's not fair that despite being a paying customer, I can't watch anything just because I'm in Bermuda for a quick holiday.
However — a VPN can get around the location blocks on Starz, so I never miss an episode of American Gods or other shows I pay good money for. I had to test over 20 providers before I found the 3 that reliably unblocked my Starz account and let me watch without annoying lag since most VPNs aren't powerful enough.
Of every provider that worked, ExpressVPN had the most consistently lag-free HD streams on Starz. I never missed a single one of Shadow Moon's dramatic realizations in American Gods with ExpressVPN's lightning-fast servers. If you want to test out yourself, you can try ExpressVPN without any risk as it's backed by a 30-day money-back guarantee. If you don't like it, you can easily get a refund.
Watch Starz with ExpressVPN now
Quick Guide: Watch Starz From Anywhere in 3 Easy Steps
Get a VPN. ExpressVPN's speeds give you bufferless Starz shows and movies. Plus, you can try ExpressVPN's streaming-optimized network. It's supported by a full 30-day guarantee so if you don't like it, you can get your money back.
Connect to a server in the US. You can also use a different country, if it just depends where you subscribed to Starz.
Start watching Starz. Using a server in your country, you can watch content on Starz as if you were back home on your usual network.
Watch Starz with ExpressVPN today
How a VPN Helps You Watch Starz From Anywhere
Shows and movies on Starz are only licensed to show its content in the US and a few other countries. When you open your Starz account, they use your IP address to figure out your location and block you if you're in a country where they don't have licensing agreements. Despite the fact that you pay monthly fees, you won't be able to watch if you're traveling abroad or are on a blocked IP address (like on many office networks).
A VPN can get past these blocks by giving you a new IP address in the country where you subscribed to STARZ. Now you can get the full value out of your paid subscription and watch whenever you want. That is, if you find a strong enough VPN. In addition to not being able to unblock Starz, most VPNs can't bypass proxy filters on Netflix or other streaming sites. Only a few providers can get you into your paid account even on foreign or blocked networks. Of the few VPNs that work reliably with Starz, ExpressVPN gave me the best speeds for lag-free movies and shows. Plus, you can buy ExpressVPN with confidence. ExpressVPN comes with a money-back guarantee that lasts 30 days, which you can use if you're not completely satisfied.
Note: While you won't necessarily break Starz's terms of use by watching with a VPN, it violates licensing agreements to use VPNs to watch it from outside the country where you subscribed. Always review the terms of service before using a VPN, as I don't condone or recommend breaking using VPN providers to break the law.
The Best VPNs to Watch Starz in July 2022
Key Features:
Over 3000 high-speed servers in more than 94 countries, including hundreds in countries that have Starz or STARZPLAY
All servers are optimized for streaming to unblock most TV and movie services
Watch Starz on up to 5 devices at once
24-hour live chat for immediate help
30-day money-back guarantee
Even in maximum definition, ExpressVPN's ultra-fast servers always gave me lag-free video when I watched shows on Starz. During my speed tests I got results ranging from 75-100Mbps, which is more than fast enough to stream in HD on 5 or more devices at the same time. I never had to worry about missing a single explosion during Bad Boys for Life with Will Smith and Martin Lawrence.
To help me find the fastest server for buffer-free shows on Starz, ExpressVPN has a handy speed test tool. I selected my region and ran the test, then found the server with the lowest load and ping. "Load" is how full a server is (overcrowded servers are laggy). "Ping" is how long it takes for your device to share data with the VPN server. Completing the test and finding the best server only took about a minute.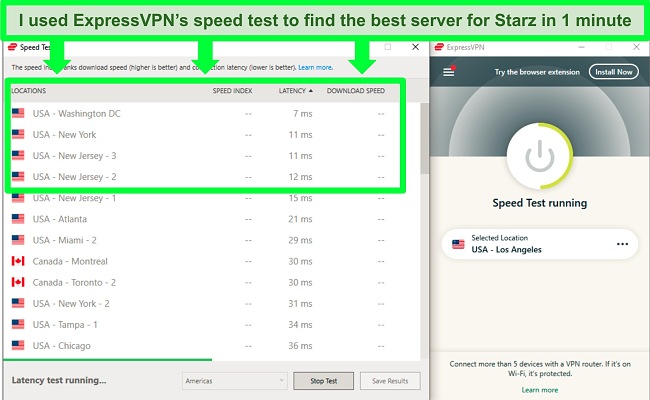 Every one of ExpressVPN's servers are pre-optimized for streaming, so all you have to do is find the fastest option in the country you need. This adds it to your favorites menu for one-click access. This makes it really easy for you to return to your preferred server quickly and connect instantly any time you want to watch your favorite dramas, comedies, documentaries, and more on Starz.
If you'll be traveling to heavily-censored countries and want to watch Starz, ExpressVPN can easily get past internet blocks in China and other places with national internet firewalls. Just keep in mind that using ExpressVPN isn't allowed in China and it may go against Starz's terms of service to watch shows there. You should never use a VPN to break the law or your customer agreement, so check the rules before you travel.
If you're the type who likes to try before you buy, there's no risk to try ExpressVPN to watch Starz since this provider comes with a full money-back guarantee. If you decide you don't like it and watch to unblock Starz with a different VPN, you can get a refund via live chat. I tested it myself, and the process was completely "no questions asked." I had my money back just 2 days after sending my refund request to support.
ExpressVPN works with: Smart TVs, Apple TV, Amazon Fire TV, Android TV, Windows, Android, macOS, iOS, Linux, routers, Chrome, Firefox, PlayStation, Xbox, and Nintendo Switch.
ExpressVPN also unblocks: Netflix, Disney+, Hulu, Amazon Prime Video, BBC iPlayer, HBO Max, YouTube TV, CBS, ABC, Peacock, Paramount+, and more.
July 2022 Update! ExpressVPN has dropped prices for a limited time to a crazy $6.67 per month for the 1-year plan (you can save up to 49%) + 3 months free! This is a limited offer so be sure to grab it now before it's gone. See more information on this offer here.
Key Features:
7900 servers spanning 91 countries, with options in every country that Starz and STARZPLAY are available
Includes an Amazon Prime Video-optimized server for lag-free Starz content
Watch Starz on up to 7 devices at the same time
24-hour live chat help is there whenever you need it
45-day money-back guarantee
With an Amazon Prime Video server optimized for lag-free TV and movies, CyberGhost is an especially great option if you subscribe to Starz via Amazon. Just select the Amazon Prime Video server in the "For Streaming" menu, and click connect. You'll be able to log into your Amazon Prime account instantly and start watching your favorite Starz shows and movies. Aside from 2-3 seconds of initial buffering, I had zero lag during my tests. When I watched The Luminaries in HD, my episode played with no interruptions or sudden pixelation.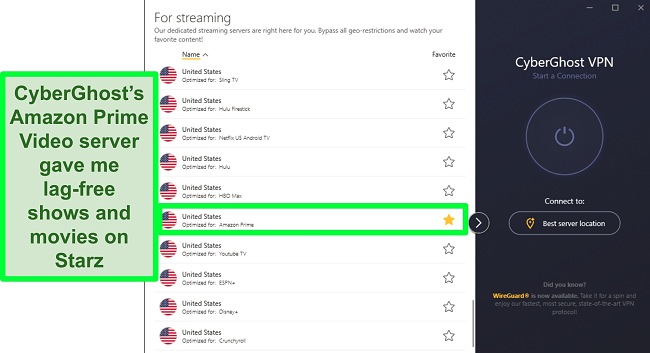 There are also servers for tons of other streaming services like Netflix, Hulu, Disney+, Sling TV, ESPN, BBC iPlayer, and many more in countries all around the world. I had my colleagues abroad test the RAI Italy, the BBC iPlayer UK, and Comedy Central Germany servers and they could all watch shows lag-free using these streaming-optimized networks.
Since servers can become overcrowded and slow down, I was concerned about CyberGhost only having a single US Amazon Prime Video server. That's why I decided to test its regular servers in the US as well. Every US-based CyberGhost server I tested allowed me to access my paid account and watch Starz. I just had to deal with an extra 3-5 seconds of initial lag, but other than that my streams were perfect.
I love that CyberGhost has an ad blocker, which prevents marketers from slowing down your stream and violating your privacy by gathering data. It automatically stops malicious URLs and known ad bots, so you don't have to do anything. Just enjoy the smoother, more reliable streams that come when your device isn't slowed down by annoying cookies and trackers running in the background.
If you'd like to try it before you commit to a subscription try CyberGhost's money-back guarantee. It gives you 45 days to test it, and you can get a refund if you decide to go with a different provider. I tested the policy via 24/7 live chat, and the customer service representative processed my refund request without even asking why I was canceling. I had the money in my bank account 3 days later.
CyberGhost works with: Smart TVs, Apple TV, Amazon Fire TV, Android TV, Windows, Android, macOS, iOS, Linux, routers, Chrome, Firefox, Xbox, and Nintendo Switch.
CyberGhost also unblocks: Netflix, Disney+, Hulu, Amazon Prime Video, BBC iPlayer, HBO Max, YouTube TV, CBS, Peacock, Paramount+, and more.
July 2022 Update! You can subscribe to CyberGhost for as low as $2.29 per month + get extra 3 months free with the 3-year plan (save up to 83%)! This is a limited offer so grab it now before it's gone. See more information on this offer here.
Key Features:
35000+ servers in over 80 countries, with hundreds around the world that can unblock Starz and STARZPLAY
Reliable speeds ensure your streams aren't interrupted by buffering
Watch Starz on up to 10 devices
24/7 live chat support
30-day money-back guarantee
PIA has the largest server network on any VPN on this list. I had so many server options for watching Starz that I never experienced slowdowns due to overcrowding. Smaller networks get filled up with users quickly, causing lag that ruins the tension during a show. When I tested PIA servers around the US in HD to watch an episode of Blindspotting, I never encountered buffering interruptions due to the ability of PIA users to spread out to many different servers in every region.
You can use PIA on up to 10 devices — enough to share it with friends or family who are also paying Starz subscribers. I connected to PIA and tested streaming on 7 devices at once (3 Windows PCs, 2 Androids, and 2 iPhones), and just had to wait for 10 seconds of extra initial buffering. After that my video quality was perfect, and I still had a few extra connections left over to share. I found one other VPN that works with Starz (IPVanish) that offers unlimited devices, but I've never needed more than 10 at a time myself.
With PIA's split tunneling feature, you can leave certain apps unprotected by the VPN connection. For example, my weather and banking apps need my real location in order to work, so I added them to the whitelist. Now I can stream Starz without setting off fraud alerts in my online banking app from checking my balances over an unfamiliar IP address.
To favor speeds over security for faster streams on Starz, PIA lets you use 128-bit encryption. Since military-grade 256-bit encryption isn't really necessary for low-risk activities like watching TV or movies, a lower encryption level gives you more reliable speeds. This lowers the risk of lag. Whether you watch on Windows, macOS, Android, iOS, or another device, PIA lets you adjust the encryption level in all its apps.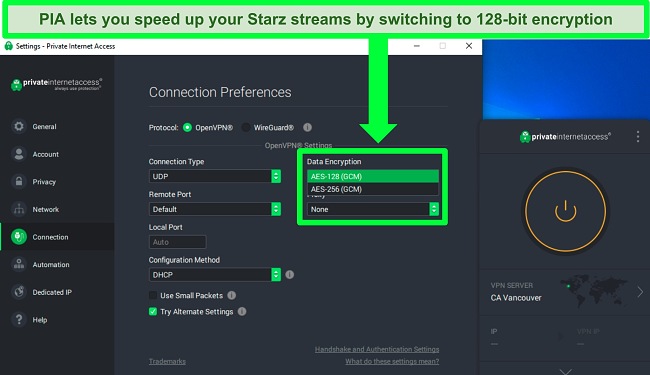 With lower prices than any other VPN on this list, PIA is very affordable. However, you are still free to test its servers for 30 days if you try PIA's servers using its money-back guarantee. You can get a refund if you don't like it — while I had to submit a support ticket instead of using live chat, I got a reply in under 5 minutes. The agent said that my refund had been processed, and I had my money within 4 days.
PIA works with: Smart TVs, Apple TV, Amazon Fire TV, Android TV, Windows, Android, macOS, iOS, Linux, routers, Chrome, Firefox, and Xbox.
PIA also unblocks: Netflix, Disney+, Hulu, Amazon Prime Video, BBC iPlayer, HBO Max, YouTube TV, ABC, Peacock, Paramount+, and more.
FAQs on Watching Starz With a VPN
Can I watch Starz for free?
You can get a free trial of Starz if you're a new subscriber to Amazon Prime. To watch the Starz live broadcast, you can use free trials of TV services like Hulu + Live TV, YouTube TV, or Philo. They all have trials spanning between 3-7 days, so you can watch Starz free for a short period.
As far as unblocking Starz for free, you should never use a free VPN. Even though some free providers are pretty good, they have tight data and server limits that make watching more than 1 or 2 episodes impossible. Most providers also serve you ads to make money. The worst of them are completely fake VPNs that are actually malware, tricking you into handing over your data to hackers.
You can easily avoid the risks of a free provider by trying a premium VPN with a risk-free guarantee. All the best VPNs all backed by guarantees of 30 days or more. You can just get your money back if you change your mind. CyberGhost has a really generous refund period of 45 days, so you can combine it with the free trial of a live TV service to catch up on a few episodes, then get a full refund.
Can I watch Starz on Netflix, Hulu, PS4, Chromecast, and other platforms?
Starz is available on Hulu + Live TV, but it can't be added to Netflix or PS4. However, you can still watch Starz on PS4 using the Hulu or Amazon Prime apps, which both offer it for an additional fee. If you have Chromecast, you can also cast Starz straight to your smart TV.
The devices that Starz has native apps for include:
Tablets: Apple, Amazon, and Android tablets
TV Boxes: Apple TV, Amazon Fire TV, Amazon Fire Stick, Android TV, Roku
Consoles: Xbox One, Xbox One S, and Xbox Series X|S
TVs: Select 2014 and newer Sony TVs, LG TVs, and Samsung Smart TVs
Operating Systems: Windows, OSX
Browsers: Firefox, Chrome, Safari, and Edge
Starz has mobile options for Android and iOS as well, and every VPN on this list works with these devices. However, out of all the providers I tried, I got the fastest speeds from ExpressVPN during my tests. If you want to test ExpressVPN on your preferred device before making a final decision, it has the full backing of a 30-day money-back guarantee.
What Starz channels can I watch on Amazon Prime Video and Hulu?
Hulu + Live TV and Amazon Prime + Starz both have the Starz channel live, as well as select movies and reruns of shows. Even without the Starz add-on, many shows and movies are available to Amazon Prime Video subscribers or with a free IMDB TV account like:
| | |
| --- | --- |
| Shows: | Movies and Documentaries: |
| Run the World | Bad Boys for Life |
| Counterpart | Zack and Miri Make a Porno |
| Survivor's Remorse | Dior and I |
| Spartacus | Leave No Trace |
| The Missing | Annie |
| Howard's End | Charlie's Angels |
| Scream Queens | Escape Plan |
| My Name is Earl | Confronting a Serial Killer |
| Mad Men | Blue Valentine |
Lionsgate owns Starz, so movies that were produced by Lionsgate are usually available on other sites (like Hulu) as well. For the full library of Starz shows and movies on Hulu or Amazon Prime, you have to pay for the Starz Add-On. This gives you all the same content as a subscription to the native Starz app including shows like P-Valley, Spartacus, and The Girlfriend Experience, and movies like Zombieland and Bloodshot.
Is STARZPLAY different from Starz?
STARZPLAY is the international version of Starz. While the Starz App is only available in the US and Canada, STARZPLAY is available in a variety of countries throughout the Americas, the UK, Europe, Asia, and the Middle East, and includes most of the Starz library.
What countries is Starz available in?
Due to licensing restrictions, you can only sign up for Starz if you live in the US or Canada. However, the international STARZPLAY app has the most Starz content and is available in the UK, Sweden, Norway, Denmark, Iceland, Finland, Switzerland, Germany, France, Italy, Spain, Mexico, Chile, Argentina, Brazil, Colombia, Japan, India, and Pakistan. Between my 3 top VPNs for Windows, smart TVs, and other Starz-friendly devices, there are servers available in all of these countries so no matter where you're from you'll be able to access your paid Starz account.
If you're traveling outside countries that have Starz or STARZPLAY, you'll need to sign up with a VPN. Just connect to a server in your home country, and you'll be able to download STARZPLAY in your mobile app store as if you were at home.
What else can I do with a VPN?
In addition to letting you log into your paid Starz account and watch your favorite shows and movies, a powerful VPN can:
Share torrents safely by taking the risk out of using P2P sites. Just keep in mind that it's illegal to share copyrighted material like a movie (even if you paid for it), and you should never use a VPN to break the law.
Access all your movie and TV streaming accounts even when you travel abroad or connect using restricted public or corporate networks. As a precaution, check the terms of service before you connect to make sure you're not in violation.
Get past speed throttles from your ISP or government when they slow down your connection for using too much bandwidth.
Protect your passwords, location, and other data by giving you an encrypted tunnel that hides your online activities from hackers and spies.
Bypass censorship in countries where the web is restricted. Just be sure not to break any laws, as you could get into serious trouble.
Start Watching Starz From Anywhere Today
After paying for the Starz add-on for my Amazon Prime Video account, I was really disappointed to find out I was blocked from my account while traveling. One of the top VPNs can help me get back in and watch my favorite shows, but it takes forever to find a provider that reliably works.
To get into my Amazon Prime Video account and watch Starz lag-free, ExpressVPN worked every time. I never got buffering during an important moment, and could always watch in full HD. Best of all, it lets you try ExpressVPN without risk because it has a 30-day money-back guarantee. If you decide ExpressVPN isn't the right fit, you can get your money back.
Summary — These Are the Best VPNs to Watch CBC in 2022
Top Choice