How to Watch Sky Go from Anywhere (Updated 2020)
Last Updated by Kate Hawkins on October 01, 2020
If you're outside of the UK or Republic of Ireland and try to stream Sky Go, you'll be blocked from viewing any of its shows and movies. Instead of an episode of Westworld or The Flash, you'll get this annoying error message:
"Sky Go is only available for users connecting from within the UK or Republic of Ireland, unfortunately we cannot confirm that you are within these territories at the moment.
Please retry later."
Fortunately, there's a way to get around this content block — with a quality Virtual Private Network, or VPN. A VPN sends your internet connection through a local UK or Republic of Ireland server, masking your true location so the Sky Go app thinks you're in the correct service area.
I've tested dozens of VPNs to find the 3 best services for watching Sky Go from anywhere in the world. Out of all the VPNs, NordVPN is my top choice. It has hundreds of reliable server connections in the UK to get you streaming Sky Cinema, Sky Sports, and Sky Atlantic easily.
Watch Sky Go with a reliable VPN
Tip: You can watch Sky Go from the EU — but only for a limited time. Sky Go requires a connection in the UK or ROI at least once every 37 days or you won't be able to stream. You can connect to an EU server with a VPN and stream Sky Go, but it's best to choose a UK or Republic of Ireland server.
Quick Guide: 4 Steps to Watch Sky Go from Anywhere
Get a VPN — NordVPN has hundreds of servers in the UK that get around Sky Go's content blocks.
Download it to your device and connect to a server in the UK.
Download the Sky Go app to your device. You can do this from the website, Google Play Store or Apple app store.
Sign in to Sky Go with your Sky ID. Search for the content you want to watch and start streaming!
Tip: You'll need a Sky TV subscription before you can watch any Sky Go content. You can only sign up if you have a valid UK payment method and address. Can't sign up for a plan? Ask a friend or family member with Sky for their Sky ID details so you can watch!
How to Choose the Best VPN for Sky Go
During testing, I considered each VPN against the following criteria:
Reliable server connections in the UK that unblock Sky Go
Fast speeds for smooth, buffer-free streaming
Strong security to fully hide IP addresses
App compatibility with Sky Go devices
Responsive customer support with live chat
The 3 Best VPNs to Watch Sky Go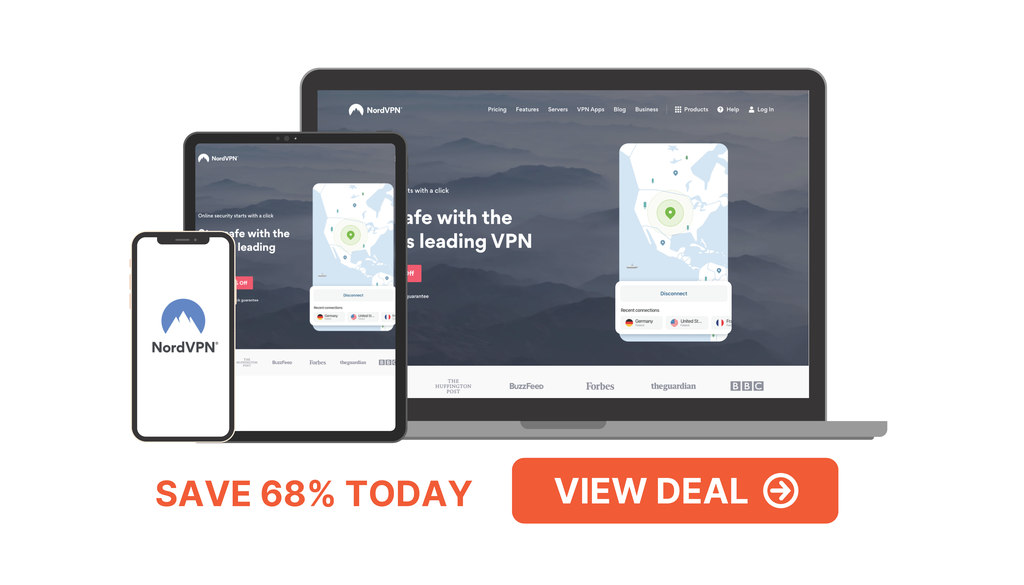 Key Features:
Over 5,500 servers in 58 countries — 600+ in the UK and 60 in Ireland
Unlimited data for fast streaming speeds
Military-grade security
24/7 live chat and customer support available
NordVPN is my number one choice for streaming Sky Go as it has a huge range of servers in the UK and ROI to connect to. With over 600 in the UK and 60 in Ireland, I wasn't able to test every server. Instead, I connected to the fastest and slowest servers in both locations at different times of day to get an accurate speed test reading.
For transparency, I tested both UK and ROI servers from my home in England. My average speed when not connected to a VPN is 38Mbps. For NordVPN's UK servers, my average speed was 42Mbps and for Ireland, 35Mbps. These speeds meant I could easily live stream an HD-quality Premier League game on Sky Go without any buffering.
With so many servers to choose from, finding the best NordVPN server might seem overwhelming. During my tests, I found NordVPN's interface was easy to use and I had a couple of options when choosing a fast server. I could click the country name marker on the map to auto-connect. Alternatively, I could find the country name in the server list, click the 3 dots to open server options and select an individual server.

Every server I connected to was able to access Sky Go's content without any issue. I ran several DNS leak tests to ensure my IP address was completely masked and NordVPN passed every test. This strong encryption means you won't have any issues connecting to Sky Go with a NordVPN server, no matter where you are in the world.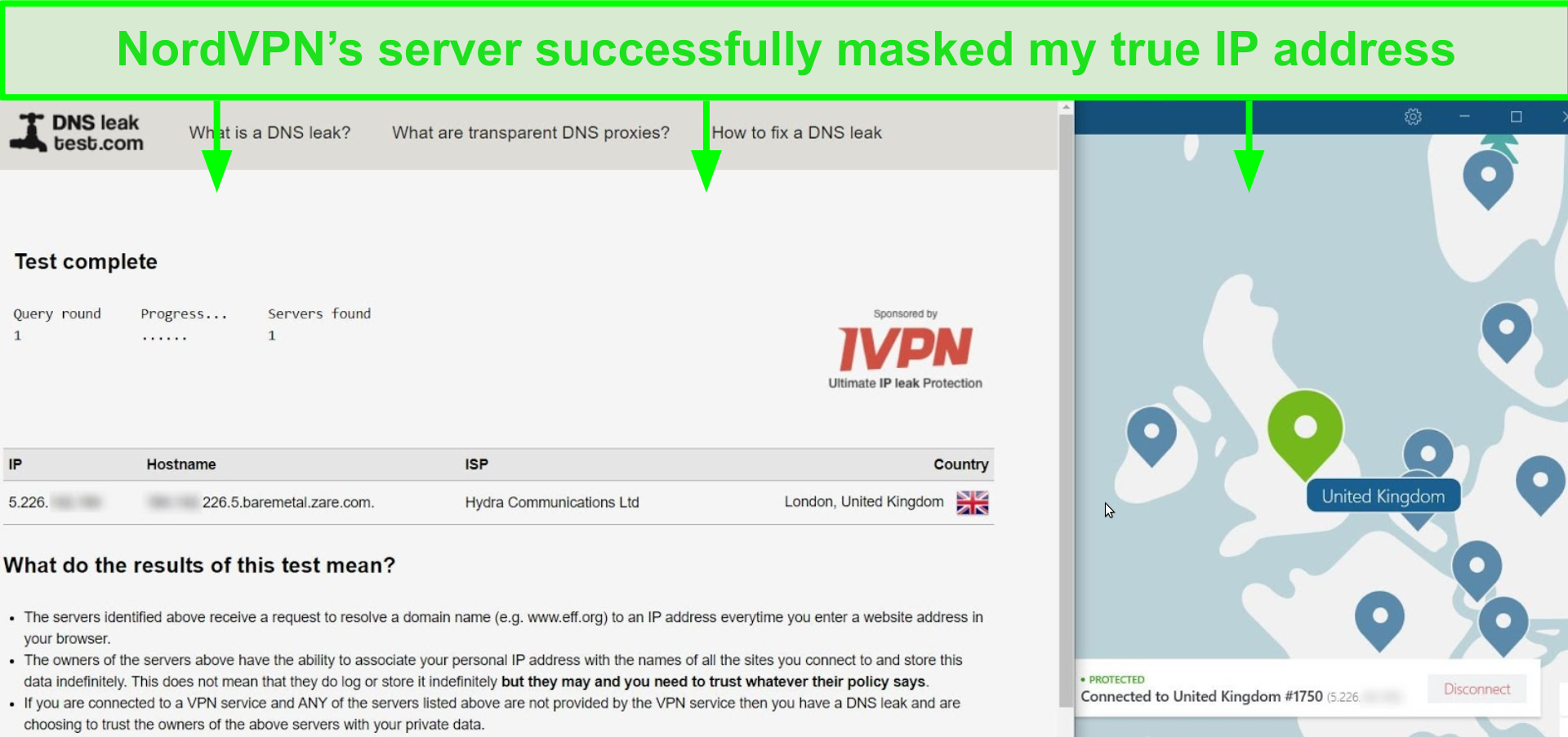 Want to try NordVPN before you subscribe to a plan? You can use NordVPN's 30-day money-back guarantee to stream Sky Go from anywhere for a month. If you're not totally satisfied, just contact customer service and they'll arrange a refund for you.
NordVPN unblocks: Netflix, Hulu, Amazon Prime, BBC iPlayer, ESPN, NBC Sports, YouTube TV, Sling TV, Disney+, and more.
NordVPN works on: Android, Windows, macOS, iOS, Android TV, Chromebook, Kindle Fire, Amazon Fire Stick and TV, Linux, Chrome, routers, and Firefox.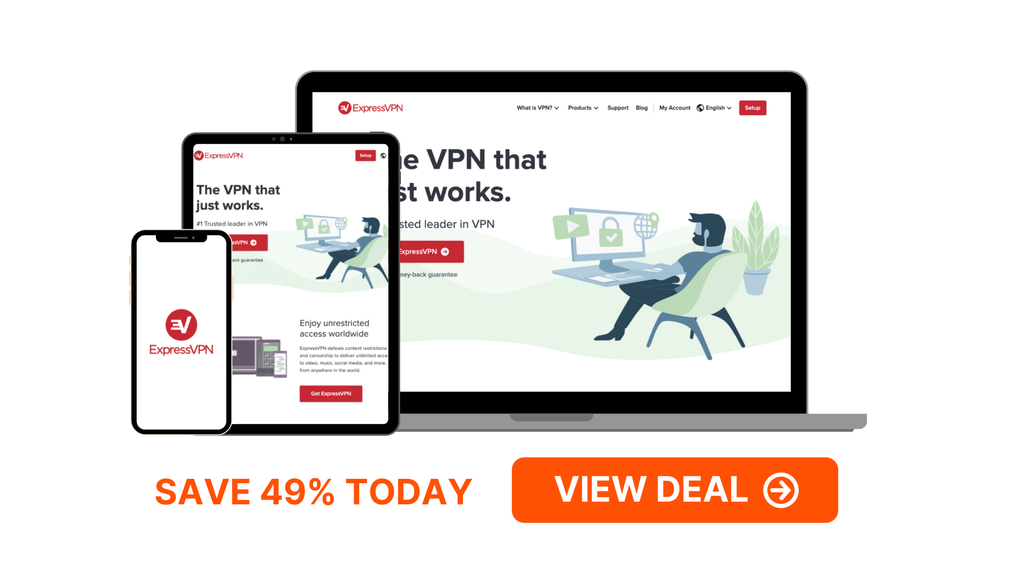 Key Features:
3,000+ servers in 160 locations — 5 server locations in the UK, 1 in Ireland
Automatically connects you to the fastest server in your chosen location
Best-in-class encryption
24/7 live chat and customer support available
ExpressVPN's built-in Speed Test feature means you can always choose the fastest server for streaming with Sky Go. While I was testing ExpressVPN, I used the Speed Test feature to see which UK server had the fastest connection.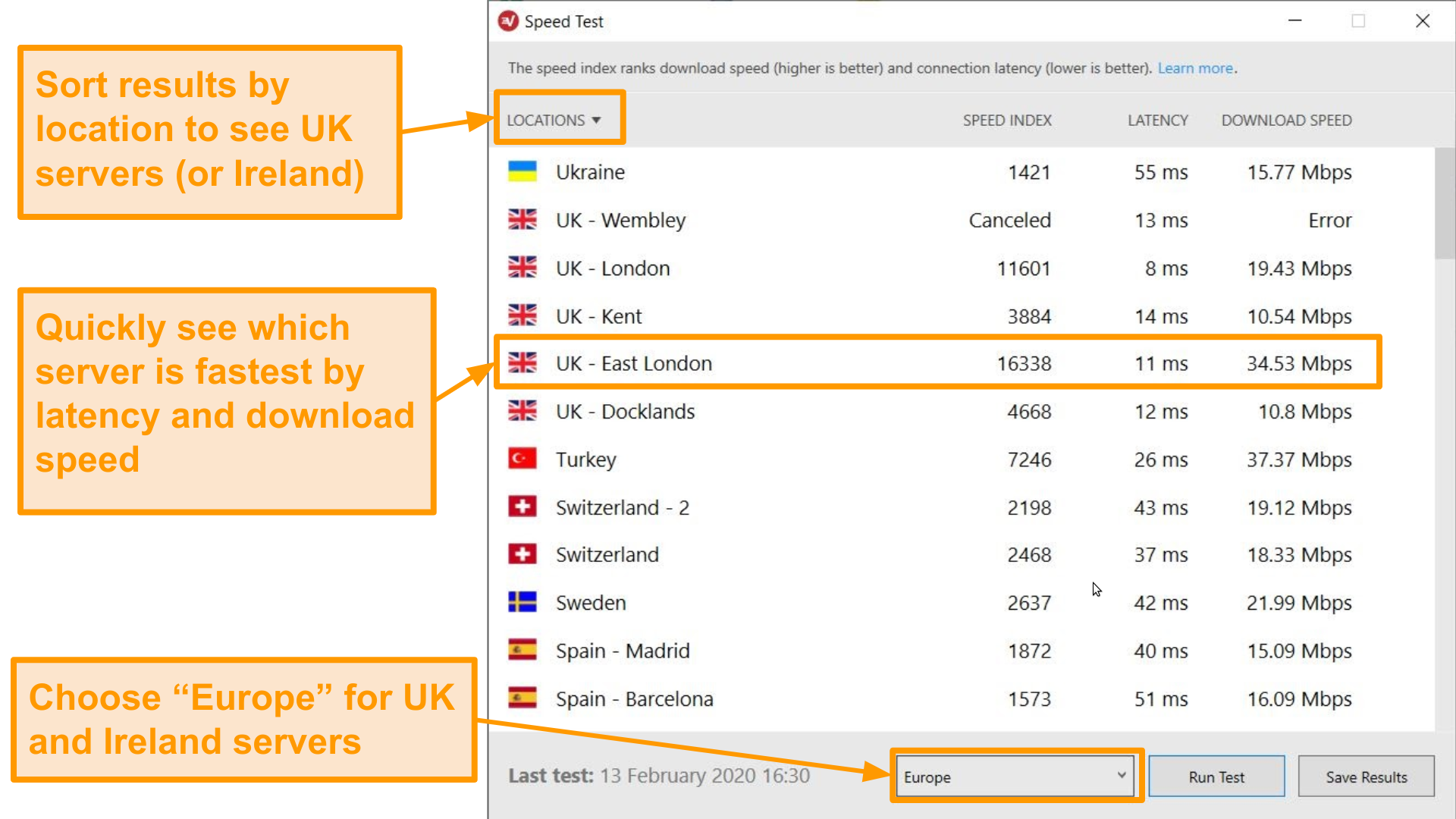 I liked the Speed Test feature as it gave me a good idea of which server would be the fastest, but found the download speed results to be inaccurate sometimes. When I tested UK – East London with the Ookla independent speed test, the results were much faster. I was able to connect to Sky Go and stream an episode of Chernobyl without any buffering at all — it even loaded instantly!
ExpressVPN accessed Sky Go with every server I connected to. It's one of the best VPNs available for bypassing location blocks — it can even get through the "Great Firewall of China" to get you connected to your favorite Sky TV shows from within China.
If you're traveling out of the UK and need VPN coverage for a short time, you can try ExpressVPN for 30 days risk-free with its money-back guarantee. For a refund, just get in touch with its 24/7 live chat and a representative will process your request — no questions asked.
ExpressVPN unblocks: Netflix, YouTube TV, HBO, BBC iPlayer, Disney+, ITV, ESPN, Amazon Prime, Hulu, and more.
ExpressVPN works on: Windows, Android, macOS, iOS, Linux, routers, Chromebook, Kindle Fire, Nook, Chrome, Firefox, PlayStation, Xbox, Nintendo Switch, Apple TV, Fire TV & Stick, and Smart TVs.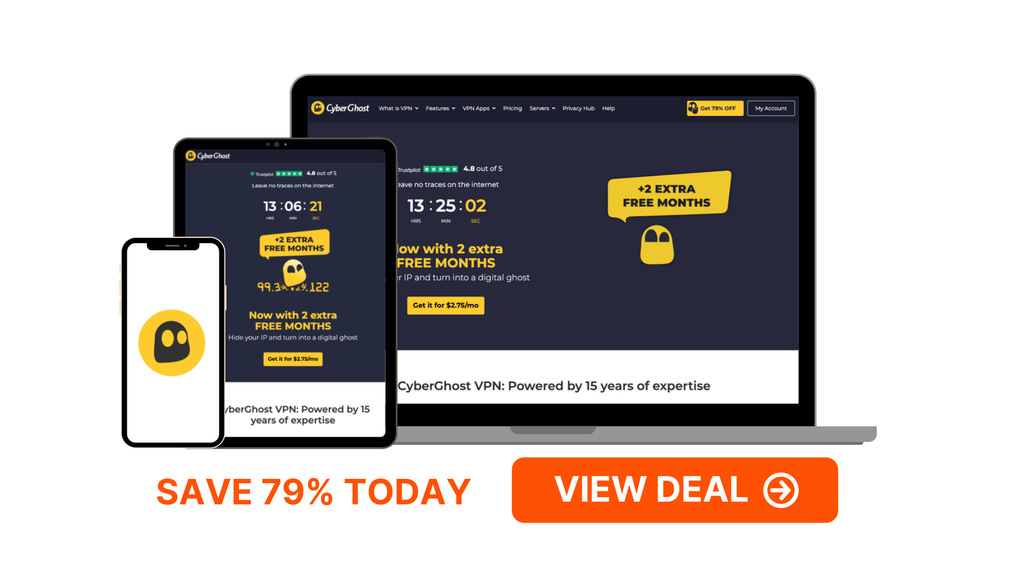 Key Features:
5,700+ servers in 89 countries — 400+ in the UK, 40+ in Ireland
Optimized servers for fast streaming
Military-grade encryption
Customer service with live chat (not available 24/7)
CyberGhost supports up to 7 simultaneous connections with minimal drop in speed. You can stream Sky Go on 4 devices at once and won't experience buffering or lag even if everyone is watching at the same time. To test speeds, I connected 4 devices at the same time — 2 streaming Sky Go, 1 watching Netflix US, and 1 browsing the internet. Then I tested my speed with just 1 device connected.
With 4 devices connected, CyberGhost's speeds were still super fast. I was easily able to stream Sky Go without buffering, even while bypassing the Netflix US content blocks and browsing the web!
If you want to try CyberGhost before you subscribe, you can use its 45-day money-back guarantee. Getting a refund is easy — you can email customer service or contact them via live chat.
CyberGhost unblocks: Netflix, Disney+, Amazon Prime, BBC iPlayer, HBO, YouTube TV, ESPN, NBC, and more.
CyberGhost works on: Windows, macOS, Linux, Android, iOS, Chrome, Firefox, Android TV, Amazon Fire Stick & TV, and routers
Why You Need a VPN to Watch Sky Go
Without a VPN, you'll be blocked from streaming Sky Go unless you're in the UK or ROI. Like many streaming services, including BBC iPlayer and ITV Hub, Sky Go content has broadcasting restrictions. Copyrighted content can only be shown in licensed areas, so if you're outside of the service area, you won't have access to Sky Go channels.
A reliable VPN encrypts your internet traffic and hides your IP address. When you're connected, all of your traffic goes through the VPN server, making it appear that your device is located in the server country. This makes the Sky Go app think you're in the correct location (even when you're not!), removing the content blocks so you can watch as much as you want.
FAQs on How to Watch Sky Go
🤩 What can I watch with Sky Go?
Sky Go has a huge range of channels for you to stream, with over 250 movie, entertainment, news, and sports channels to choose from. Some channels require an additional subscription to watch, like Sky Cinema and Sky Sports. Here are some of the most popular channels and their best content:
Sky Atlantic — Boardwalk Empire, Game of Thrones, and The Outsider
Sky Witness — Criminal Minds, Chicago Fire, and Law & Order
Sky One — Modern Family, COBRA, and Jett
Sky Cinema — Avengers: Endgame, Ready Player One, and Toy Story 4
Plus BBC One, ITV, Channel 4, Film 4, TLC, Fox, MTV, and more!
🤑 Can I use a free VPN to watch Sky Go?
There are some great free VPNs on the market but I don't recommend them for streaming Sky Go. They often have bandwidth limitations, which means slow speeds, buffering, and lag while you're trying to stream. Free VPNs also have limited server numbers that get busy quickly so you'll struggle to get connected — not ideal if you want to stream a live Sky event.
Streaming issues are frustrating, but using a free VPN can also put your data security at risk. Some free VPNs have poor (or non-existent) privacy policies, tracking your online activity and selling your information to advertisers and other third parties.
If you want a free VPN to keep you secure on holiday, your best option is to use the money-back guarantee of a premium VPN. NordVPN gives you 30 days of unlimited streaming, browsing, and downloading at no risk to you!
🤓 My VPN isn't unblocking Sky Go — what can I do?
If you're connected to a UK VPN server and Sky Go is still blocked, there are a few things you can try to fix the issue:
Try an alternative server — Even the best VPNs occasionally have their servers blocked by streaming services. Changing servers is usually the fastest and easiest fix.
Clear your cache and cookies — Sometimes your location data is stored here and is sent to the app without you realizing. After you've cleared the information, reconnect to the VPN server and try Sky Go again.
Contact customer support — Connect with your VPN's customer service team and ask for their recommendations. They'll be happy to help you find a working server and they'll make a note of the blocked server, too.
Enjoy Sky Go No Matter Where You Are With a Premium VPN
Sky Go has all your favorite Sky TV content in one place, and now you can take it wherever you go with a reliable VPN. Keep up with the latest British soap operas or stream the Cup Final from anywhere — a quality VPN makes sure you don't miss a moment of the action.
Not sure which VPN to choose? My top recommendation, NordVPN, has a 30-day money-back guarantee you can use to stream Sky Go risk-free for a whole month!