How to Watch Salto From Outside of France in July 2022
Last Updated by Mariah Shanice Basa on July 01, 2022
Salto has a lot of amazing shows on offer, but they're only available in France. I found this out the hard way: one of my favorite Salto shows, Ils étaient dix, always ends in a cliffhanger. After I flew abroad for work, I tried to log in to my Salto account, only to find out that the content was blocked. It was a really frustrating experience.
I needed to figure out a way to watch my favorite Salto shows wherever I might be. I tested different methods. After a lot of research, I found out that the easiest way is by using a virtual private network (VPN). A VPN changes your IP address so you can get around geo blocks.
However, not all VPNs are good enough to get past Salto's tough geo blocks. After testing several VPNs, I found that ExpressVPN was the best at unblocking Salto abroad. You can try it yourself, risk-free as it's backed by a 30-day money-back guarantee. You can get a refund if you're not completely satisfied with the service.
Quick Guide: Watch Salto From Outside of France in 3 Easy Steps
Get a VPN. I found that ExpressVPN quickly and consistently unblocked Salto from outside of France. You can try ExpressVPN risk-free, with its 30 money-back guarantee.
Connect to a server in France. ExpressVPN will automatically connect you to the fastest server in France to optimize your connection for streaming.
Start watching Salto. First, login to Salto, or sign up (using PayPal) if you haven't yet. After that, all you need to do is press play and enjoy!
Why You Need a VPN to Watch Salto From Anywhere
When you connect to Salto's website without a VPN, the streaming service can identify your location based on your IP address. If you're outside of France, Salto will block your connection and prevent you from using its service.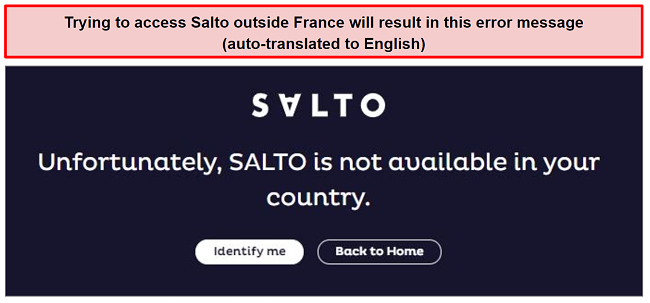 Using a VPN helps you disguise your internet connection, allowing you to bypass the tough geoblocks of platforms like Salto. A VPN routes your internet traffic through a server in your chosen location, making websites think that you're accessing the internet from there. Using a VPN is the quickest and easiest way to access Salto wherever you are.
Salto has one of the most sophisticated geo blocking mechanisms I've ever encountered so far, and I had to try multiple VPNs to find which ones worked. ExpressVPN managed to unblock Salto every single time, and it did so without buffering and lags. Try it out for yourself: ExpressVPN is backed by a 30-day money back guarantee.
Note: Using a VPN doesn't violate Salto's Terms of Use, but it may if you're changing your location using a VPN to view content in a geographic location where it isn't available. Be sure to check for yourself beforehand.
Unblock Salto now with ExpressVPN
The Best VPNs to Watch Salto in July 2022
Key Features:
3000 reliable servers in 3000 countries including France to unblock Salto from anywhere
Lightning-fast servers optimized for speed to watch your favorite Salto shows in HD without buffering
5 simultaneous device connections to enjoy Salto content from all of your devices
24-hour customer service via live chat and email
30-day "no questions asked" money-back guarantee lets you check all of its features, risk-free
After multiple rounds of testing, ExpressVPN emerged as my top choice. ExpressVPN not only unblocked Salto every single time, it did so without affecting my connection speeds. I binge-watched Balthazar (a show I recommend if you like crime shows like Dexter and CSI), and the experience was smooth and bufferless all the way through to the last episode.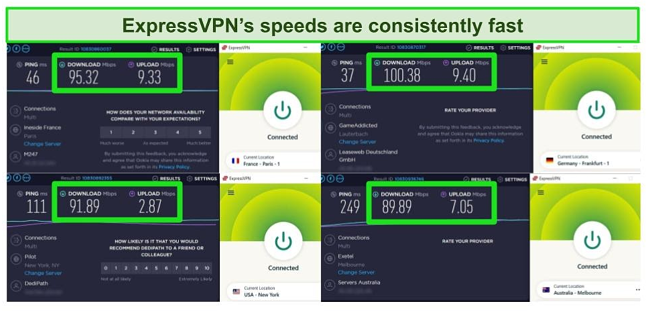 If you travel a lot, I definitely recommend ExpressVPN. It also reliably unblocks HBO Go, Hulu, Netflix, BBC iPlayer, and a long list of other streaming platforms. As a frequent traveler, a good VPN that consistently unblocks a lot of geo blocked websites is a valuable tool to have in your arsenal.
On top of that, ExpressVPN is also really easy to use. The app has an accessible search bar that allows you to search and connect to a server in a matter of seconds. I often connect to ExpressVPN servers in France, and ExpressVPN's "Recent Location" feature allows me to re-connect to the last server as soon as I open the app.
ExpressVPN is a bit more expensive than other VPNs in the market, so it's important to see if it's the right one before deciding to purchase any long-term plan. ExpressVPN has a 30-day money-back guarantee: it gives you enough time to test its features for yourself. If you do decide that it's not for you, you can request a refund, no questions asked.
This is how I tested the reliability of ExpressVPN's customer support. I requested a refund through the live chat, and received a reply within 5 minutes. My request was granted immediately, and I got my money back within the same week. It was a quick and easy process.
ExpressVPN works with: Windows, Android, macOS, iOS, Linux, routers, Chrome, Kindle, Firefox, PlayStation, Xbox, Nintendo Switch, Apple TV, Amazon Fire TV, and Smart TVs.
ExpressVPN unblocks: Netflix, Disney+, Hulu, Amazon Prime Video, BBC iPlayer, HBO Max, YouTube TV, ESPN, and more.
July 2022 Update! ExpressVPN has dropped prices for a limited time to a crazy $6.67 per month for the 1-year plan (you can save up to 49%) + 3 months free! This is a limited offer so be sure to grab it now before it's gone. See more information on this offer here.
Key Features:
2000 servers all over the globe with multiple servers in France that all successfully unblock Salto
Offers a 256-bit encryption and kill switch to keep you safe while viewing Salto
Generous unlimited simultaneous device connections so you can enjoy Salto shows on a lot of devices
Reliable, 24/7 customer support and comprehensive resources available on live chat
30-day money-back guarantee means you can test the features risk-free
If you're looking for a VPN that unblocks Salto across a lot of devices, I highly recommend IPVanish. It allows unlimited simultaneous connections under one subscription, so you and your household members can connect to IPVanish at the same time – to enjoy your respective Salto shows, or to benefit from IPVanish's other features.
The best privacy feature IPVanish offers is an automatic kill switch to protect you if the VPN connection is lost. I tested to make sure it worked by forcing the app to close, which cut off my internet instantly so none of my data was leaked. I did have to turn this feature on manually in the settings before it activated.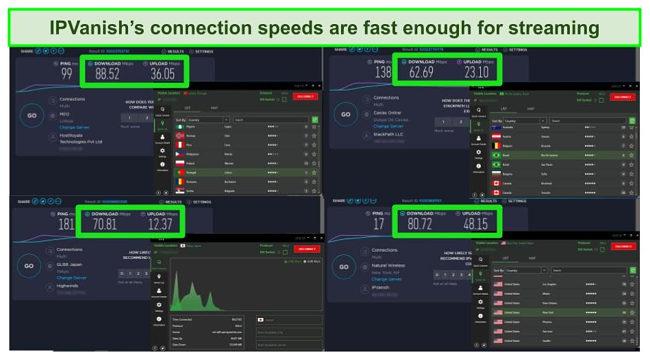 I put IPVanish through some strict performance tests. I enjoyed watching Salto shows without any interruptions or disconnections, and the video quality never deteriorated or buffered. It would have been perfect for everyday use, but if you're purchasing a VPN to unblock various platforms, IPVanish might not be the best VPN for you.
That's because IPVanish doesn't really work on a lot of platforms. While it can bypass Salto without any issues, it doesn't really work on Netflix unless you switch to its split tunneling feature. However, even with that enabled, you can only access Netflix from countries where it's already currently available.
However, if your priority is to get a VPN that unblocks Salto, you should definitely check out IPVanish. IPVanish is covered by a solid 30-day guarantee: if you don't feel it's right for you, you can get a full refund. The process was easy: all I had to do was log into the site, click the "Subscription" tab on my dashboard, and click "Cancel Now."
IPVanish works with: Windows, Android, macOS, iOS, Linux, routers, Kindle, Chrome, Firefox, PlayStation, Xbox, Apple TV, Amazon Fire TV, and Smart TVs.
IPVanish also unblocks: Youtube, Kodi
Key Features:
200 servers in 63 countries with multiple servers in France that unblock Salto
High Quality Network (HQN) capacity ensures unlimited, high-speed connection for bufferless streaming
10 simultaneous connections allows you to enjoy Salto shows on all of your household devices
Customer service provided in 24/7 live chat, email support, and only FAQ section
30-day money-back guarantee gives you a chance to test product features in confidence
In spite of its relatively small collection of servers, PrivateVPN is one of the most reliable VPNs to use to unblock Salto. PrivateVPN has a couple of servers in France, and all of them reliably unblock Salto. The HQN feature ensures that you're getting an unlimited, high-speed connection for bufferless streaming in HD.
While I didn't experience any slowdowns while I was connected to the servers in France, testing showed that speeds tend to fluctuate depending on how far your actual location is from the server you're trying to connect to.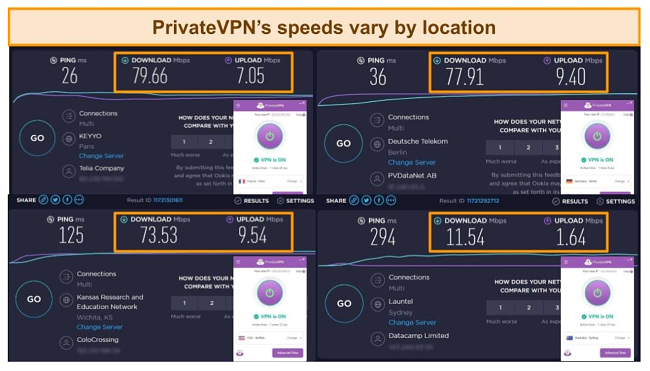 With that being said, PrivateVPN is one of the cheapest VPNs in the market today, especially if you consider the fact that it's one of the very few VPNs that manage to get past Salto. At $2.00 a month, it's a really great deal.
I highly recommend that you try its features out for yourself. It's covered by a generous 30-day money-back guarantee, so you can try all of PrivateVPN's features in confidence. Requesting a refund can be done through live chat, and I got my money back in less than a week.
PrivateVPN works with: Windows, Android, macOS, iOS, Linux, Kodi, Routers
PrivateVPN also unblocks: Netflix, Disney+, BBC iPlayer, HBO Max, YouTube TV, ESPN, and more.
How to Sign Up for Salto From Anywhere
You can sign up for Salto using a credit card, debit card, or Paypal. The process is quick and seamless.
Paypal Method
Get a VPN. Connect to a server in France. I recommend ExpressVPN for Salto primarily because of the fast connection speeds.
Sign up for Salto. Type your email address and password.
Choose a payment plan. Salto has 3 different plans depending on the number of simultaneous users. At the time of writing, Salto offers a 1-month free trial.
Choose PayPal at checkout. Log in to your PayPal account, and pay.
Enjoy watching Salto.
Credit Card Method
Download a VPN. Connect to a server in France. I always use ExpressVPN for Salto because it has never failed to get past the geoblock.
Visit the Salto website. Salto offers 3 different monthly plans with different plans for 1, 2, or 4 users. Salto offers a 1-month free trial for each plan.
Create a Salto account. Set up your billing information, and pay.
Enjoy watching Salto.
FAQs on Watching Salto With a VPN
What is Salto TV and what can I watch on the platform?
Salto is a geoblocked streaming service designed by M6, T1, and France Télévisions. Aside from offering a diverse selection of complete, exclusive French television series, Salto also offers a wide selection of American shows including Nancy Drew, Fargo, and The Handmaid's Tale. Salto subscribers also enjoy access to live content from 19 French channels.
Solo offers three different plans: Solo, Duo, and Tribe. The only difference is the number of connections it allows per account, which is 1, 2, and 4. The only problem is that Salto's geoblock is pretty rigid so I don't have access to my Salto account outside France, unless I'm connected to an effective VPN such as ExpressVPN.
What can I watch on Salto?
If you enjoy watching content on Netflix France, you'll probably find the same shows and movies on Salto and much more. Not only that, but you can sign up for Salto easily to watch it from anywhere. Salto beats Netflix by far, considering it offers a lot more international titles and live-streams of popular television networks. The streaming service is owned by three major broadcasting groups: France Télévisions , TF1 and M6. Due to this, most of the shows on those networks are offered.
Salto's content isn't just limited to those three groups though, they also include live TV shows and movies from other broadcasters from around the world. Altogether, there is over 10,000 hours of content from 19 unique channels.
Some on-demand programs include:
Un village français
Grand Hotel
The Hunting
Small Ax
Plus belle la vie
Un gars, une fille
Un si grand soleil

Scènes de ménages
Why Women Kill
Departure
Yellowstone
M6's Ils étaient dix
C'est comme ça que je t'aime
Fargo season 4
If you can't find the specific show you want, here is a list of Live TV channels:
TF1
TF1 Series Films
LCI
M6, 6play, and 6ter
France TV
W9
TMC
TFX
France.tv Slash
France 2, 3, 4, and 5
France Info

Gulli
W9
Franceinfo
TV Breizh
Téva
Paris Premiere
Ushuaia TV
Histoire TV
Canal J
Tiji
6ter
Which devices can I watch Salto on?
You can access Salto from anywhere on the following devices as long as you connect with a supported browser:
Browsers: Safari, Google Chrome, Microsoft Edge, and Mozilla Firefox
Smartphones and Tablets: Android and iOS device
Smart TVs and TV Peripherals: Android TV (version 8 onwards) and Apple TV (from tvOS 13)
I mainly tested Salto on a Windows device, and all three VPNs that I recommended worked flawlessly on Windows.
Can I watch Salto for free?
At the time of writing, Salto offers a one-month free trial when you sign up for its solo, duo, and tribu plans. You can pay for a Salto subscription through Paypal or credit card. Keep in mind that Salto automatically charges your payment method, so if you decide that Salto isn't for you, don't forget to cancel your subscription before the month is over.
If you travel a lot, ExpressVPN is an amazing tool to have on your devices. It unlocks Salto (and a lot of other geo blocked websites) wherever in the world you might be. ExpressVPN offers a 30-day money-back guarantee so you can try it out for yourself completely risk-free.
Can I Use Free VPNs to Watch Salto?
You can use a free VPN to bypass Salto's geo blocks, but I suggest you don't. Platforms like Salto block shared IP addresses, and free VPNs don't have the resources to constantly provide users with new ones. If you try to access Salto while connected to a free VPN, you'll most likely see the same "Salto is not available in your country" error message.
If you do find a free VPN that manages to unblock Salto, you might still experience one, or all of the following downsides:
Streaming blocks due to data caps, so you might not even be able to watch a single episode all the way to the end
Extremely slow speeds, so expect constant buffering and lag
Privacy hazards, since free VPNs are known for making a profit off of users' data
Insecure connections, since free VPNs put your internet data at risk
A paid VPN is the easiest, most secure, and reliable way to access Salto outside France. ExpressVPN has a 30-day money back guarantee, which gives you more than enough time to test its features before committing to a long-term plan.
What else can a VPN do besides helping me access Salto?
A good VPN will give you access to Salto shows wherever you might be, and:
Prevent ISP throttling. Your internet service provider (ISP) has the power to actively slow down your connection. A VPN will ensure that you get the speeds that you're paying for.
Help you make the most out of other streaming platforms. A good VPN will also allow you to access other geoblocked platforms such as Netflix, Hulu, Amazon Prime, Disney+, BBC iPlayer, HBO Go, and more. You can also unblock global Netflix libraries using a VPN.
Protect your data. Hackers and other malicious third parties can get ahold of your personal data while you're connected to public wi-fi networks. A VPN protects your data by encrypting it.
Start Watching Salto From Anywhere Today!
There's no reason for you to not have access to your Salto subscription during your trips abroad. Thankfully, all the VPNs I listed here will ensure that you won't miss any episodes of your favorite shows on Salto and make the most out of your subscription, wherever you might be in the world.
In terms of reliability, ease-of-use, and overall value for money, I especially recommend ExpressVPN. Try ExpressVPN out for yourself in confidence. If you don't feel it's right for you, you can get a full refund within the 30-day money-back guarantee period – no questions asked.
Summary — Watch Salto Now With These VPNS (Updated 2021)
Top Choice