How to Watch Salto From Outside of France in June 2021
Last Updated by Meg Leach on June 20, 2021
Since there was limited information on how to actually access Salto from outside of France, I created a quick guide on how to use a VPN to get around its geoblocked streaming libraries. While Salto has tough location restrictions that prevent access from abroad, I also couldn't find many VPNs that could unblock this streaming service during my tests.
After testing the most popular premium VPN providers, I found that ExpressVPN was the most effective at unblocking Salto from abroad. You can also try it risk-free with its money-back guarantee.
Quick Guide: 3 Steps to Watch Salto From Anywhere
Get a VPN. I found that ExpressVPN quickly and consistently unblocked Salto from outside of France. You can try ExpressVPN risk-free with its money-back guarantee.
Connect to a server in France. ExpressVPN will automatically connect you to the fastest server in France to optimize your connection for streaming.
Start watching Salto! Once you're connected to a server, all you have to do is press play.
Why You Need a VPN to Watch Salto
Using a VPN helps you disguise your internet connection so it appears as though it's coming from another location. This is done by rerouting your internet access through servers all over the world.
When you connect to Salto's website without a VPN, the streaming service can identify your location based on your IP address. If you're outside of France, Salto will block your connection and prevent you from using its service. After logging in, you'll get a message like:
Salto programs are available in France and in the European Union. For more information, please see the help section or contact Customer Service
Connecting to a server in France with a high-quality VPN will disguise your real IP address and help you bypass geoblocks. Then you'll get access to exclusive content on Salto from anywhere.
Unblock Salto now with ExpressVPN
Best VPN to Watch Salto in June 2021
Key Features:
3000+ global servers and 3 in France
Fast servers to ensure good video playback
Military-grade security ensures that your connection is safe and private
Watch your favorite series on up to 5 devices
No questions asked refund policy within 30 days
ExpressVPN was the only VPN provider to consistently unblock Salto's content, allowing me to watch its entire library of shows and movies without any trouble. Every time I tested its ability to bypass Salto's VPN detectors and geoblocks, I had no problem connecting. This reliable connection helped me feel confident that I could trust ExpressVPN to keep me connected while I watched the show Demain Nous Appartient.
ExpressVPN has the most servers in France of any of the VPNs I tested, which helped me find the best connection to watch Salto. I found that ExpressVPN's auto connect option gave me the fastest server to start watching in HD. I didn't experience any lags or buffering throughout the episode, which was really impressive given that I was connecting to a far away server and expected slower speeds.
I feel confident that ExpressVPN is able to get around VPN blocking software implemented by some of the most popular streaming sites like Salto, Netflix, and Disney+. This means you don't have to worry about losing access to your favorite shows even if you're abroad.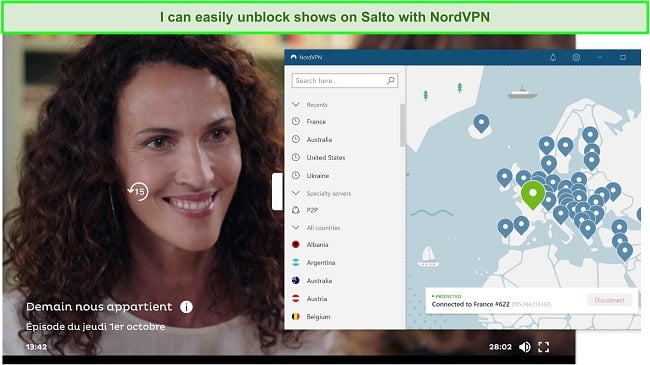 You don't need to just take my word for it — you can try ExpressVPN risk-free with its money-back guarantee to see for yourself. I wanted to test if I would really get a refund, so I asked a 24/7 live chat rep for a refund after 28 days of watching shows and movies on Salto. When the rep asked me if they could help troubleshoot any issues, I just explained that I didn't need the service anymore and my refund was approved. Then my money was back in my account within 5 business days.
ExpressVPN also unblocks: Disney+, Netflix, Hulu, Amazon Prime Video, HBO NOW, Crunchyroll, Kodi, France2, SB2 Australia, ESPN+, and more.
ExpressVPN works on: Windows, Mac, iPhone, Android, Chrome, Firefox, Android TV, Apple TV, Amazon Fire TV, Amazon Fire TV Stick, and Raspberry Pi.
June 2021 Update! ExpressVPN has dropped prices for a limited time to a crazy $6.67 per month for the 1-year plan (you can save up to 49%) + 3 months free! This is a limited offer so be sure to grab it now before it's gone. See more information on this offer here.
Can I Use Free VPNs to Watch Salto?
It's not likely that you'll have much luck unblocking Salto with a free VPN since most premium VPNs don't even work with the streaming service. After I tested over 9 different VPNs, only ExpressVPN was consistently successful in giving me access to Salto's media library.
Streaming platforms know that many people use VPNs to get around geoblocks, so they constantly block shared IP addresses. Free VPNs usually don't have the resources to keep changing them, which means they can be easily identified by companies like Netflix and Hulu.
That's why I recommend premium VPN like ExpressVPN for getting around streaming services' geoblocks. These companies have built their reputations on their ability to get you connected with the content you love.
Free VPNs can be a no-cost way to give you a layer of online protection while using unsecured public WiFi, but they can be a bad idea for unblocking Salto. They usually:
Are lacking in servers, so they might not even unblock Salto
Have slow speeds, preventing you from watching your favorite shows in HD
Are limited by data caps, so your show or movie might get cut off
Don't have the latest security measures and can put your information at risk
Share your data to third-parties like law enforcement or advertisers
If you don't want to spend money for a service you've never tried before, you'll find comfort that ExpressVPN has a 30-day money-back guarantee. That will give you plenty of time to see if it's a good fit for you.
FAQs on Watching Salto With a VPN
Can I watch Salto for free?
Yes, Salto is free for 30 days when you sign up on the streaming service's website. All you have to do is subscribe to a plan and your first 30 days will be free. This pairs perfectly with ExpressVPN's money-back guarantee, giving you totally free access to both a VPN and the streaming service as long as you cancel before 30 days are up.
Keep in mind that you'll need to pay with bank cards or PayPal while subscribing to the Salto. However, you might have trouble paying with your credit card if you're outside of France.
Even though you can watch shows and movies for free for 30 days during Salto's trial, your payment method will be automatically charged if you don't cancel before the month is over. You can cancel your subscription any time by logging into Salto, going to "Mon Compte", and clicking "Résilier" under "Mon abonnement".
Watch Salto risk-free with ExpressVPN
Which devices can I watch Salto on?
While I mainly tested Salto on a Windows device, you can access Salto with the following devices as long as you connect with a supported browser:
Computers: Safari, Google Chrome, Microsoft Edge, and Mozilla Firefox
Smartphones and Tablets: Android and iOS device
Smart TVs and TV Peripherals: Android TV and Apple TV
How can I pay for Salto from outside France?
You can subscribe to Salto from anywhere, but you'll need a VPN with a server in France to watch content. I suggest PayPal as the best way to pay for your subscription from outside France, as credit cards may block a foreign transaction. I tried this myself while based in the US – I had no problem using PayPal during sign up, connecting to a ExpressVPN server in France, and watching shows and movies on Salto.
Start Watching Salto From Anywhere Today!
You can start catching up with the latest French TV and movies today with a premium VPN like ExpressVPN. With its network of servers in France and worldwide, you can easily get around any geoblocks and have lightning-fast connections from anywhere.
You have nothing to lose — you can try ExpressVPN yourself risk-free and check out Salto's library of shows to start watching the best French titles available!