How to Watch Peaky Blinders Season 5 (and 1-4) on the BBC iPlayer
Last Updated by Bethany Chester on June 19, 2022
Season 5 of Peaky Blinders is finally here and I've got the hack you need so you don't miss any of the Shelby family drama.
In addition to the new episodes, the first four seasons of Peaky Blinders are also available for free on iPlayer, the BBC's on-demand service. If you're a fan of the show, you'll be pleased to hear that it's simple to access the episodes — even if you aren't in the UK. All you need is a VPN (Virtual Private Network) service to mask your location. Here's how to get started.
Quick Guide: 3 steps to watch Peaky Blinders
Get a VPN. We recommend ExpressVPN because it consistently works with the iPlayer and has a 30-day money-back guarantee.
Connect to a UK server.
Login or create a free account for the iPlayer and enjoy
How to watch Peaky Blinders from anywhere on BBC iPlayer
BBC iPlayer is only available in the UK due to copyright restrictions. As a result, you'll need to use a VPN if you want to watch Peaky Blinders outside of Britain. A VPN works by sending your traffic through a British server, making iPlayer think you're in the UK. There are just three steps involved:
Step 1. Get a VPN
To begin with, you'll need to get a subscription to a VPN service that has servers in the UK. There are lots available, but we recommend ExpressVPN. It's one of the fastest VPNs out there, making it ideal for buffer-free streaming. When we tested it, we also found it was great at unblocking BBC iPlayer.
Once you've bought a VPN subscription, all you need to do is download the right app for your device and log in.
Step 2. Connect to a server in the UK
In the app, select the UK from the list of available countries. Most VPN services will automatically connect you to the fastest server in the country you've selected.
Once you're connected, head over to the BBC iPlayer website. If you find you can't access it, try connecting to a different UK server.
Step 3. Create a BBC iPlayer account
You'll need to sign up for a BBC iPlayer account to watch any of the content on the website. Bear in mind that you'll to enter any UK postcode for this, as well as a genuine email address.
Now that you have an account, you can start streaming Peaky Blinders!
3 Best VPNs for Watching Peaky Blinders
ExpressVPN is our number one recommended VPN for watching Peaky Blinders, but there are some other options you may also want to consider. Here are our top three recommendations.
1. ExpressVPN — For super-fast streaming

Ultra-fast servers
UK servers in 5 different cities
Apps for almost any device
30-day money-back guarantee
Unlike most VPNs, we found that ExpressVPN didn't significantly reduce our Internet speed when we tested it — even over long distances. If you're a long way from the UK, ExpressVPN should still allow you to watch BBC iPlayer without buffering. With a huge variety of apps available (the company even has options for routers and Linux computers), you'll be able to stream new episodes of Peaky Blinders on almost any device.
ExpressVPN also offers a 30-day money-back guarantee, so you can try it for a month and get your money back if you aren't satisfied. This applies no matter which subscription you buy.
2. NordVPN — For affordable reliability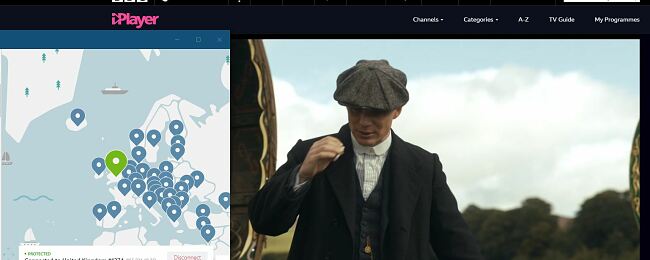 Over 800 UK servers
Automatically detects the best server to use
Excellent at geo-unblocking content
30-day money-back guarantee
NordVPN has more servers than almost any other VPN service, with 817 in the UK alone. This makes it very difficult for iPlayer to detect and block all NordVPN's servers, so it's easy to find one that works. We tested NordVPN and found that unlike many services (HMA and IPVanish, for example), BBC iPlayer couldn't tell we were using a VPN. This meant we were able to view all content on the site with no error messages or connection issues.
NordVPN also enabled us to access other geo-blocked sites like Netflix, Hulu, and regional news sites. The service is extremely affordable, especially when you get the 3-year deal.
Like ExpressVPN, the company also offers a 30-day money-back guarantee.
3. CyberGhost — Optimized for streaming

Tested and proven to work with the BBC iPlayer
Dedicated in-app streaming section
Data compression feature to improve the speed
45-day money-back guarantee
CyberGhost is optimized for streaming. There's a dedicated streaming section within the app, allowing you to connect to specialized servers which can bypass geoblocks on streaming sites. Some are even designed specifically for unblocking BBC iPlayer. On top of that, it has an "Extra Speed" feature, allowing you to use the fastest available servers. Since streaming generally requires a lot of bandwidth, this is ideal.
CyberGhost is also one of the most secure VPNs that we've reviewed. Not only does it use the strongest available encryption, but the company owns and manages many of its own servers, making it even harder for anyone to track your activity.
Better still, CyberGhost has a very generous money-back policy. You can change your mind up to 45 days after buying a subscription.
Using one of these services to watch Peaky Blinders will mean you'll never need to miss another episode. A VPN gives you the freedom to stream the series whenever and wherever you like. Enjoy!