How to Watch Naruto on Netflix From Anywhere in 2022
Last Updated by Julia Olech on July 01, 2022
As a big anime fan, I was excited when Netflix added all 9 seasons of Naruto to its library. But I thought about canceling my subscription when I couldn't even find one episode of the show while in the UK! It's unfair that despite paying a monthly fee, I can't follow Naruto's path to becoming a ninja warrior because of copyright restrictions in the country I'm visiting.
The good news is that you can make Netflix think that you're in a different country by connecting to a VPN. However, the streaming platform has strong anti-VPN technology so most services can't unblock it. That's why I tested 31 popular VPNs so I could find the top 4 services that will definitely help you watch Naruto, even if you live in China!
My recommendation in July 2022 is ExpressVPN, as it consistently lets me watch every episode of Naruto lag-free in UltraHD with multiple Netflix libraries. ExpressVPN offers a 30-day money-back guarantee so you can try it out for yourself completely risk-free. If you're not satisfied, you can always get a full refund.
Quick Guide: 3 Steps to Watch Naruto From Anywhere
Download a VPN. I highly recommend ExpressVPN for its consistently fast speeds available on all of its servers, which is perfect for watching Naruto with no buffering. You can try it for yourself risk-free as it's backed by a reliable money-back guarantee.
Connect to a server in your home country. The US, Canada, and Japan options have some of the biggest Netflix libraries and will let you watch all 9 seasons of Naruto.
Start watching Naruto on Netflix! Just select the show from the anime list or search for it in the platform's library and enjoy.
Watch Naruto with ExpressVPN today
Why You Need a VPN to Watch Naruto
The Netflix shows you have access to depends on the country where you're connecting from. The platform can determine your location and block you by checking your device's IP address through your Internet Service Provider (ISP). If you're on vacation or trying to watch from your office, your IP address might be blocked so you won't be able to watch (despite being a subscriber). To go around the location restrictions and watch the Naruto episodes you pay good money for, you need to get a new IP address in a different country with access to the series.
A VPN hides your real location by providing your device with an IP address from its servers' database. Depending on which server you connect to, you'll be able to reroute your traffic through that location — and essentially trick Netflix into letting you back into your paid account and watch Naruto.
Unfortunately, Netflix is one of the most difficult streaming platforms to access as it actively flags and blocks IP addresses that belong to VPN services. That's why only the best can keep up with its restrictions and unblock Naruto even if you're watching from an international or blocked corporate IP.
ExpressVPN is one of the few VPNs that works hard to avoid Netflix's anti-VPN technology. The service regularly adds new IP addresses, which ensures you'll never be restricted from finishing all 9 seasons of Naruto just because you're traveling. Better yet, you can test ExpressVPN's reliability with its money-back guarantee to watch Naruto and Sakura's adventures in the Academy. If you decide it's not for you, you can easily get a full refund.
3 Best VPNs to Watch Naruto in July 2022
Key Features:
3000 servers, including thousands of locations in the US, Canada, and Japan
Lightning-fast speeds for watching anime without buffering and minimal loading time
Supports up to 5 simultaneous connections
24/7 customer service available through live chat and email
30-day money-back guarantee
ExpressVPN is great for watching anime in the highest resolution and interruption-free with streaming speeds as fast as Naruto. Its standard OpenVPN protocol gave me reliable speeds that remained above 40Mbps. When I switched on the Lightway protocol in "Settings", my speeds were even faster at over 50Mbps. This meant that I never had to wait for Naruto episodes to load or buffer, so even in HD I could watch a whole season without any pauses.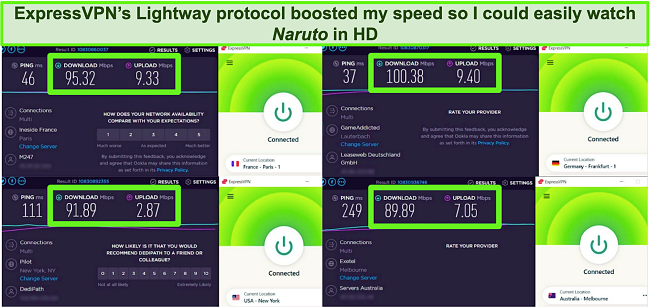 Keep in mind that your speeds may differ if you use other protocols. I didn't think this was a big deal though and I probably wouldn't have noticed any difference if I hadn't been running speed tests. No matter what protocol I used I was always able to watch Naruto in UltraHD with zero lag. This was true even when I torrented large files and browsed the web while streaming!
To make it even easier, ExpressVPN lets you create shortcuts within its app which allowed me to unblock Naruto on Netflix straight after setting up my connection. It saved me an additional couple of minutes I would've spent on opening my browser and logging into the platform.
Similar to other VPNs, ExpressVPN could easily find the best connection for me by looking for the fastest server available in a country of my choice. If I found a particularly quick server while watching Netflix, I could add it to my favorites by clicking on the star next to it. This meant I could connect to it again in just a few seconds next time I wanted to continue binge-watching Naruto.
Don't take my word for it when you can try it for yourself worry-free. ExpressVPN is the only service on my list that offers no-questions-asked refunds — so if you have any issues using it, you won't have to explain why you'd like to close your account. My request was processed in less than a minute after contacting a live chat agent and my refund was sent back into my bank account only 4 days later.
ExpressVPN also unblocks: Disney+, Hulu, Amazon Prime Video, BBC iPlayer, HBO MAX, YouTube TV, Sling TV, Philo, fuboTV, and more.
ExpressVPN works on: Windows, Android, macOS, iOS, Linux, Chrome, Firefox, Android TV, and more.
Watch Naruto with ExpressVPN now
July 2022 Update! ExpressVPN has dropped prices for a limited time to a crazy $6.67 per month for the 1-year plan (you can save up to 49%) + 3 months free! This is a limited offer so be sure to grab it now before it's gone. See more information on this offer here.
Key Features:
7900+ servers globally with 1,300+ connections in the US, Canada, and Japan
Hundreds of streaming-optimized servers to watch Naruto in HD
Supports up to 7 device connections at the same time
24/7 customer service available through live chat and email
45-day money-back guarantee
CyberGhost stands out for its range of servers optimized specifically for streaming Netflix shows and movies in high quality. These servers enabled me to see the well-executed fight scenes in Naruto episodes without buffering during crucial moments. I was connected in less than 10 seconds and had stable streaming speeds at 27Mbps on average. This was fast enough for me to watch anime in HD without lags from the beginning to the end credits.
Despite so many servers available, I could easily find the optimized locations by selecting the "For streaming" tab and typing in "Netflix" in the search bar. The app immediately displayed all of its Netflix servers in the US and Japan that I could connect to. Working with my colleague in Tokyo, we were both able to connect in just a few seconds by double-clicking the Netflix option in our respective countries.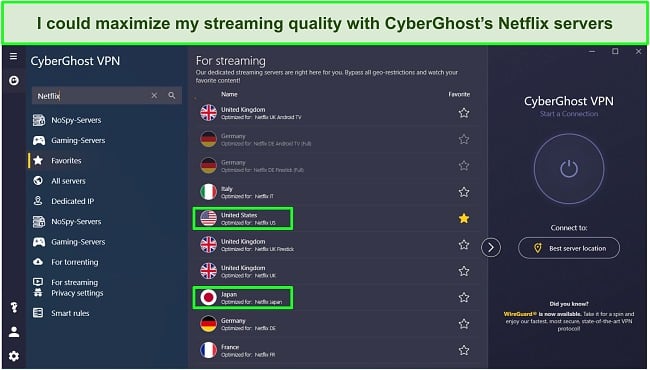 As the number of CyberGhost's Netflix servers is limited, some locations became full very quickly and I couldn't connect to them. If this happens, you'll need to choose a different country with Naruto in its Netflix library. Should you find that there aren't many optimized servers left, don't worry — connecting to regular servers will still help you watch all 9 seasons without interruptions. As these locations are a bit slower, I only had to deal with a longer loading time at the beginning of my stream, but it was only 15 seconds more.
The only real con to CyberGhost is that it doesn't have the technology needed to bypass internet censorship in China. Out of the 3 VPNS on this list, only ExpressVPN can safely unblock Naruto from the Chinese mainland. Just keep in mind that it may be not be legal to use a VPN to watch Netflix shows in China, and I don't condone breaking any laws. It might also violate Netflix's terms of service.
I'm always intimidated by having to sign up for a long-term subscription without trialing a service first, but you can try CyberGhost with no commitment whatsoever for 45 days. During that time you'll be able to test its optimized servers yourself, and decide if they're really worth the subscription cost. It's fully risk-free as long as you request a refund before the end of the trial. When I asked for my money back, there were no questions asked and I got my refund within 4 days.
CyberGhost also unblocks: Disney+, Hulu, Amazon Prime Video, BBC iPlayer, HBO Max, YouTube TV, Sling TV, and more.
CyberGhost works on: Windows, Android, macOS, iOS, Linux, Chrome, Firefox, Android TV, and more.
Watch Naruto with CyberGhost now!
July 2022 Update! You can subscribe to CyberGhost for as low as $2.29 per month + get extra 3 months free with the 3-year plan (save up to 83%)! This is a limited offer so grab it now before it's gone. See more information on this offer here.
Key Features:
35000 servers across the world with 15,000+ available in the US, Canada, and Japan
Reliable and stable speeds even with many devices connected at the same time
Supports an impressive 10 simultaneous connected devices
24/7 customer service available through live chat and email
30-day money-back guarantee
Thanks to its massive network in countries with Netflix, PIA never slows down unexpectedly due to server overcrowding so you get reliably lag-free Naruto streams. Smaller VPNs sometimes start out fast, but then give you lag in the middle of a show as more users connect to the same server. PIA has so many options throughout the US, Canada, and Japan that they never fill up. That means no buffering delays, which really ruins the excitement during a big fight scene with Neji Hyuga.
I was relieved that connecting multiple devices simultaneously to PIA's servers didn't slow down my stream or cause pixelated video while watching Naruto. I tested PIA's speeds by connecting to servers in the US (where I live) with my laptop, PC, 2 phones, and an iPad. Though the service was generally slower than with my other recommended VPNs, I could watch different episodes of Naruto in high quality across any device. On this many devices got 10-20 seconds of buffering at the beginning of the stream, but then could watch entire seasons lag-free.
To keep your Naruto streams smooth, PIA also has an integrated malware and ad blocker. It blocks harmful links and trackers, which run in the background and slow down Netflix and other streaming sites. PIA's ad blocker not only kept me safe from harmful links, but optimized my connection speeds by freeing up system resources.
Even with hardly any tech knowledge, you'll find that PIA is one of the easiest VPNs to use on Windows, macOS, and other operating systems. I could connect in less than 5 seconds by tapping the big button on the homescreen. This connected me to a fast nearby server recommended by PIA. I could also search for a specific location myself from the list, which only took about 10 seconds longer. Then I could jump straight into the next episode of Naruto.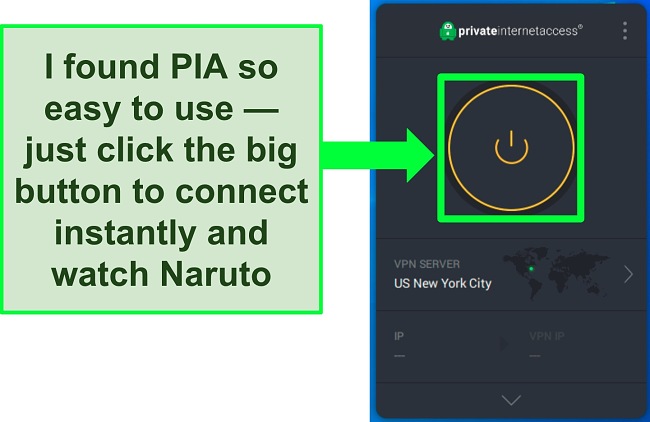 Though it offers some of the cheapest subscriptions, I still recommend you try PIA's money-back guarantee to watch Naruto risk-free for 30 days. If the service doesn't meet your expectations, contact customer service and ask for a refund before your trial ends. A rep procesed my request after a couple of minutes and I got my money back the same week.
PIA also unblocks: Disney+, Hulu, Amazon Prime Video, BBC iPlayer, HBO MAX, YouTube TV, Sling TV, and more.
PIA works on: Windows, Android, macOS, iOS, Linux, Chrome, Firefox, Android TV, and more.
This Is Why You Shouldn't Use Free VPNs To Watch Naruto
Free VPNs are as trustworthy as Sasuke — so it's not safe to use them to unblock Naruto on Netflix. Though sometimes you may come across a few decent free VPNs, most of them aren't worth the hassle and some can be downright dangerous. The good news is that there are other free and safe ways to unblock Naruto.
As free services offer limited features, such as a small server network and weaker encryption, you'll struggle to find a free VPN that can actually unblock your paid Netflix account. I had to test over 30 different providers before I finally found one that dodged the proxy error and loaded the first episode of Naruto. Even then, my stream was extremely pixelated and it stopped working 10 minutes after I ran out of my monthly data allowance.
My main issue with using free VPNs is their lack of strict privacy policies so your data could be shared with some shady third parties. This is usually not even explained in the small print of product details and you'll only find out your information was compromised when it's already too late! Such practice puts you at risk for scams, hacking, and even identity fraud.
Even though Naruto regularly ends up in risky situations, you shouldn't bargain with your safety to keep up with his adventures. That's why I recommend downloading a "freemium" provider from my list which prioritizes your safety and streaming needs. As a new user, you'll have a chance to use CyberGhost's no-questions asked money-back guarantee to watch Naruto for 45 days, then get your money back. I did so myself and managed to watch all 9 seasons of one of the longest-running anime shows before I canceled my subscription and got my subscription refunded.
FAQs on Watching Naruto on Netflix With a VPN
Do I need to pay to watch Naruto on Netflix?
Yes, you need to create an account with a paid monthly subscription to access Naruto on Netflix.
You may find some unofficial websites that advertise Naruto in their content libraries. As tempting as it may be to watch the anime on such sites, you'll likely have a poor steaming experience and put yourself in danger. You'll have to deal with bad video quality with Naruto looking more like a blurb of colors than anything else. Additionally, your stream will be bombarded with pop-up ads throughout the episode. Besides being annoying, many of these ads contain malware that can install itself on your device and steal your private data. If that wasn't bad enough, watching these unofficial streams of Naruto violates copyright law — and you should never do anything illegal, with or without a VPN.
There's no reason to risk your online safety to watch Naruto with terrible pixelated resolution. Though you'll have to pay for a Netflix subscription, you can unblock the anime risk-free since you don't have to commit to anything to try ExpressVPN's streaming-optimized servers to watch Naruto. If you decide you don't like it, you can easily request a refund before 30 days have elapsed!
Can I watch Naruto on any other platform apart from Netflix?
Yes, you can watch the first season of Naruto on Amazon Prime Video if you have an IP address in the US. Luckily, you can use any of the recommended VPNs on this list to unblock Naruto by connecting to a US server before you log into Amazon.
Since you can only watch one season on Amazon Prime Video, I advise paying for a Netflix account if you want to find out if Naruto can fulfill his dream to lead his village. That way, you won't have to wait to see if Amazon will add more seasons and you can satisfy your anime addiction anytime.
What else can I do with a VPN?
Since a VPN masks your real location, you can use it to access websites normally restricted in your country. When I was testing available services, I made sure the VPNs on this list can also unblock other anime shows on Hulu, Amazon Prime Video, Crunchyroll, Anime-Planet, and more.
Additionally, a VPN can be used to protect your real identity online as each connection gives you full anonymity. This will protect your personal details you input online, such as credit card numbers and home address. No one will be able to spy on which sites you visit, even if you use the Dark Web or torrent files.
Since many Internet Service Providers purposely slow down your traffic when you visit torrenting sites, a VPN can help you avoid delays by hiding your activity. Some ISPs even shut off your service if they see any P2P file sharing, but you'll go unnoticed if you use a VPN. Just keep in mind that you shouldn't ever download files illegally, as I don't condone breaking the law (and you could get into big trouble).
Find Out if Naruto Can Hone His Powers From Anywhere Today!
Since 2002, Naruto has been stealing the hearts of anime fans across the world. With all 9 seasons available in select Netflix libraries, you won't have to turn to illegal websites to watch Naruto chase after his dream of becoming the Hokage. A reliable VPN can help you unblock all 200+ episodes of Naruto on Netflix, so you can watch the account you're paying for even when you travel or encounter IP address errors. However, not any VPN will do as only the best providers can give you guaranteed access to the series as well as high-quality video resolution and perfect streaming speeds.
ExpressVPN is my top choice for watching Naruto due to its massive selection of high-speed servers and advanced unblocking technology that works with Netflix every time. If you're still skeptical about its abilities, try ExpressVPN for yourself to watch Naruto risk-free. If you decide it's not for you, simply request a refund within 30 days and you'll have your money back in a week.
Try ExpressVPN to Watch Naruto risk-free
---
Summary — Watch Naruto Now With These VPNs (Updated 2022)
Top Choice