How to Watch Investigation Discovery From Anywhere in 2023
Last Updated by Savannah Lucas on February 01, 2023
Even before podcasts like Serial blew up the genre, I have always been a sucker for True Crime which is why I was excited when I first came across Investigation Discovery (also known as ID). Usually, I keep up to date with ID shows like 48 Hours and Murder Tapes, but recently while traveling for work I was disappointed when an error message popped up.
Access is available only when you are located in the U.S. and U.S territories
I was frustrated to find out that even with a cable subscription, I wasn't able to watch Investigation Discovery while aboard. Luckily, my love of true crime and my expertise in cybersecurity quickly got me testing VPNs and streaming Investigation Discovery without cable in no time! A VPN masks your location so it looks like you're connecting from somewhere else.
I tested 15 of the top VPNs and found 3 VPNs that consistently worked for streaming ID. Out of the 3, I would definitely recommend that you test ExpressVPN because of its lightning-fast speeds for streaming. You can try ExpressVPN risk-free, as it's backed by a 30-day money-back guarantee.
Watch Investigation Discovery with ExpressVPN
Quick Guide: Watch Investigation Discovery in 3 Easy Steps
Get a VPN. ExpressVPN proved to have the fastest connections for a no-lag viewing experience of ID.
Connect to a server in the US. You can stream Investigation Discovery on Discovery+ by connecting to a US server in ExpressVPN's large network of US servers.
Start watching Investigation Discovery! Visit the Discovery website, create an account, and immediately start streaming your favorite true-crime dramas or tune into ID Live.
How a VPN Helps You Watch Investigation Discovery From Anywhere
Investigation Discovery is accessed through a streaming platform only available in a few countries due to copyright laws. If you are traveling to restricted areas where ID is not available, you will need to use a Virtual Private Network (or VPN) to access your account. Just remember that while using a VPN doesn't violate most streaming platforms' terms of service, unblocking content from other countries is usually against their rules.
A VPN hides your IP address by connecting you to a server in a different country so that you can access content restricted to that particular location. If you want to watch ID from abroad, you can connect to a US server and get full access to Investigation Discovery.
You do however need to make sure you find a strong VPN because most streaming services use sophisticated technology to detect and block VPN connections. While testing VPNs on multiple streaming platforms, I found that ExpressVPN never failed at helping me access my local subscriptions. You can purchase ExpressVPN with confidence as its backed by a 30-day money-back guarantee.
Try ExpressVPN to watch Investigation Discovery
The Best VPNs to Watch Investigation Discovery in February 2023
Key Features:
One of the fastest VPNs on the market
3000+ reliable servers in 94 countries
Watch Investigation Discovery on up to 5 devices
24/7 customer support available through live chat and email
30 day money-back guarantee
I was impressed with ExpressVPNs speedy connections and reliable servers. I accessed Investigation Discovery without fail on Hulu, philo, and Discovery+ while I tried out different servers located across the US. Using ExpressVPN, I watched People Magazine Investigates live and experienced no-lags and never had to wait for it to buffer.
While testing out ExpressVPN over a week, I never experienced speeds lower than 80mbps. I also liked that ExpressVPN has a built-in speed test that can automatically find the best server for you. This meant that I had a seamless stream no matter what time I watched and didn't have to spend time looking for the best connection myself — which is especially helpful because ExpressVPN has loads of US servers to choose from.
ExpressVPN has Military-grade encryption technology, which means it is also one of the few VPNs that work well in countries that restrict internet access. ExpressVPN even bypasses China's censorship, making it a good option if you want to stream Investigation Discovery while traveling to heavily censored countries.
It is easy to sign up for and set up ExpressVPN, but even easier to cancel. You can test ExpressVPN for yourself completely risk-free because it's backed by a 30-day money-back period. If it does not end up being a good fit for you, you can get a full refund. To test this policy, I used the 24/7 live chat to cancel my subscription after 15 days and was refunded within 3 days. The best thing is that they didn't even ask why I wanted to cancel!
ExpressVPN also unblocks: Sling TV, Hulu, Netflix, HBO GO, Amazon Prime Video, Showtime, BBC iPlayer, YouTube TV, and more
ExpressVPN works on: Windows, Mac, Android, iOS, Linux, Blackberry, Chromebook, Xbox, PlayStation4, Firefox, Chrome, and more
February 2023 Update! ExpressVPN has dropped prices for a limited time to a crazy $6.67 per month for the 1-year plan (you can save up to 49%) + 3 months free! This is a limited offer so be sure to grab it now before it's gone. See more information on this offer here.
Key Features:
9736+ servers in over 91 countries
Servers optimized for streaming in HD
Connect up to 7 devices at a time
24/7 live support via live chat or email
45-day money-back guarantee
I love that CyberGhost has customized servers that let you connect to different servers depending on what you are doing online. I used the server optimized for streaming Hulu to watch Investigation Discovery's Homicide City and 48 Hours on Hulu Live TV. I experienced high speeds for both shows and experienced zero buffering while watching in perfect HD.
I was happy to find out that I didn't experience a noticeable change in speed or quality when trying out servers not optimized for streaming Hulu. This means that if the optimized servers do become overcrowded, you can access your shows from another server without compromising your streaming experience.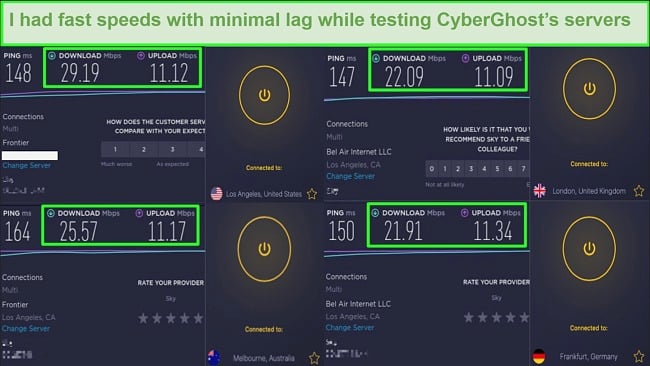 CyberGhost's strong encryption technology also means that it should get past even the strongest streaming blocks when you're traveling. But if you were skeptical, CyberGhost offers a 45 day money-back guarantee. You can test CyberGhost out on the streaming services you subscribe to at no risk. I requested a refund after trying CyberGhost out for 8 days and was refunded within 5 days.
CyberGhost also unblocks: Hulu, Netflix, HBO Max, Vudu, DAZN, ESPN Sports, YLE Arena, Abema TV, YouTubeTV, Disney+, and more
CyberGhost works on: Windows, Mac, Android, iOS, Linux, Blackberry, Chromebook, Xbox, PlayStation4, Firefox, Safari, Opera, Nintendo, and more
Stream Investigation Discovery with CyberGhost
February 2023 Update! You can subscribe to CyberGhost for as low as $2.19 per month + get extra 2 months free with the 2-year plan (save up to 83%)! This is a limited offer so grab it now before it's gone. See more information on this offer here.
Key Features:
Over 35000 servers in 84 countries
Fast speeds to stream Investigation Discovery in HD
Watch on up to 10 devices at once
Live chat and email support 24/7
30-day money-back guarantee
Private Internet Access has one of the largest networks of servers. This allowed me to find an uncrowded server at any time and watch ID shows uninterrupted. I never lost quality or speed halfway through because of too many people joining the server. Although not the fastest VPN out there, I never had problems with buffering and my video was always crystal clear so I never missed a gory detail.
I like that PIA connects automatically to saved servers. After connecting to servers in Washington DC, California, and Chicago, I found that the one in Chicago worked best for streaming ID Live and so I saved it for later. As soon as I wanted to get back to ID, PIA automatically connected me to the saved server and I was watching Murder Tapes again in no more than 10 seconds.
PIA is one of the more affordable reliable VPNs out there, but you can also try PIA risk-free by signing up and canceling before 30 days. The refund plan is the same for all their plans. I had chosen a monthly plan and was able to get my refund after 15 days of trying PIA out.
PIA also unblocks: Netflix, Hulu, BBC iPlayer, Amazon Prime Video, Sky Go, and more
PIA works on: Windows, macOS, iOS, Linux, Android, Chrome, Firefox, Opera, and more
Where to Stream Investigation Discovery From Anywhere
Investigation Discovery is available on Discovery Go using your tv subscription, but there are also loads of streaming platforms that allow you to watch Investigation Discovery without cable.
| | |
| --- | --- |
| Fubo, philo, AT & TV Now, Youtube TV, and Vidgo | Signing up for one of these services gives you full access to Investigation Discovery Live and you do not need a cable subscription to sign up. |
| Sling | Sling gives you access to Investigation Discovery live and to a list of on-demand ID shows. |
| Hulu | You can either sign up for Hulu's streaming service which has a large library of on-demand Investigation Discovery shows or you can sign up for Hulu Live TV which will give you access to ID Live. |
| Discovery+ | You can sign up for Discovery+ and stream ID Live and watch shows on-demand either from your browser or through the app. |
The above options don't require a cable subscription but you will need a reliable VPN if you are traveling abroad to a country that blocks these streaming services. During my tests, ExpressVPN worked best at unblocking streaming services that offer ID. If you want to make sure it works with your streaming service of choice you can test ExpressVPN completely risk-free with its 30-day money-back guarantee. If it's not for you, you can easily get a full refund with no questions asked.
FAQs on Watching Investigation Discovery With a VPN
What devices can I watch Investigation Discovery on?
You can stream Investigation Discovery on Amazon Fire TV, Apple TV, Samsung, Roku, Chromecast, iOS, Android, and Xbox support Investigation Discovery. Just download the Disocvery+ app and create an account or sign in to a streaming platform that offers Investigation Discovery.
Just remember that if you are trying to stream to a device while traveling abroad, you will need a reliable VPN. I would recommend ExpressVPN as it's backed by a 30-day money-back guarantee. You can stream to your smart TVs and phones in Ultra HD, and if you decide ExpressVPN isn't right for you, you can request a refund.
Can I use the Investigation Discovery Go App abroad?
The short answer is no. Discovery Go allows you to watch Discovery channels like Investigation Discovery online or through an app but you need a cable subscription to log into this service.
All hope is not lost though, Discovery has a second streaming platform called Discovery+ where you can Watch ID live or stream Investigation Discovery shows on-demand. If you are abroad, all you need to do is get a reliable VPN, download the Disocvery+ app, and sign up for an account.
I would recommend ExpressVPN if you want a fast and reliable connection to stream Investigation Discovery and the other channels Discvoery+ offers. You can even try ExpressVPN completely risk-free as it's backed by a 30-day money-back guarantee. If you're not a fan, you can easily get a full refund.
Can I watch Investigation Discovery for free?
Although not entirely free, many of the streaming platforms that offer Investigation Discovery also offer free trial periods. Youtube Live, Fubo, AT & T, philo, Hulu Live TV, and Discovery+ all have 7-day free trials. You can try Investigation Discovery and a whole bunch of other channels for free for at least a while.
Unfortunately, most free VPNs won't work with Investigation Discovery – but you can test ExpressVPN's features for yourself risk-free, as it's backed by a 30-day money-back guarantee. If you don't like its features, ExpressVPN support agents will promptly process your request for a refund.
What else can I do with a VPN?
As well as helping you to watch streaming services like Discovery+ and American Netflix, VPNs can help you to
Get past government censorship: Some VPNs like ExpressVPN can bypass government internet blocks in highly-censored countries like China. This lets you access all your favorite reality TV shows even while you travel in countries where content is restricted.
Protect sensitive data from hackers: Top VPNs (such as ExpressVPN, CyberGhost and IPVanish use advanced security and powerful encryption to prevent hackers from stealing your identity, bank logins, and other private data.
Share files anonymously: You can stay safe and anonymous while you download torrents or share files on P2P networks.
Maximize your internet speeds: Bypass speed throttling from your government or internet provider, helping you get the most out of your internet service. Whether you're browsing on Windows, Mac, Android or iOS, the best VPNs can put a stop to your ISP slowing down your internet connection at busy periods.
Start Streaming Investigation Discovery on ExpressVPN
Start Watching Investigation Discovery From Anywhere Today!
Investigation Discovery is packed with on-the-edge-of-your-seat shows and I would hate to miss a critical episode while traveling. You can't get Investigation Discovery everywhere, and a VPN can help you stay updated with your favorite true crimes while abroad. Even when at home, a VPN is a great option if your ISP is throttling your internet speeds and you need a faster connection or streaming sites can't recognize your wifi network.
While testing 15 VPNs, I found that ExpressVPN had the best speeds and most reliable servers for streaming Investigation Discovery. You can test out ExpressVPN for yourself completely risk-free for 30 days through its money-back guarantee.
Watch Investigation Discovery with ExpressVPN
---
Summary — These Are the Best VPNs to Watch Investigation Discovery in 2023
Top Choice