How to Watch HBO GO Poland From Anywhere in 2022
Last Updated by Chase Williams on May 01, 2022
While traveling outside of Poland, I was annoyed I couldn't watch HBO GO — after all, I was paying for a subscription. The upside is that you can use a VPN to hide your location and access your favorite shows like The Border (Wataha) from anywhere. But unfortunately, many top VPN services can't bypass HBO GO's harsh anti-VPN technology.
I tested 30 VPNs to find a service that will work with HBO GO Poland and HBO Max (since the services are merging). Even though I found only 1 VPN that can load HBO GO shows, I included 3 services that also work with HBO Max Poland. ExpressVPN is the most reliable service that provides a fantastic streaming experience to comfortably watch HBO content from anywhere. Better yet, you can try ExpressVPN out yourself risk-free as it has a 30-day money-back guarantee!
Try ExpressVPN risk-free today
Quick Guide: 3 Easy Steps to Watch HBO GO Poland and HBO Max From Anywhere
Important! In a few months, HBO GO Poland will merge with HBO Max. It's a completely different service that you'll be able to unblock only with one of the top VPN providers.
Download a VPN. While only PrivateVPN works with HBOGO.pl, ExpressVPN is the best future-proof option as it can reliably unblock HBO Max in every country. You can try ExpressVPN yourself in confidence with its 30-day money-back guarantee!
Connect to a server in Poland. All VPNs on the list will automatically find the fastest connection for you, so you won't have to manually search for one yourself.
Start watching shows on HBO GO or HBO Max! Just log in to your account and enjoy the most exciting content available.
Unblock HBO Max Poland with ExpressVPN
Why You Need a VPN to Access HBO GO Poland and HBO Max
HBO GO Poland licenses content from copyright owners that only allow you to watch available shows within the country. That's why you'll immediately see an error message when you try to open the platform from outside of Poland:
Location error
You attempted to start a subscription to the HBO GO service of Poland, but you seem to be located outside of its territory based on your IP address.
Please visit the HBO GO website of your location or try subscribing to Poland's service when within its boundaries.
Your Internet Protocol (IP) address allows geoblocked sites, like HBO GO, to check which country you're connecting from. As it's automatically assigned to your device by your Internet Service Provider (ISP), you need to connect to a VPN to overwrite your IP address and change your virtual location.
When you set up a connection, your IP address is temporarily replaced with one that belongs to a VPN server. This effectively places your device in a country of your choice — like Poland! HBO's technology won't detect you're outside of its service area, giving you access to all of its content.
Similarly, HBO Max is also subject to licensing agreements, so you'll encounter yet another error message when you try to unblock it from outside of Poland. I found that more VPNs can bypass the platform's restrictions, giving you a wider choice of available providers. My tests showed that ExpressVPN is the top provider with the most high-quality servers in Poland that guarantee consistent unblocking of HBO Max content. Better yet, I could unblock HBO's original Polish TV shows and American blockbusters with ExpressVPN in confidence knowing it has a 30-day money-back guarantee!
Try ExpressVPN risk-free today
3 Best VPNs for Unblocking HBO Go Poland and HBO Max in 2022
Key Features:
3000 servers worldwide with 1 server location in Poland
Top speeds for streaming HBO Max anywhere without lag
Connect up to 5 devices at once
24/7 email and live chat support
30-day money-back guarantee
ExpressVPN is a fantastic pick for watching HBO Max as it can unblock the platform instantly due to its unbelievably fast speeds. All I had to do was connect to a server in Poland and ExpressVPN unblocked the streaming platform in seconds, even though I was thousands of kilometers away! This is extremely rare, since many VPNs offer slower speeds the further away from the server you are, but ExpressVPN kept my streams super clear with absolutely no buffering at all.
The fast download speeds are also great for multitasking as ExpressVPN places no restrictions on how much bandwidth you can use. As I regularly torrent large files, I was pleasantly surprised I could use my VPN connection with my torrent client while watching I Know This Much Is True at the same time. I successfully downloaded 3 files (all above 4GB) without any drops in video quality throughout a whole episode.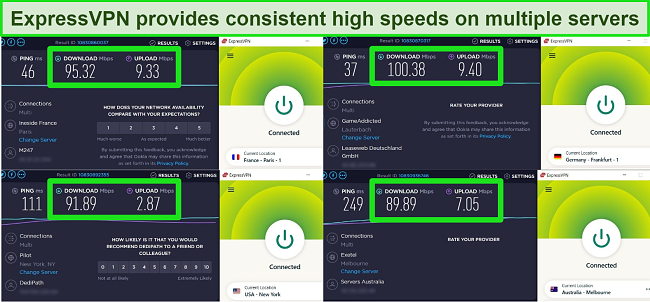 In addition to its rapid speeds and unblocking abilities, ExpressVPN is the only VPN on the list that can bypass online restrictions in China. This makes it a must-have service if you're trying to watch any Polish shows on HBO Max from there or other countries with heavy internet censorship.
I found it convenient that I could open HBO Max directly from the VPN app, as ExpressVPN allows you to create in-app shortcuts. I didn't have to fumble with different buttons and search for HBO Max in my browser or phone. Instead, I could set up my connection and go straight to catching up with The Undoing — it took less than 1 minute!
To see if it meets your streaming needs, you can try using ExpressVPN risk-free with its money-back guarantee. If you decide you don't want to subscribe long-term, you have up to 30 days to cancel and get your money returned. The VPN practices "no questions asked" refunds, so the rep processed my request in just a couple of minutes. I got my money back only 5 days later.
ExpressVPN also unblocks: Netflix, Disney+, Hulu, Amazon Prime Video, Kodi, Showtime, BBC iPlayer, and more.
ExpressVPN works on: Windows, macOS, Android, iOS, Windows Phone, Chromebook, Linux, Android TV, Amazon Fire TV, routers, and more.
May 2022 Update! ExpressVPN has dropped prices for a limited time to a crazy $6.67 per month for the 1-year plan (you can save up to 49%) + 3 months free! This is a limited offer so be sure to grab it now before it's gone. See more information on this offer here.
Key Features:
7900 servers globally with 60+ locations in Poland
Super-fast optimized streaming servers for unblocking HBO Max in UltraHD
Connect up to 7 devices at once
24/7 live chat and email support available
45-day money-back guarantee
CyberGhost is a solid choice for HBO Max as it offers servers optimized specially for streaming the platform's content in high quality. As these servers are programmed to bypass the specific restrictions applied on HBO sites, I easily unblocked HBO Max without encountering the pop-up error.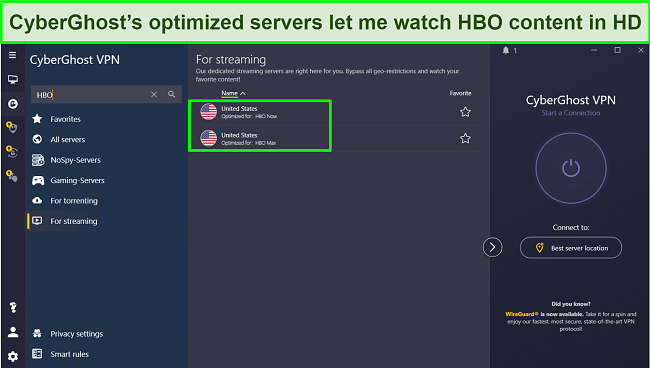 Even though there aren't many specialized servers to choose from, I never struggled with overcrowded connections (which could have slowed my speeds). Instead, my picture resolution remained sharp from start to end credits.
Unfortunately, CyberGhost doesn't offer any specialized connections in Poland, so you'll have to connect to one of its regular servers there. This slowed my speeds and caused slight buffering, but it meant I could still access all Max Original Polish shows outside of the country. I found the streaming disruptions very minor, but you could experience bigger slowdowns if your base internet speed is slower than mine.
If you're not sure about the service, I'd suggest you test CyberGhost without committing to a long-term contract by taking advantage of its generous money-back guarantee for 45 days. You'll have to choose one of its subscription plans and provide payment details, but you can request a full refund if you change your mind during the trial period. The whole process is super easy — just connect to an advisor using the 24/7 live chat and ask for a refund. I did it myself and received the full amount back within a week.
CyberGhost also unblocks: Netflix, Disney+, Hulu, Amazon Prime Video, Kodi, Showtime, and more.
CyberGhost works on: Windows, macOS, Android, iOS, Windows Phone, Chromebook, Linux, Android TV, routers, and more.
May 2022 Update! You can subscribe to CyberGhost for as low as $2.29 per month + get extra 3 months free with the 3-year plan (save up to 83%)! This is a limited offer so grab it now before it's gone. See more information on this offer here.
Key Features:
150+ servers globally with 1 server in Poland
High speeds for watching HBO Max and HBO GO Poland without buffering
Connect up to 6 devices at the same time
Live chat and email support available
30-day money-back guarantee
Since PrivateVPN only has 1 Polish server in Toruń, I was surprised by its instant loading times. I thought I'd be stuck with an overcrowded server and slower speeds from having fewer IP address options, but PrivateVPN always unblocked HBO GO Poland without a problem. I comfortably watched a few episodes of Blinded by the Lights (Ślepnąc od świateł) and The Border (Wataha) with both streams taking only 10 seconds to load. I also didn't experience any buffering once the episode started.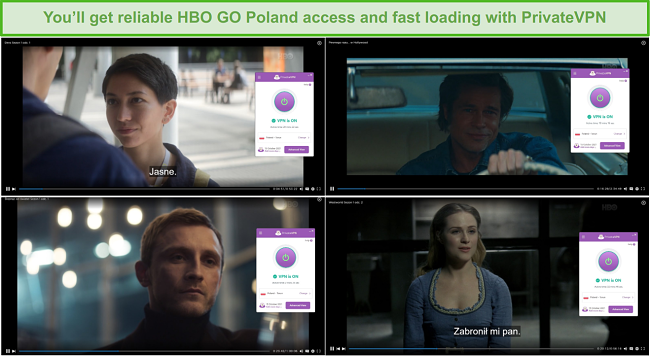 PrivateVPN's average server speeds for Poland weren't as fast as the 2 top VPNs on my list, but are far above the minimum speed needed for full HD streaming. I tested Once Upon a Time in Hollywood and jumped to various timestamps to check the video quality. While the stream started at a lower 460p definition, it increased to full HD within 5 seconds after the stream started.
If you want to check its instant streaming for yourself, you can try PrivateVPN without any risk by making the most of its money-back guarantee for 30 days. I tested PrivateVPN for 2 weeks before requesting a refund through email to customer support. My refund was approved in 3 days, and I had the money back in my account just 4 days later.
PrivateVPN also unblocks: Netflix, Disney+, Hulu, Amazon Prime Video, BBC iPlayer, and more.
PrivateVPN works with: Windows, macOS, Android, iOS, Linux, routers, and more.
Unblock HBO GO Poland with PrivateVPN
FAQs on HBO GO Poland, HBO Max, and VPNs
Can I get HBO GO Poland for free?
Yes, you can! When you sign up for HBO GO Poland, you'll get a 7-day free trial before you decide if you'd like to commit to its subscription. However, the platform will require you to be within the Polish borders to register, so you'll still have to connect to a VPN before creating your account.
Unfortunately, HBO Max doesn't offer a trial period in any of its supported countries. If you'd like to carry on watching any content available on HBO GO after it transitions into HBO Max, you'll need to pay a set subscription fee as soon as you create your account.
Can I access HBO GO Poland on multiple devices?
Yes, you can log in to your HBO GO account on 5 devices — but you'll only be able to watch it on 2 of them at any one time. Once the platform changes into HBO Max, you'll be allowed to access its content on up to 3 devices, so choose a VPN that allows for multiple simultaneous connections across all operating systems.
HBO GO and HBO Max are compatible across all major operating systems, including:
PCs: Windows, macOS, and Chromebook
Mobiles: iOS and Android
Tablets: Android, iPad, iPod Touch, and Amazon Fire Tablet
Smart TVs: Apple TV, Android TV, Samsung TV, and Amazon Fire TV
Gaming consoles: PlayStation 5, PlayStation 4, Xbox Series S/X, and Xbox One
What's the difference between HBO GO Poland and HBO Max?
The main difference between HBO GO Poland and HBO Max is its sheer content size. HBO GO is an on-demand streaming platform that stores many movies and shows on the HBO TV channel. This includes various original shows, both Polish and American, as well as popular blockbusters TV programs. HBO Max is a brand new WarnerMedia service that combines all material from HBO GO with hundreds of additional titles, including Warner Bros. productions and Cartoon Network.
Another difference between the two platforms is the streaming quality they provide. HBO Max is equipped with the latest technology, allowing for a much better video and sound quality on your devices. This made my streams so much more immersive and enjoyable.
Finally, HBO Max lets you create separate profiles within one account, including a 'Child' profile option with set parental controls applied. This isn't available on HBO GO — anyone who logs in to your account shares your viewing library and a list of favorites.
The improved service was rolled out first in the US, but it's slowly replacing existing HBO GO apps across the world, including Poland. Though there's no set date for it yet, HBO Poland already confirmed all of its new original releases will be produced under HBO Max. That's why if you don't want to lose access to future seasons of Wataha, you'll have to switch to the newer service.
However, even after the two platforms merge, you'll still need to bypass its extremely tough geoblocks. Since more VPNs can go around HBO Max restrictions than HBO GO, you'll have a slightly wider choice of available services. Still, ExpressVPN is my top recommendation as it worked consistently well with HBO Max during my tests. You can even try ExpressVPN yourself entirely risk-free as it's backed by a 30-day money-back guarantee.
Try ExpressVPN risk-free today
Start Watching Shows on HBO GO Poland Today
If you're not in Poland, it's frustrating not being able to catch up on Wataha and other shows on HBO GO and HBO Max — unless you have a VPN that can unblock these services. While most providers are blocked, all of the VPNs in the list above will give you fast speeds, minimal buffering, and unlimited bandwidth to watch any content you want. Additionally, they'll also help you unblock various other streaming platforms, like Netflix, Disney+, and Hulu, so you won't have to limit your viewing options to just one site.
ExpressVPN came out on top in all of my tests, making it the safest and future-proof choice for watching HBO content available in Poland in 2022. You don't have to just trust my judgment, though — you can try ExpressVPN yourself in confidence knowing that it's backed by a money-back guarantee for 30 days. It'll give you a chance to make a final decision before you commit to a long-term subscription without any risk.
---
Summary: These Are the Best VPNs for Watching HBO Max in Poland in 2022
Top Choice