How to Stream the Monaco Grand Prix for Free in 2019
Last Updated by Bonnie Aleman on May 21, 2019
This week the Monaco Grand Prix gets underway, with the practice rounds beginning on May 23, and the final race on Sunday, May 26, 2019.
A favorite among race car drivers, fans around the world will be tuning in to see who can beat last year's winner Daniel Ricciardo.
We have uncovered the best places to watch the race, no cable subscription required.
Geo-location blocks can prevent you from watching your favorite sports. We recommend connecting to your favorite streaming service, cable TV, or free station with a VPN to circumvent these location restrictions.
Live Stream the Monaco Grand Prix for FREE without a cable subscription through the following channels:
There are other streaming options, which include your cable or satellite subscription, connecting directly through the broadcasting channel via a stand-alone subscription, or lite streaming services such a Fobo TV, Sling TV, Hulu Plus Live, or YouTube TV.
Most lite subscription services offer free trials for new subscribers.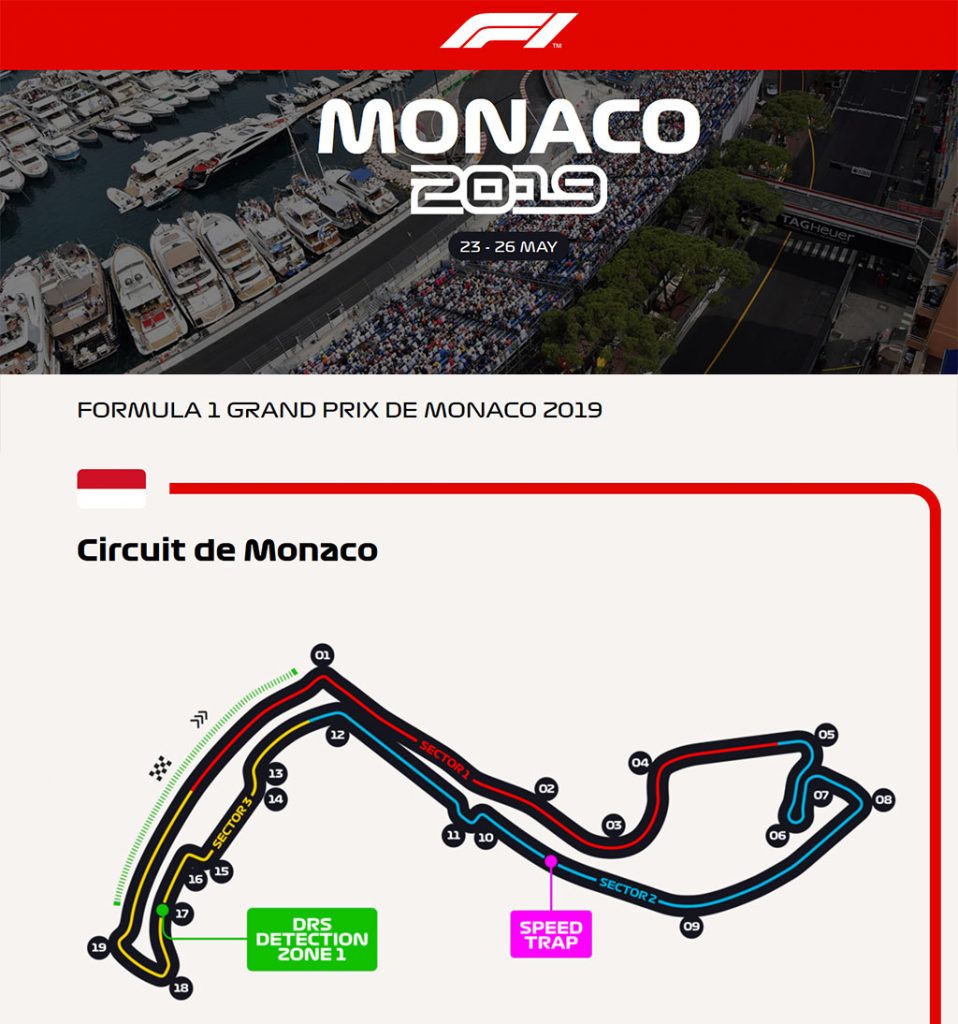 What Channels Will Broadcast the Monaco Grand Prix in 2019
Asia – Fox Sports Channels
Australia – Fox Sports Channels and Ten Play
Canada – TSN and RDS
UK – Channel 4 and Sky Sports
For a complete list of Broadcasting stations around the world visit F1.
How A VPN Allows You to Watch the Monaco Grand Prix From Anywhere in the World
Broadcasting stations only have the rights to show the Monaco Grand Prix race within a specific geographic location. To prevent others from accessing content the companies place geo-location blocks in the content.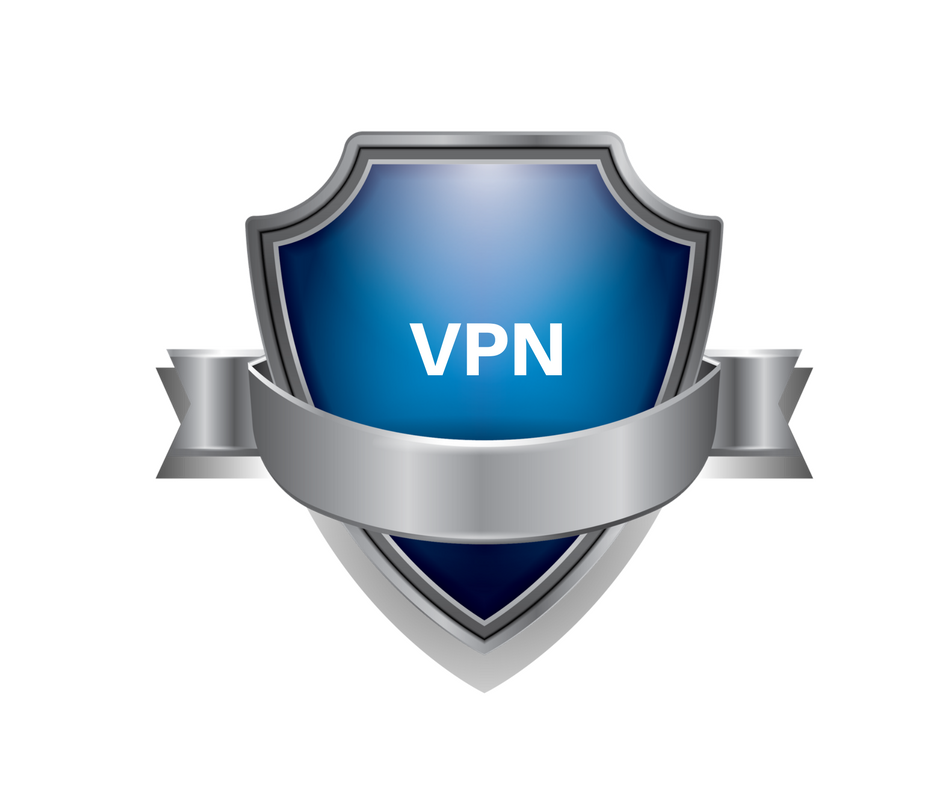 A
VPN allows you
to virtually
change your location
by connecting to a server with a local IP address.
For example, if you want to watch the Monaco Grand Prix through TenPlay in Australia, you can connect to a VPN in Sydney or Melbourne and receive access to the local content.
The 5 Best Ways to Watch the Monaco Grand Prix Without a Cable Subscription
1
TenPlay – Free Access – No Account Registration Required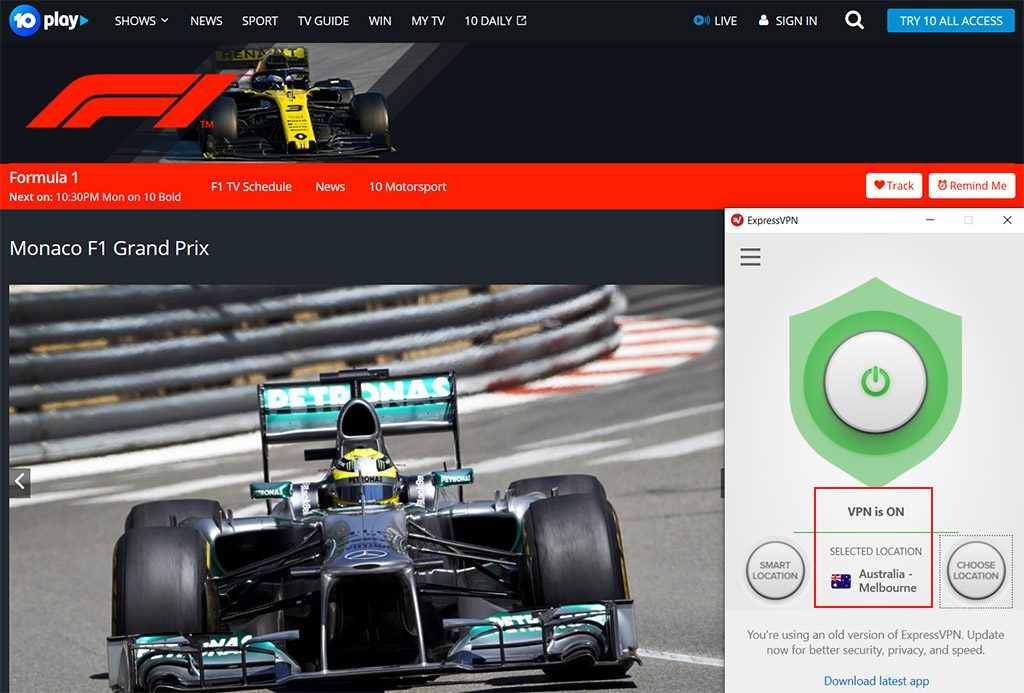 TenPlay
is one of the few options that have
no account registration requirements
. Geo-location restrictions prevent you from watching TenPlay outside of Australia.
However, you can log-in to a VPN server located in Australia and watch all the live action for free.
How to Get Connected:
Choose a VPN provider with fast connection speeds and servers in Australia. We recommend ExpressVPN because it offers a large selection of servers and has the fastest connection speeds. The service provides a strong security protocol to keep your identity safe and offers new subscribers a 30-day money-back guarantee.
Connect to TenPlay through a server in Australia.
Watch the race without buffering
Watch the Monaco Grand Prix with ExpressVPN
2

Channel 4 in the UK – Free Account Sign-up Required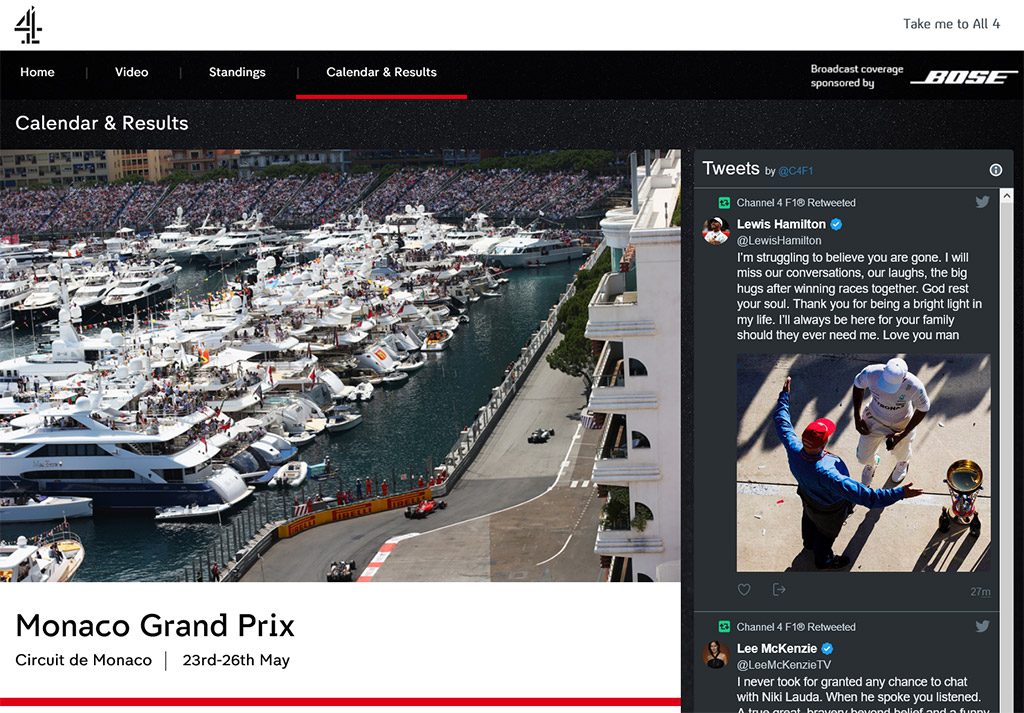 Channel 4
will broadcast the
Monaco Grand Prix live in the UK
. You can
register for a free account
but must provide an email address along with a UK address and postal code.
Once you have registered you can stream the race live free of charge.
Here's how to watch:
Sign up for a VPN service with UK servers. We recommend NordVPN because they have 688 servers in the UK and offer fast connection speeds with military grade safety protocols. New subscribers receive a 30-day money back guarantee.
Connect to a server within the UK (A server closest to your true location will provide the fastest speeds)
Tune into Channel 4 to watch the race.
Watch the Monaco Grand Prix with NordVPN
3

ABC Live Stream – Available for Free in Some US Markets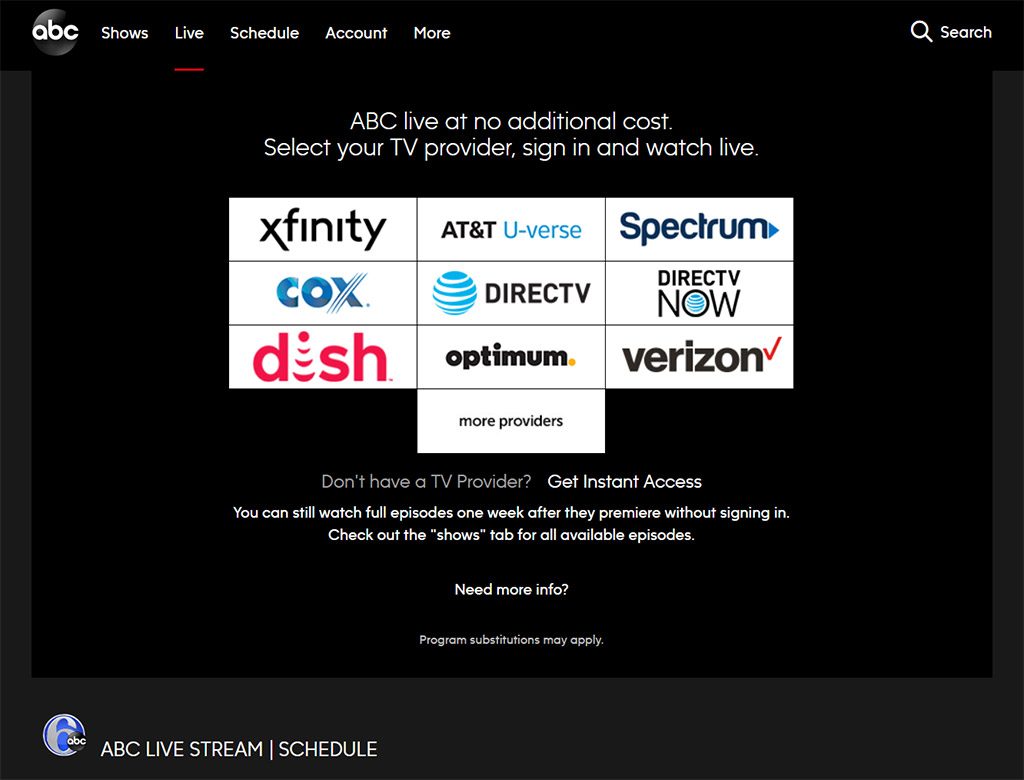 ABC Live
is currently broadcasting free programming in a limited number of US markets, which currently includes major cities such as New York, Los Angeles, and San Francisco.
However, ABC employs VPN blocking software, making it more difficult to view its free programming options.
To watch ABC Live you must connect in a city currently receiving the free live streams. ABC will broadcast the race repay at 3:30 PM on Sunday, May 26. ESPN will broadcast the race live.
Here's How to Watch:
Sign up for a VPN service. CyberGhost VPN does an excellent job of bypassing geo-location restrictions on a national and regional level. The company provides a secure connection and 45-day money back guarantee.
Connect to the server within an area serviced by ABC. You may have to try multiple servers if one is blocked.
Go to go.com to watch the race.
Watch the Monaco Grand Prix with CyberGhost VPN
4

ESPN – Free with 7-Day Free Trial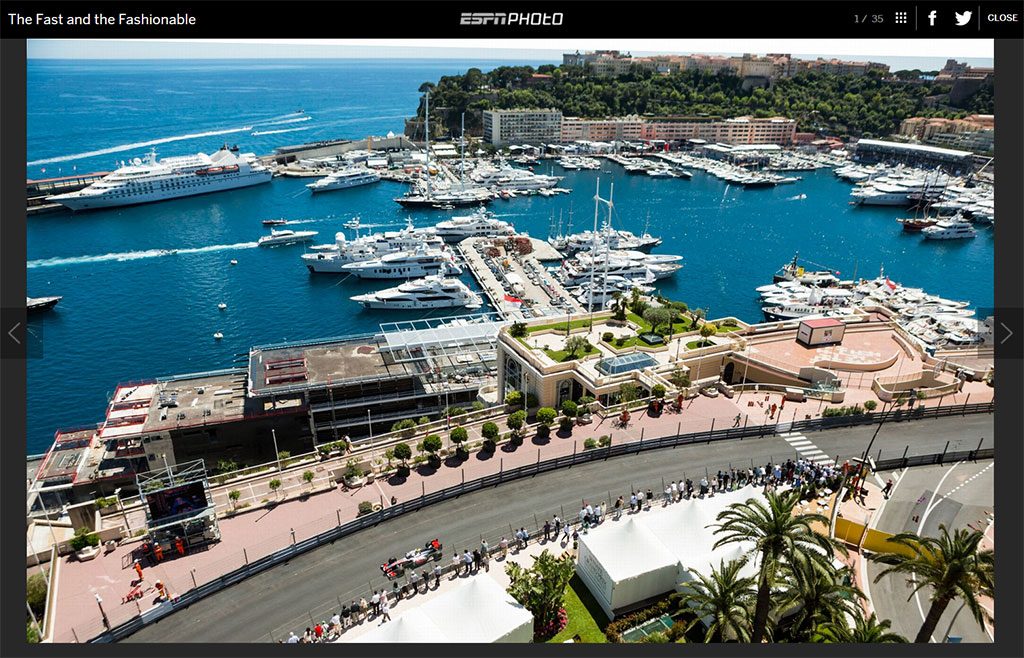 ESPN
offers a live broadcast of the Monaco Grand Prix. You can connect directly on ESPN through your Cable or Satellite Subscription, as a stand-alone service, or through other streaming services such as
Fubo TV or Sling
.
The stand-alone subscription costs $4.99 per month, with a 7-day free trial. The above streaming services carrying ESPN also offer free 7-day trials to new subscribers.
Here's how to watch:
Sign-up with a premium VPN service with fast connection speeds like SurfShark VPN. The service has over 800 servers, fast connection speeds, and strong encryption to ensure a fast and safe connection. New subscribers receive a 30-day money back guarantee.
Connect to a server in the US
Go to ESPN, your cable provider, or streaming service to log-in
Enjoy the race.
Watch the Monaco Grand Prix with SurfShark VPN
5

TSN – Free Accounts for Canadian Residents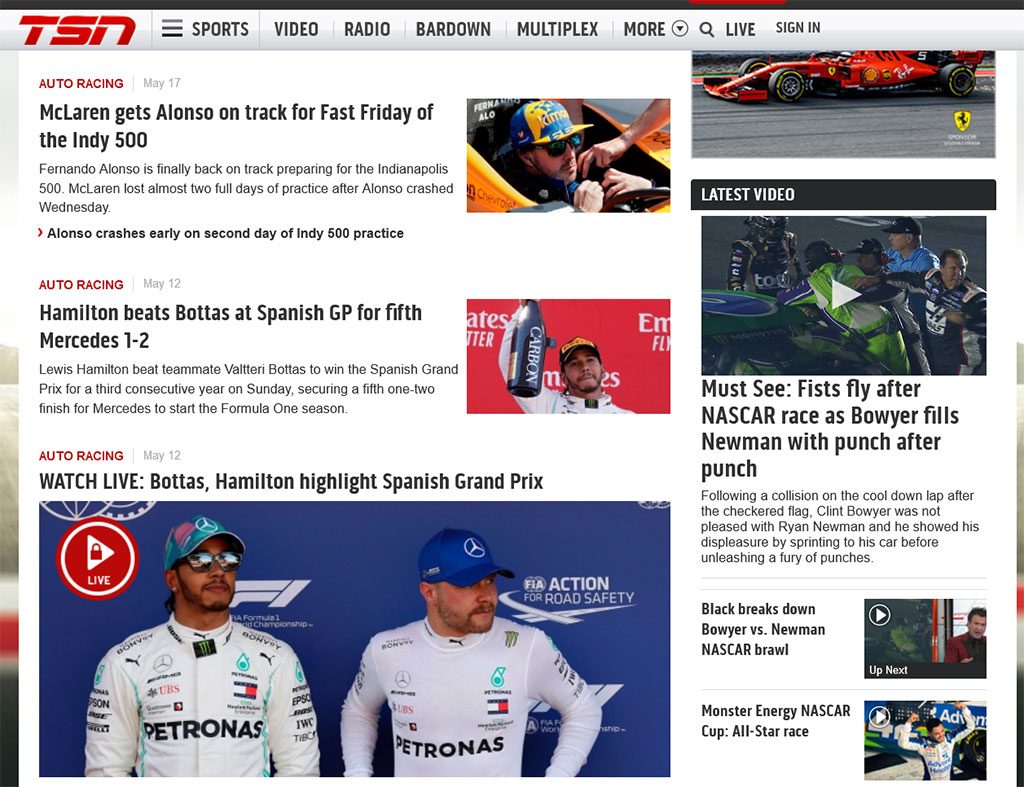 TSN
offers Canadian residents a free account. Registration
requires a valid credit card with a Canadian address
to qualify.
If you live in Canada and are traveling outside the country during the Grand Prix, here's how to watch:
Subscribe to a VPN service. We recommend Hotspot Shield VPN because they have over 2,500 servers and you can connect on up to five devices on a single account. The company offers fast server speeds and a safe connection for watching live action races like the Grand Prix.
Connect to the VPN through a server in Canada.
Go to TSN, sign into your account and enjoy the race.
Watch the Monaco Grand Prix with Hotspot Shield VPN
Beyond the free options, there are many ways to watch the Monaco Grand Prix.
If you have a streaming service or a cable subscription, you can
use a VPN
to log-in to your account from anywhere in the world and
enjoy the race
.
If you do not have a cable subscription, you can use one of the above hacks to watch the Monaco Grand Prix.