How to Stream Jones vs Smith in UFC 235 From Anywhere
Last Updated by John Bennet on September 04, 2019
Not only will we tell you how to stream the live pay-per-view event, headlined by the title fight between Jon Jones and Anthony Smith, we'll also tell you how you can save money by using a VPN to buy the fight for as little as $13.30 (USD).
UFC 235 is taking place on March 2, 2019 in Las Vegas, and the Main Card begins at 10:00 PM (EST) .
How to Live Stream UFC 235 in 3 Steps
Despite being a PPV event, this title fight is still blacked out in many regions around the world. This is due to licensing rights as a local cable channel has the broadcast rights.
If you don't have a cable subscriptions your options are to either go find a bar that is showing the fight or get a VPN and make it seem like you're in another country. This isn't a difficult and requires very little technical knowledge. Here are the 3 steps needed:
Get a VPN. We recommend ExpressVPN because they have servers in the Philippines, which is where we found the best deal on the fight. (See below for more details)
Connect to a server in a country that isn't blacking out the UFC 235 event. (The US, Canada, France, and Italy are all options)
Go to UFC.tv and purchase the Pay-Per-View for the fight.
How to Find the Best Price for UFC 235
If you play around with VPNs and much as we do, you'll quickly notice that some prices vary based on the location. This is never more evident then the UFC PPV events. If you want to watch the title fight between Jones and Smith in the US you will have to pay $55 ($65 if you want it in HD).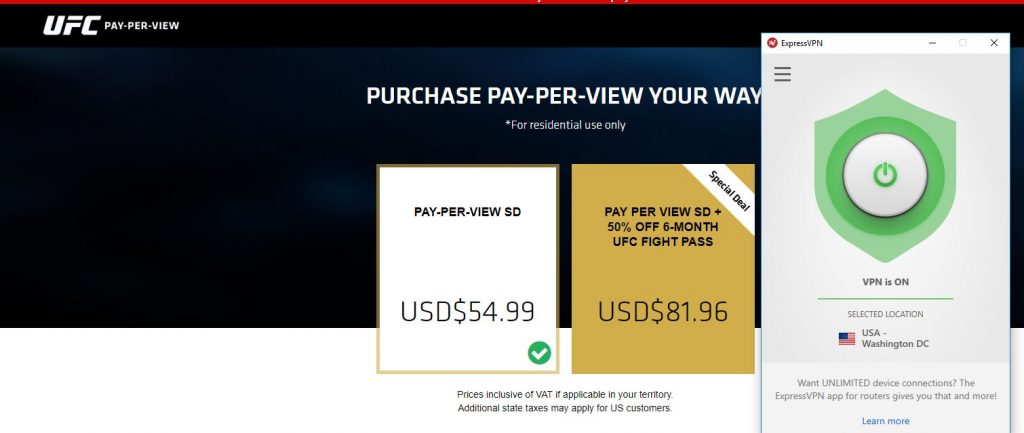 With a VPN set to the US we see that the cost for UFC 235 starts at $54.99
However, when we connected with servers in France, Italy, and Switzerland we saw a drastic reduction in price. The cheapest price that we saw came from the Philippines, 690₱ which comes out to just over $13 USD. If you want to watch in HD, the price increases to 920₱, just under $18.00 USD.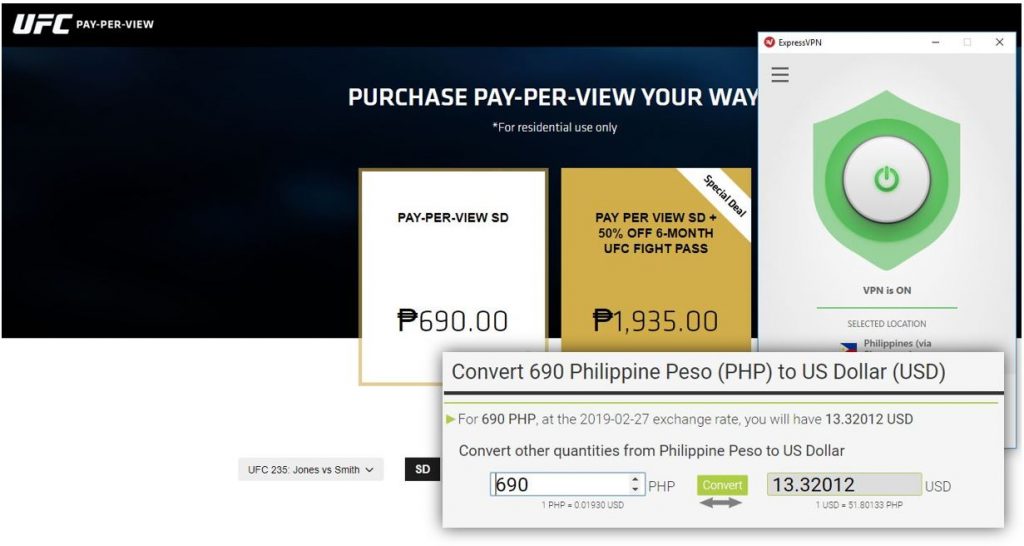 When we switched to a server in the Philippine's the price for UFC 235 dropped to just over $13.00
Top 4 VPNs To Stream Jones vs Smith
There are a few things to look for when getting a VPN to live stream a sporting event, such as UFC 235. You want a VPN that won't cap your speeds and allows for unlimited data. This pretty much eliminates any free VPN, since they come with too many restrictions. If you want to be able to purchase the fight in the Philippines you will need ExpressVPN because they have servers there, while the other ones we tested do not.
If you're only using the VPN for this fight, you should get one that includes a 30-day money back guarantee (which all of the VPNs listed below come with).
Rank
Provider name
Our score
Price
Who Is On The Main Card for UFC 235
The main event of UFC 235 is Jon Jones (23-1-0) defending his Light Heavyweight belt against the challenger Anthony Smith (31-13). Jones is one of the biggest names in the UFC, and has had some controversy surrounding him after he failed a drug test and had his third championship belt stripped. He was initally suspended from the UFC for 5 years, but his sentence was reduced, and this is his second fight since his return.
The other fights are as follows:
Bantamweight – Cody Garbrandt (11-2-0) vs Pedro Munhoz (17-3-0)
Women's Strawweight – Tecoa Torres (10-3-0) vs Weili Zhang (18-1-0)
Welterweight – Robbie Lawler (28-12-0) vs Ben Askren (18-0-0)
Welterweight Title Fight – Tyon Woodley (19-3-0) vs Kamaru Usman (14-1-0)
You can watch all the fighters stare down each other in the video below: