4 Easy Steps: How to Watch HBO From Outside the US in 2022
Last Updated by Ari Denial on November 14, 2022
Like most US TV channels, HBO is officially only available to viewers within the US.


This is the error message you get when you try and connect to HBO Go from outside the US
But with the right tool, you can avoid this error message and enjoy Game of Thrones, Barry, Veep, Westworld, and more from anywhere.
Our mission is to find the hacks and workarounds that will allow you to stream HBO from anywhere and we have a few tricks up our sleeves.
The most important thing you need to do is get a US IP address. A proxy address will make it appear as if you are in the US, and can, therefore, access HBO Now or HBO Go.
Getting a US IP Address that won't be detected by HBO requires a premium VPN
, a software that changes your IP address by rerouting your internet connection to a secure and encrypted server located within the US. Getting a VPN is easy and should only take a matter of
minutes to set up
.
Four Steps to Watching HBO Go – US Cable Subscription Required
If you're traveling or have the cable login information from family or friends and don't want to miss out on watching Games of Thrones, Westworld, or any other HBO show, you can access HBO Go for free by following the following steps.
Get a VPN. ExpressVPN is our top choice for HBO. We've tested it and were able to avoid seeing any error message.
Connect to a US server.
Go to HBO Go and click Sign In.
Choose your cable provider and log in.
Four Steps to Watch HBO Now – No Cable Subscription Needed
If you don't have access to a cable subscription, there are still several ways to stream your favorite HBO shows. You need to sign up for the HBO Now streaming package, which comes with a 7-day free trial.
One catch is that you will need a US credit card to create the account, but that can be avoided with an HBO Now gift card.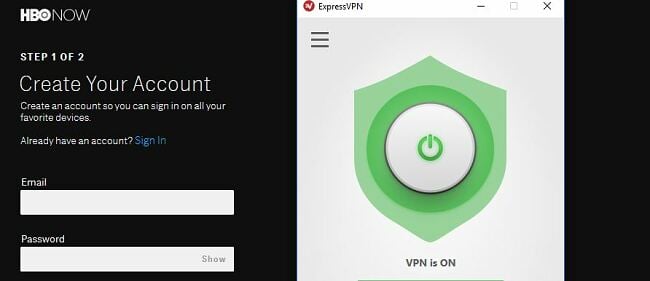 We tested ExpressVPN to create an HBO Now account
Get a VPN. ExpressVPN is our top choice for HBO Now. It has ultra-fast speeds and a good selection of US servers.
Connect to a US server.
Go to HBO Now and create an account (this link only works if you are in the US or have your VPN connected).
You can now stream HBO Now on any connected device.
Other Ways to Watch HBO – No Cable Required
There are several other ways that you can get access to HBO or specific HBO shows.
If you already have a Hulu Live or DirecTV Now account you can add HBO to your package.

You can add HBO to your HULU account from anywhere with a VPN
If you only want to watch Game of Thrones, a cheaper option would be to use a VPN and with a server in India and subscribe to Hotstar Premium.
HotStar Premium is a streaming site from India with a variety of HBO shows, GoT included.
What's the Difference Between HBO Now and HBO Go
For the most part, HBO Now and HBO Go are similar. You can get the same HBO programming with both them and at the same time.
The most significant difference is that HBO Now is a standalone streaming service, similar to Netflix, Hulu, and CBS All Access. There is no cable subscription required, and you pay month by month.
With HBO Go, you need to have a cable subscription, with HBO as part of the package, and then you can stream it on your phone, tablet, Roku, Chromecast, Firestick, and more at no additional cost.
You can also get HBO Go through Amazon Prime.
Can You Watch HBO With a Free VPN
There are hundreds of
free VPNs
available. But while some are legitimate, others will scam you,
sell your data
, or bombard you with
ads or malware
.
Regardless of which one you research, the one thing they have in common is they don't work with HBO Now or HBO Go.

The free TunnelBear VPN couldn't get past the HBO VPN Detection
The reason for this is pretty straightforward. As a free VPN, the provider won't update servers regularly enough to ensure they can avoid detection. HBO will recognize the IP address and blacklist it.
Even if you do manage to find a free VPN that can bypass the HBO geo-restrictions, most of them come with capped speeds or data limits, making it impossible to stream content adequately.
Can You Watch HBO With a Free Trial VPN
Most VPNs allow users to try the product with either a free trial or a money-back guarantee. These Free Trial VPNs are a perfect solution if you want to watch HBO for free, for a limited time.
Some of the top choices for a free trial VPN are:
In addition to working with HBO Now and HBO Go, all of the VPNs listed above can also access Netflix, Hulu, Prime Video, DirecTV Now, Hotstar, and much more.
Why Does HBO Require You To Have a US IP Address
Most streaming services and TV channels will restrict users from outside their geographic areas access to their shows and movies. The reason is based on licensing agreements they have in other regions.
For example, HBO sold the exclusive rights to Game of Thrones to Hotstar in India and NowTV in the UK; therefore they block traffic from outside the UK.
However, with a
good VPN
, you will
get a US IP Address
that won't be recognized as coming from a VPN so
you can enjoy all the HBO content
direct from the source and without having to wait for them to be released on other platforms.