How to get an IP address from Bangladesh in 2 steps
Last Updated by John Bennet on June 19, 2022
Are you a student or expat back home from a long trip in Bangladesh?
Have you traveled to or lived in Bangladesh, and miss their local entertainment and athletic content?
If you're having trouble accessing their top media and entertainment sites like Banglaflix or streaming their local sports tournaments, then you've run into their region-based blocking algorithms.
Not to worry! You just need an IP addressed that's based out of Bangladesh.
Using a VPN can help you safely access loads of international content, in addition to everything from Bangladesh-based online financial institutions to consuming Banglaflix movies and TV content, regional news and live sporting events.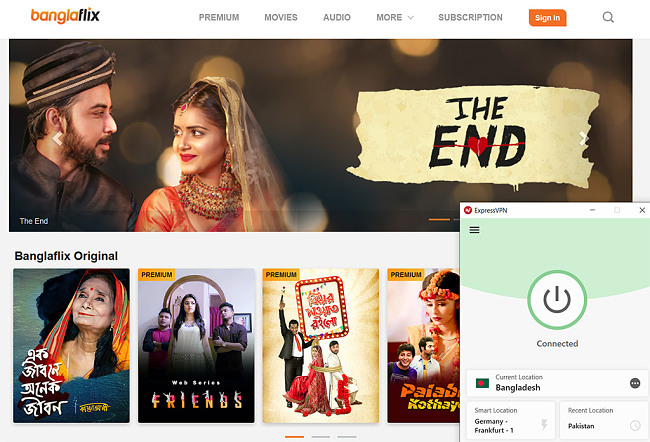 In fact, Banglaflix is one of the top-rated entertainment apps on Google Play and iTunes. Basically, it is the hub of Bangla video streaming, where you can enjoy endless streaming of Bangla movies, dramas, music videos and so on. You can filter by genre and award-winning productions.
Below, we'll walk you through the two main steps you need to take.
1. Check your current IP address so you can verify it's correct when you attempt to switch it.
To check your current IP. We have a tool at https://www.wizcase.com/tools/whats-my-ip/ that will make sure you don't have an IP leak when connected to a VPN and will verify the VPN is actually giving you the right location.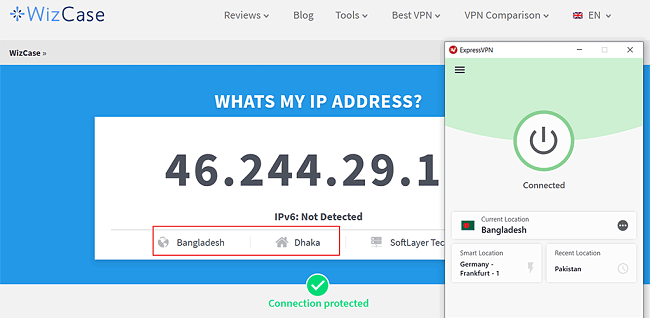 The site will
show your current address
, and then once you spoof your location, as described in Step 2, you can
double-check your IP address
to make sure it's now based out of the country whose content you wish to use.
Doing so will help you bypass regional content blocks.
2. Get the right kind of VPN.
There are a few free VPNs like TunnelBear VPN that can help you spoof your geolocation, but it's worth mentioning that free VPNs make their money off of selling your data, and are proven to use less robust and effective security protocols than their subscription-based counterparts.
They also have lagging speeds and content data caps that will limit how much streaming content you can enjoy.
Rather than subject yourself to the risks and uncertainties of a free VPN, we implore you to instead take advantage of the free trials of the industry leaders like ExpressVPN, which will provide the protection, speed and reliability of their paid products while giving you the option to cancel your subscription should you choose to.
The VPN you want in this case is one that connect you to local Bangladeshi content (news, entertainment, social media, etc). ExpressVPN and HMA VPN both have server locations based in Bangladesh.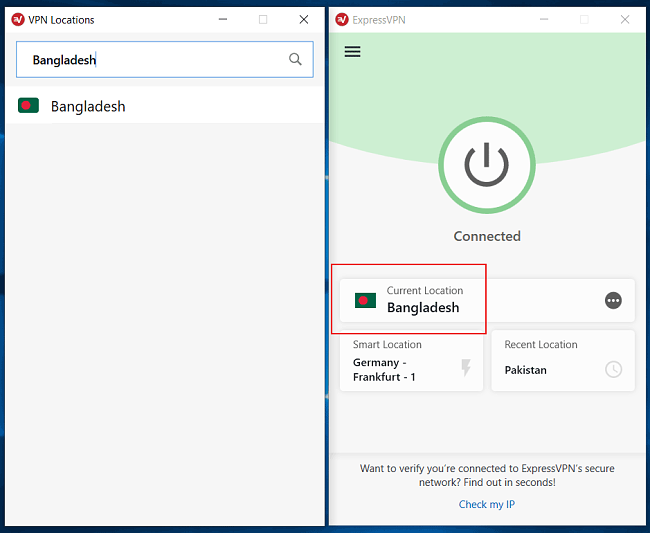 If you're eager to watch the latest film and TV offerings out of Bangladesh, then you'll want a VPN that sends its signals through local servers. In your VPN's settings, simply choose a Bangladeshi server to spoof your IP address through.
That's it! Now you can enjoy Banglaflix, cricket matches, rugby games, martial arts, and the national sport of Kabaddi!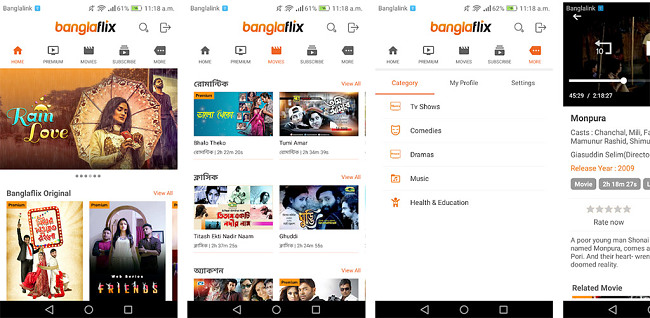 Two excellent choices to connect you to your favorite Bangladeshi content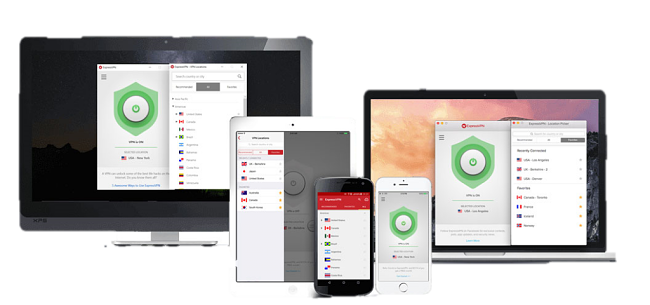 Top-rated by nearly every independent tech review company
3,000+ servers
User-friendly options to choose your own server location
160+ global locations
Unlimited bandwidth
30-day money back guarantee
ExpressVPN is a well-established security powerhouse. It has very few rivals that can come close to matching its speed and quality of service. It is the most robust, while being –granted– among the more expensive options.
ExpressVPN consistently proves itself capable of bypassing government and commercial firewalls. Easily overcoming geo-restrictions to perform local banking or to access regional and global content.
ExpressVPN has server locations in Bangladesh, so switching back and forth (depending on your digital needs) is simple.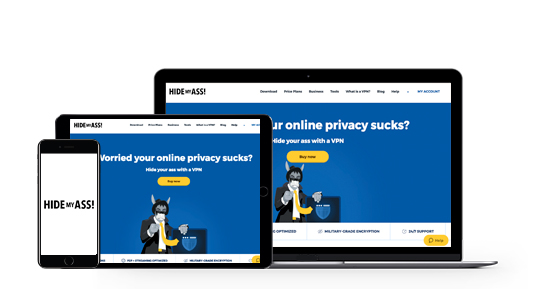 Very resourceful use of its multiplicity of global servers, including some locations not used by competitors
Uses a Kill switch
Allows use of up to 5 simultaneous devices
30-day money back guarantee
Unfortunately, does keep some data logs
Easy-to-use interface and functionality
Like ExpressVPN, HMA VPN also has server locations in Bangladesh.
The Hallmarks of a Quality VPN
Sophisticated Security
Any VPN worth investing in will have state-of-the-art security protocols to keep you protected from online threats and data leaks. These include kill switches to robust encryption protocols, the more a VPN can provide you, the better off you'll be.
Fast Speeds
It is an inconvenient truth that most VPNs (especially the free ones) will encumber your internet connection speeds. If you want to avoid sluggish connections and downloads, be sure to use a VPN that can guarantee acceptably-fast speeds so you can enjoy the Internet is all its lightning-speed glory.
What About Using a Proxy?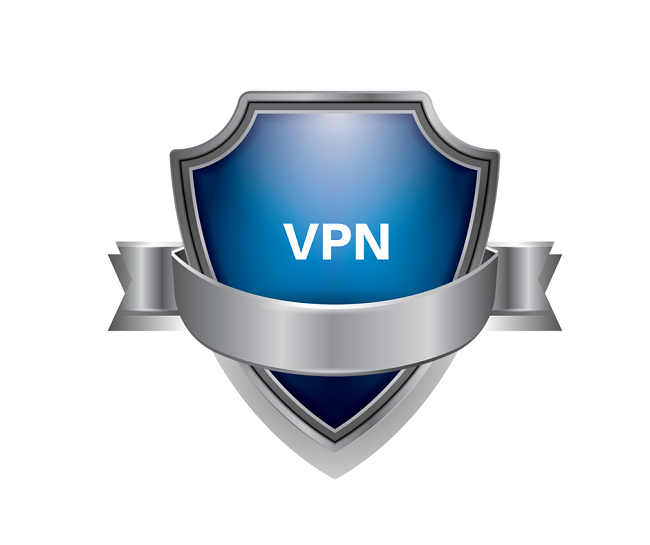 Can
using a proxy
get you access to the same content as a VPN? In some cases, yes,
but less reliably
.
First of all, while we know several top VPNs with Bangladeshi IP Addresses, it can be much harder to find a proxy with a Bangladesh IP address.
Experts agree that a proxy serves as VPN alternative for certain uses, but not as effectively, and often not nearly as securely. While proxies function in a similar way to VPNs, most proxies don't encrypt all of your browsing history and online traffic.
That means any third-party interloper who want to steal your private data and location details could still do so. VPNs are much harder to crack.
Simply put, the only reliable way to view location-restricted Bangladeshi content like social media sites, popular email suites and productivity tools, international news platforms, and region-restricted entertainment, is to use a proven VPN provider.