How To Get A Philippine IP Address In 2 Easy Steps
Last Updated by Mackenzie Pringle on June 20, 2022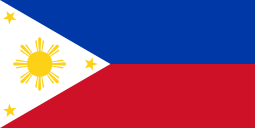 If you've left the Philippines behind but want to get your hands on a Filipino IP address so you can bypass any geo-blocks that are stopping you from watching ABS-CBN as you did back home, it's actually pretty easy.
Thankfully, you only have to complete the following steps to get a Filipino IP address:
Get a VPN.
Connect to a server located in the Philippines.
Getting back that little sense of home has never been so easy, and by downloading a VPN, you'll experience a lot of other benefits too.
Get a Filipino IP Address with ExpressVPN
The Advantage Of Having A Philippine IP Address
There are countless local television shows and movies aired exclusively in the Philipines and inaccessible from other countries.
Complex geo-blocks ensure that any users located elsewhere don't have access to the content, which can be particularly frustrating for any Filipino expats.
A
VPN helps with this
problem by allowing you to connect to an IP address based in the Philipines and sneak past the strict blocks in place.
A Filipino IP address is also useful if you're looking to watch any of the local sports programs. As basketball and other big sports are extremely popular in the Philipines, the only way you can keep up to date if you're not in the country is to spoof your location with a Filipino IP address.
How To Test To Make Sure You Have A Filipino IP Address
Once you have a VPN installed and have selected a Filipino server to connect to, you'll need to check if it's working. While it doesn't happen often, some servers will be unsuccessful at hiding your real IP address regardless of what server you're connected to and, therefore, you won't be receiving an IP address located in the Philipines.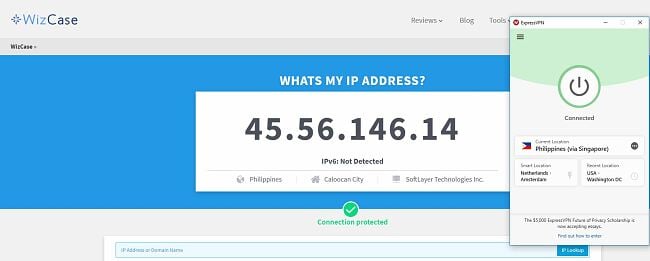 Using the WizCase IP Tool, you can test the location of your IP address
The easiest way to test that you do have a Filipino IP address is to use an IP leak test, like the WizCase IP checker.
You'll see the IP address you're connected to and its location. If the test shows any place other than one in the Philipines, you know it isn't working.
You can try and troubleshoot the problem by switching to a different server or get in contact with your VPN's support team.
What Makes A VPN Good For The Philippines
When on the hunt for a quality VPN, you'll need to keep a few essential features in mind.
Severs in the Philipines –

By far one of the most crucial aspects to your VPN is if it has servers located in the Philipines. If not, you're going to find it impossible to connect to a Filipino IP address.

Military-grade security –

Security and privacy are critical elements for any VPN, especially one you plan on using in a foreign country. Without trustworthy and reliable features and policies, you'll be leaving yourself vulnerable to cyber attacks.

24/7 customer support –

A sound tech or support team will ensure you've always got the help you need in case you run into any troubles while using your VPN. For providing you with the right servers for your specific task to getting you access to geo-blocked sites, a support team will need to be on hand at all times and easily contactable with live chat or email too.

Fast, reliable servers –

It's always essential you check the reliability and speeds of the servers your VPN provides you. There's no point investing in a service that has slow connection speeds or limitations on their bandwidth as you'll only end up frustrated and without adequate access to an IP address in the Philipines.
If you can ensure that the service you choose has these features, the likelihood of your success will be much higher. A premium VPN service should provide you with all of these aspects and more, so don't feel like you must settle for anything less.
The Top Three VPNs For A Filipino IP Address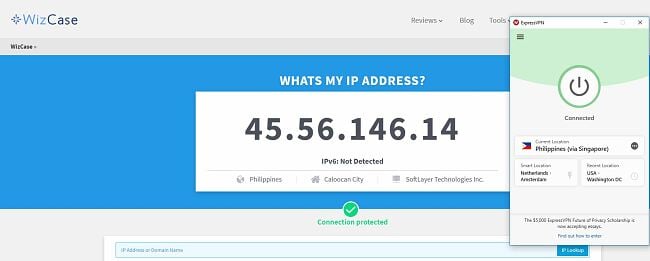 Lightning fast speeds
Over 3,000 servers in more than 90 countries
Can unblock streaming sites like Netflix
Compatible with Windows, Mac, iOS, Android, and more
ExpressVPN is one of the top services on today's market and is well known for its impeccable connection speeds that are practically unbeatable.
ExpressVPN is also dedicated to your online privacy and protection with military-grade 256-bit encryption protocols, an automatic kill switch, split tunneling, and a strict no logs policy.
When it comes down to Filipino servers, ExpressVPN has some of the most reliable around as you will always be able to get a secure connection. If not they have a lot of backup servers you can switch to, so you'll never be locked out. With a 30-day money-back guarantee, it's hard not to give this VPN a shot.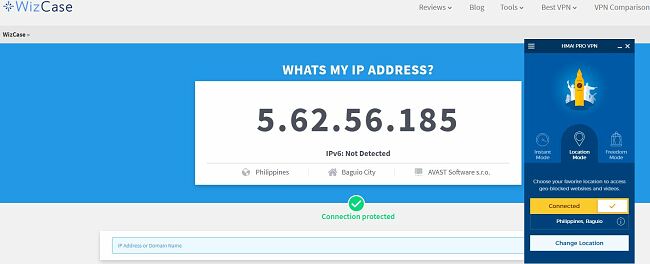 Incredible unblocking capabilities
930+ servers, 280+ locations in more than 190 countries
Great for those new to VPNs
Compatible with Windows, Mac, iOS, Android, and more
With HideMyAss VPN, you'll be getting two servers located in the Philippines, and you'll be able to choose from six IP addresses. The company believes that all internet content should be accessible to everyone, regardless of location, so it can be trusted to provide you with a secure connection.
HideMyAss servers are protected with robust encryption protocols, and their connection speeds are fast, so you're always able to search the internet and stream content with complete peace of mind.
One downside to this service is that they do keep minor logs on your connection information. However, they claim it's purely for diagnostic purposes.

40,000+ IPs, 1,300+ servers in over 75 countries
Fast speeds
Connect ten devices simultaneously
Compatible with Windows, Mac, iOS, Android, and more
IPVanish VPN ranks extremely high when testing for levels of privacy and security with many robust protocols in place. They will ensure your safety with 256-bit AES encryption, IP and DNS leak protection, a kill switch, and a strict zero logs policy.
IPVanish has a large number of servers with six located in the Philipines, giving you a few backup options in case one of the servers has any issues or loses connection.
These servers, while not quite up to speed with ExpressVPN, are still incredibly fast and are great at unblocking content. This VPN also has easy to use apps for most devices like Mac, iOS, Android, and Windows.
The Bottom Line
Overall, getting a Philippine IP address is an easy task and only requires minimum research. So long as you download and install a VPN with excellent unblocking capabilities and properly located servers, you shouldn't run into any problems.
However, ExpressVPN would have to be our top pick as its incredible speeds and consistency put it above the competition.
Whatever you decide, you'll now easily be able to catch up on your favorite Filipino tv shows, movies, and sporting programs no matter where you are.