5 Best VPNs for Digital Nomads
Last Updated by John Bennet on June 19, 2022
Do you spend a lot of time traveling? Whether you love to be on the road or are away on business most of the time, protecting your device by using a VPN will improve your security and give you anonymity online.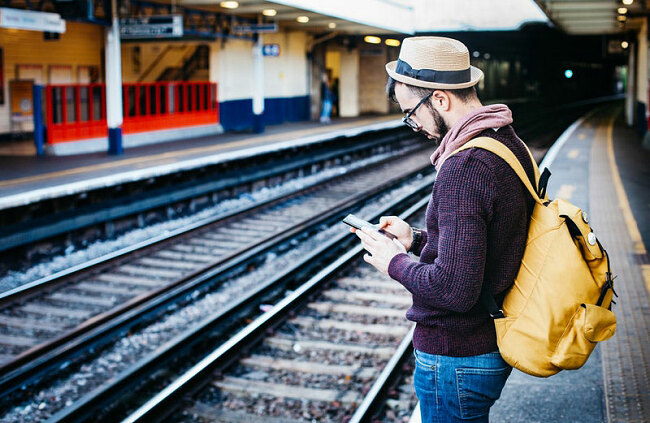 Choosing the best VPN for Digital Nomads
Depending on where you travel, you need a robust selection of features that will ensure your safety and security online while protecting your data at the same time.
From being able to access geo-restricted sites to concealing your browsing history, there are many aspects to consider when choosing the best VPN for digital nomads.
Here is what you should look out for when selecting a VPN:
Fast speeds:
VPNs tend to slow down internet connections. If you plan to stream or download, you need to ensure that your VPN doesn't noticeably reduce your speeds.
An extensive network of servers:
Since you do a lot of traveling, you need as many servers as possible. The closer they are to you, the faster your speed will be.
Unlimited bandwidth:
Some VPNs impose restrictions to the bandwidth which will leave you unprotected and unencrypted once that runs out.
Unmonitored connections:
Make sure your VPN provider has a strong no logs policy so that none of your information remains on their servers.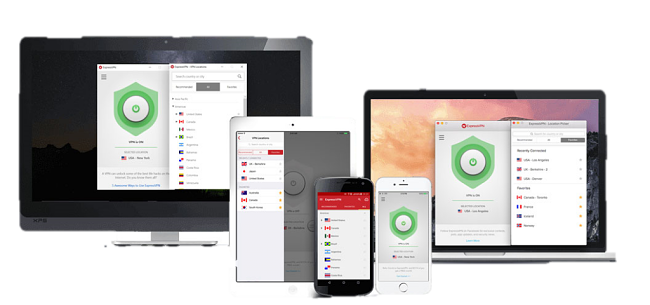 ExpressVPN understands how important speed is for a digital nomad. That's why they offer some of the best speeds on the market today.
ExpressVPN operates over 2,000 servers located in almost 100 countries. Your data is protected by 256-bit AES encryption and a zero logging policy. For added security, they have an automatic kill switch plus DNS leak protection.
This VPN operates a 24/7 live chat support service and comes with a 30-day money-back guarantee.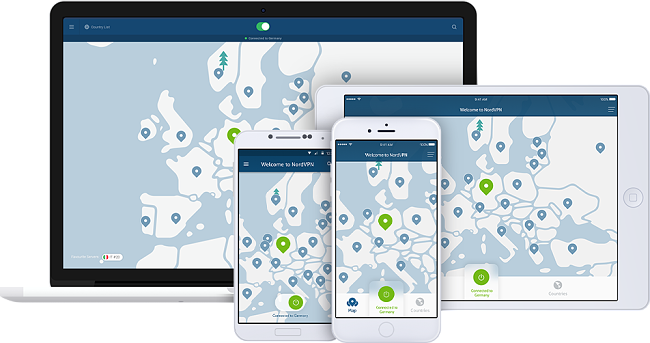 NordVPN boasts over 4,889 servers in more than 63 countries around the world. What's more, it uses the highest security standards and delivers super fast speeds to keep you connected at all times
NordVPN will allow you to connect up to six devices at the same time, which is great for large groups or families.
This VPN offers 256-bit AES encryption, an automatic kill switch, plus DNS leak protection. Their zero-logging policy ensures that time stamps, IP addresses, traffic and DNS requests are never recorded.
As an added bonus, they offer onion over VPN routing and double encryption protocols. They also offer a 30-day money-back guarantee, so why not give it a try?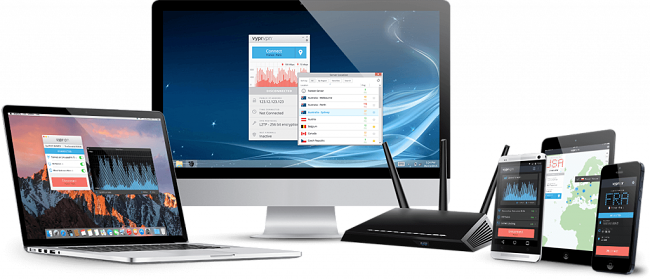 VyprVPN uses 256-bit AES encryption, an automatic kill switch, a strict zero logging policy and DNS leak protection. It operates over 700 servers in more than 70 countries and is renowned for delivering fast speeds.
VyprVPN goes beyond industry standards and offers premium subscribers access to the proprietary Chameleon software, which wraps your data in even more protection. It is also capable of breaking through walls in Russia and China to keep you safe, secure and away from surveillance.
VyprVPN offers a three-day free trial, which will give you enough time to work out whether it delivers exactly what you are looking for.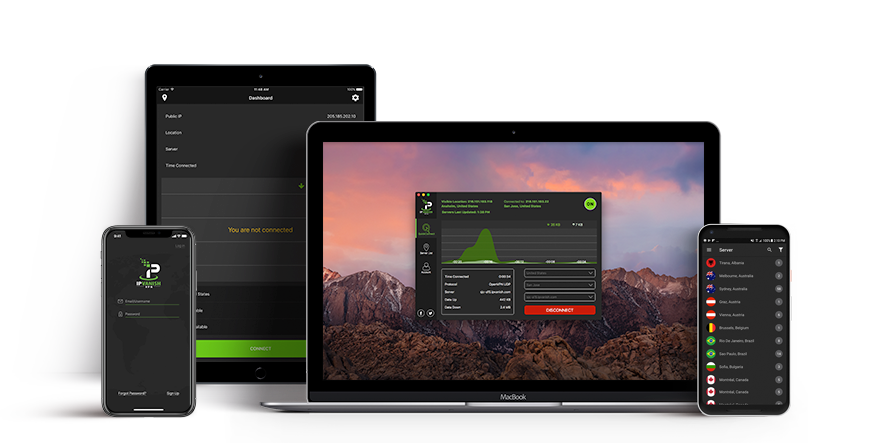 IPVanish VPN provides reliable and steady connections, no matter where your travels take you. You'll be protected with 256-bit AES encryption and a no logging policy. Enjoy optimum speeds whether you are streaming, downloading, or simply surfing the web.
IPVanish is available on most major devices and operating systems, and you can connect up to 10 devices on one account.
This VPN offers a seven-day money-back guarantee, which will give you the opportunity to check them out before signing up.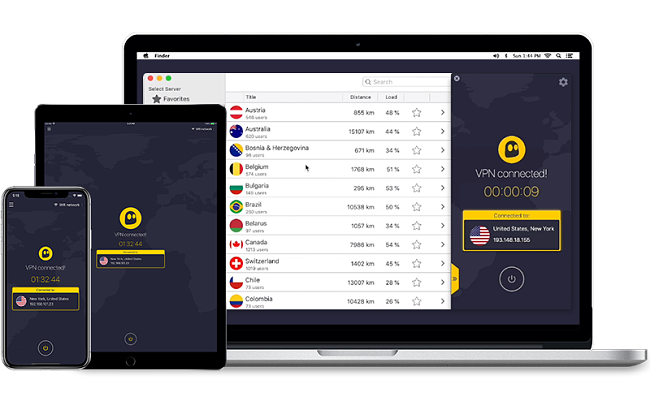 Protect yourself from spying eyes with the online privacy that CyberGhost gives users. This VPN's security features are second to none, offering 256-bit AES encryption and an automatic kill switch.
CyberGhost VPN also offers IP and DNS leak protection systems and maintains a strict zero logging policy, fast speeds and great customer support. This VPN operates over 2,852+ servers across 60 countries worldwide.
You can also connect to seven devices at any given time, which is great for large families or groups.
CyberGhost offers a free 7-day trial and a 30-day money-back guarantee, making it easy to try their service before you buy.
Benefits of Using the Best VPNs for Digital Nomads
Your life and location are continually changing while on the road, leaving you reliant on your digital connection to stay in touch with the world around you.
Constantly moving about while connected to the internet leaves you open to hacking, spying and geo-restricted sites.
A VPN will help you bypass these restrictions while protecting your privacy at the same time.
In addition to the above, a VPN provides the following benefits:
Keeps you safe while using public Wi-Fi networks.
Protects you from censorship.
Bypasses geo-restricted content.
Unblocks websites under government restrictions.
Protects you while engaging in sensitive activity, like online banking transactions.
Tips for using the Best VPNs for Digital Nomads
After you've chosen one of the 5 best VPNs for digital nomads listed above, here are some top tips to help you make the most of it.
Keep your software updated – This keeps you protected from vulnerabilities and improves the performance on your devices.
Encrypt everything – Use the VPN on all devices. Make sure your smartphones, thumb drives, tablets, and cloud storage are all encrypted.
Protect your devices with passwords – Otherwise, you are vulnerable to having your data stolen.
Utilize anti-theft services for your devices – Digital nomads have access to lots of services that protect your belongings while traveling.
Use strong passwords for your accounts – Make sure you vary passwords for each online account for added protection.
Put your device on airplane mode when you don't use the Internet – This further secures your device from attacks over Wi-Fi networks.
Only connect to a trusted network – Utilize your VPN service while using public Wi-Fi networks.
Use your data plan when on the internet – By using your smartphone's data plan, you can also avoid online surveillance.
Remain on encrypted websites – This gives you an added layer of security against malicious threats or hackers.
Final thought
There are few things as exciting as living the life of a digital nomad. You get to meet new people, see new sights and try new experiences every day. Staying connected to the world around you depends on having a secure and fast internet connection, which not only protects you while surfing the web but protects your data at the same time.
By choosing one of the 5 best VPNs for digital nomads from our list above, you will most certainly remain safe, secure and anonymous while online anywhere in the world.