Best Free Adobe Premiere Pro Alternatives With Similar Features! [TESTED in 2022]
Last Updated by Shauli Zacks on June 14, 2022
Quick Summary: While I stand behind all the Adobe Premiere Pro alternatives that I recommend below, CyberLink PowerDirector stood out as the best software. It has an auto mode for beginners, multi-camera editing tools, motion animation, and much more. You can try it all by yourself and edit your videos without limitations with PowerDirecror free version – no credit card required!
Adobe Premiere Pro is a popular video editing software for professional videographers and film producers. However, the average user might find the interface a bit too complex and difficult to learn. Since it's a tool that was designed for professionals, the monthly or annual subscription cost might not be worth it for a student, amateur, or hobbyist looking to edit a few videos.
I had a mission to find free alternatives to Premiere Pro. I downloaded and tested over 20 free programs, and overall I wasn't impressed with what I found. Most of the free programs were so basic that they couldn't replace Premiere Pro or didn't work as advertised. Therefore, I expanded my search to include free trials and freemium software, provided I didn't need to make a payment to activate the free trial, and I could access the tools that I needed.
CyberLink PowerDirector was above them all. It has a timeline-style multi-track editing board, advanced motion tracking, animated titles, visual effects, and so much more. Download PowerDirector for free and get unlimited access to all the essential editing features.
Download CyberLink PowerDirector for Free!
Quick Guide: The 3 Best Free Adobe Premiere Pro Alternatives in 2022
CyberLink PowerDirector: Green screen capabilities, background remover, sky replacement, and a large selection of special effects and transitions.
Movavi Video Suite: Multi-track editing board, insert filters, colors, text, and audio, but doesn't have automatic motion tracking.
Avid Media Composer: Comprehensive video editing tools, adjust color balance and tone, but the free version limits you to four video tracks.
What I Look for in a Free Adobe Premiere Pro Alternative
When it comes to finding an alternative for Premiere Pro, my requirements are fairly basic. I want a program that will allow me to edit my video clips and produce professional-looking videos. To achieve this goal, I look for the following factors:
Easy to Use Platform
I prefer an intuitive or easy-to-use video editing platform. While I'm definitely more comfortable with the timeline style, I don't mind a storyboard editor or non-linear editor. What I do need is that the buttons and menu options are clearly marked, a customizable workspace, and smart tools. If the program offers a tutorial or guides that can quickly explain how to use each tool or how to execute a complex editing technique,it is a big advantage.
Basic and Advanced Editing Tools
Some of the basic editing tools that must come with any video editing tool include cropping, trimming, rotating, and merging video clips. I also need to add text at specific times of the video and adjust the color balance. Some of the advanced features that I prefer to have are motion tracking, the ability to create 360-degree videos, and keyframing.
Lightweight Software for Better Performance
Some of the software I downloaded was so heavy that it caused me so much frustration. It was slow to load the program, and then each action, such as uploading a clip or trying to make an edit, was taking too long. The computer would freeze, and several times, I had to restart the computer. A lightweight program that is optimized to work on most computers gets rid of the lags, so I can focus on the project and not on wondering when my computer will unfreeze.
Free or REAL Free Trials
The problem with free tools is that more often than not, they work like free tools if they work at all. Therefore, I expanded my search to include freemium tools, as long as the tools I needed weren't behind a paywall, and free trial programs. When I say REAL free trials, my intention is that you don't need to provide a credit card or make a payment to qualify for the free trial.
5 Best Adobe Premiere Pro Alternatives with Similar Features
Multiple editing styles, each with a customizable workstation
Change backgrounds with green screen (Chroma Key) technology
Add transitions, special effects, and text to your video
Integrates with social media and video hosting platforms for direct publishing
AI-powered motion tracking
CyberLink PowerDirector is a rare combination of freemium software that gives unlimited access to many of the powerful editing tools. Not only that, but as you use the software, you can complete different missions and unlock transitions, animations, and tools.
If you have any experience with video editing, you should not have any trouble getting started with PowerDirector. What's nice is that if you're just getting started, PowerDirector has a built-in tutorial that will show you how to set up your workstation, use the editing tools, add special effects, and publish your work.
The default editing style is a multi-track timeline, but you can switch it to storyboard mode, slideshow, creator, or auto-mode that automatically adjusts to what you need for the specific project. Each of the editing boards are fully customizable, and you can add or remove any tools to the quick access bar.
The main workstation is pretty standard. It's divided into three main sections:
Media Library: On the top right side is where you'll see all the video and audio clips that you want to use in your project. You can also add transitions, special effects, stickers, icons, and text to your library. To add an element to your video, drag it from the media library to the editing board.
Editing Board: The tracks are located on the bottom half of the screen. This is where you'll import the files you want in your video and edit them until you get your desired results.
Preview: See how the video looks, including any special effects, so you can make any adjustments before publishing the project.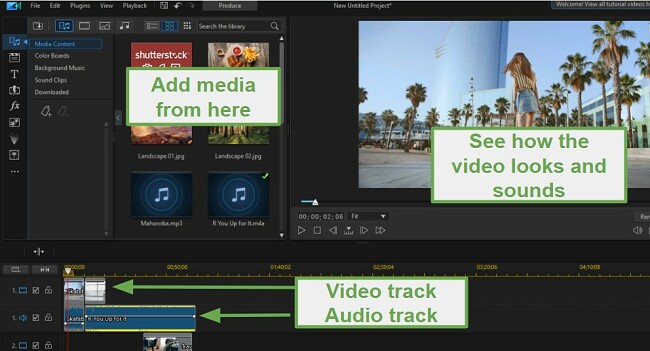 I found that PowerDirector is able to make any type of video I wanted. From simple clips that I upload to social media to adding 2D and 3D elements and 360-degree videos that are compatible with most VR devices. Regardless of what type of video you make, here are some features that will help give the video a polished look:
Titles and text: Choose from a wide range of fonts and styles for your title sequence, film credits, subtitles, and any other text that you want to add. You can customize the text by selecting a color, shadows and styling, adjusting the size, and adding smooth animation.
Picture in Picture Editing: This is a new feature that makes it easier to edit multiple frames at the same time. It transforms the clips into a collage-style grid, so you can work on each clip in a separate frame. When you're done, you change the clips together or keep them separate.
Green Screen Editing: Using the Chroma Key is a real game-changer when editing a video. As long as you record the video with a backdrop that has a solid color, you can superimpose any background or video clip over it. This gives you the freedom to take a video in an empty room and make it appear as if you're flying, swimming, or running away from zombies.
Royalty-free stock videos and sound effects: The PowerDirector media library has a nice collection of free video clips, background music, and sound effects that you can insert to your video clip.
Learning center: In addition to the guided tutorials, PowerDirector has an active forum where I found plenty of help from other users.
PowerDirector makes it easy to publish your video. It can be exported in multiple formats, including AVC, AVI, Windows Media, 2D, 3D, specific formats for Android and iOS devices, XBOX, PlayStation, and VR. It can also publish directly to YouTube, Vimeo, DailyMotion, and Nico Nico Douga.
Download PowerDirector for freec and you'll get free access to professional-grade tools with no commitment .
Download Cyberlink PowerDirector for Free!
Multi-track timeline style editing board
Large media library includes stickers, transitions, and special effects
Record video and audio from your computer directly to the media library
By combining AI features and easy-to-use tools, Movavi has made it easier than ever to edit and produce professional-grade videos. I was very impressed with the intuitive software. You don't need any prior experience in video editing to understand how to use the different tools.
Movavi Video Editor Plus has a clean interface that limits distractions and focuses on productivity. There is a quick access bar with all the main tools, so you won't have to waste time looking for them. The media library is on the top half of the workspace. You can upload different file formats for video, audio, and graphics. You can drag all the elements from the library onto the tracks and place them exactly where you want.
Once an item is on the timeline, you can adjust the time length the element will appear, crop, splice, merge, reverse, and add filters so it looks just how you want.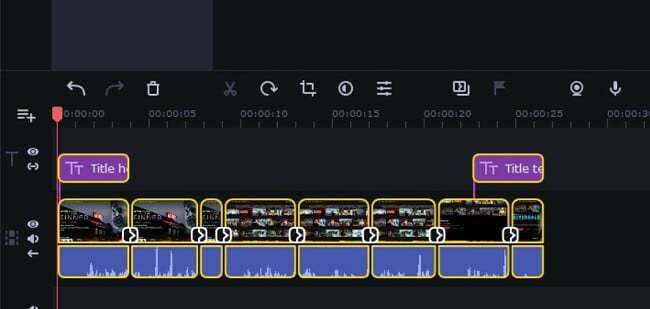 Mobvavi makes good use of AI
. One of the top features is the automatic video stabilization tool. It automatically detects unstable videos and can calculate the direction of the shaking so it can repair it while keeping a natural feel. There is also an AI tool that focuses on improving the audio quality. It can remove or reduce unwanted background noises and ensure the video and audio are synced.
Movavi Video Editor Plus gives users the freedom to be creative and add some personality to the video production. It has a large collection of stickers, transitions, text style overlays, and special effects that can be seamlessly added to your video. If you don't see any free elements that you like, you can either upload your own or check out the Effects Store and make a one-time purchase.
You can export and produce videos in a variety of formats and quality levels, including MP4, AVI, SWF, and MOV, and they can be viewed on mobile devices, Smart TVs, and game consoles. Movavi can also upload videos directly to popular video platforms.
Movavi Video Editor Plus has a free 7-day trial that you can activate without a credit card. It's enough time to edit, produce, and export your videos and test all the advanced features.
Try Movavi Video Editor Plus for Free!
Comprehensive video editing tools
Works with raw video files
Compatible with Avid plugins
The Avid Media Composer is a popular video editing tool that is used by everyone from hobbyists to Hollywood producers. It has a comprehensive set of tools that you can use to create short clips for social media or family gatherings to full length movies.
Due to the advanced precision tools, it can take some time to get comfortable with all the available options and features. However, Avid offers guided tutorials that speed up the learning curve, so you can master the tools.
When adding media elements to the timeline, the properties window will open. You can open RAW video files, set the video resolution, frame rate, and quality, and Avid will automatically make adjustments to optimize the clip performance.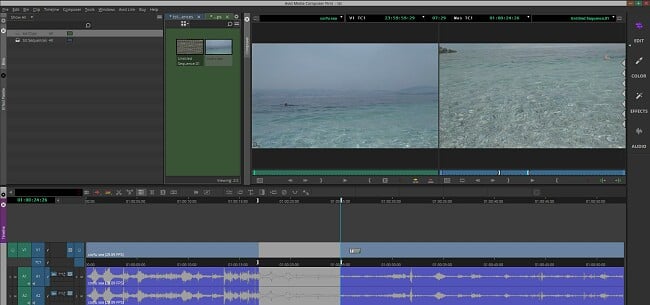 Once I moved the clips from the media library to the timeline, I used the precision editing tools. I was able to fix unstable video clips, increase or decrease the video speed, trim, rotate, crop, and reverse the video clips. I was also happy with the text overlay option, as Avid has a wide range of fonts and styles, and I could animate the text for title sequences and final credits.
Avid Media Composer gives you complete control over the colors and tones of the video. It has predefined color palettes, hue offsets, scopes, and luna range.
Avid Media Composer is compatible with a wide range of plugins and extensions. These include powerful editing features, transitions, additional title sequences, and more.
Download Avid Media Composer for free, and you'll get access to the tools you need to get started editing your videos.
Download Avid Media Composer for Free
AI tools for image and video processing
Reliable video editing tools and video stabilizer
VEGAS Pro gives you the option of producing your videos with a timeline or storyboard editing board. You can use both options, and the software will automatically sync the two of them together. Regardless of which type of editor you use, you'll have access to unlimited video and audio tracks. This is great if you're looking to create a full length film with multiple media elements, music, audio, and special effects.
The interface is fully customizable, so you can arrange the editing tools based on your preferences. There are also several keyboard shortcuts that will allow you to work faster.
VEGAS Pro has an extensive media library, complete with over 1.5 million filters, special effects, transitions, and title sequences that will give your video a professional look. You can simply drag them onto the editing tracks to add them to the production. You can customize each effect by adjusting the sound levels and how long you want the effect or transition to last.
The Motion Tracking tool allows you to add text, stickers, icons, or styles to an object, and it will stick with the object, even as it moves around the screen.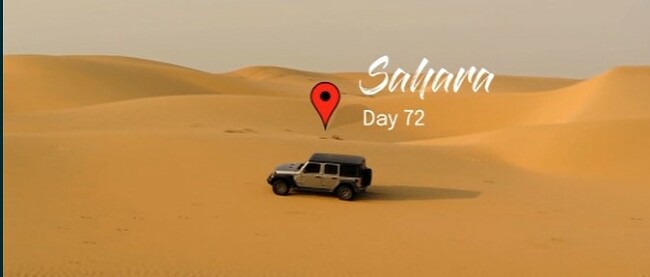 The latest version of VEGAS Pro has advanced color grading tools. It comes with complete HDR color support and an integrated Unified Color Grading workflow. You can combine these two tools to adjust the colors in your video and get the exact color shade that you want.
While there is no free version of VEGAS Pro, you can get a 30-day free trial with no credit card, when you download the program. The free trial includes access to the premium tools, and you can produce your completed projects.
Drag and Drop editing board
Optimize and edit video clips to get desired results
VideoPad from NCH Software is a simple video editor that can produce a wide range of videos. The editor uses multiple tracks, and you can simply slide all the different elements and line them up to complete your project. It has all the basic video editing tools for cutting, splicing, merging, and adjusting the speed of each individual clip.
It uses the standard layout, with sections for the media library, video preview, and editing tracks. This makes it easy for anyone with any level of video editing experience to quickly.
VideoPad has 2D and 3D transitions and special effects that you can place on the editing tracks. Just place the transitions between two clips or the special effect above the video you want to enhance, and set the time length you want it to last. There is also a Chroma Key feature, which makes it easy to change the background if you recorded the video with a solid color background.
VideoPad is free for non-commercial use, although there are some transitions and sound effects that aren't available to free users. When you're done producing your video, you can upload the video directly to YouTube and other online platforms.
When Adobe Premiere Pro isn't For You…
Adobe Premiere Pro is an outstanding video editing software with advanced tools and features to give any video a polished look. However, it's not for everyone. The tools can take a long time to master, and you need to pay an annual or monthly subscription fee.
If you're looking for a free video editor with advanced features, Download CyberLink PowerDirector. You'll get access to precision editing tools, motion tracking, Chroma Key, and an impressive library of transitions, visual effects, stickers, and sound effects. PowerDirector is free to download with unlimited access to most of the features and export options.
If you're looking for an easy to use video editor, Movavi has an extremely intuitive video editing program. Video Editor Plus uses AI to stabilize shaky videos and remove unwanted background noise automatically. Try it risk-free for 7 days.
If you're looking for a professional-grade editor with top-notch typesetting features, Avid Media Composer has the tools for you. Choose from hundreds of fonts, styles, shading, plus animated title sequences. The AI motion detection will also keep the text aligned with moving objects.
FAQ
Is CyberLink PowerDirector free?
Is PowerDirector a good video editor?
PowerDirector comes with a comprehensive collection of video editing tools for 2D, 3D, and 360-degree videos. Use the precision tools to crop, trim, reverse, change playback speed, adjust colors, and more. Some of the advanced editing tools are a green screen, motion tracking, picture-in-picture editing, and much more.
Which is better, Premiere Pro or PowerDirector?
The answer really depends on your needs and experience. Premiere Pro is a better option for experienced professional editors. It has a large assortment of advanced editing and production tools that can take a long time to master. However, if you're relatively new to video editing, PowerDirector has everything you need, it's easy to learn, and you can start with the free Essential version.