ExpressVPN Unblocks Netflix US, UK, and 20 Other Countries: Tested 2022
Last Updated by Kate Hawkins on August 01, 2022
Although many VPNs claim to give you access to every Netflix country, my tests prove that only a select few can.
Netflix has started blacklisting IP addresses linked to VPN servers, so finding a reliable connection isn't easy. To help you watch all the Netflix content you want, I tested dozens of services to find one that could avoid the Netflix proxy error message.
ExpressVPN passed my tests and was the top performer. I tested it with Netflix in more than 35 countries, including the US, UK, Canada, Australia, and Japan. I was impressed by the quality and speed of my streams every time I connected.
Watch Netflix with ExpressVPN today!
Quick Guide: 5 Steps to Unblock Netflix With ExpressVPN
Sign up for ExpressVPN on the website. You can choose from 3 subscription options: 1 month, 6 months, or 12 months. Try ExpressVPN risk-free with its 30-day money-back guarantee.
Install the VPN to your device and sign in with your ExpressVPN account details. You'll need to enter your activation code from the website.
Connect to a server in your chosen Netflix location.
Visit the Netflix website or open the app.
Sign in with your Netflix account details and start streaming!
Stream Netflix in over 20 countries with ExpressVPN
Why Use ExpressVPN to Access Netflix?
Key Features:
3,000+ servers in 94 countries — 26 server locations in the US, 5 in the UK, 5 in Canada, 5 in Australia, and 5 in Japan
Unlimited bandwidth for fast connections
Military-grade encryption to bypass Netflix's content blocks
24/7 live chat and customer service
30-day money-back guarantee
ExpressVPN is one of the best services available for unblocking Netflix. During my tests, I connected to multiple servers in every ExpressVPN region. I could always connect to Netflix.
With consistently fast speeds, ExpressVPN makes it easy to smoothly stream Netflix buffer-free. I connected to servers in the US, Canada, UK, France, Australia, and Japan and ran speed tests in each location. My average speed was 33.5Mbps — fast enough to stream Netflix in 4K quality! ExpressVPN has over 3,000 fast servers in locations around the world so you can connect to every Netflix library. Unlike many other VPNs, ExpressVPN works in China, so you really can watch Netflix from anywhere!
If you want to try ExpressVPN for yourself, you can use it for 30-days risk-free with its money-back guarantee. Getting a refund is simple. All you have to do is contact customer service using the 24/7 live chat on the website. I tested this for myself and had my money back in less than 5 business days.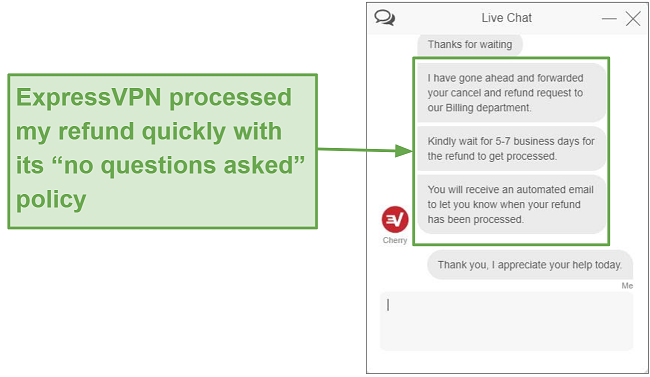 Stream every Netflix library with ExpressVPN
Best ExpressVPN Servers for Netflix
To find the best ExpressVPN servers for Netflix, I tested over 20 countries in all 4 regions — Asia Pacific, Europe, the Americas, and the Middle East and Africa. I looked up the top 6 locations with the biggest Netflix content libraries and ran a speed test with ExpressVPN's built-in feature. Then, I chose the fastest servers from the top 6 Netflix locations and ran speed tests for each server. Every speed test was performed from the UK.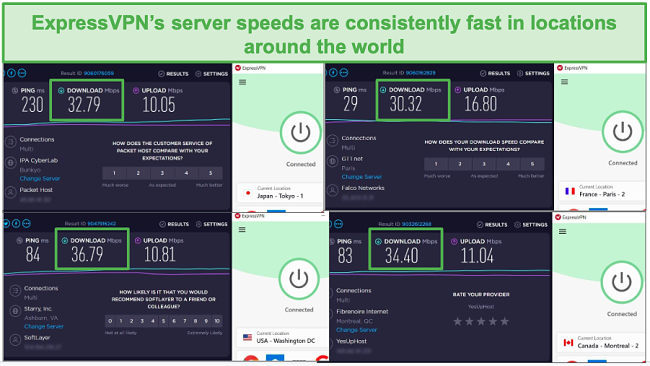 To pass the test, servers had to unblock Netflix and run at speeds fast enough for HD streaming. Netflix recommends 5 Mbps for HD quality and 25 Mbps for Ultra HD. Nearly every speed test I performed met the recommendation for Ultra HD Netflix streaming. Here are the average speeds for the top 6 Netflix locations:
US: 33.07Mbps
UK: 47.01Mbps
Canada: 32.43Mbps
France: 32.95Mbps
Japan: 29.78Mbps
Australia: 26.10Mbps
Here are ExpressVPN's top servers in each country:
| | | | |
| --- | --- | --- | --- |
| Country & Server | Speed (Mbps) | Country & Server | Speed (Mbps) |
| US New York 1 | 28.93 | UK Docklands | 47.41 |
| Dallas | 33.49 | East London | 60.44 |
| Washington DC | 36.79 | Kent | 33.18 |
| Canada Montreal 2 | 34.40 | France Paris 1 | 35.57 |
| Toronto 2 | 30.56 | Paris 2 | 30.32 |
| Montreal | 32.34 | Japan Tokyo 1 | 32.79 |
| Australia Melbourne | 24.51 | Tokyo 2 | 26.77 |
| Sydney | 28.13 | | |
| Perth | 25.67 | | |
I only had an issue when I tried to connect to Netflix in parts of South and Central America. I tried multiple servers in Brazil, Mexico, and Argentina — ExpressVPN was unable to bypass the Netflix streaming error. I contacted customer service over live chat about the non-working servers. They suggested checking if specific shows or movies I wanted to watch were available on other Netflix libraries and made a note that some servers couldn't bypass the block.
Watch Netflix with ExpressVPN today!
How to Use ExpressVPN on Mobile Devices
Sign up for ExpressVPN. Visit the ExpressVPN website on your mobile device and choose a subscription plan.
Select "Set up on more devices" when prompted to download. Choose your device from the list — you can have a download link emailed to you or be redirected to the app store.


Install and launch ExpressVPN by following the on-screen prompts.
Connect to a server in the Netflix location of your choice.
Open the app from your mobile device and sign in.
Choose the content you want to watch and start streaming!
Watch Netflix from anywhere with ExpressVPN
Why Does Netflix Block Content?
International Content Laws
Content deals negotiated between studios and Netflix are country-specific. Therefore, Netflix may pay the studio-demanded price for the rights to stream a title in one country but not another.
IP Address Geo-Restrictions
To make sure broadcasting laws are followed, Netflix uses technology to restrict your access to content based on your geographical location. Netflix uses it to see where you're located by checking your IP address. If your IP address shows you're in the UK and you want to watch Netflix US, you'll see Netflix's infamous proxy error message.
How to Unblock Geo-Restricted Content
When you're connected to a VPN, it masks your IP address, making your device appear to be in a different location. For example, if you connect to one of ExpressVPN's US servers, it gives you a US-based IP address. Netflix checks this, sees you're in the "right" location and lets you access the content library.
ExpressVPN is known as one of the few VPN providers that keeps servers unblocked and accessible to you.
Access Netflix in any country with ExpressVPN
ExpressVPN's Built-In Speed Test
Netflix recommends specific speeds for different streaming quality. If you want to stream without buffering or lag, you should connect to a server with a speed of at least 5.0 Megabits per second.
Netflix recommends the following speeds for streaming:
0.5 Megabits per second: Required connection speed
1.5 Megabits per second: Recommended connection speed
3.0 Megabits per second: SD quality
5.0 Megabits per second: HD quality
25 Megabits per second: Ultra HD quality
With so many server options, it can be difficult to find the best option for fast Netflix streaming in your desired location. Fortunately, ExpressVPN has a built-in speed test feature to help you! Running a speed test is easy — click on the icon on your toolbar and select "Show Speed Test" or click the 3 horizontal lines from the main window and select "Speed Test."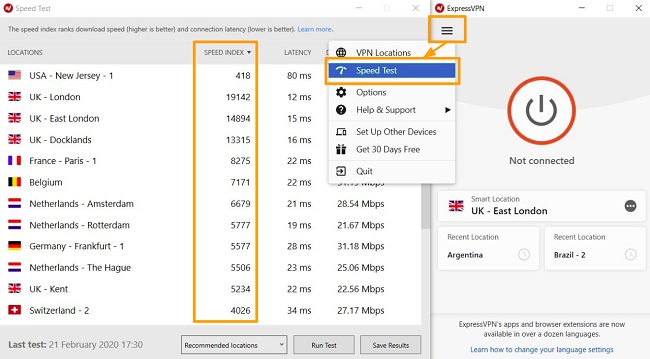 You can choose from any region, your recommended location, or run a speed test for every single server. When I tested the speed test feature against my personal speed tests, I found that the built-in feature showed slightly slower speeds. This means you'll likely experience faster speeds than those you see listed in the speed index.
Stream Netflix with ExpressVPN today
FAQs
Will a VPN slow my Netflix streaming?
ExpressVPN is constantly updating and improving its infrastructure to ensure any drop in speed is minimal. If your underlying ISP speeds are fast enough to support Netflix streaming, using ExpressVPN won't cause a noticeable difference.
I've reviewed ExpressVPN and it outperforms other providers in terms of speed and reliability. ExpressVPN even improved my standard speed of 56Mbps when I connected to local UK servers and some US servers.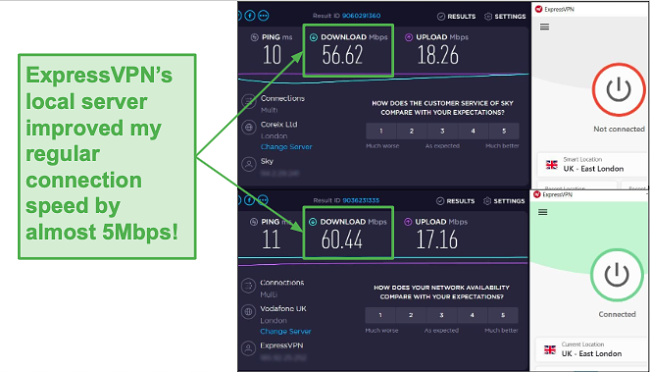 ISPs sometimes throttle your bandwidth to prevent too much congestion at peak times, especially if you stream Netflix often. If your ISP has been slowing down your connection, using ExpressVPN can potentially improve your speeds.
Get fast Netflix streaming with ExpressVPN
What if Netflix stops working with ExpressVPN?
Even the most reliable and sophisticated VPNs occasionally have servers that get blocked — ExpressVPN isn't immune to Netflix's robust location restrictions. Netflix is continuously updating its security systems. Sometimes it discovers ExpressVPN servers and blocks access to the site. Don't panic if this happens to you. There are a few things you can try to connect to Netflix.
Stream Netflix with ExpressVPN today!
You Can Stream Every Netflix Library With ExpressVPN
Whether you want to stream the latest Netflix originals from the US or catch up with exclusive anime series in Japan, ExpressVPN will get you connected. With fast streaming speeds and reliable servers, you can easily access your favorite shows and movies from anywhere in the world.
Not only will ExpressVPN unblock Netflix with ease, but it also works with all your favorite sites. From social media like Twitter and Facebook to other streaming sites like Hulu, HBO, and BBC iPlayer — ExpressVPN's bypass technology gives you the internet freedom you want.
Best of all, you can try ExpressVPN's premium service at no risk to you. Try the service for a full 30 days and get your money back with its "no questions asked" refund policy.
Try ExpressVPN risk-free today!
---
Summary: Other VPNs That Unblock Netflix Seamlessly (Updated 2022)