Does IPVanish Work in China? (Tested in 2023)
IPVanish can obfuscate your connection with its Scramble feature to bypass anti-VPN technologies, but it isn't powerful enough to work in countries with a restricted web. This can be risky when you're up against the Great Firewall of China that blocks most VPN providers.
Despite IPVanish's powerful features and network covering 75 countries including Hong Kong, I've found several VPNs that are much more reliable than IPVanish for China.
The best VPN for China is ExpressVPN as it consistently got past China's firewalls during tests. It's also the fastest VPN I've tried and is proven to protect your privacy. You can try ExpressVPN risk-free in China as it's backed by a 30-day money back guarantee.
Top Tip: Download a VPN before arriving in China, as most VPN websites and Google Play Store are blocked. If you're already in China without a VPN, you can sometimes download one through a mirror site but most VPNs aren't easy to find in the country. Plus, mirror links don't always work.
Why You Need A VPN for China
The Chinese government blocks foreign news and online services with national firewalls to protect its people from external influences. It also deters residents from spreading anti-Communist sentiments online. Plus, there are laws in the country that criminalize rumors and justify prosecuting reporters, with online surveillance supporting these efforts.
That's why you can't use your usual apps and platforms such as Google, WhatsApp, Netflix, and Dropbox in the country without a powerful VPN. Since you'll be connecting to the local internet network with a Chinese ISP, the Great Firewall of China can easily detect your connections and block these services.
Additionally, VPNs that can access foreign content are also banned in China except for registered services provided by local ISPs. Using government-approved VPNs allows the state to eavesdrop on your conversations. This risks your online privacy and security.
Only a select few of the market's top VPNs can get past the Great Firewall of China with truly stealthy connections. I recommend ExpressVPN because during tests it always worked there seamlessly.
Does IPVanish work in China?
No, IPVanish didn't work in China during tests, even with Scramble turned on. The feature may help you get past anti-VPN firewalls in some schools and offices. But unfortunately, it wasn't discreet enough for the Great Firewall of China.
If you've read in other reviews that manual configurations can get IPVanish to bypass firewalls in China, that claim is no longer true in 2023. I clarified this with one of the VPN's live chat agents and they confirmed that there are no tricks to making IPVanish work in China.
If you're traveling to the country and need access to your accounts and online subscriptions from back home, I recommend a VPN that's proven effective in China like ExpressVPN. It hides your legal online activities from cyberspies with fast speeds to stream movies, upload photos, and make video calls without delays.
Use ExpressVPN in China risk-free
Best VPNs That Still Work in China in 2023
Key Features:
3,000+ servers in 94 countries like Hong Kong, Japan, Taiwan, and more
Military-grade 256-bit encryption, Network Lock, an automatic kill switch, and TrustedServer technology
24/7 live chat and email support, plus a complete knowledge base with video tutorials
Connect up to 5 devices at the same time in China
30-day money back guarantee on all plans
ExpressVPN is the best VPN for China as it uses several proprietary technologies to bypass national firewalls, boost speeds, and hide your data from online spies. During my extensive tests and research, the VPN scored better than its competitors in all the areas you need to consider when traveling in the country.
Since ExpressVPN doesn't have servers in China, it doesn't have to log your data to comply with local regulations. While most VPNs have specialized obfuscated servers or a stealth feature that needs to be turned on, I found out that all ExpressVPN servers work in China. Plus, these features are switched on by default to get around China's firewall:
Network Lock — stops all internet traffic when switching servers to prevent leaking any of your data in China
DNS, IP, and WebRTC leak protection — keeps all your data hidden when you're connected to an ExpressVPN server
TrustedServer technology — avoids writing your data to a hard disk that can be requested or seized by authorities
Lightway protocol — offers stable connections and is easier to audit for security vulnerabilities with fewer lines of code compared to others like OpenVPN
Military-grade 256-bit encryption — scrambles your online data so that cyberspies can't see, steal, or sell it
Threat Manager — protects you from ads, trackers, and malware when using the internet in China
My speed tests showed that ExpressVPN is the fastest option for China. Never dropping below 85Mbps even on servers located 10,000 miles from me, I watched Mo Hahou fight 17 bad guys at once in Kung Fu Jungle from my local Netflix library with zero lags. Your data takes longer to travel on long-distance connections, but ExpressVPN's servers around the world showed consistent performance.
My tests of ExpressVPN's speeds showed that you won't notice degraded performance using it in China
Besides unblocking apps you use regularly like WhatsApp and Google in China, ExpressVPN's 3,000+ servers also bypassed geo-blocks in streaming platforms from around the world. You'll be able to access your accounts with these services in China by using ExpressVPN:
| | | |
| --- | --- | --- |
| Netflix US | Disney+ | Hulu |
| HBO Max | Amazon Prime Video | YouTube TV |
| Sling TV | ESPN | Crunchyroll |
| 10 play | BBC iPlayer | ITV |
| DAZN | RaiPlay | Zattoo |
| Showtime | RTE Player | beIN Sports |
One thing I like is that if you're already in China, ExpressVPN has a mirror site to download the apps you need. You can get the link from a support agent via live chat. Or, try ExpressVPN's .onion site — http://expressobutiolem.onion on the Tor browser.
If you have several devices, you can use the internet freely on up to 5 of them without problems. It also took me just a minute to connect to an ExpressVPN server in Hong Kong and check out the Ming Pao news website.
It might be hard to appreciate the VPN's higher price initially, but after going through dozens of VPNs for China, I found ExpressVPN is more than worth it. It's an extremely reliable service in the country and has the speed to support any online activity. Other VPNs I tested had slow or inconsistent speeds and unreliable servers.
For the best value, get ExpressVPN's 1-year + 3 months plan for $6.67 per month. But all its plans are completely risk-free so you'll be protected by a 30-day money back guarantee. If it isn't what you expected in China, just ask for a refund. I contacted the 24/7 live chat support team and my request was approved immediately. I got my money back in 4 days.
ExpressVPN works with: Windows, Mac, Linux, Android, iOS, Chrome, Firefox, Amazon Fire TV, Fire TV Stick, Apple TV, gaming consoles, routers, and more.
2023 Update! ExpressVPN has dropped prices for a limited time to a crazy $6.67 per month for the 1-year plan (you can save up to 49%) + 3 months free! This is a limited offer so be sure to grab it now before it's gone. See more information on this offer here.
Key Features:
200+ servers in 63 countries including in nearby Hong Kong and Taiwan
Military-grade 256-bit encryption, no-logs policy, dedicated IP servers, and a kill switch
Customer support via 24/7 live chat, email, and online guides
Use the internet freely on 10 devices in China
Proven 30-day money back guarantee
PrivateVPN has Stealth Mode to get past the Great Firewall of China and access accounts from back home. It does this by disguising VPN traffic as regular HTTPS to avoid detection. To use the VPN safely in China, turn on the feature in the settings menu and connect to any server nearby, like in Hong Kong or South Korea.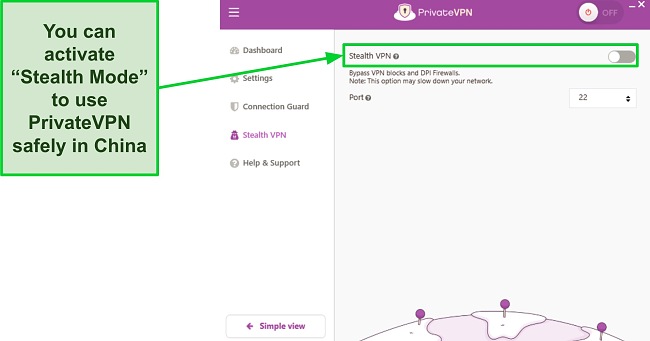 Stealth Mode lets you use all the services you're subscribed to back home while you're in China
Besides Stealth Mode, PrivateVPN's advanced privacy and security features keep you safe while browsing in China. These include:
Military-grade encryption — protects your connection with the most secure cipher available today
Automatic kill switch — disables the internet if it becomes too unstable as you're traveling through China so your data is never revealed
DNS and IP leak protection — keeps your traffic in an encrypted tunnel to avoid exposing your online activities while you're connected to the VPN
Dedicated IP address servers — prevent online platforms from blocking your access with unique IP addresses that aren't blacklisted
Accepts Bitcoin — pay anonymously to avoid disclosing your bank account details or email address to the VPN
I also liked that PrivateVPN accepted my UnionPay card when I signed up and it took me less than 10 minutes to download the app. But if you have trouble installing it, you can get a support agent to take over your computer and do it for you. When I used the maximum 10 devices PrivateVPN allows, I didn't notice performance issues.
The VPN's network of servers in 63 countries accessed content in countries like the US, UK, Australia, Germany, and more in China. Besides being able to read international news on sites like New York Times and Bloomberg, PrivateVPN unblocks your subscriptions to:
| | | |
| --- | --- | --- |
| Netflix US | Disney+ | Hulu |
| Amazon Prime Video | HBO Max | YouTube TV |
| 10 play | BBC iPlayer | DAZN |
| RTE Player | Voot | Paramount+ |
Unfortunately, Stealth Mode slows down your speed. The 16% difference wasn't obvious with my regular high-speed internet, but it affected my slower wireless network. Chinese YouTuber Tingting's 1.5-hour ASMR video gave me several 20-second buffers. If your internet is slow in China, use ExpressVPN instead to avoid waiting for content to load.
On the plus side, PrivateVPN's 3-year plan is the most affordable for China at just $2.00 per month. If you'd rather get a short-term plan for a brief stay in the country, it's also one of the best monthly VPNs.
But no matter which you go with, all PrivateVPN plans come with a 30-day money back guarantee you can trust. When I sent an email asking for a refund, I heard back the same day and my money was returned a week later.
PrivateVPN works with: Windows, Mac, Linux, Android, iOS, Chrome, Firefox, Fire TV Stick, gaming consoles, routers, and more.
Key Features:
700+ servers in 70 countries including Hong Kong and Japan
Military-grade 256-bit encryption, privacy-friendly jurisdiction with internally owned servers, and a kill switch
24/7 live chat and email support plus FAQs and setup guides
Access unrestricted internet on 10 devices at once
30-day money back guarantee
VyprVPN's proprietary Chameleon protocol gets past blocks in China by sneaking past deep packet inspection. It's one of the main ways Chinese firewalls identify and stop restricted traffic. Chameleon uses Smart IP technologies to constantly change your IP address without dropping the connection. This confuses eavesdroppers watching your online activities in China.
Another reason I recommend VyprVPN for China is that it unblocks all the online services that you're accustomed to like Slack and Reddit. Besides being a reliable VPN to access Netflix's content library in the US from China, VyprVPN also bypassed geo-blocks on these sites during tests:
| | | |
| --- | --- | --- |
| Netflix US | Disney+ | Hulu |
| Amazon Prime Video | HBO Max | Crunchyroll |
| ESPN | BBC iPlayer | DAZN |
During my tests, VyprVPN's servers in Hong Kong and the US (both almost 10,000 miles away from me) kept my speeds above 50Mbps. This means it was fast enough to handle a conference call with my sisters on Zoom. Their voices were clear and the video quality was top-notch even as we shared files and screens during the 2-hour long call.
Beyond the kill switch, military-grade encryption, and IP leak protection, VyprVPN protects your privacy in China with:
Independently audited no-log servers — validates that no one can identify you when you're using VyprVPN servers in China
Privacy-friendly jurisdiction — based in Switzerland which isn't part of the 5, 9, or 14 Eyes countries that share internet surveillance data
Private servers — owned and managed internally 100% to eliminate the risk of anyone at third-party data centers meddling with your data
Fortunately, VyprVPN has a mirror site that you can access from China. Go to https://www.vysupport.com and you'll be able to subscribe and download VyprVPN apps to up to 10 devices. I used my Windows laptop, 2 smartphones, an iPad, and a Mac computer for video calls, streaming, and web browsing simultaneously without any connectivity issues.
If there's one minor problem with VyprVPN, it's that it doesn't accept any cryptocurrency payments. But since VyprVPN's servers have been independently audited by Leviathan Security and it's based in Switzerland, I wasn't afraid to pay with my UnionPay card. It also accepts all other major credit cards and PayPal.
I recommend the 1-year plan if you decide to get VyprVPN for China. It's $5.00 per month and you'll have 30 days to decide if it's for you. Getting reimbursed is easy — I contacted support through the 24/7 live chat to ask for a refund. My request was processed immediately and I got my money back in 10 days.
VyprVPN works with: Windows, Mac, Android, iOS, Chrome, gaming consoles, routers, and more.
Quick Guide: How to Use a VPN for China in 3 Steps
Get a VPN. ExpressVPN works best against the Great Firewall of China, is super-fast, and lets you buy it risk-free with a 30-day money back guarantee.
Connect to a server. Choose one from your home country or in a nearby location like Hong Kong or South Korea to maximize your speed.
That's it! Now you can use the internet without restrictions in China.
FAQs About Using a VPN in China
Final Thoughts on Using an IPVanish Alternative in China
Despite its Scramble feature and what you might have read from other reviews, you can't use IPVanish in China. Since there's no way to make it work in the country, I recommend using a better, more reliable VPN. Luckily, I found a few after testing and researching more than 40 VPNs over several weeks.
Out of all the VPNs I've used, ExpressVPN is the best for China. It connects reliably there with fast speeds, keeping your data completely private while you use the web. Plus, it's available from within the country via a mirror link. You can also buy ExpressVPN risk-free for China with a proven 30-day money back guarantee. If it's not for you, it's easy to get a refund.
---
Summary: Best VPNs for China in 2023
Top Choice