How to Watch DAZN From Anywhere 2022 (+ VPNs That Work!)
Last Updated by Julia Olech on September 01, 2022
DAZN only broadcasts certain sports in specific countries and blocks you based on the location displayed on your device's IP address. This is pretty annoying if you're traveling abroad temporarily — or when you're simply having technical issues with your local IP.
I don't think it's fair to miss out on your favorite sports events, especially if you've rightfully paid for it. However, a VPN can reroute your internet traffic through its server network, assigning your device with a new local IP address.
To save you time, I tested and ranked the best VPNs for DAZN in 2022. ExpressVPN's high-speed servers work with the most DAZN libraries (including the US, Canada, and Italy), so it's the top choice. It's risk-free to try ExpressVPN with DAZN as it's backed by a 30-day money-back guarantee.
Important! My team and I don't condone illegal activities, and the protection of a VPN doesn't give you license to break any laws or DAZN's Terms of Use.
Quick Guide: How to Watch DAZN With a VPN (Updated 2022)
Get a VPN. I recommend ExpressVPN as it works with the most DAZN libraries and has excellent speeds for HD streaming.
Connect to a server. ExpressVPN can access DAZN in the US, Canada, Italy, Germany, and Japan.
Start streaming DAZN! Enjoy EuroLeague, MotoGP, NFL Sunday Ticket, and other top sports.
The Best VPNs for DAZN — Full Test Results in September 2022
Key Features:
3000+ servers in 94+ countries
Extremely fast speeds to watch DAZN in top quality
Connect up to 5 devices at the same time
24/7 online support available through live chat and email
30-day money-back guarantee
ExpressVPN unblocks the most DAZN libraries in 2022, including the US, Canada, Italy, Germany, and Japan. I was incredibly impressed with its high-speed servers, which kept my traffic only 10% slower than my base speed. This ensured I was able to watch Playback boxing matches in HD streaming quality.
In tests, I only had a few seconds of initial buffering when my stream was loading — after which I experienced no further interruptions.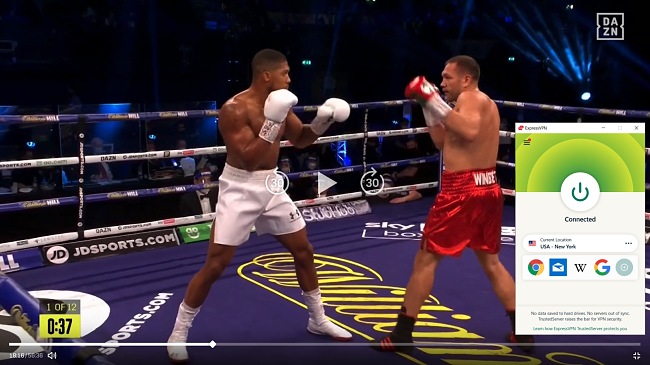 You don't have to worry about streaming DAZN on public WiFi hotspots at work, airports, hotels, or cafes either. Your internet traffic is encrypted and hidden from anyone watching. The strict no-logs policy ensures that none of your data or browsing history is collected, stored, shared, or sold with third parties. This makes ExpressVPN one of the safest VPNs to use in countries with heavy-handed internet laws like China and Russia.
If you're regularly traveling, ExpressVPN has one of the best VPN apps for Windows, Mac, iOS, and Android as you can set up a shortcut to DAZN on the home screen. This means you can launch DAZN in seconds once you've connected to a server in the country of your choice. This unique feature allows you to easily keep up with DAZN on your PC, laptop, or smartphone.
You can also set up the ExpressVPN app at home on your Amazon Fire Stick, Fire TV, Android TV, Apple TV, or router. The router option is a great way to connect every WiFi-enabled device in your household to the VPN. If you've got a gaming console (like PlayStation or Xbox) or a smart TV without VPN support, you don't have to miss out either. You can set up the MediaStreamer feature and connect to ExpressVPN's DNS servers in the US.
The customer support team is available to help 24/7 over live chat and email. In my tests, I always received a friendly and helpful response within 1 minute over live chat — I recommend using this method to contact ExpressVPN if you have any questions.
Best of all, you can try ExpressVPN with DAZN risk-free as it comes with a 30-day money-back guarantee. If you're not completely satisfied, you're entitled to a full refund. To test this myself, I asked for a refund after 24 days of testing over 24/7 live chat. I was pleasantly surprised when the representative didn't even ask why I wanted to close my account. My request was approved in 1 minute and I had the money back in my bank account 5 days after.
ExpressVPN works on: Windows, Mac, Android, iOS, Linux, Chrome, Firefox, Apple TV, Samsung TV, smart TVs, Amazon Fire Stick, PlayStation, Xbox, routers, and more.
ExpressVPN also unblocks: ESPN, Hulu, BBC iPlayer, Amazon Prime Video, Sky Sports, Peacock, Telemundo, NBC Sports, fuboTV, BT Sport, WWE Network, Netflix, Disney+, and more.
September 2022 Update! ExpressVPN has dropped prices for a limited time to a crazy $6.67 per month for the 1-year plan (you can save up to 49%) + 3 months free! This is a limited offer so be sure to grab it now before it's gone. See more information on this offer here.
Key Features:
700+ servers available in 70+ countries
Fast speeds on servers the closest to your physical location
Works on 30 devices at once
Offers troubleshooting help through a 24/7 live chat and email
30-day money-back guarantee
VyprVPN's servers work consistently with DAZN US, Canada, and Germany. The company utilizes its own private VyprDNS servers to ensure reliable access to DAZN in the above countries. You don't even need to manually set anything up as VyprDNS is automatically enabled in all the VPN apps — just launch the app and connect to a server in the US, Canada, or Germany.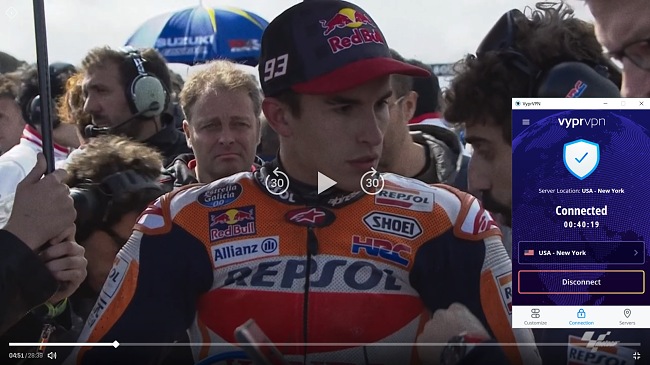 You'll also be happy to know that VyprVPN's servers in the US, UK, and Canada work with other sports streaming sites like ESPN+, MLB.tv, Sky Sports, NFL Gamepass, and Eurosport, and NHL.tv. A single subscription supports 30 device connections at the same time, so you can keep up with your favorite sports games across all your devices.
VyprVPN is a little more pricey than the other VPNs on this list, but you can save up to 50% on the 1-year-plan with the latest deal. It's completely risk-free to try VyprVPN with DAZN (even with the discount) as you're protected by the 30-day money-back guarantee.
I even tested this by canceling my account over live chat after using the VPN for 3 weeks. The VyprVPN representative didn't even try to change my mind and initiated a refund as soon as I confirmed my email address, making it a completely hassle-free process. The money was back in my bank account only 6 days later.
VyprVPN works on: Windows, macOS, Android, iOS, Linux, Chrome, Firefox, Samsung TV, Amazon Fire Stick and TV, routers, and more.
VyprVPN also unblocks: ESPN+, Hulu, BBC Sport, Sky Sports, Peacock, MLB.tv, NBC Sports, NFL Gamepass, Eurosport, NHL.tv, fuboTV, Netflix, Amazon Prime Video, and more.
Key Features:
2000+ servers spread across 75+ countries
DAZN-optimized servers provide reliable speeds and steady connections
Supports up to 10 simultaneous device connections
Customer help accessible through a 24/7 live chat and email
30-day money-back guarantee
hide.me provides servers optimized specifically for DAZN Japan, US, and Germany. These servers are regularly refreshed and managed by the hide.me team, ensuring you can always access the DAZN library of your choice. Better still, the 2-year-plan is the cheapest VPN on this list at only $2.49 per month.
You can find the optimized servers in their own "Streaming" tab, which saves you from scrolling through the list of all countries. I just typed "US" in the search bar, tapped on the streaming server, and the VPN connected me in half a minute.
In tests, each optimized server had no problems accessing DAZN and streaming the latest Premier League games in HD. The streaming speeds were excellent — I experienced only a 15-20% speed drop on each connection, which is very little and shouldn't result in any lag or buffering.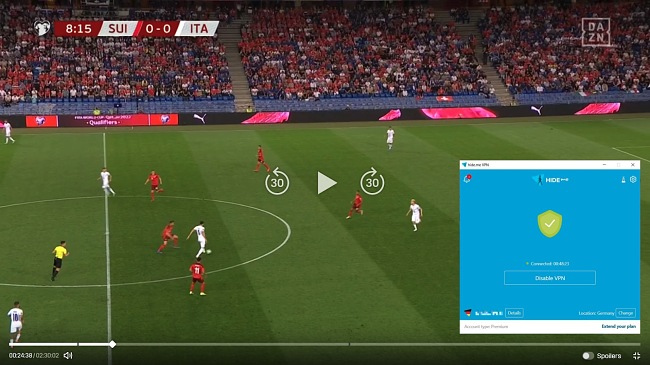 You can try hide.me with DAZN risk-free by taking advantage of its 30-day money-back guarantee. To get a refund, just email the customer support team. I tested this and got my money back in just 5 days.
hide.me works on: Windows, Mac, Android, iOS, Amazon Fire OS, routers, Firefox, Chrome, and more.
hide.me also unblocks: ESPN, Hulu, BBC Sport, Sky Sports, Peacock, Telemundo, NBC Sports, fuboTV, BT Sport, and more.
Easy Comparison Table: Here's the Best VPN for Your DAZN Country
| | | | |
| --- | --- | --- | --- |
| DAZN Sites | ExpressVPN unblocks: | VyprVPN unblocks: | hide.me unblocks: |
| US | ✔ | ✔ | ✔ |
| Canada | ✔ | ✔ | ✘ |
| Italy | ✔ | ✘ | ✘ |
| Spain | ✘ | ✘ | ✘ |
| Germany | ✔ | ✔ | ✔ |
| Japan | ✔ | ✘ | ✔ |
| Switzerland | ✘ | ✘ | ✘ |
| Austria | ✘ | ✘ | ✘ |
| Brazil | ✘ | ✘ | ✘ |
Warning! These VPNs Don't Work With DAZN in 2022
DAZN is one of the hardest streaming platforms for VPNs to access (Netflix is another streaming platform that only a few VPNs work with). In my tests, I found that none of the VPNS below have the technology or resources to keep up with DAZN.
Private Internet Access (PIA)
CyberGhost
HMA
SaferVPN
IPVanish

ZenMate
Ivacy
Hotspot Shield
UltraVPN
StrongVPN
Step-By-Step Guide: How to Sign Up for a DAZN Account From Overseas
If your local credit card expires while you're traveling abroad for work or a vacation, you can buy an online DAZN gift card to pay for your subscription.
Get a VPN for DAZN. I recommend ExpressVPN as it has lightning-fast servers that work with DAZN US, Canada, Italy, Germany, and Japan.
Buy a DAZN gift card online. You can choose from Amazon, Media Markt, or other retailers.
Visit the DAZN website and choose a plan. I recommend the annual plan as it works out the cheapest per month.
Select your payment method and enter your details. As you're using a gift card, type in the code and click "Add a payment method later."
Tap "Start Subscription."
That's it! DAZN even offers free trials for 30 days from certain countries, like Austria, Germany, and Brazil.
How I Tested and Ranked the Best VPN for DAZN
My team and I tested all the leading VPNs against the below criteria to find the top VPNs for DAZN:
Large server network in multiple DAZN countries — This includes the US, Canada, Germany, Spain, Italy, and Japan.
Fast speeds for HD streaming — So that you won't miss a single moment of a game, race, or fight due to lags.
Strong security and privacy features — Military-grade encryption, a strict no-logs policy, and a kill switch help protect your data against anyone who might be tracking you.
24/7 customer support — Each VPN offers live chat or email to help you find the best working server for DAZN or troubleshoot any streaming issues.
Money-back guarantee — I tested each VPN's money-back guarantee to make sure you can get a full refund without hassle if you change your mind.
FAQs: DAZN and VPNs
What's the best free VPN for DAZN?
You might be tempted to choose a free VPN to save money, but I advise against it. Even though hide.me's free plan is one of the best free VPN services in 2022, none of its servers in Germany, Canada, the Netherlands, or the US could access DAZN in tests.
Free VPNs only offer limited servers and IP addresses, which are very quickly flagged and blocked by DAZN. If you do find a free VPN with no restrictions at all, then I can guarantee it's most likely selling your private data to third parties in order to make a profit. The invasive loss of privacy (and the risk of identity theft!) simply isn't worth it.
If you're willing to make a small investment, ExpressVPN is an affordable premium VPN that's backed by a 30-day money-back guarantee. If you don't like it, it's easy and quick to get a full refund through 24/7 live or email. I even tested it myself and I had no issues getting my money back.
Why is my VPN not working on DAZN?
Only 3 VPNs actually work with DAZN, so this is a common problem. You'll know when your VPN has been detected by DAZN when you see this error message:
"DAZN is not available in your current location."
However, even the VPNs that do work can sometimes get blocked — DAZN is notoriously challenging for VPNs to access. To fix the issue, clear your cache and cookies and reconnect to a different server. This deletes your browsing history and gives you a new IP address that's less likely to be blacklisted.
If that still doesn't work, check that your VPN app is up to date. You can also contact customer support for an updated list of servers that work with DAZN.
Why does it say DAZN is not available in this country?
According to DAZN's Terms of Use, it states that:
"You may access and enjoy the DAZN Service only in the country in which you have established your DAZN account."
DAZN has to abide by licensing restrictions, so only specific sports events are broadcasted in certain countries. This means that you may lose your rightful access to sports you're paying for when you travel abroad. However, a VPN can give you access to your usual DAZN library by rerouting your traffic through its encrypted network of global servers.
Bear in mind that DAZN could pursue action against you if it detects you're breaking its rules. This would most likely be a warning, suspension, or (in rare cases) complete termination of your account.
However, there have been no records of DAZN actively chasing anyone using a VPN. If DAZN does detect that you're using a VPN, you'll most likely see an error message asking you to disable the VPN first.
What country is DAZN available in?
DAZN is available in over 200 countries, including the UK, Ireland, Australia, Mexico, Canada, the US, Brazil, Germany, and more.
However, its content depends on which country you're connecting from. So if you're using DAZN in the UK, you won't be able to watch all of the sports offered in the US or Canada (like the NHL) and vice versa. Unless you use a VPN to reroute your internet traffic to your home country, you'll lose access to your favorite sports if you're temporarily overseas on a holiday or for work.
Can I watch DAZN with a VPN on any device?
Even though you can log in on up to 5 devices, DAZN allows you to stream sports on 2 devices at once. The good news is that the top VPNs for DAZN allow 5 or more simultaneous connections, so you can get the most out of your streaming subscription.
DAZN works on all kinds of devices and operating systems, including:
Desktops and laptops including Windows, macOS, and Linux.
Mobile devices like Android, iOS, Amazon Fire Tablet, and more.
Smart TVs and TV boxes including Android TV, Samsung TV, LG Smart TV, Vizio TV, Roku, Chromecast, Apple TV (4th Generation), Amazon Fire TV and Fire Stick, Xfinity Set-top boxes, and more.
Gaming consoles like PlayStation and Xbox One.
What are the best alternatives to DAZN?
I recommend ESPN, Sky, and TSN. However, you might struggle to access these streaming platforms based on your physical location. Like DAZN, you can be blocked purely based on the location shown on your device's IP address — unless you connect to a VPN and assign yourself a new IP address.
Only DAZN and ESPN are available internationally with a wide selection of sports broadcasts available in different countries. Sky Sports is based in Britain, so it mostly covers sports in the UK, including the Premier League and the Champions League. TSN is a Canadian network with coverage of many Canada- and US-based leagues, like the NHL and NFL.
What sports can I watch on DAZN?
It depends on your country. DAZN has a huge selection of popular sports, like the Premier League, NFL, Six Nations, NBA, NHL, UFC, and more — but not every country has the same broadcasting rights to these events.
For example, viewers in Canada can't watch La Liga, while DAZN libraries in Japan and Spain don't show WWE streams. If you regularly travel abroad and don't want to lose access to the content in your home country, a VPN helps you gain access to DAZN so you can stream the sports you rightfully pay for.
Start Watching DAZN From Anywhere Today
It's not fair to be blocked from watching sports you pay for — especially if you're temporarily abroad or suffering from technical issues with your IP address. A top-tier VPN can help you access your local DAZN library and watch the Premier League, the NBA, WWE, or any other sports streams.
However, finding a VPN that works with DAZN is tough. After hours of testing, I discovered that no VPN can unblock every library (although ExpressVPN unblocks the most DAZN countries). You can try ExpressVPN with DAZN for yourself and if you're not satisfied, you have up to 30 days to claim a refund with the money-back guarantee. That way you're not risking anything and you won't miss another game.
---
Other Top VPNs for Streaming Sports in 2022
Top Choice