3 Steps to Stream Season 3 of The Handmaid's Tale on Hulu (Outside US)
Last Updated by John Bennet on July 17, 2019
Considered one of the best shows out right now, The Handmaid's Tale is now streaming season 3 on Hulu.
While this is great news for fans of the show, if you are not in the US, you'll still have to wait a few months before it available in other locations.
Why wait when you can get it now? Just follow these 3 steps and you can get you access to Hulu from anywhere.
Watch the Handmaid's Tale Now!
How to Watch The Handmaid's Tale From Outside the US?
The best way to fool Hulu into thinking you're in the US is to connect with a VPN. This will give you a US IP address and allow you to bypass any restrictions or geo-blocks that are meant to restrict viewers to the US.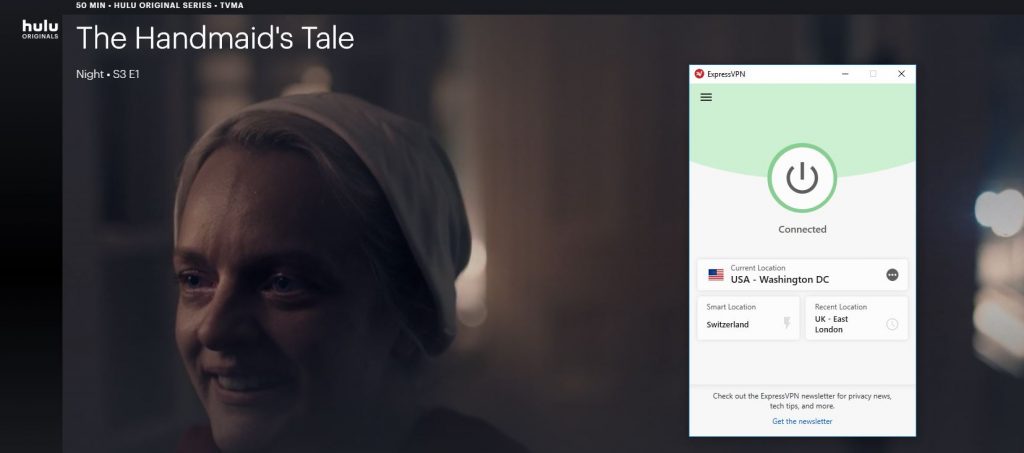 ExpressVPN works with Hulu and The Handmaid's Tale
Get a VPN that can bypass the Hulu geo-restrictions. We recommend ExpressVPN because not only will they let you connect with Hulu, they have blazing speeds and unlimited data.

Connect with one of the US servers.

Log in (or create an account) to Hulu. If you are opening a new account you must have a US payment method or a gift card. For more details check out our guide to opening a Hulu account from outside the US.
Watch the Handmaid's Tale Now!
Best VPNs to Stream The Handmaid's Tale
Rank
Provider name
Our score
Price
Will a Free VPN Work to Stream The Handmaid's Tale?
There is a time and a place for free VPNs, but streaming on Hulu isn't one of them for several reasons.
They are almost always blocked by Hulu
They typically have speed restrictions, which will cause buffering and low-quality streams
Nearly every free VPN has data restrictions that make it difficult to watch an entire episode.
While most VPNs are pretty cheap, and won't cost you more than a few bucks a month (check out our VPN coupons for great savings), if you are looking for a way to get a premium VPN without having to pay anything then you can take advantage of free trial offers that comes with most VPNs. These money back guarantees will allow you to "try out" the VPN and then return it before the trial period is up for a complete refund.