6 Best VPNs for iOS to Protect Your iPhone and iPad in 2021
Last Updated by Kate Hawkins on April 01, 2021
There are hundreds of VPNs on the Apple App store, all claiming to be the best. To save you time (and money!), I tested dozens of services to bring you the 6 best VPNs that have full iOS protection from online threats and unwanted surveillance.
Based on my test results, NordVPN impressed me the most due to it's winning combination of high-quality features and and user-friendly iOS app. It performed extremely well in my tests for speed and bypassing geo-blocks and proved to be the best value for money. You can even try NordVPN for 30 days for free!
Every VPN on this list has native apps that you can download directly onto your iPhone and support multiple simultaneous device connections. They all offer easy installation, 1-click server connections, and money-back guarantees.
Quick Guide: 6 Best VPNs for iOS Devices in 2021
6 Best VPN Services for iPhone and iPad (Tested April 2021)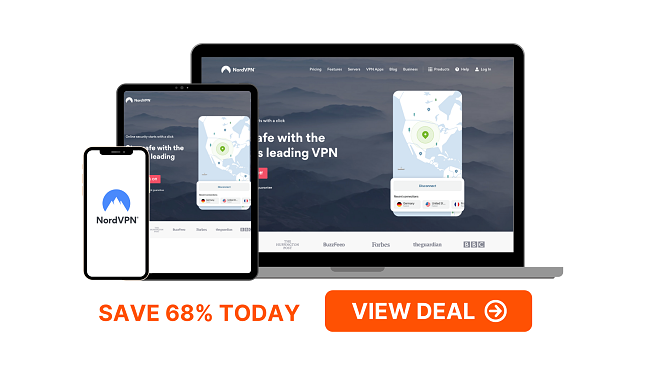 Key Features:
Apps for iPhone, Mac, and iPad
5,500+ servers in 59 countries for fast speeds and quick connections
Unlimited bandwidth for fast speeds
Military-grade encryption for protecting your online activity and location data
Protect up to 6 devices at once
30-day money-back guarantee
After all the rounds of VPN testing, I found NordVPN to be the top choice for iOS. From any of its native iOS apps, you can connect to its massive collection of 5,800+ servers (which ensures you'll never have issues with overcrowded servers and slow speeds) by choosing a location from the interface map. There, you can "Quick Connect" to the fastest available server or choose an individual server.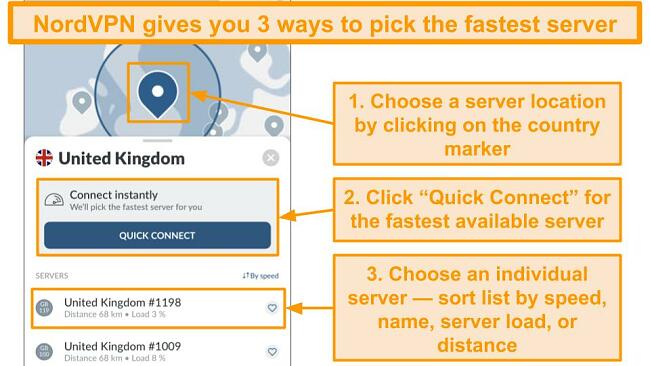 I tested NordVPN's connection speeds to see if they really were fast and the results were impressive. I connected my iPhone XS to the fastest available server and ran a speed test using Ookla. My connection speed was 60.8Mbps — this is fast enough to stream Netflix in HD without any lag or buffering!
The NordVPN app is designed to be similar across all devices, so it's easy to switch from your iPhone to iPad and get connected immediately. For iOS, the app features the CyberSec malware blocker to protect your devices from malicious software and pop-up ads. You can also turn on the "Auto-Connect" feature for when you use untrusted or public connections so you're always secure online.
I love to keep up with the latest shows and movies, so I was thrilled that the NordVPN iOS app connected me to all of my favorite streaming services. I could easily watch Netflix US and bypass the proxy error from my iPad when connected. I didn't have to keep changing servers to find one that unblocked Netflix, Hulu, HBO, or YouTube TV. NordVPN's SmartPlay feature automatically found a server in the US that gave me access to all of the content I wanted.
If you're not sure about subscribing long-term just yet, you can try NordVPN risk-free with its 30-day money-back guarantee. I've tested their refund policy and never had any issues getting my money back (usually within 5 days).
NordVPN works on: iOS (version 11 onwards), macOS (version 11 onwards), Windows, Android, Linux, Chrome, Firefox, Smart TVs, and routers.
NordVPN unblocks: Netflix, Amazon Prime Video, BBC iPlayer, Disney+, HBO GO, Showtime, Sling TV, Hulu, and more.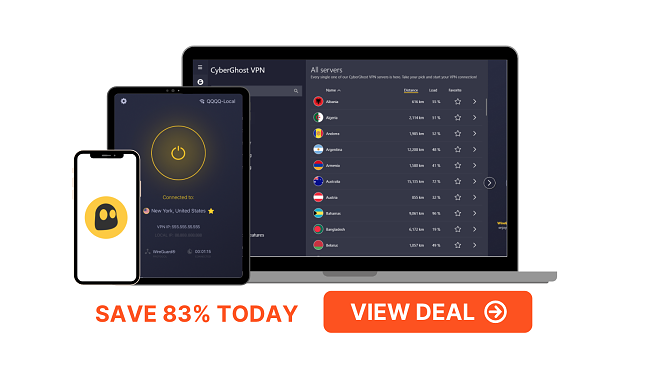 Key Features:
Apps for iOS and macOS
6,600+ servers in 89 countries for fast global connections
Fast speeds with no bandwidth restrictions
Best-in-class encryption protects your devices and data
Connect up to 7 devices at once
45-day money-back guarantee
CyberGhost's optimized streaming servers make connecting to your favorite shows and movies on iOS simple and fast. They're regularly tested to make sure your connections are reliable for fast streaming without buffering. Plus, using an optimized server means you'll always be able to get around any location blocks services like Netflix have on their content. I put CyberGhost's Netflix US server to the test and didn't get the proxy error message a single time.
I found getting connected to the optimized servers was easy on my iPhone XS as there's a menu just for "Streaming" servers. By tapping on the streaming service I wanted, CyberGhost connected to the optimized server for me — it took less than 3 seconds to connect.
I ran several speed tests using Ookla to see if there was a difference in speed between optimized and standard servers. Connecting to CyberGhost's optimized Netflix US server gave me a speed of almost 31Mbps, fast enough to stream Netflix in UltraHD video quality. The standard server was almost 30% slower at 23Mbps — still fast enough to stream without buffering, but unblocking the service isn't always guaranteed.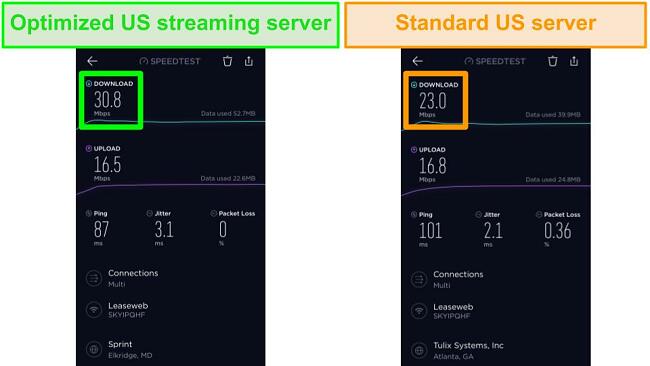 I didn't like that CyberGhost wouldn't let me switch servers while I was still connected on the iOS app. To switch, I had to disconnect to access the server menu, then choose a different server and reconnect. Altogether this took about 10 seconds (or a little longer if I was searching for a particular server), but I would rather stay connected and browse the server menu instead.
To make sure that it's the right VPN for you, you can sign up with CyberGhost's "no questions asked" 45-day money-back guarantee. It's easy to get a refund just by contacting customer service through email or 24/7 live chat.
CyberGhost works on: iOS (version 9.3 or later), macOS (version 10.12 or later), Windows, Android, Linux, Chrome, Firefox, Amazon Fire Stick,Android TVs, and routers.
CyberGhost unblocks: Netflix, HBO GO, Hulu, Amazon Prime, YouTube TV, Disney+, Sling TV, Crunchyroll, ESPN, and BBC iPlayer.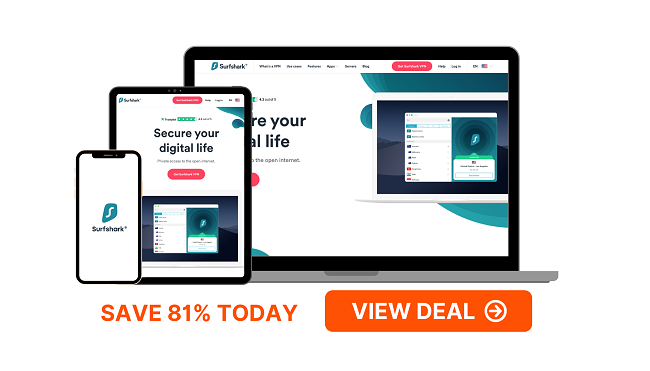 Key Features:
Apps for iOS and macOS
3,200+ servers in 65+ countries for easy global connections
Fast speeds with no bandwidth restrictions
Military-grade encryption keeps your data and activity protected
Unlimited device connections
30-day money-back guarantee
Surfshark's iOS app not only secures your outgoing activity but it can also protect all your devices from malicious software. After turning CleanWeb on, I found I could browse online without seeing a single annoying ad!
It protected me from insecure websites, warning me that the links I'd clicked were suspicious. The CleanWeb feature even saved some of my iPhone's mobile data (and my money!) by blocking ads and trackers while I browsed — bonus! CleanWeb isn't automatically on when you download the app, but it's easy to activate in the "Features" menu.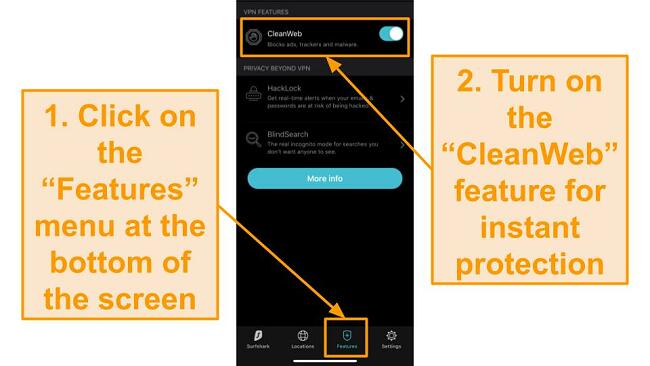 I personally have 2 iOS devices (an iPhone and an iPad), plus my Windows computer — and my family brings the total devices in the house up to 15! That's why I'm especially pleased that Surfshark offers unlimited device connections as I could install the app on every device using a single subscription. This makes Surfshark one of the most cost-effective VPNs available.
There is a downside: having multiple devices connected will inevitably impact your speed and can cause a noticeable slowdown. During my tests, I connected 4 devices at the same time — my iPhone XS, iPad, Windows computer, and a Samsung Galaxy S10 smartphone. With a single device, my speed was 60.8Mbps, which is almost as fast as my regular ISP speed of 62Mbps. With all 4 devices, it dropped to 46.6Mbps. Despite the 26% drop in speed, I could stream on Netflix in HD with less than 5 seconds of buffering.
I know that built-in malware protection and unlimited connections at such an affordable price sounds too good to be true — so I recommend that you test Surfshark for yourself! You can use its 30-day money-back guarantee to try out all of Surfshark's features. If you're not totally satisfied, you can get a full refund by contacting customer support.
Surfshark works on: iOS (version 9 or later), macOS (version 10.12 or later), Windows, Android, Linux, Chrome, Firefox, Smart TVs, Xbox, PlayStation, and routers.
Surfshark unblocks: Netflix, HBO GO, Hulu, Amazon Prime, Disney+, Sling TV, and BBC iPlayer.
Try Surfshark risk-free today!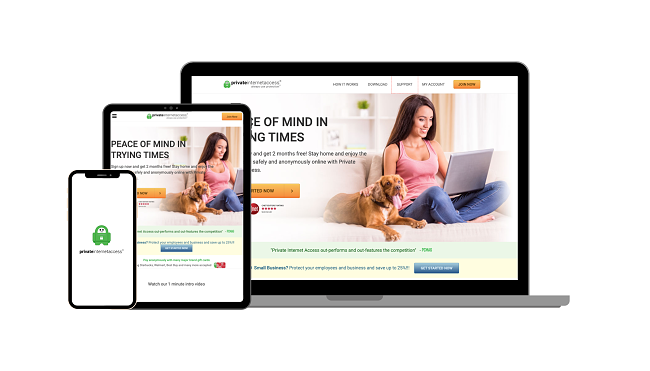 Key Features:
Apps available on iPhone, iPad, and Mac
23,500+ servers in 77 countries (largest network on this list!)
Great speeds with unlimited data allowance
Strict no-logs policy and strong encryption for top-level data security
Supports 10 simultaneous device connections
30-day money-back guarantee
Private Internet Access (PIA) takes up very little storage space on your iOS devices. I really like how lightweight it is, at a tiny 33.5MB — I have more space for other apps, photos, and downloads on my iPhone! Compared to NordVPN at 114MB, PIA is less than 3 times the size — but don't be fooled by its small stature. This compact VPN has all the security features you need to keep your iOS devices protected.
I wanted to test PIA's security, so I connected to the New York server in the US and ran a DNS leak test. I was pleased to find that my connection was totally secure with no DNS or IP leaks at all.
I also wanted to make sure PIA had connection speeds fast enough for streaming with Netflix on my iPhone XS. The fastest available server, UK Southampton, was impressively fast at 56Mbps — less than 10Mbps slower than my usual ISP speed! However, connecting to the New York server dropped my speed to 26.8Mbps, which is a significant 70% reduction. Despite this drop, I was still able to stream Netflix US in HD quality on my iPhone, with only a few seconds of buffering before my show started playing. I was also able to watch Netflix in Canada, Australia, and Japan in HD quality, though I had to switch servers a few times to find one that worked. Fortunately, switching servers is super easy and it only took a couple of minutes to make the right connection.
If you're looking for a VPN iOS app that takes up less memory on your phone but still provides high-quality security, PIA is a great choice. You can use PIA's 30-day money-back guarantee to test the service out risk-free. It's easy to request a full refund by submitting a ticket or emailing customer support.
PIA works on: iOS (version 11 or newer), macOS (version 10.12 or newer), Windows, Android, and Linux
PIA unblocks: Netflix (sometimes), YouTube, BBC iPlayer, Disney+, Hulu, and ESPN.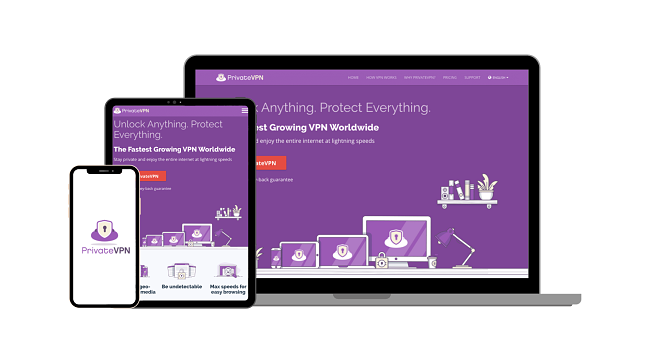 Key Features:
Apps available on iPhone, iPad, and Mac
150+ servers in 60 countries provide quick global connections
No data caps for unlimited fast streaming
Zero-logs policy and military-grade encryption keep your data protected
Supports 6 device connections at the same time
30-day money-back guarantee
When it comes to VPNs and server numbers, bigger is usually better. PrivateVPN has a network of just over 150 servers in 60 countries, with a focus on security and speed rather than size. And it shows, with an impressive list of optimized streaming servers that reliably get around content blocks and firewalls — including the Great Firewall of China!
I put PrivateVPN's optimized servers to the test and used my iPhone and iPad to try and get around Netflix's tough VPN technology. I chose the US server I thought was closest to me (New York 1) as the iOS app doesn't show latency like the desktop app does.
It took less than 5 seconds for PrivateVPN to connect and when I clicked Netflix, it pulled up a list of the top content in the US. On choosing my show, my video started streaming in HD immediately — there was zero buffering or load time. I ran a speed test using Ookla and got a result of 30Mbps, which is more than enough to stream in HD without any lag.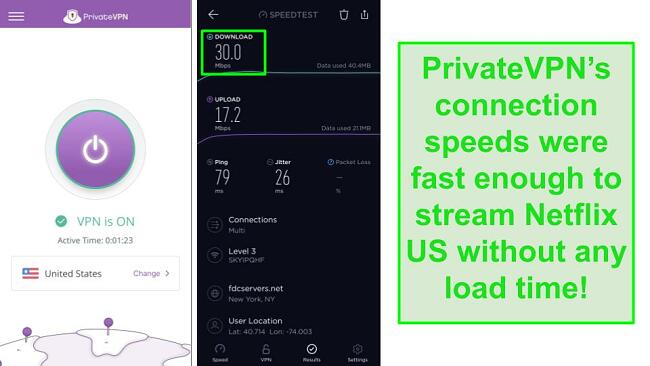 If you love streaming like I do and want to watch global content on your iOS devices, I recommend trying PrivateVPN. PrivateVPN has a 30-day money-back guarantee that will give you a full refund if you're not happy with the service.
PrivateVPN works on: iOS (version 10 or later), macOS (version 10 or later), Windows, Android, routers, and Linux
PrivateVPN unblocks: Netflix, YouTube, DAZN, Amazon Prime, NBC, BBC iPlayer, Disney+, Hulu, and ESPN.
6. IPVanish — Easy to Use and Intuitive iOS App for Beginners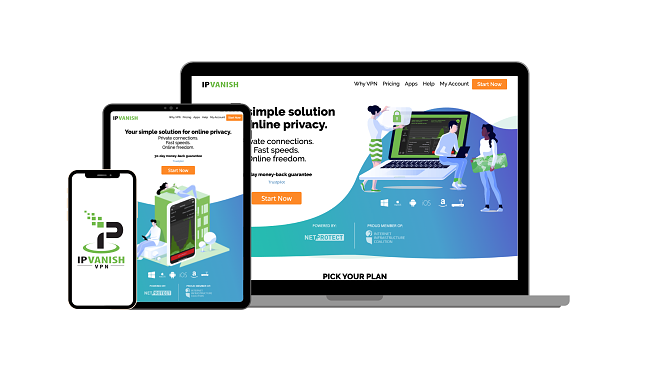 Key Features:
Apps available on iPhone, iPad, and Mac
1,600+ servers in over 75 locations for smooth server switching
Unlimited bandwidth for fast streaming and torrenting
Zero connection or activity logs and high-quality encryption protect your data
Connect up to 10 devices at once with unlimited device installations
30-day money-back guarantee
IPVanish's iOS app is really easy to use and full of useful information that helps you make the best server choices. When you're selecting your server, you can see precise locations and pick the individual server in your chosen city or country. I really like that IPVanish shows you server load (how full the server is) and the ping (how fast data travels from your device to the server). I could be precise with my server choices and that meant every connection I made was fast.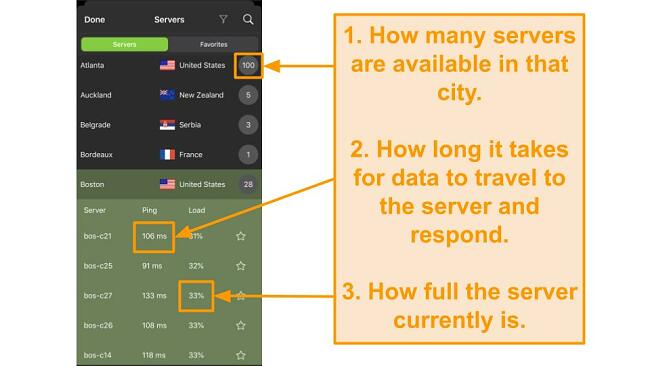 One of my favorite IPVanish iOS app features is its built-in customer support. If you have an issue, you don't have to exit the app and head to your browser to search the site for help. I used the feature to check troubleshooting guides and contact live chat support straight from the app. It was an easy and fast way to get the help and information I needed.
The best way to know if IPVanish is right for you is to test it — and you can try IPVanish for 30 days risk-free with its money-back guarantee. Bear in mind that if you sign up for IPVanish through the iOS app and want to cancel, you'll have to get a refund through Apple (which is a lot more hassle) rather than by contacting IPVanish's customer support.
IPVanish works on: iOS (version 11 or later), macOS (version 10.10 or later), Windows, Android, Chrome, Fire TV, Linux, and routers.
IPVanish unblocks: Netflix (sometimes), YouTube, Kodi, Amazon Prime, BBC iPlayer, Disney+, Hulu, and ESPN.
Try IPVanish risk-free for 7 days!
Be Careful Installing Free VPNs on Your iPhone (Hint: It's Not Worth It)
Free is always tempting, but a free VPN can compromise your data security and isn't worth the risk to your iOS devices. Free VPNs have been known to sell your personal information to third-party advertisers, even if they claim to keep your activity anonymous. Worse still, some free VPNs are loaded with malware and spyware designed to steal your data.
There are some free VPNs that have strong security but they are limited in terms of data allowance, servers, and speeds. Most free VPNs will cap your monthly data and throttle your speeds to encourage you to upgrade the service. This means you don't get to use the VPN as much as you want and you'll experience slow streaming, browsing, and downloads. These free VPNs don't have the technology to bypass regional restrictions either, so if you want to stream global Netflix, you'll get an error message.
If you want to try a VPN before you subscribe, all 6 recommended VPNs have a money-back guarantee. Since you don't need to pay for it anyway, my tip for you is to start with the best service. Sign up for a NordVPN plan, test it, and get a full refund by contacting customer service. I found getting my money back was easy — I spoke to a representative through live chat and got a full refund in less than 5 business days.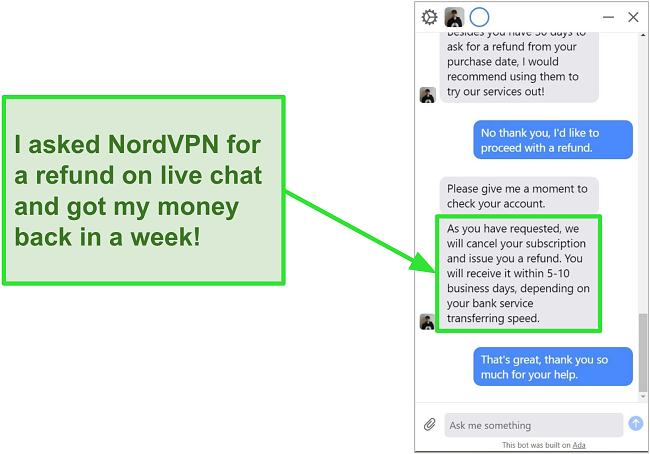 FAQ: Using a VPN on iOS
🤔 How do I choose a VPN for my iPhone or iPad?
While I tested different VPNs to find the best iOS options, I checked each VPN against the following criteria:
Well-designed app with support for various iOS versions
No-logging policy to keep your internet activity private
High-end security features
Fast servers around the world
Support for unblocking regional streaming on Netflix, Prime, BBC iPlayer, and more
😐 Do I really need a VPN for my iPhone or iPad?
iOS devices are well-known for being secure, but that doesn't mean your iPhone or iPad isn't vulnerable to malicious third parties. As technology advances, hackers figure out new ways to breach iOS security — so if you're not using a VPN, you risk compromising your data. A VPN will secure your iPhone and keep your personal data protected, no matter where you connect.
With a VPN, you can:
Bypass regional content restrictions and stream global Netflix, BBC iPlayer, and more
Torrent without worrying that copyright holders or your ISP are tracking you
Encrypt your data to hide what you're really doing and where you really are
Bypass government censorship in restrictive parts of the world such as China
🤩 Which VPN is best for watching Netflix on my iPhone or iPad?
NordVPN is the best for watching global Netflix on your iPhone, iPad, or Mac. Its military-grade encryption and DNS leak protection hide your IP address so you can get around Netflix's blocks.
With thousands of servers worldwide, you'll be able to watch the entire Netflix library by connecting to different server locations. Best of all, NordVPN's fast connection speeds mean you can stream your favorite shows and movies in HD-quality video with minimal buffering.
🤓 Do VPNs work on iPads too?
Yes. Every VPN on this list works the same way on both an iPhone and an iPad. Simply install the app, log in, and connect. You can even use the VPN on multiple devices at the same time. This means you can connect on your iPhone, iPad, and Mac all at once — under a single subscription!
😅 How do I set up a VPN on my iPhone?
Setting up a VPN on your iPhone is quick and easy — you can do it in under 5 minutes by following these steps.
Download and launch your VPN. NordVPN is the most comprehensive service for iOS.
Connect to a server. Choose a location depending on your needs. If you want the fastest server, choose a location close to where you live. If you want to unblock content from a specific country, make sure you connect to a server in that country.
Start browsing, streaming or torrenting on your iPhone! Now your device is fully protected online.
😥 Will using a VPN impact my iPhone's battery life?
Yes it will, just like any other app. However, using a quality service like NordVPN on your iPhone won't noticeably drain your battery. I spoke to NordVPN's customer support and asked if having the VPN active would make my phone battery run down faster. They reassured her that the impact would be minimal.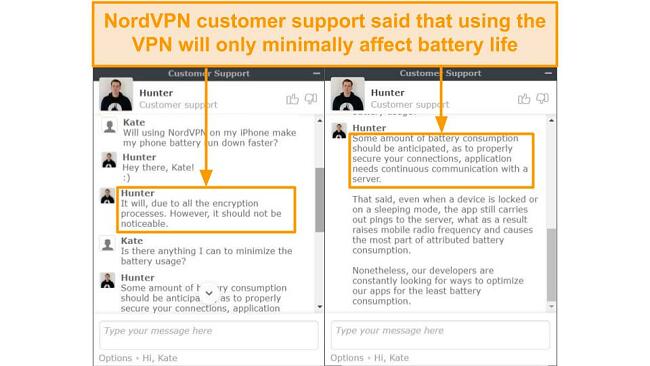 To maximize your battery life and have the VPN switched on and securing your device all the time, you can optimize your iOS devices. Try dimming your screen's brightness and enabling Low Power Mode. You can also check your battery usage information and close any other apps that might be sneakily running in the background.
Which iOS VPN works in China?
The best iOS VPN that works in China is PrivateVPN. During testing, it was the only top iOS VPN to reliably break through China's Great Firewall. As a smaller VPN, it's able to get around China's internet restrictions more easily than other popular services. PrivateVPN's AES-256 bit encryption and kill switch work together to bypass firewalls and keep your connection secure. It's not as fast as other top VPNs so you can expect some lag or buffering when you're streaming and browsing.
Here's a tip: Download a VPN to your iOS devices before you get to China! The Chinese government blocks access to VPN websites and they're not available on the app store there.
Can I use a VPN on more than just my iOS devices?
Yes! Every VPN on the recommended list supports a variety of different devices and operating systems. Based on my team and my tests, NordVPN is the best VPN for iOS and all other major operating systems, including Windows.
Stay Safe Online With a VPN for Your iPhone and iPad
With hackers, advertisers, and governments all trying to gain access to your personal data, you need a reliable VPN to protect you and your iOS device. Despite being one of the more secure operating systems, standard iOS software is not enough to defend you from cyberattacks. This is especially true if you're connecting to public WiFi.
After testing dozens of VPNs, I can definitively say NordVPN is the best choice if you want a quality VPN that keeps your iPhone and iPad safe. NordVPN will keep your data encrypted, so you can shop and bank online without putting your financial information at risk. It also lets you access content normally restricted by location — so you can stream Netflix, BBC iPlayer, and YouTube freely from anywhere in the world!
You don't have to fully commit straight away. My advice is to try NordVPN risk-free with its money-back guarantee. You have 30 days to decide if it's suitable for you. It has 24/7 customer support that you can contact at any time to request a refund — when I did it, I got my money back in just 5 days.