How to Watch Cartoon Network Online From Anywhere In 2022
Last Updated by Kate Hawkins on July 01, 2022
Since 1992, Cartoon Network has been one of the most prominent cable television channels providing good-hearted family entertainment. Unfortunately, the channel is not available worldwide. Try to watch it outside those areas, and you'll face an error message. However, there is a solution. If you're travelling, all you need is an IP address located in the United States and a subscription to an OTT service like Hulu Live, Sling, or DirecTV.
By using a Virtual Private Network (VPN), you can hide your current IP address and switch it with one in the US. This will give you access to any content blocked in your region, like Cartoon Network. If you are a newbie to VPNs, this may sound complicated, but it is actually effortless. The best, and most reliable VPN for watching Cartoon Network is ExpressVPN – and it's backed by a 30-day money-back guarantee, so you can try it risk-free.
Using a VPN to watch restricted content is very popular amongst travelers, expats, and those who live in countries with oppressive censorship rules. Not only do VPNs give you access to websites like Cartoon Network, but they also provide you with access to restricted content in any region while your data is encrypted and your security is protected.
Watch Cartoon Network with ExpressVPN
5 Steps To Watching Cartoon Network on HULU Live

Connect your high speed VPN to a US-based server
Visit Hulu's website
Register or sign in (from $7.99 per month – free trial available)
Search for Cartoon Network and select the show and episode you want
Click on 'Watch'
5 Steps To Watching the Cartoon Network With DirecTV NOW

Connect VPN (with unlimited bandwidth) to a US-based server
Go to the DirecTV NOW website
Sign up for an account ($39.99 per month) or login
Search for Cartoon Network
Click on the show and episode you want
5 Steps To Watching The Cartoon Network With Sling TV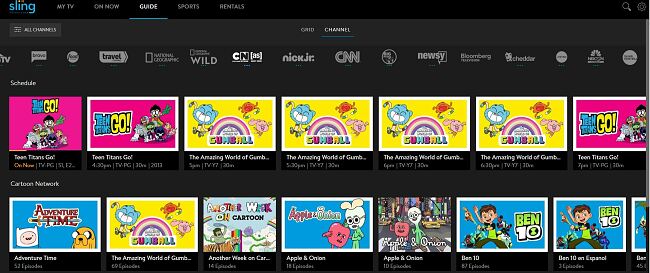 Connect your VPN to a US-based server
Go to the Sling TV site
Sign up for an account (from $20 per month) or login
Search for Cartoon Network or use the menu at the bottom of the screen
Click on the show and episode you want
The 3 Best VPNs for Watching Cartoon Network Online
VPNs are a versatile tool that can be used to bypass geo-blocks and restrictions while also increasing your connection speeds and improve your security when online. We've listed the 4 best VPNs to not only watch Cartoon Network online from anywhere but also enhance your security and privacy.
ExpressVPN is considered by many to be the best VPN in the world. This VPN has excellent performance and high connection speeds. Speeds are essential when streaming shows online like the Cartoon Network. With ExpressVPN giving you fast servers in more than 90 countries, you have access to content in almost any country in the world, including the United States. This VPN provides strong privacy features that will keep your data protected such as a strict no-logs policy on all of your browsing information as well as 256-bit AES encryption on your traffic.
ExpressVPN may be pricier than the other VPNs on this list, but worth the investment in your privacy and security. ExpressVPN helps to maintain that privacy and security by accepting Bitcoin payments. If you aren't familiar with Bitcoin payments, it helps protect your identity even further. ExpressVPN has a 30-day money back guarantee on each package, so if you don't want to commit to them right away, you can try them out risk-free.
Watch Cartoon Network with ExpressVPN
You can watch Cartoon Network from anywhere using CyberGhost's huge list of optimized servers. You'll be able to find the best server for HD streaming with its well-designed app. The app splits its servers into "For downloading" and "For streaming", so you don't have to manually find and connect to the best available server for either of these activities.
By clicking the "For streaming" tab, you can also find other popular streaming services, including Amazon Prime Video, Netflix, and Disney+. Servers are listed based on number of locations and for specific streaming services.
You can try CyberGhost for yourself at no risk with its 45-day money-back guarantee, which is the longest money-back period available on the market.
Watch Cartoon Network with CyberGhost
IPVanish is the best VPN for anyone who wants to access Cartoon Network while also having the option to torrent. Their fast connection speeds are excellent for streaming, and they have a strict no-logs policy. IPVanish also has 256-bit encryption that provides anonymity. One thing to know about IPVanish is, you can't use Netflix with it, but if all you really need it for is Cartoon Network and security, this VPN will be perfect for you.
IPVanish is the second most powerful and secure VPN after ExpressVPN, having more than 1000 servers located in over 60 countries. You can also use IPVanish on up to 10 devices simultaneously. This is great if you have more than 1 child wanting to watch different shows. Just like the rest of the VPNs listed in this article having a money back guarantee, IPVanish has a 7-day money back guarantee on all of their plans.
Watch Cartoon Network with IPVanish
Get Ready to Have Hours of Entertainment with Security and Privacy in Mind
Cartoon Network has been one of the most popular kids' channels for over 25 years and for a good reason too. Cartoon Network has built a wide range of great child-appropriate content over the years. If you would like to access Cartoon Network content but are located outside the US, the above VPNs will solve your problems. These VPNs will give you the ability to stream your children's favorite cartoons while keeping them safe.
Top Choice