2 Proven Ways to Stream BeIN Sports Without Cable in 2020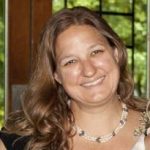 Last Updated by Bonnie Aleman on October 01, 2020
Whether you follow Cristiano Ronaldo or Israel Folau, the season is never seems long enough. For the fanatic, BeIN sports have emerged as one of the leading live streaming sports channels in the world. The lineup includes football, rugby, basketball, tennis, wrestling, boxing, tennis, motocross, and more.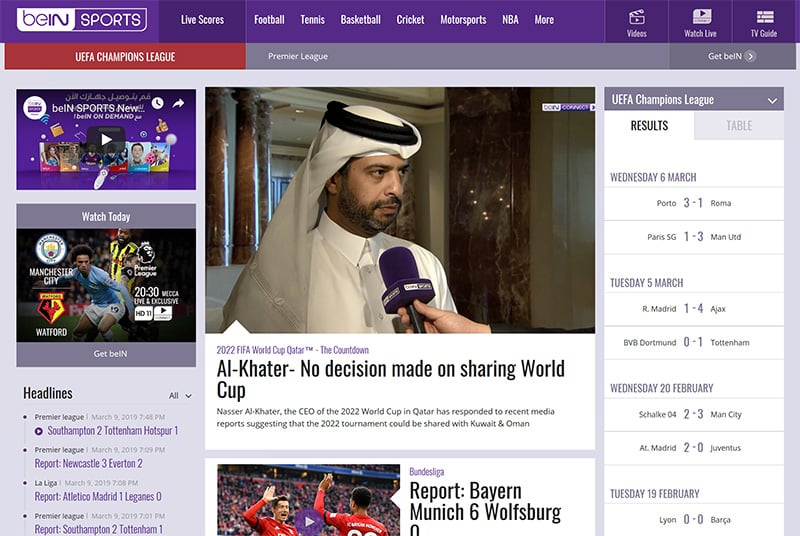 With coverage of both
college and professional sports
, the company has secured
exclusive rights
for some
top content
. They dominate soccer programming and carry exclusive deals for top leagues, including
La-Liga
, with hotly anticipated fixtures like
El Classico.
BeIN also holds the rights to K-League Classic, the CONMEBOL World Cup, and the Football League Championship. Exclusive broadcast rights include Copa Libertadores, Copa Sudamericana, and Recopa Sudamericana in the US and Canada.
BeIN Programming
BeIN Sports segment their broadcasts by country, operating BeIN USA, BeIN Australia, BeIN Canada and so forth. Programming rights differ depending on the country.


In the
US, ESPN, CBS, and NBC
hold most of the programming rights for the NFL. However, BeIN Sports secured
exclusive rights to the NFL
in Canada in 2017.
BeIN's Partnership with Cable and Satellite Companies
Subscribers of cable or satellite can typically choose a package to include BeIN sports. Participating networks include.
Fubo TV
FuboTV provides subscribers with access to over 80 channels and free DVR recording on the Cloud. Both the basic and Fubo Extra includes 8 BeIN channels. Packages include a 7-day free trial.
Channels included in the standard packages include BeIN Sports, BeIN Spanish language channels, and BeIN channels 4 through 8. The add on sports packages do not include additional BeIN channels.
Sling TV
Sling TV provides streaming services on either Orange or Blue packages, hosting 34 and 47 channels respectively. The combination of both packages broadcasts a total of 55 channels.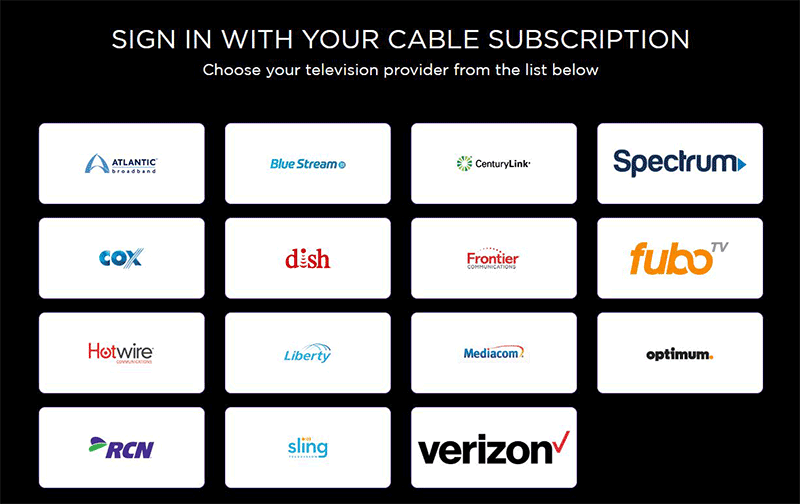 Neither of the standard packages includes BeIN Sports. However, you can subscribe to the sports add-on, which does include BeIN
Sling TV doesn't have DVR recording as standard. However, you can purchase DVR access as an add-on for 50 hours recording. If you prepay for the service for two or three months, you receive a free Roku device.
You can also take advantage of 7-day free trial.
Both FuboTV and Sling TV offer month to month rolling contracts. For the sports enthusiast, FuboTV provides the best sports package because it includes a total of eight BeIN channels, where Sling TV only offers one in its Sports Package add-on.
Live Streaming Through BeIN Sports Connect
Cable or Satellite subscribers and customers with FuboTV or the Sling Sports Extra Package can stream live content directly on BeIN Sports Connect. Live streaming is available on all major smart devices.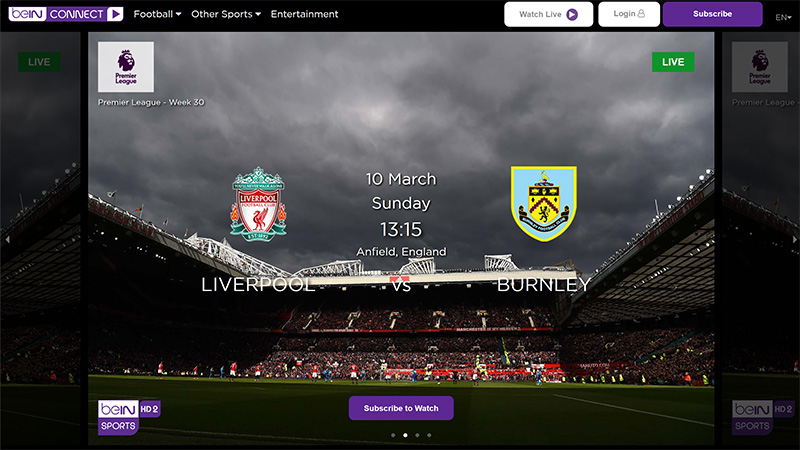 Live Streaming BeIN Sports Outside the US
BeIN sports isn't available everywhere. The company operates in the Middle East, North Africa, Eastern Asia, Australia, New Zealand, France, Canada, and the United States.
In Canada, you can purchase a stand-alone subscription for BeIN Sports, and an annual pass through BeIN Sports Connect.
Australia offers subscription options through Foxtel, Foxtel Now, BeIN Sports Connect, and Fetch. Only Fetch and Foxtel allows you to record the action, and all but Fetch give you access to on-demand programming.
Using a VPN, you can hide the location of your IP address and stream content from other countries.
However, BeIN often require residency in a country to stream content from that country. For example, you can purchase a standalone BeIN subscription in Canada or Australia. However, to qualify, the billing address on your credit card must be associated with the country to be eligible.
Using a VPN and connecting to a server in Canadian or Australian will not grant you access to BeIN sports channels in Canada or Australia. Making matters worse, you generally cannot qualify for a credit card in Canada or Australia without both a local address and an in-country bank account.
The Benefits of a VPN When Streaming BeIN Sports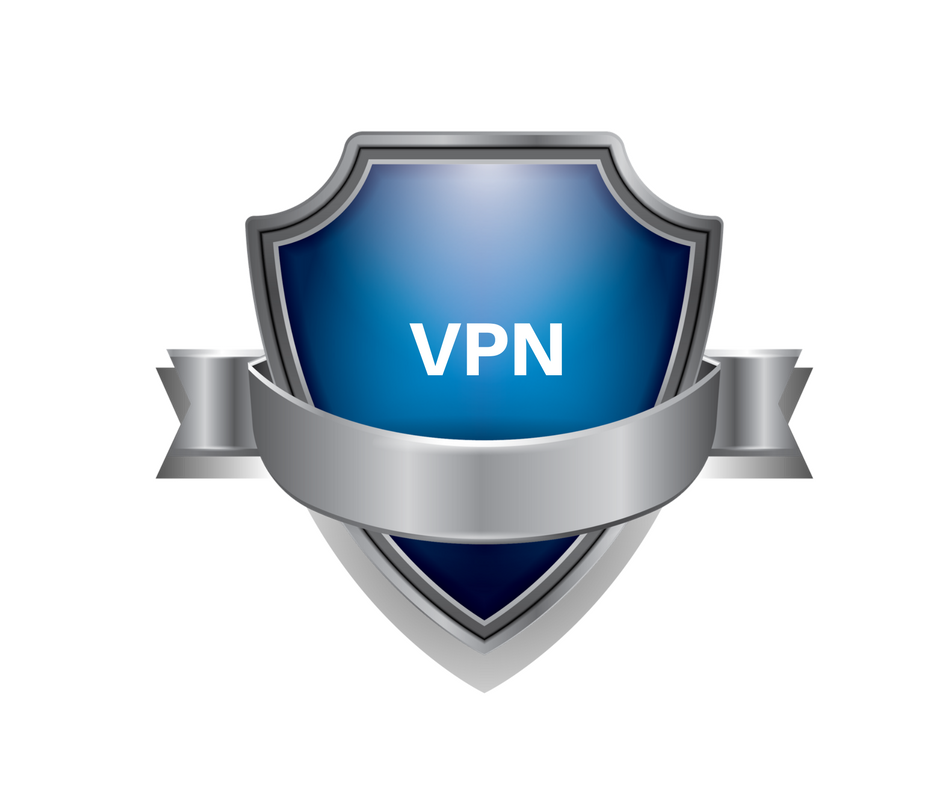 Viewing
restrictions by network or by country
can make it difficult to watch your favorite sports and teams from anywhere in the world.
Sports programming has strict licensing agreements with Television channels. These programming contracts can lead to licensing restrictions and geo-location blocking based on your country of residence.
However, if you buy a subscription in a particular country like the US, you can access that country-specific content from anywhere with a VPN like NordVPN, ExpressVPN, or CyberGhost VPN.
Likewise, buying a standalone subscription in Canada or Australia will also allow you to watch Canadian or Australian programming from anywhere in the world.
Additionally, you also benefit from improved security and the online privacy and anonymity afforded by VPN services.