3 Best Free Microsoft Project Alternatives With Similar Features! [TESTED in 2022]
Last Updated by Shauli Zacks on May 13, 2022
Quick Summary: I tested many Microsoft Project alternatives with my team, and Wrike was above them all. It's a comprehensive project management platform that makes creating, assigning, and following tasks easy. It also has several features that can improve productivity and streamline the workflow. The free Wrike account is perfect for teams of up to 5 people, and gives you access to all the basic features.
Microsoft Project is an excellent project management software. It has everything a manager needs to stay on top of their team. You can assign tasks, track timesheets, and manage the budget from the easy-to-use dashboard. Project is also compatible with all Microsoft 365 apps and Microsoft Teams, which helps streamline the working process.
However, if you're managing your team on a budget and want to avoid extra costs. you can find free Microsoft Project alternatives that you can use to manage your teams.
I downloaded and tested over 20 free project and task management programs to find a suitable alternative with similar features. It was easy to see that most of them would not be able to get the job done. The main issues I saw were a lack of security and privacy, constant intrusive ads, and they just didn't have the features I needed to manage my team.
Based on the results of my tests and feedback from my team, Wrike is the best alternative to Microsoft Project. It's a detailed-oriented platform with tools for tracking work progress, sharing files, a To-Do list, and a virtual assistant that manages all your resources needed to get the job done.
Quick Guide: The 3 Best Free Microsoft Project Alternatives in 2022
Wrike: Multiple views to stay organized, a search box on the workspace, and detailed analytics to track progress.
Asana: Create tasks, assign due dates, and track progress with a kanban board, but relies on third-party apps for tracking time.
Trello : Visualize all your projects and tasks with a customizable interface, but it lacks analytics and reporting tools.
What I Look for in a Free Microsoft Projects Alternative
With so many projects going on at the same time, it can be difficult to manage everything and stay organized. While I favor a Microsoft Project, I know that it's not for everybody. You need to pay a monthly fee for each user, and if you're not using Microsoft 365, you can find viable alternatives.
Some of the factors that I looked out for during my tests included:
Customizable User Interface
No two project managers are the same, so why should everyone conform to one project management system? While I prefer a kanban style, others may prefer a storyboard or a scrum. I also want the ability to customize how the data is displayed for the task, such as color coding or adding and removing different fields.
Easy to Use
Project managers have enough to deal with without having to spend precious time figuring out how to operate and run the software. It shouldn't take more than a quick guided tutorial of the different features and options to understand how to assign tasks, attach files, create deadlines, and organize the different projects. The team members should also be able to quickly familiarize themselves with the platform, how to make requests, transfer a task along the pipeline, and view upcoming tasks.
Collaboration Tools
Collaboration tools are important for streamlining the workflow and preventing bottlenecks. Instead of reassigning a task and waiting for an answer, I want a program that makes it easy to communicate with other team members, get instant notifications, and allow others to leave comments or upload files directly to the task board.
Free
Finding a free program with similar features to Microsoft Project was a challenge. Since I couldn't find any completely free options that were safe and reliable, I included freemium programs with a legitimate free option. While some of the features or number of users may be limited, I only included a program if the free version is a good alternative to Project.
3 Best Free Microsoft Project Alternatives with Similar Features
Well-designed dashboard gives an overview of all projects and tasks
Create and organize a daily, weekly, and monthly To-Do list
Wrike assistant manages your key resources to streamline workflow
Detailed analytics and reporting to keep you on top of project status
Wrike is an easy-to-use project management tool. You can choose from four different views to display your workspace. The layouts are:
Table: Creates a spreadsheet so you can easily organize and manage the task details.
List: The default layout gives a quick overview of all open tasks
Board: Create a workflow and watch as various tasks move from being assigned through the different stages until it's completed.
Gantt: A horizontal chart that details the task milestones and important details.

The dashboard is a three-pane view, which gives you a clean overview of all the current and future tasks. The first pane on the left is where you have quick access to all open projects, teams, budgets, and manage your resources. The middle pane is where you can create and assign tasks, and the right pane shows all of your tasks and subtasks so they don't get lost or forgotten.
I enjoy using Wrike because the user interface isn't overly cluttered, and it didn't take me very long to get comfortable with the platform. It divides projects into a "Space." I added all the relevant folders and files to my Space and shared them with the relevant stakeholders. Then, I added the project details, including due dates, priority levels, events, and connected projects.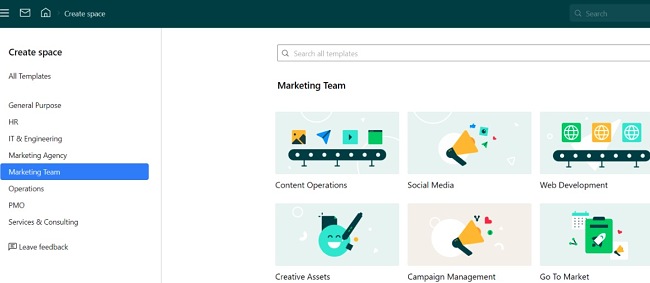 The Wrike Assistant is a helpful feature that helps you manage all the key aspects of the project. You can add your preferred templates, apps, and third-party integrations, to find them quickly the next time you need them.
Wrike has a built-in app library, so you can integrate tools such as Zoom, SalesForce, and Slack, making it an all-in-one software for your project management needs.
Wrike has a completely free subscription tier, although some of the advanced features and work boards are limited to the premium version. However, the free version is good enough to get you started.
Customizable dashboard for monitoring multiple projects
Assign tasks, set priority levels, due dates, and tag multiple users
High-level reporting tracks each user's progress
Free for teams of up to 15 members
Asana is a popular project management tool because it is so easy to use. The intuitive software simplifies the process of creating tasks, uploading files, assigning them to specific users or teams, and tracking the progress.
You can make a task public to all team members or mark it as private to be viewed only by the person who should do the job. The project manager will receive notifications when someone leaves a comment, moves a task along the pipeline, or completes the task.
There are different view options for an Asana workboard. You can check out your own task list and order it by priority. There's a kanban-style board for visualizing the workflow and pipeline, a grid structure that is ideal for collaborating with other teams, a calendar view, and more.
As the project manager, I found the dashboard to be extremely helpful. It uses graphs and colors to create a nice visual of the different projects and statuses of the tasks. You can also see how your team is performing, who is completing their tasks on time, and how many tasks are overdue.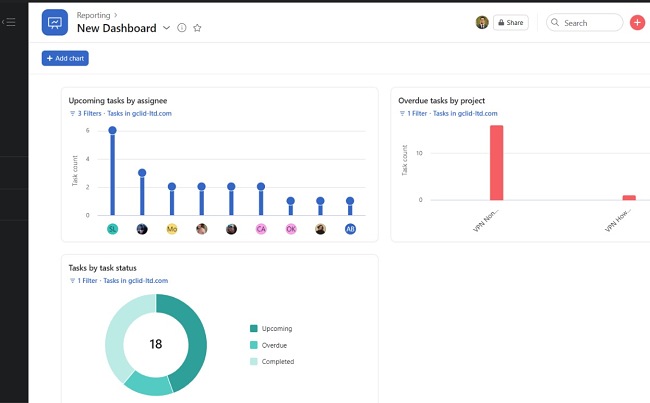 With Asana, you have the tool needed to manage multiple teams. You can assign each project to specific users, create a shared calendar, and tag particular users to follow the work. Teams can be public or private, so you can manage sensitive projects without having to create a new account or use a different platform.
The project manager can add anyone to your account and assign them an access level. I found this helpful when adding an admin user who only needed limited access to specific tasks. The free Asana package includes up to 15 people on a team.
Easy to use interface
Tag users and assign due dates
250 monthly workspace commands
Trello is a decent project management tool that utilizes a Kanban-style interface. The web-based platform can be accessed from any device, which is ideal for remote teams or working from multiple locations.
I created timelines for multiple projects and used the drag and drop capabilities to move items down the pipeline and assign them to different team members. I uploaded files, set priority levels and due dates when creating a task, and connected them to other relevant tasks.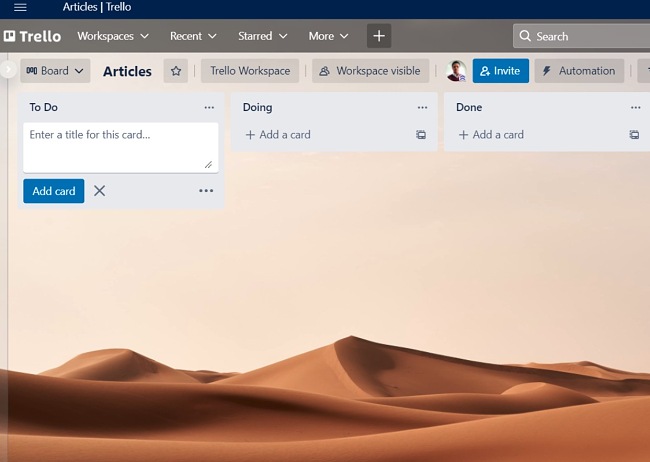 Trello has an integrated automation tool that can be set up without any technical knowledge. I tested a few of the automation options, such as building a rule that assigned a task when an action triggered it. For example, when a task is marked as a top priority, it will automatically move to the top of the list. Another example is when a task checklist is all finished, the task will be marked as done, the manager will be tagged in the comments, and you can add an automatic comment.
The biggest issue with Trello is the lack of reports and analytical data. If you don't track the pipeline, you can easily miss out on what's going in with the different projects and your team.
Trello has a free plan that is suited for small teams. You can use it to manage 10 boards, but you can't customize the fields on the cards.
When Microsoft Project Isn't For You…
Microsoft Project is a top-notch project management platform with all the tools and features that you need to stay organized and keep your team on task. It also has native integration with Microsoft 365, which can be a big benefit if your team works with Word, Excel, and PowerPoint. However, it's not perfect, might not suited to everyone.
If you're looking for a program with detailed reporting and analytics, try Wrike. You'll get daily updates on which users are completing tasks, which ones are overdue, and more.
If you're looking for a program that makes it easy to manage multiple projects, Asana has a simple interface with customizable task cards. You can create a separate workflow for each project, upload all files directly to the task card, assign it a priority level, and set a due date.
If you're looking for a Kanban-style project manager, you can try Trello. The drag and drop interface makes it easy to move tasks through the pipeline. It also has automation tools to save your team time from basic or repetitive tasks.
FAQ
Is Wrike free?
Wrike has a completely free subscription tier for teams of up to 5 people. The free version includes the basic features you'll need, such as task management, collaboration, and 2 GB of storage.
Is Wrike secure?
Both the desktop and web-based applications meet the security requirements for protecting sensitive corporate data. If you're planning on downloading the Wrike apps, it's important that you do so from the official site, to avoid downloading a pirated or cracked version that can include spyware, malware, ransomware, or viruses.
Which is better, Microsoft Project or Wrike?
The biggest advantage of Wrike is that it has a free version. However, it's pretty limited, and once you have to upgrade, you'll be better off going with Microsoft Project. It outperformed Wrike in my tests. It's easy to use and does an excellent job with project, portfolio, and resource management.